[Asia's Next Page] Evolving Focus: Japan Sees Vietnam's Role in a Free and Open Indo-Pacific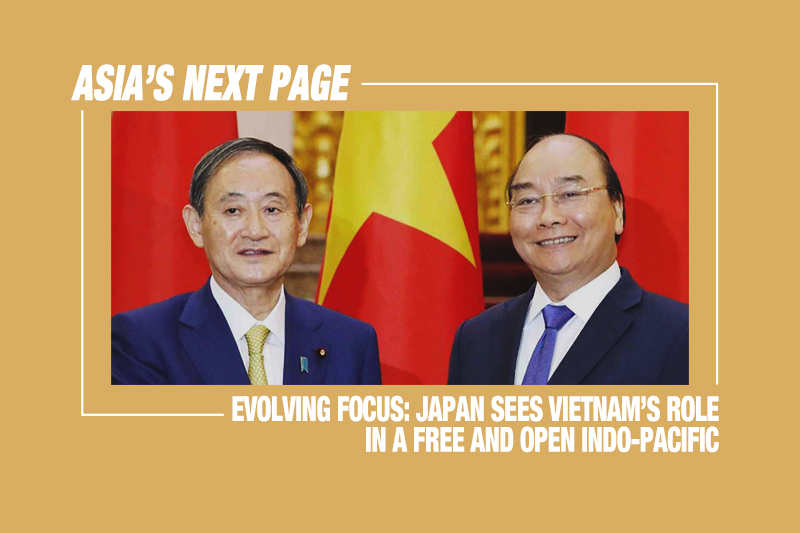 (First of 2 parts)
Part 2: [Asia's Next Page] Indonesia in Tokyo's Changing Regional Outlook
Vietnam, unlike other Southeast Asian partners, occupies a key place in Japan's regional outlook. Its selection as Prime Minister Yoshihide Suga's first state visit (followed by Indonesia) attests to this.
Former Prime Minister Shinzo Abe, whose first state visits during his second term were also Vietnam and Indonesia, was instrumental in shaping Tokyo's ties with Hanoi and invigorating their 2006 "Strategic Partnership for Peace and Prosperity in Asia."
Abe molded the Japan-Vietnam relationship into an extensive one that garnered Indo-Pacific traction to face a mutually impending China challenge. With Suga following his predecessor's steps by cementing Tokyo's regional partnerships, Japan and Vietnam must envision expanding economic and security ties via their shared strategic alignment.
The Suga-Phuc Meet
The meeting between Suga and Vietnam's Prime Minister Nguyen Xuan Phuc in Hanoi on October 19 saw both leaders focus on regional economic and military security. Amid the recent "black swan" pandemic event that has shaken global economies, Japan has swiftly, and urgently, adopted a new economic agenda: reduce reliance on China and strategically promote a resilient supply chain network. Yet, Japan's growing dependence on China's economic dynamism has tilted the balance of trade in Beijing's favor, leading to a major setback.
The deficit is likely to grow in the future, making it more difficult for Japan to compete with Beijing's revisionist tendencies in Southeast Asia, especially protecting its maritime interests in the East China Sea (ECS) and South China Sea (SCS). This is despite Abe's extensive attempts to reduce dependence on China with a $2.2 billion USD fund as part of Japan's COVID-19 stimulus package,
However, under Tokyo's "China + One" strategy, Vietnam is emerging as an attractive alternate destination for Japanese companies exiting China. Fifteen corporations are already shifting production to the country, with Japanese government aid.
In this context, Prime Minister Suga stated in his October 19 meeting that his administration was focusing on aiding Japanese companies in diversifying supply chains. The move was notably appreciated by Prime Minister Phuc, who reciprocated with Vietnam's readiness to support Japanese investments. Hanoi's largely effective control of COVID-19, coupled with low manufacturing costs and readily available skilled labor, made it a crucial emerging market, especially considering the urgent need for restructuring of the global supply chains.
Besides, there is an opportunity to promote economic engagement, with both countries facilitating global value chain diversification through trade of medical goods.
A Forward Moving Partnership?
Japan is Vietnam's largest Official Development Assistance (ODA) provider, top economic partner, third largest tourism source market, second largest investor, and fourth largest trade partner. Amid such robustly developing economic ties, Suga's visit — at a time when Hanoi, as chair, is about to host the 37th ASEAN summit in November 2020 — reaffirms Japan's dedication to ASEAN.
Suga's trip to Vietnam showed that ties would only become more dynamic moving forward. In fact, Suga was a major contributor to Japan's initiative to begin an economic, albeit partial, decoupling from China, framing the move as an "important lesson for crisis management." He highlighted the need to break away from insular thinking while concurrently focusing on expanding international collaborations.
Vietnam's complementary economy makes it an ideal partner for Japan. Japan's ageing population coupled with an uncertain economic future has led to an imminent "demographics disaster" for Suga. Vietnam's young population, growing economy, and vast market size offer great opportunities for both nations.
Furthermore, Japan has a long history of contributing to Hanoi's growth through its impressive ODA. Tokyo has consistently provided the largest ODA disbursements to Vietnam, which is a "first priority" state under Abe's flagship Expanded Partnership for Quality Infrastructure. The partnership has also given rise to multiple railway and highway projects, alongside sharing of technical and technological expertise.
Continuing the trend, Japanese and Vietnamese agencies announced 12 agreements totaling $3.7 billion USD during the visit. With Suga expressing Japan's continued support to improve connectivity, these deals covered areas ranging from digital economy, energy, infrastructure building, agriculture trade, and environment.
Japan's commitment to "increase the resilience of supply chains and build economies in Asia that are resilient to crises" has therefore become a driving force behind Tokyo's push to revitalize its partnership with Vietnam. Suga's trip marks the central space that Vietnam occupies in the new prime minister's regional calculus, and will be critical to strengthening economic and security ties between both states in the Indo-Pacific region.
Shaping Vietnam's Outlook
For Vietnam, a country once ravaged by war, Japan has become a role model in its post-war reconstruction efforts that transformed the devastated state into a major global economy. On Tokyo's part, its initiatives have been driven by commercial interests that consider Vietnam a top destination for investment in Asia.
In the past decade, Tokyo has become an indispensable partner as Hanoi accorded acute focus to transportation and urban infrastructure, which are prerequisites for poverty reduction, growth, and modernization. Its importance is only underscored by the distrust between Hanoi and Beijing and Vietnam's growing anti-China sentiments stemming from China's unilateral adventurism in the SCS.
More importantly, Tokyo and Hanoi are tied together by the shared challenges from an increasingly belligerent China. Both have a deeply complicated relationship with Beijing rooted in their historic resistance of Chinese intrusions and unwillingness to be subservient to a Chinese-envisioned regional order.
Growing Maritime Bonding
Japan and Vietnam have disputes with Beijing in their relative maritime domains (ECS and SCS) and share concerns over China's ever-expanding claims and assertiveness that threaten their national sovereignty and mutually-advocated "rules based" international order.
Aiming to balance Chinese adventurism into the SCS, Japan helped Vietnam fortify its maritime capabilities. In turn, greater engagement in the region has helped Japan legitimize its own position vis-à-vis China in the ECS. Regardless of Japan's constitutional limitations and Vietnam's non-alignment strategy, both nations have stimulated regional security ties to diminish their military reliance on a solitary force, the United States, in an attempt to gain a dependable security structure.
Pushing ahead, the two nations must promote regional collaboration to fulfil their common Indo-Pacific objectives with ASEAN centrality.
A Purposive Defense Partnership
Suga's trip was significant, with Japan and Vietnam reaffirming their shared commitment to a "Free and Open Indo-Pacific" and announcing a new defense agreement. The signed pact will enable Japan to export military equipment to Vietnam, signifying a greater focus on China's unilaterally expanding influence in the region.
Suga termed the agreement, which in principle allows for transfer of defense technology and equipment, a "big step in the field of security for both countries." Japanese exports — including P1 patrol planes, C2 transport planes, and control radars — will be crucial to encouraging Chinese restraint in the SCS and bolstering Japan's defense production industry.
Japan has been providing patrol ships to Vietnam with the aim of assisting Hanoi in safeguarding its waters against Chinese aggression in the SCS. Tokyo improved this assistance amid China's rising hostility during the pandemic by signing a $345million USD loan to provide six coast guard patrol ships to enhance Vietnam's surveillance and "maritime law enforcement capabilities."
Further, as Vietnam's developing shipbuilding industry pursues opportunities to build military vessels, Japan's technology sharing can create a vast space for defense sector collaboration between both countries.
Echoing the Indo-Pacific Spirit
Suga's goal was self-evident: to advance Japan's presence in Vietnam into a strong and durable partnership, wherein Hanoi can act as an entryway to a more profound security relationship with the ASEAN.
In a joint press briefing after his meeting with Phuc, Suga stated that Hanoi "plays a key role in realizing the Free and Open Indo-Pacific strategy," therefore setting the stage for deeper collaboration in Japan and Vietnam's Indo-Pacific security strategies. Importantly, Suga's comments iterated a personal camaraderie approach ー a staple foreign policy tool of Abe — intertwining his personal growth story, Japan's postwar rebuilding, and ASEAN's own development trajectory together, to emphasize a bonding with Vietnam and, more broadly, ASEAN.
The Hanoi visit also signals the beginning of a concrete security partnership through multi and mini-lateral security mechanisms. One form is their joint participation in the "Quad Plus" framework, which is swiftly gaining prominence. Vietnam's inclusion in the Quad Plus, as well as its potential involvement in a developing India-Japan-Australia led Supply Chain Resilience Initiative, paves the way for future cooperation between both states in regional forums, with Hanoi emerging as a vital partner.
A renewed thrust on the Japan-Vietnam-India trilateral can also prove monumental in shaping the post-COVID economic and security framework in the Indo-Pacific. India's intensifying disconnect from China post-Galwan will aid this quest.
In this regard, the upcoming ASEAN summit in November, for which Vietnam has extended invitations to all 10 dialogue partners, could feasibly draw the focus of India and Japan with Vietnam onto rekindling their trilateral talks.
Moving forward, Vietnam's deeper integration with Indo-Pacific forums like the Quad Plus could promote a synergy towards a rules-based, multi-polar regional order and help further the Quad's China balancing strategy, eventually opening doors to ASEAN's participation, thus strengthening its credibility.
Suga's visit to Vietnam has replicated a continuity in Japan's Southeast Asia policy that Abe orchestrated. The challenge now is to evolve this strategy further in light of China's fast-paced and growing belligerence.
(To be continued.)
Author: Dr. Jagannath Panda
Dr. Jagannath Panda is a research fellow and center coordinator for Manohar Parrikar Institute for Defence Studies and Analyses, New Delhi. He is the series editor for Routledge Studies on Think Asia. Find him on Twitter @jppjagannath1.