[Asia's Next Page] Indonesia in Tokyo's Changing Regional Outlook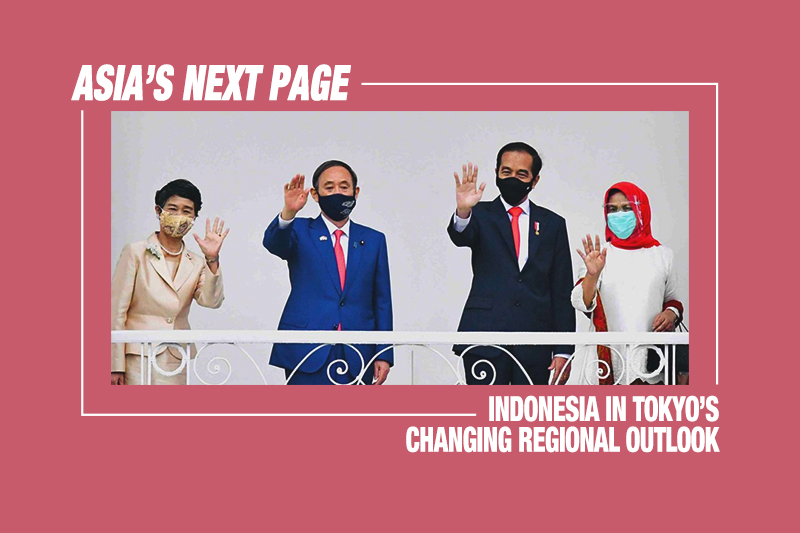 (Conclusion)
Part 1: [Asia's Next Page] Evolving Focus: Japan Sees Vietnam's Role in a Free and Open Indo-Pacific
Tokyo's changing priorities amid a new, severe security environment have rendered Indonesia a central place in Japan's geopolitical calculus, as evidenced by its selection in Japanese Prime Minister Yoshihide Suga's first trip abroad. Notably, Indonesia was also part of former Prime Minister Shinzo Abe's maiden foreign tour during his second term. Suga's visit thus marked a continuation, if not renewal, of Abe's focus on Jakarta.
Suga's very decision to hold the visit in-person — at a time when the COVID-19 pandemic has refashioned diplomatic and statecraft processes through virtual conventions — is symbolic of the significance Japan accords the Southeast Asian region at large, as well as its sharpening focus on Indo-Pacific.
Suga, Jakarta, and the Strengthening Partnership
Suga's visit to the budding ASEAN economy is of particular import since it comes amid highly charged geo-strategic circumstances when China's antagonism has pushed states to seek deeper regional security alliances. The meeting between Suga and Indonesian President Joko Widodo on October 20 saw both countries take active steps to "further advance security and defense cooperation" in light of the "changing regional situation."
One of the most crucial outcomes of the state visit was the decision to bring forward the date for a 2+2 foreign and defense ministerial meeting in order to accelerate discussions on export of Japanese defense equipment and technology to Indonesia. Such security-centric overtures highlight Suga's focus on "forging even greater cooperation" with "strategic partner" Indonesia.
Essentially, Suga's Indonesia visit was emblematic of a changing outlook in Japan's security blueprint. With the United States maintaining military bases in Japan's archipelago as its foothold in East Asia, there exists a special trans-Pacific alliance between both countries which many previous prime ministers have sought to reiterate, using their first trip abroad to travel to Washington. The U.S.-Japan security partnership, a legacy of the World War II, is therefore deeply, and constitutionally, embedded.
The 1951 Mutual Security Treaty instigated a post-war strategy in which Japan adheres to an age-old non-reformed Constitution that focuses on rebuilding economic infrastructure while relying on Washington for its defense. In this context, Suga's decision to visit Vietnam and Indonesia, at a time when Japan is facing a precarious economic and security situation, underlines their importance in Tokyo's Indo-Pacific outlook.
This very perspective underscored Suga's comments in a meeting with Liberal Democratic Party (LDP) members recently. Speaking about the scheduled visit, Suga stated that ASEAN formed the "linchpin to the realization of a free and open Indo-Pacific" and that the trip would "express that intention at home and abroad." This sentiment was echoed in his tweets posted upon concluding his visit to Indonesia, wherein he reiterated ASEAN's importance as "the pivot" for a rules-based, free and open maritime domain.
It is important to note that Suga has limited direct experience in foreign affairs, but as Abe's chief Cabinet secretary, he was the driving force behind many of the celebrated leader's landmark foreign and economic policies. Among his many achievements as a member of Abe's administration were his roles in pushing forth "Abenomics" and helming Tokyo's initiative to diversify its supply chains by reducing the country's dependence on China.
His decision to visit Indonesia is an unmistakable indication that he has boldly taken up Abe's Indo-Pacific mantle. Politically, Japan and Indonesia are conventionally bound by democratic ideals and a commitment to a rules-based order. As one of Asia's oldest, most stable democratic governments, Japan has the capability of offering the moderately youthful democratic system of Indonesia considerable assistance as well as knowledge.
Shaping an Indo-Pacific Partnership
Much of Tokyo and Jakarta's synergy comes from their previous attempts at balancing strategies within the Indo-Pacific, a region increasingly fraught with conflict owing to China's rising assertiveness. For both countries, guaranteeing that the waters of the Indo-Pacific are free and open, especially the South and East China Seas, is vital for continued trade and economic growth.
Indonesia's "free and active" foreign policy approach finds harmony with Japan's Free and Open Indo-Pacific (FOIP) strategy, with both seeking to bolster the regional rules-based order and balance Beijing. As a result, Jakarta presents vital strategic opportunities for Japan in terms of building a strong regional voice via-a-vis China's antagonistic behavior, suggesting that Suga's trip is driven by an eye on China.
At the same time, Tokyo and Jakarta have shared a tumultuous relationship in the past, including Indonesia's hesitancy to accept Japanese aid over that of China. Even now, Widodo used Suga's visit to highlight "constraints" imposed by Japan on imported Indonesian products that Jakarta believes are severely impacting Indonesia's agriculture, marine, and forestry communities.
Aiming for Mutual Economic Growth
Nevertheless, Jakarta and Tokyo share ample room for mutual economic growth, especially with Indonesia's budding reputation as a rising regional power and one of the world's fastest growing economies.
The Japan-Indonesia collaboration has notably intensified since the onset of the pandemic. Abe and Widodo affirmed their joint intention to work together to combat the pandemic and discussed this cooperation. In July, both countries signed an "Exchange of Yen Loan Notes for Indonesia for Emergency Management," which granted Indonesia a ¥50 billion JPY ($473 million USD) loan and a ¥2 billion JPY ($19 million USD) grant to help its battle against COVID-19. This assistance was supported by supplementary COVID-19-driven aid, like the delivery of over 12,000 Avigan tablets.
During Suga's recent state visit, Japanese aid to Indonesia was further expanded, with the Prime Minister committing an additional ¥50 billion JPY ($473 million USD) in low-interest loans to further its fight against the pandemic as well as natural disasters.
Such aid underscores Indonesia's importance in Japan's economic, political, and security outlook, particularly now, when Jakarta's dynamics with Beijing have been derailed by China's "nine-dash line" claims overlapping Indonesia's exclusive economic zone. For example, following China's coast guard exercises around the Natuna Islands in January 2020, Indonesia requested that Japan put resources into islands parallel to the contested South China Sea. It also expressed its wishes to invite a Japanese organization to join the Kereta Cepat Indonesia China consortium developing the Jakarta-Bandung high-speed railroad, approximately five years after it picked a Chinese firm for the undertaking.
Japan too has sought to deepen this connection. During his visit, Suga maintained Japan's willingness to work with Indonesia in infrastructure development initiatives, especially for projects like the Jakarta Mass Rapid Transit system — Indonesia's first underground train system — built through the critical support of the Japan International Cooperation Agency.
Such ongoing collaborations leave little uncertainty that Indonesia utilizes its commitment with Japan to show its dissatisfaction with China, highlighting the central place Tokyo has come to occupy in Jakarta's international outlook. Understanding the importance of such overtures, Suga's investment in Japan's Indonesia outreach is natural.
Enhancing a Democratic Indo-Pacific Partnership
It should be noted that Japan and Indonesia have shared 60 years of political ties, and their relationship has arguably prospered into one of East Asia's most vigorous strategic connections. Both have found synergy as "maritime democracies" and refigured a reciprocal, balanced relationship. As ASEAN's biggest economy, Indonesia is one of the world's most desirable emerging markets, anticipated to join the top 10 global economies by 2030. Concurrently, amid its challenging economic future, Japan is poised to find in Indonesia a vital partner that also proves instrumental in hosting Japanese industries undergoing a manufacturing exodus from China.
Understanding the problems and potential of Indonesia's monetary advancement, under Project 2045 Japan has stepped in to assist Indonesia with its vision of blossoming into a top-five worldwide economy by 2045, the 100th anniversary of Indonesia's independence. In this regard, Tokyo will seek to press ahead with large scale investments as a basic and crucial tool for achieving the set objective, and empower Indonesia to embrace global value and connectivity chains.
Under Suga, collaboration is set to advance further between Jakarta and the India-Japan-Australia established Supply Chain Resilience Initiative (SCRI), and the advance of infrastructure connectivity bilaterally via Japan's Expanded Partnership for Quality Infrastructure. This was evidenced by Suga's comments at a press conference in Jakarta, where he highlighted his commitment to "bolster supply chains" linking ASEAN and Japan. Indonesia's active participation in SCRI will be vital for the actualization of such ambitions.
Notably, Jakarta, a member of the Group of 20, holds vital international economic sway. Its multilateral power was visible in the key role that it played in the development of ASEAN's Outlook on the Indo-Pacific (AOIP). Considering the fact that Japan's FOIP and the Indonesia-conceived AOIP have "fundamental commonalities," Southeast Asia has emerged as key to Japan's Indo-Pacific goals. Using these commonalities, the upcoming 37th ASEAN Summit must pave the way for greater multilateral and bilateral cooperation between Japan and ASEAN to strengthen the bloc's China balancing drive.
Lastly, a closer Japan-Indonesia connection also opens doors for Jakarta's potential inclusion in the "Quad Plus" narrative — a platform that Vietnam (also a destination of Suga's first state visit) is already party to. While Vietnam is more likely to endorse ー or at least participate in ー the Quad structures, Jakarta remains wary of any such move amid considerable reservations of projecting an openly anti-China or visibly pro-U.S. outlook. Yet, Indonesia's focus on ASEAN centrality makes it an ideal ally for Japan.
Japan and Indonesia are, in several aspects, inherent partners. The selection of Indonesia for his first trip abroad will likely set a positive trajectory for their bilateral ties in the years to come.
Purposely focusing on Southeast Asian nations, these visits to Indonesia and Vietnam were meant to be a test of Suga's diplomatic and foreign policy maneuvering. He has been largely successful in not only demonstrating Japan's continued focus on ASEAN, but also bolstering its Indo-Pacific objectives and its unwavering intent to stand up to the China challenge.
Now, Suga must build confidence in the strategic partnership that Japan shares with both countries in order to stand the test of time ー and leaders.
Author: Dr. Jagannath Panda
Dr. Jagannath Panda is a research fellow and center coordinator for Manohar Parrikar Institute for Defence Studies and Analyses, New Delhi. He is the series editor for Routledge Studies on Think Asia. Find him on Twitter @jppjagannath1.