[HORSE RACING] Contrail Wins Kikuka Sho, Joins Father Deep Impact as Triple Crown Champions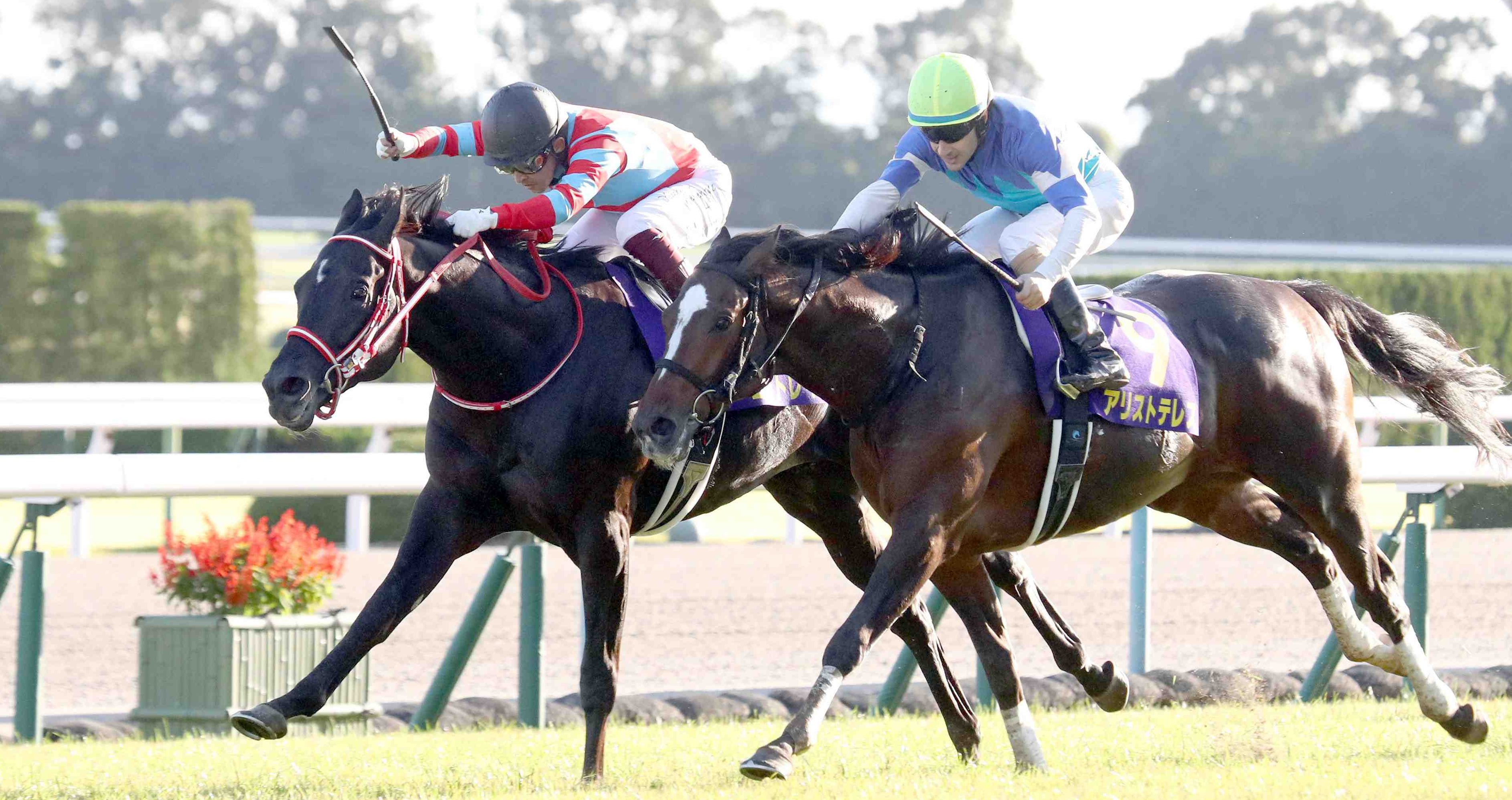 For the second time in as many weeks, Kyoto Racecourse staged a race in which the final leg of a Triple Crown triumph was accomplished.
Contrail, ridden by Yuichi Fukunaga, won the Kikuka Sho (Japanese St. Leger) by a neck on Sunday, October 25, edging jockey Christophe Lemaire and Aristoteles, while Satono Flag, also a son of Deep Impact, placed third, 3 1/2 lengths behind Aristoteles. In the 3,000-meter race (1 7/8 miles), Fukunaga was clocked in 3 minutes, 5.5 seconds in the 81st running of the Kikuka Sho, which was an 18-horse competition held on turf.
Daring Tact completed an unprecedented, unbeaten filly Triple Crown by winning the Shuka Sho on October 18.
Fukunaga, a 43-year-old Shiga Prefecture native, exhibited patience and poise while navigating through the crowded field and moving near the front of the pack. Then in a dramatic conclusion, Contrail and Aristoteles galloped stride for stride toward the finish line. From the inside, Contrail's closing speed was superior to Aristoteles' and he edged across the line by the slimmest of margins. See the race video here.
"I can't say that I was successful in keeping him relaxed during the race with so much pressure from Aristoteles," said Fukunaga, who collected his 28th Grade I victory.
"It turned out to be a tough race for us with Aristoteles looking quite strong and persistent, and this race may not have been his best performance, but I kept my faith in Contrail and he certainly showed how strong he is to have maintained his position up to the end of the 3,000-meter trip," added Fukunaga, who picked up his second Kikuka Sho title. He guided Epiphaneia to victory in 2013.
Contrail ran his winning streak to seven and became the third unbeaten Triple Crown winner, matching the feat of his sire, Deep Impact, in 2005 and Symboli Rudolf in 1984.
As a result, Deep Impact and Contrail became the first father and son to achieve the feat in Japanese racing history. Deep Impact died at age 17 in July 2019 after suffering from a fracture of the cervical spine.
Yuichi Fukunaga guided Contrail to victory in the Kikuka Sho on October 25 at Kyoto Racecourse.
Sunday's race marked Contrail's fourth Grade One victory. Previously, the 3-year-old colt finished first in the Hopeful Stakes in 2019 to start the string of G1 wins. Then, trainer Yoshito Yahagi's horse collected Triple Crown race triumphs in the 2,000-meter Satsuki Sho (Japanese 2000 Guineas) on April 19 and the 2,400-meter Tokyo Yushun (Japanese Derby) on May 31.
Yahagi Expressed Confidence in Run-up to Kikuka Sho
After the Grade 2 Kobe Shimbun Hai on September 27 at Chukyo Racecourse in Aichi Prefecture, which Contrail won, Yahagi said he was pleased with his colt's tune-up event.
"There are no problems with him, and he knows when to switch on and off when it comes to his racing," Yahagi was quoted as saying by the South China Morning Post.
"He showed last time in the Kobe Shimbun Hai what a great turn of foot he has."

And it proved to be a good omen for Japanese racing's newest Triple Crown winner.
Author: Ed Odeven
Follow Ed on JAPAN Forward's [Japan Sports Notebook] here on Sundays, in [Odds and Evens] here during the week, and Twitter @itsjapanforward.