BASKETBALL | Utsunomiya Brex Rely On Energy, Versatility In Sweep Of Yokohama B-Corsairs
Backup forward Chase Fieler exemplified the Brex's productivity at both ends of the floor last weekend.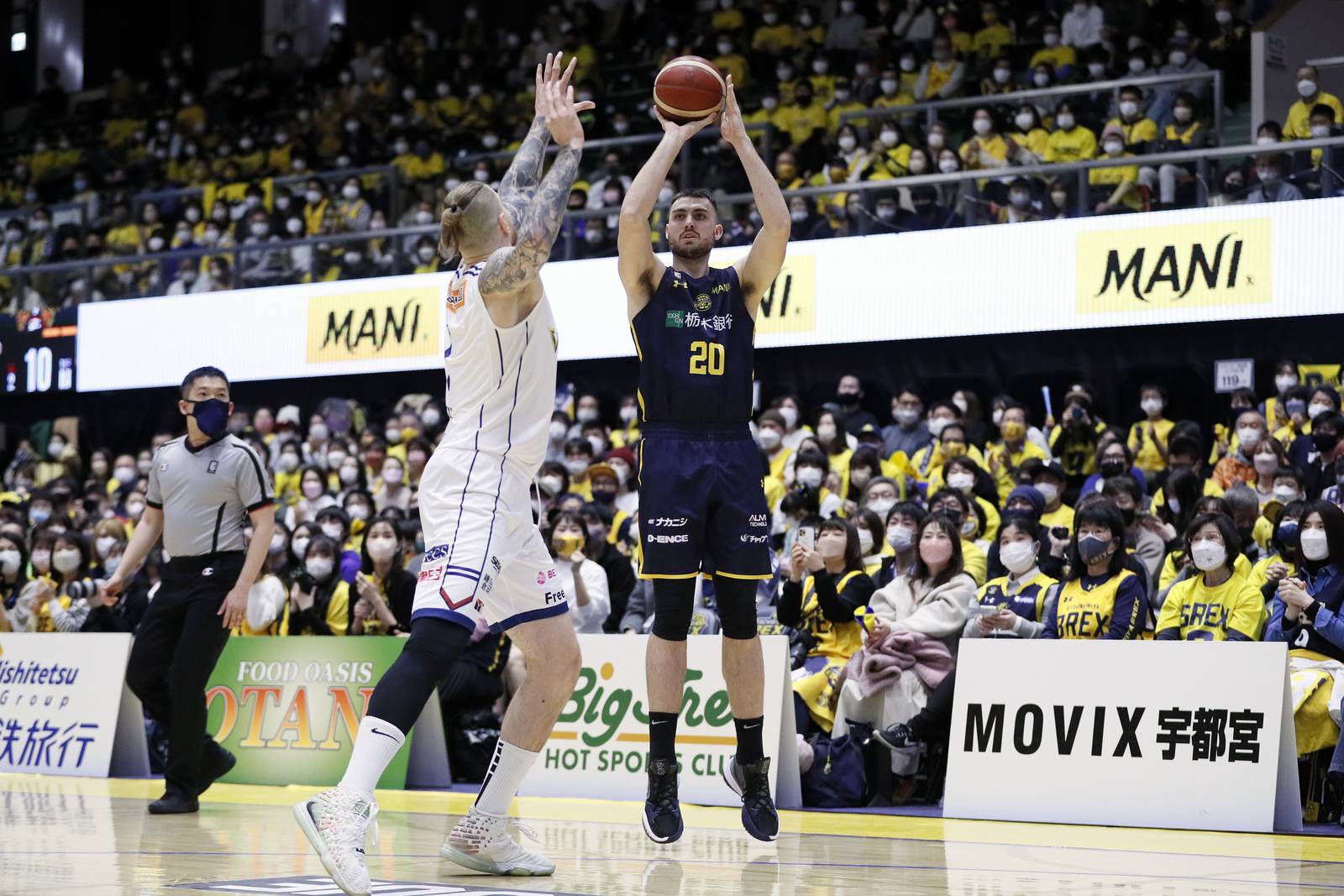 ~~
The Utsunomiya Brex have surprised nobody by putting themselves in position for another deep postseason run this spring.

After all, the Brex had a B. League-best 49-11 record in the regular season in 2020-21 and came within one victory of the championship, falling to the Chiba Jets in the best-of-three title series at Yokohama Arena on June 1.

The Brex have retooled their roster this season after the departure of longtime standouts Ryan Rossiter and Jeff Gibbs, who joined the Alvark Tokyo and Nagasaki Velca, a B. League expansion club, respectively, in the offseason.

Returning standouts and newcomers, including veteran forwards Chase Fieler and Isaac Fotu, have helped the Brex maintain their high standards this season. And coach Ryuzo Anzai's club earned a weekend sweep over the visiting Yokohama B-Corsairs, winning 98-73 and 83-59 on Saturday and Sunday, March 5 and 6.

Utsunomiya (25-10) has the second-longest current win streak in the B. League among the 22 first-division clubs. The Ryukyu Golden Kings (29-3) have won 19 in a row, a league record.

The Brex face stiff competition from their East Division rivals. Five other East teams also have 20 or more wins: Chiba (21-6), Tokyo (25-8), Kawasaki Brave Thunders (26-10), Akita Northern Happinets (22-12) and Sunrockers Shibuya (21-16).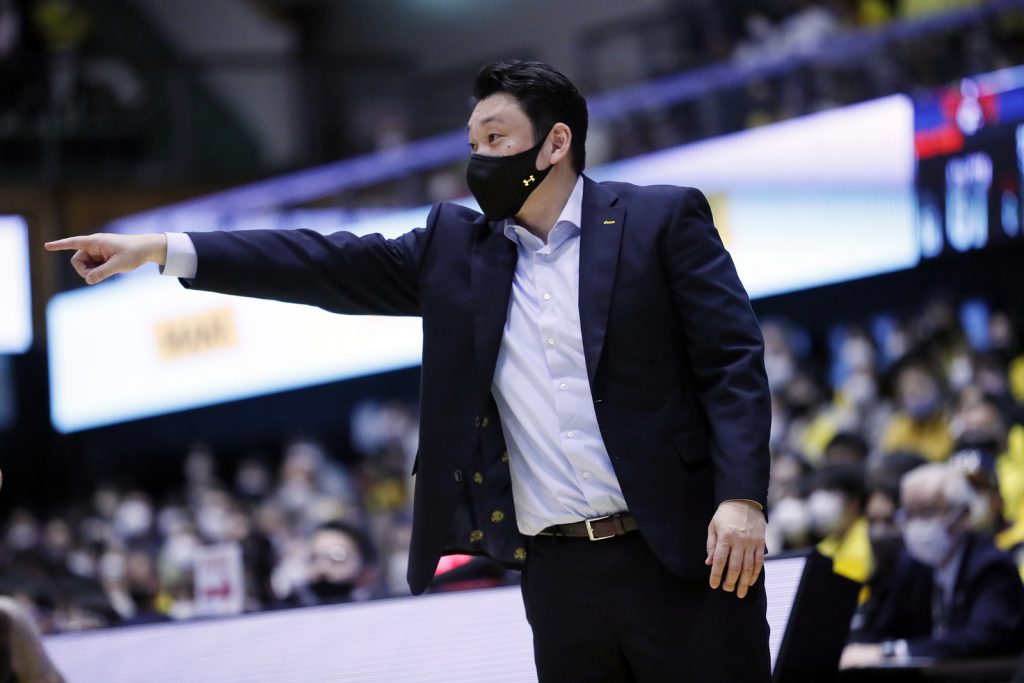 Based on winning percentage, Utsunomiya is in fourth place, with a large chunk of games still remaining between now and May.
It's a sign of the Brex's capable front office that the team has filled the void left by Rossiter and Gibbs without facing a major rebuilding project this season. They did, however, lose three of their first four games in October.
For instance, Fieler, a key contributor on Florida Gulf Coast University's memorable run to the Sweet 16 during the 2013 NCAA Tournament, is an irreplaceable backup for the Brex. He's started in just two of 35 games.

In the series opener against the B-Corsairs, the 29-year-old Parkersburg, West Virginia, native sparked his team with 15 points, 10 rebounds, five assists, one steal and two blocks in 24-plus, high-impact minutes.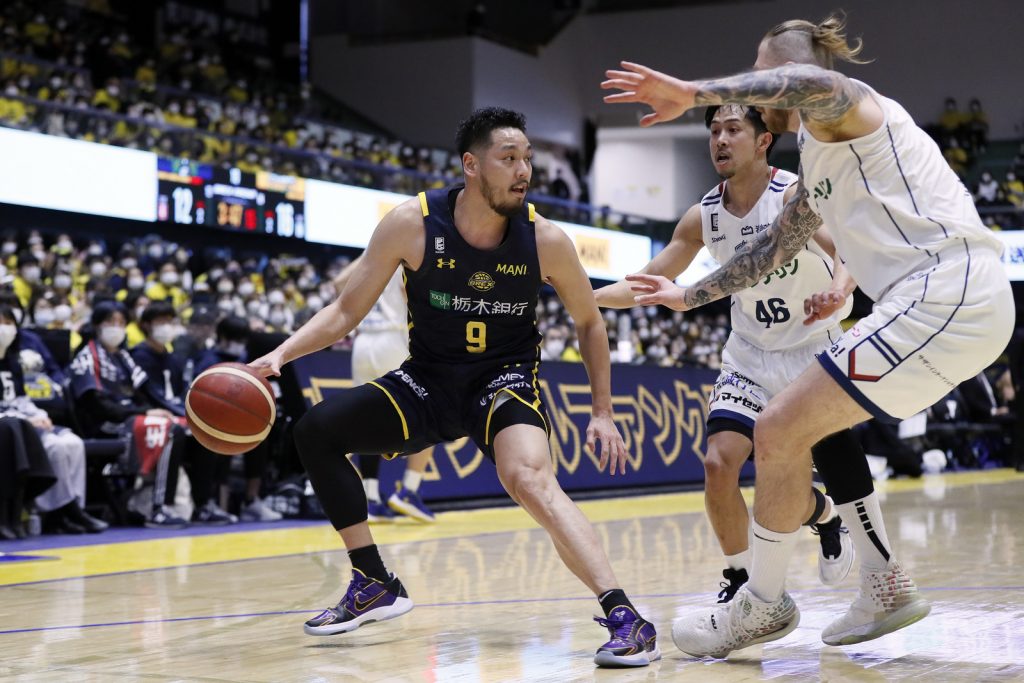 In the rematch, Fieler had a major impact on the game, too, with seven points, four rebounds, four steals and two blocks in 26:12.

On the defensive ledger, those four steals and two blocks added up to a significant number of Yokohama scoring opportunities that Fieler eliminated.

Getting acclimated to Utsunomiya's high-energy, fast style of play and the player combinations and substitutions called by Anzai took some time for Fieler. But now, past the midway point of the season, he said he feels comfortable in his role.

"My understanding of the B League and opponents has increased, and it is becoming possible to play without thinking too much," Fieler said at Brex Arena Utsunomiya.

In other words, he's reading and reacting as he moves on the court instead of standing still and pondering what's going on or what to do next.

Fieler starred for teams in Spain, the Netherlands, Belgium and Greece before suiting up for the German Basketball Bundesliga's Brose Bamberg in 2020-21.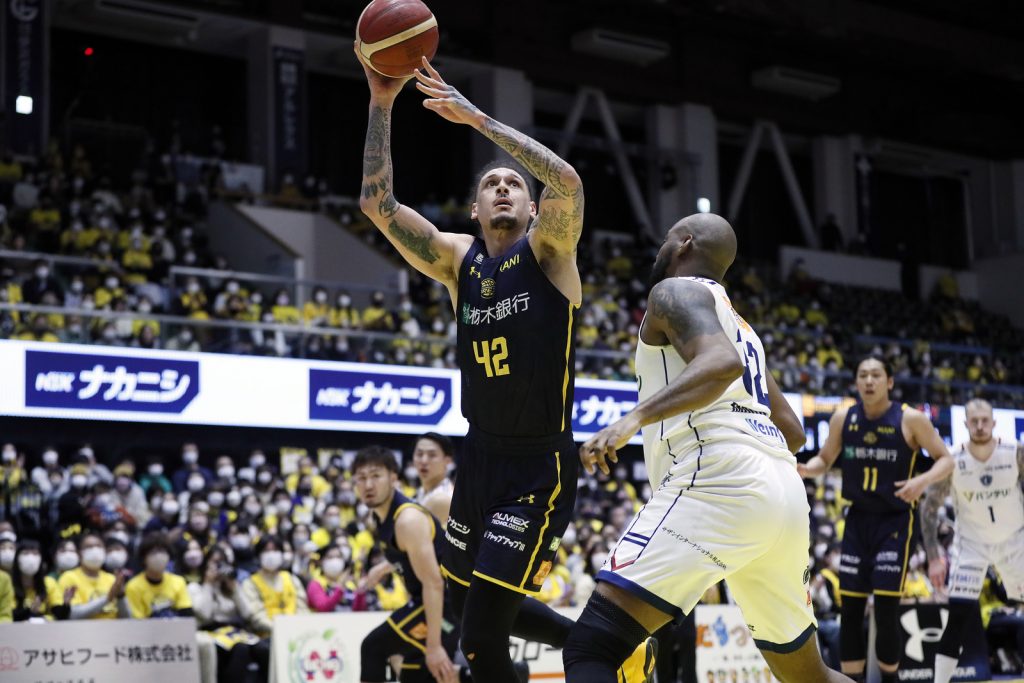 Key Highlights from Saturday
In addition to Fieler's do-it-all performance, Utsunomiya completely dominated the second and third quarters, outscoring the B-Corsairs 55-31.

The Brex led by as many as 30 points against Yokohama (13-23).
Fotu, an English-born player who moved to New Zealand at age 7, paced the winning squad with 23 points on 9-for-14 shooting and grabbed eight rebounds. Makoto Hiejima poured in 17 points, knocking down 5 of 7 from 3-point range, and dished out four assists. Josh Scott finished with 17 points, 11 rebounds and four assists, while Yusuke Endo had a nine-point outing.

Utsunomiya handed out 24 assists and turned the ball over nine times.

Patrik Auda, a Czech Republic native, led the B-Corsairs with 21 points and eight rebounds. Point guard Yuki Kawamura, a rising star who is 20 years old, provided 11 points and matched his season-high assist total with 11.

Key Highlights from Sunday
The Brex took a 36-35 lead into the second half, then completely changed the tone of the game.

From that point on, it was a one-sided affair. The hosts put 47 points on the board and held Yokohama to 24 over the final 20 minutes.

Defense was the decisive factor for Utsunomiya, guaranteeing that it would keep its win streak alive.

The Brex scored 24 points off B-Corsairs turnovers.

They also got solid offensive contributions from Scott (21 points), Fotu (17 on 7-for-8 shooting), Hiejima (11 points, four assists), Kai Toews (seven points, four assists) and Endo (five assists). In addition, small forward Hirohide Araya, who made his pro debut with the Brex last season, scored a season-high 11 points on 5-for-7 shooting.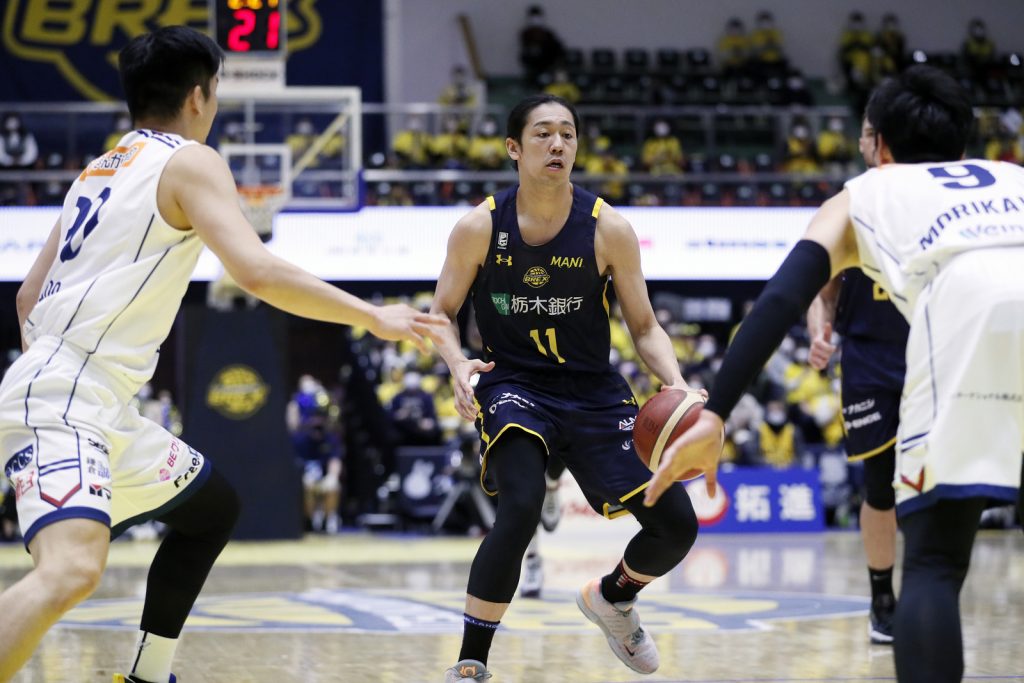 "By playing aggressively, the results are coming not only in points but also in parts [of the game] that do not appear in the statistics," Araya told reporters after the game. "I want to continue as it is."
After the final score appeared on the scoreboard and the Brex exited the court with their second runaway victory, Endo commended his team for playing tough, aggressive defense.
"I think," Endo told reporters, "we were able to reduce the number of [scoring] runs in the second half as a result of consciously thinking that if everyone raised the defensive gear one step further, we could make it our own rhythm."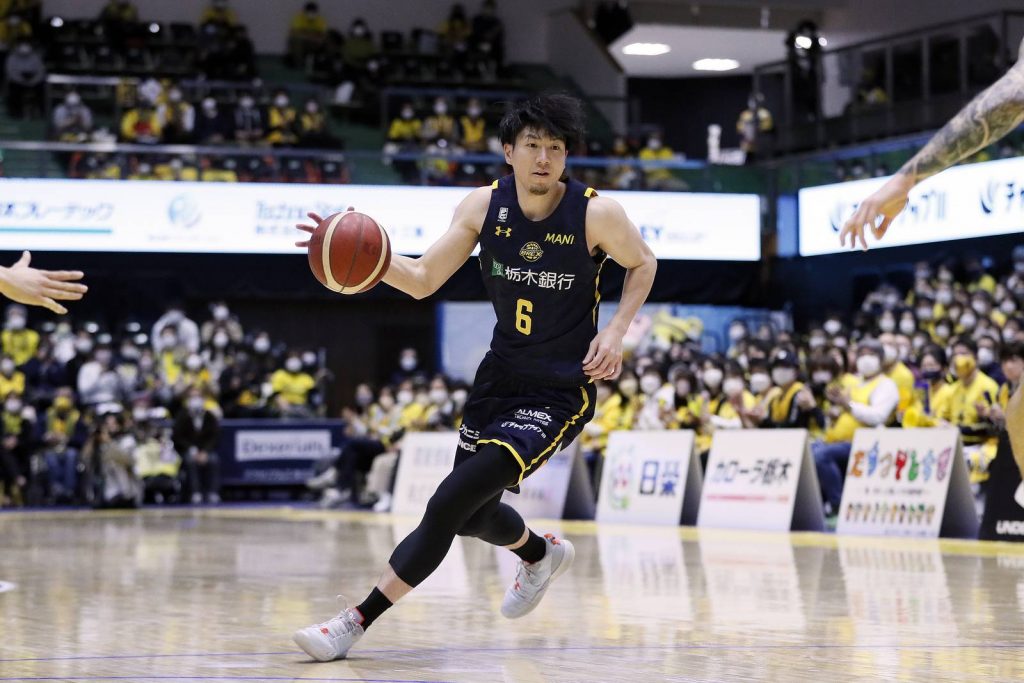 Balanced Offense a Key for Brex
Utsunomiya's players have developed a balanced scoring rhythm this season, one that relies on several players, not one or two to carry the scoring load.

Scott is No. 1 with 16.3 points per game, followed by Fotu (13.6), Hiejima (11.9), Fieler (9.3) and Endo (7.9).
The Brex are set for a marquee midweek showdown with the Jets on Wednesday night, March 9 at Funabashi Arena. It will be the rivals' first meeting since October 27, 2021, when the Brex whipped the visiting Jets 100-75.
Keep an Eye on ... Evessa's Takashima
Osaka Evessa swingman Shinji Takashima had a fantastic shooting performance on Christmas Day, scoring 23 points on 9-for-9 shooting while draining all five of his 3-point attempts against the Brave Thunders.
The 21-year-old reached double digits in points for the second time this season on Sunday against the Shimane Susanoo Magic with a 28-point performance. Takashima was 10 of 12 from the floor and buried 6 of 7 3-point attempts in an 85-68 bounce-back win over Shimane.
Takashima, an Osaka native, appeared in nine games last season. His effort against the Susanoo Magic (25-9) included a season-high 31-plus minutes. It was a big win for the Evessa (14-20), who have dropped four of their last five games.
The B. League produced a nice video highlight package of Takashima's dynamic performance against Shimane. Check it out here.

Author: Ed Odeven
Follow Ed on JAPAN Forward's [Japan Sports Notebook] here on Sundays, in [Odds and Evens] here during the week, and Twitter @ed_odeven, and find him on JAPAN Forward's dedicated sports website, SportsLook.