BASKETBALL | Veteran Forward Jawad Williams Joins Rebuilding Levanga Hokkaido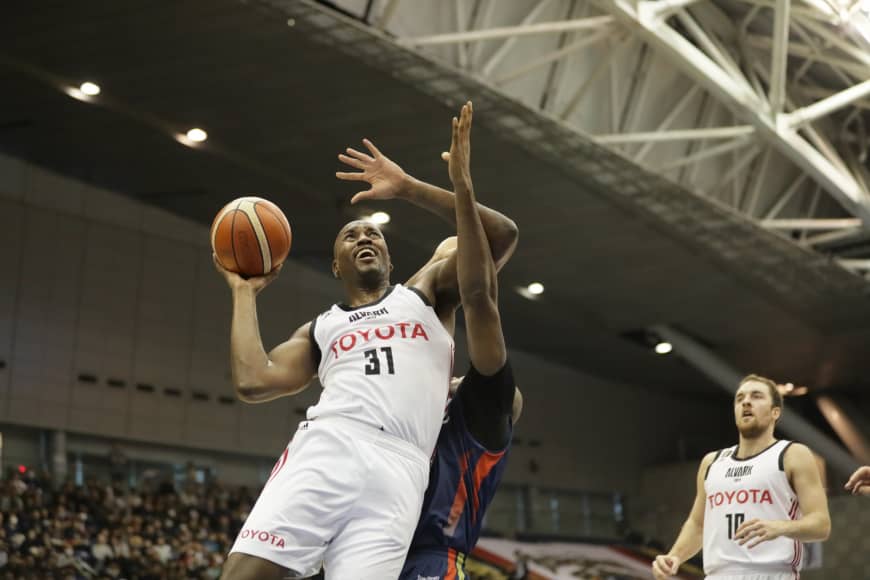 Every team needs veteran leaders.
The Levanga Hokkaido have turned to well-traveled forward Jawad Williams to help fill that role for the upcoming B. League season.
The former University of North Carolina and NBA forward split last season playing for the second-division Koshigaya Alphas and the B1 powerhouse Utsunomiya Brex. Now, he's ready to embark on his 16th pro season.
The Levanga, who announced they finalized a contract with the 37-year-old Williams last Friday, are coming off a 13-27 season that was shortened due to the COVID-19 pandemic. The normal B. League campaign is 60 games. New bench boss Yuta Miyanaga replaced ex-coach Tomohide Utsumi, who parted ways with the team this spring.
Williams and starter Joji Takeuchi gave the Alvark Tokyo two dynamic power forwards during their back-to-back championship seasons (2017-18 and 2018-19). In the first title season, Williams' 3-pointer to close out the first half against the Chiba Jets Funabashi gave the Alvark a big boost of momentum entering the intermission. Williams ruptured his right Achilles tendon in March 2019, and Tokyo completed the season with Takeuchi filling a larger role than before. Williams, who completed his physical rehabilitation weeks ahead of schedule, provided moral support from the bench throughout the 2019 playoffs and celebrated the title with his teammates.
RELATED STORY: [Odds and Evens] Celebrating Hoop Legend Takehiko Orimo's Career, 50th Birthday)
The Alvark, however, didn't bring Williams back for a third season, and he joined the Alphas to launch his comeback.
It was a short stint and similar to an MLB player spending a week or two with a Double-A or Triple-A baseball team before returning to the parent club. In four games with Koshigaya, Williams averaged 16.3 points, 8.3 rebounds and 3.8 assists.
Then on Dec. 28 he made his Utsunomiya debut. During the first few months of Williams' time in a Brex uniform, he displayed stellar 3-point shooting (16 of 32 in 16 games). He would end up appearing in 19 games before the league canceled the remainder of the season on March 27. As a key backup, Williams contributed 7.2 points and 2.9 rebounds for coach Ryuzo Anzai's title-chasing club. Utsunomiya posted a 31-9 record.
Brex rising star Kai Toews, a rookie guard who joined the club near the midway point of last season, said he appreciated Williams' mentoring and professionalism.
"My vet! Taught me so much in such a short time. Thank you @WORLDWAD," Toews tweeted after the news of Williams' move to Hokkaido was announced.
Williams helped the UNC Tar Heels capture the 2005 NCAA Tournament title before launching a career that has also included stops in Spain, Israel, Italy, France, Greece and Turkey. He competed alongside all-time great LeBron James while with the Cleveland Cavaliers (2008-10). Before that, he starred for the Rera Kamuy Hokkaido in 2007-08, and that franchise's ownership group was booted out of the JBL due to financial woes in 2011. Then a new franchise known as the Levanga, with the same fan base and many of Rera Kamuy's previous players, was established later that year.
Now, he's excited about the next chapter of his career, returning to a familiar place.
"Hokkaido has always been a very special place to me," Williams said in a statement. "I'm looking (forward) to returning, working hard and having success."
During his storied pro career, Williams has played for title-winning teams in several countries, including France and Turkey.
Jawad Williams' new children's book chronicles his two oldest kids' experiences living and traveling in a foreign country.
Jawad Williams shoots a free throw in November 2019 for the Koshigaya Alphas. SHUHEI S. / CC BY 2.0 / via WIKIMEDIA COMMONS
Children Provide Inspiration for Williams' Books
In addition to a lengthy pro basketball career, Williams has expanded his horizons by becoming an author of two children's books in the past nine months.
Williams and his wife, Angel, have four children, Nailah, Nash, and twins Zane and Zoe. The two oldest Williams kids serve as inspiration for the book series. To find the books, Nailah & Nash Take Paris and Nailah & Nash Take Tokyo which are available in paperback and on Kindle Cloud Reader.
"Since the birth of my kids, we made it a priority to make sure we read to our children," Williams told Sports Illustrated's AllTarHeels website last month. "We believe reading to children enhances their learning, and everything like that opens their minds and opens their imagination. We read so many children's books over their lifetimes, it was pretty easy for me to put their life into books, and here we are today."
As Williams explained in the interview with Sports Illustrated, his daughter had a key role in shaping the books' content.
"Nailah probably understands it more than I would think she does because she always talks about reading books about kids that look like her," he said. "That's a big thing for her, so that was another gap I wanted to fill. Seeing children of color, seeing black kids, traveling the world, and being more than just athletes and things like that."
And Nailah and Nash helped finalize the stories, too.
"I read the manuscripts to them first, and sometimes they come up with ideas that I forgot about, or they remember specific things like the snails in the Paris book," the Cleveland, Ohio, native said. "They remember that specifically because they ate them so much, so little details like that. If they don't like anything, they can tell me, I'll take it out, but for the most part, they grew up seeing themselves and hearing their story."
Author: Ed Odeven
Follow Ed on JAPAN Forward's [Japan Sports Notebook] here on Sundays, in [Odds and Evens] here during the week, and Twitter @itsjapanforward.