[Bookmark] A Tale of Two Ships: How the Diamond Princess Tackled the COVID-19 Outbreak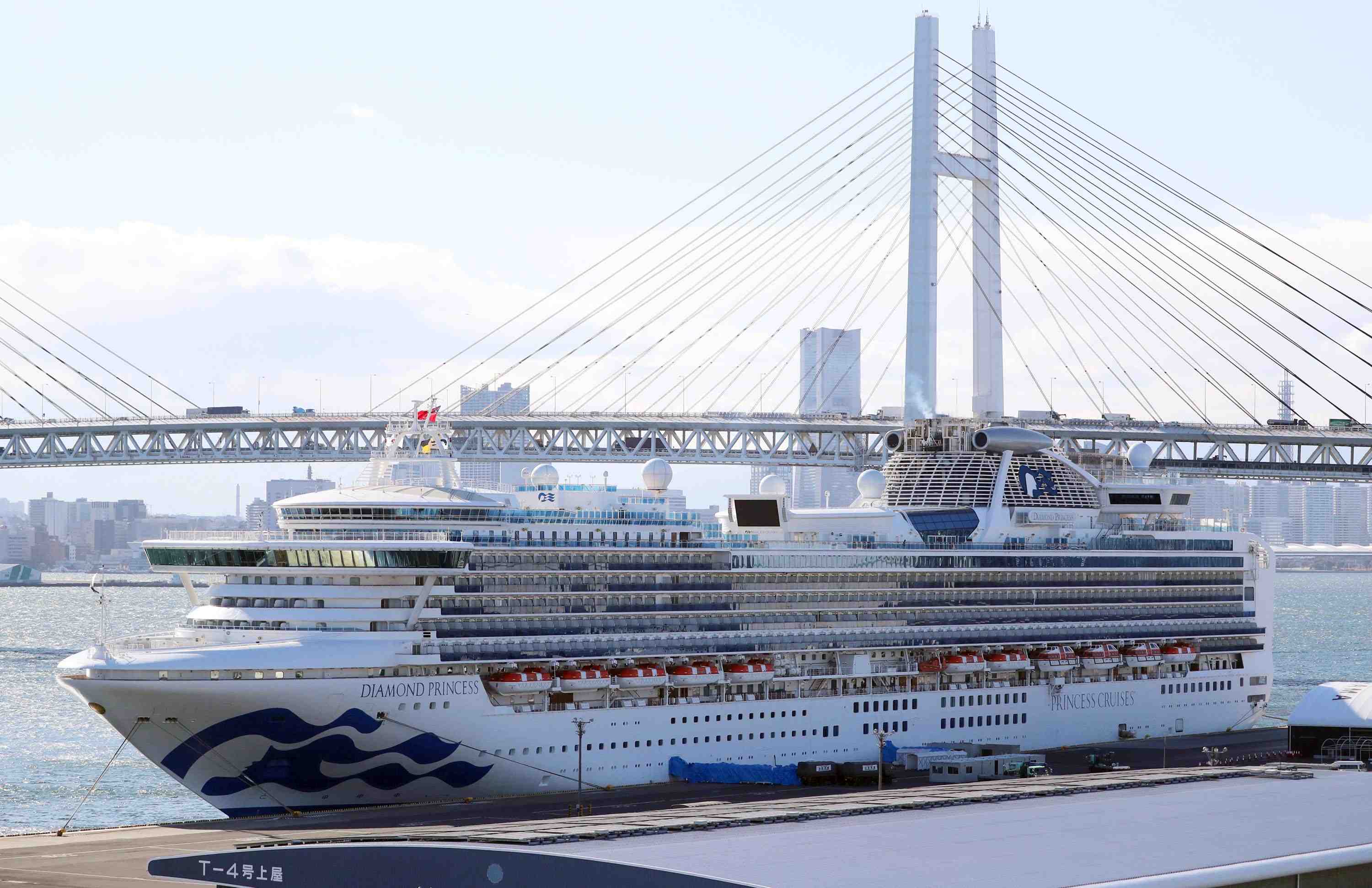 Bookmark is a new JAPAN Forward feature that gives you long reads for the weekend. Each edition introduces one overarching thought that branches off to a wide variety of themes. Our hope is for readers to find new depths and perspectives on the issues we explore here.
First of Two Parts
Two nearly identically equipped and crewed cruise liners with similar passenger numbers each had a coronavirus outbreak onboard, throwing them into a crisis that led to two quite different outcomes.
Japan's handling of the Diamond Princess (DP) after its arrival in Yokohama on February 3 was the subject of worldwide attention and mostly negative press. The lessons learned there, however, formed the basis of the "Japan Model" that so far has minimized the number and size of explosive clusters and, in turn, led to a comparatively fewer number of deaths lost to this virus in the country.
Surprisingly, very little has been written about the United States' handling of a sister ship, the Grand Princess (GP), which approached San Francisco one month later on March 3, and it is unclear what lessons, if any, were learned.
I decided to look into the circumstances and the handling of these two cases: how did they differ, and who managed better the risk of spreading this virus among the passengers and crew and from them to their home countries? Their stories have been reconstructed from hundreds of media reports in Japan, the U.S., Canada, the United Kingdom, Australia, and elsewhere, as well as from official assessments.
They paint a compelling picture of how, in the case of DP, authorities moved in a step-by-step manner that supported intensive contact tracing and minimized new transmissions from the DP. By contrast, the GP left a trail of untested passengers, untreated crew members, and spreading infections.
COVID-19
First, let me set the scene.
The outbreak of the novel coronavirus (officially, the SARS-CoV-2), and the resulting disease called COVID-19, began in Wuhan, China, where the first cases of a new strain of coronavirus were confirmed in early December 2019. Beijing and the World Health Organization (WHO) repeatedly asserted that the outbreak would be contained in China, and there was no need to curtail international travel to or from China.
On January 20, 2020, just after the DP had set sail to Japan, Beijing admitted that cases of human-to-human transmission had occurred, and on January 23 it announced the shutdown of Wuhan, the epicenter of the new virus.
The Diamond Princess
So let's go to the timeline. A Hong Kong citizen, who had been in Wuhan a couple of weeks earlier, boarded the DP in Yokohama on January 20 and sailed to Hong Kong. He left the ship in Hong Kong on January 25. The DP then went on to stop in Taiwan, Vietnam, and Okinawa, before arriving in Yokohama on February 3.
The Hong Kong citizen was on board the DP a total of five days. He showed no symptoms while onboard the ship, but developed them after he disembarked. He was tested at a Hong Kong hospital and confirmed to have COVID-19 on February 1.
Word from Hong Kong public health authorities arrived in Japan late on February 2 that a former DP passenger was infected. There were also indications from the ship's medical clinic that around 30 passengers and crew were suffering from flu-like symptoms. To further assess the situation, the DP was ordered not to disembark its passengers on February 3.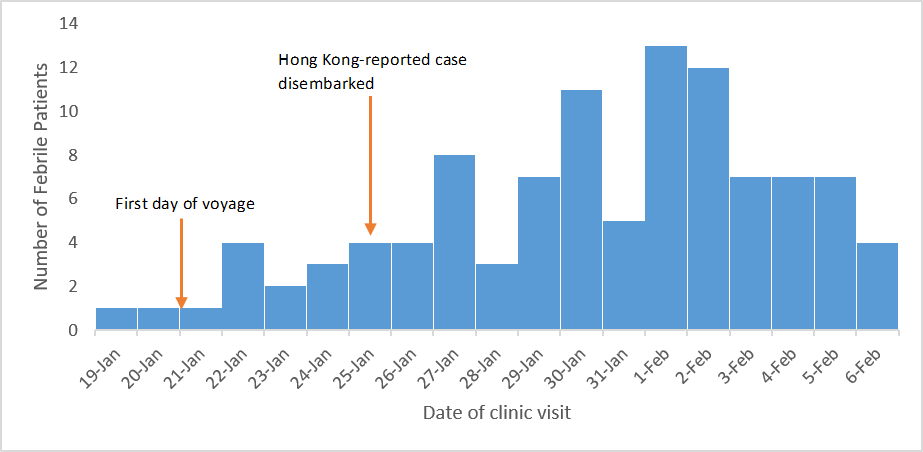 The DP was a British-flagged, U.S.-owned, and U.S.-operated vessel. Upon its arrival in Yokohama, it carried 3,711 persons: a crew of 1,045, and 2,666 passengers. While the 1,341 Japanese citizens made up about one-third of the total, there were nationals from 56 different countries and regions on board. Citizens from the U.S., Hong Kong, Australia, and Canada made up the largest groups of passengers. Nationals from the Philippines, India, and Indonesia were the most numerous among the crew, which was captained by an Italian national.
How Japan Handled the DP Emergency
When the DP arrived in Yokohama on February 3, Japan could only test a maximum of 300 people for COVID-19 per day. Each test had to be conducted in one of two specialized labs and took six hours to complete. The test results took two to three days to get back.
By comparison, the U.S. Center for Disease Control (CDC), the recognized premier infectious disease control center in the world, could not produce any test kits for COVID-19 until mid-February, and then only in small quantities. Test results came only from the CDC in Atlanta, thus increasing the delay between test and results by three to four days.
Starting February 4 (DP Day 1), Japan began administering polymerase chain reaction (PCR) tests to the 30 suspected cases, and 20 came back positive. Those individuals were quickly disembarked from the ship and admitted to special infectious disease wards in Tokyo-area hospitals. By the end of February 5 (DP Day 2), it was clear that the DP had arrived in Yokohama already a sick ship, but how sick would take a few more days to confirm.
No one in North America, Asia, or Europe was able to lend a hand for a sick ship with over 3,700 souls on it. No one other than China had a testing capability that exceeded Japan's 300 tests per day. China was deep into its explosive Wuhan outbreak, so test kits could not be "borrowed" from anywhere.
Keep in mind that, as of February 3, very little was known about how infectious the virus was or what its full range of transmission routes was. The countries with the largest populations on the ship were, at that time, focused on evacuating their nationals from Wuhan, the perceived higher priority. Japan also had over 800 Japanese citizens that required urgent removal from Wuhan.
At the time, no country offered to send planes and evacuate their nationals from the ship. No one had any quarantine areas set up. Even seven days after the DP shipboard quarantine began, the CDC was sending messages to the U.S. nationals on the ship, advising them that remaining in quarantine on the DP was the best option for them.
The Quarantine
The Tokyo-Yokohama area is one of the most densely populated regions in the world, with over 34 million people living there. Japan has no military bases in this area with empty buildings that could be quickly made available for quarantine purposes. The U.S. did not offer up its Yokota Air Base in the western part of Yokohama as it had no available facilities. Japan has no hospital ships.
Given the absence of other viable options, the situation presented two tough challenges: stopping or at least slowing the transmission among the passengers and crew, and preventing potentially infected persons from the ship from carrying the virus as they flew home to over 50 countries around the world.
After consulting with WHO, the CDC, and other relevant health organizations, the Abe government reached the decision that all passengers and crew would be quarantined on the ship for 14 days, until February 19. The plan was to keep all passengers in their cabins ("social distancing" as we now know it), require masks be used for the brief periods allowed outside, minimize crew movement, continue PCR testing for any individuals who showed flu-like symptoms, and quickly disembark and hospitalize those who tested positive.
Over the next seven days, PCR tests confirmed that 537 passengers and 82 crew were infected. Given the incubation period of 12 to 14 days and onset of symptoms, it was clear that virtually all of them had become infected between January 20 and the DP's arrival in Yokohama on February 3.
Once confirmed with a PCR test, each case — whether light or moderate — was quickly disembarked and admitted to a Tokyo regional hospital. The final assessment by Japan's National Institute of Infectious Diseases (NIID) was that over 95% of all passenger cases and over 85% of the crew cases contracted the virus before the ship's arrival in Yokohama on February 3. Only a few, mostly crew, contracted the virus during the quarantine, and even those fell within the incubation period.
The data provides clear evidence that the quarantine was almost entirely successful in stopping further transmissions during the quarantine period for the other nearly 3,000 individuals on board.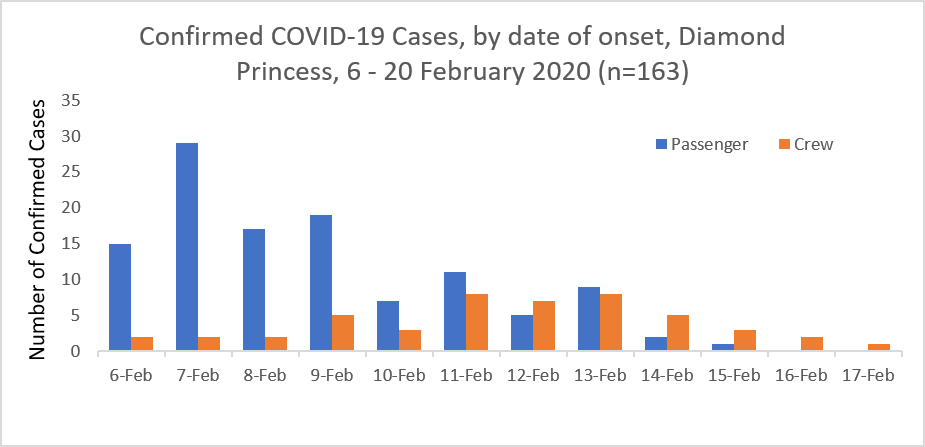 From February 11 (DP Day 6), systematic PCR testing of all passengers and crew began in anticipation of their disembarkation. The U.S. arranged a charter flight back to the U.S. in the early hours of February 17 (DP Day 13) for the 328 U.S. nationals who had negative PCR tests. Forty-four Americans remained behind, undergoing treatment in Japanese hospitals. Other countries with large groups — such as Hong Kong, Canada, and Australia — followed suit over the next two days.
On February 19 (DP Day 15), the remaining passengers began to disembark in groups, after clearing PCR tests and a final medical check, for a further 14-day quarantine in hotels and other similar facilities in the Tokyo area. There were a total of 443 who disembarked on the 19th, 274 on the 20th, and 253 on the 21st (DP Day 17).
Crew members who had negative PCR tests remained on board to complete a further 14-day quarantine. All crew members were then repatriated back to their homes over the next three weeks. The last of the crew disembarked the ship on March 2, after being PCR-tested and cleared.
Subsequently, NIID was able to confirm that none of the Japanese passengers who had tested free of the virus and been allowed to return home had infected any third party. A few were subsequently retested and found to be positive, but the fears that those passengers would lead to an explosive outbreak in Japan did not occur.
Over 2,700 members of the Japan Self-Defense Forces (JSDF) were assigned for up to 20 days to support the quarantine. They issued prescription drugs to the passengers and crew (three JSDF pharmacists stayed onboard), conducted medical examinations, helped in disinfecting the ship, and acted as drivers for JSDF ambulances and buses.
The JSDF operated under their safety standards and utilized JSDF-issued personal protective equipment (PPE). Not one JSDF member contracted the virus. Dozens of Japan Ministry of Health (MOH) officials who were also on the ship to support the quarantine were not as disciplined nor as well-equipped with PPE, and 14 of them contracted the virus while performing their duty, either onboard or while transporting passengers or crew. (RELATED STORY: Japan's Self-Defense Forces Could Have Played a Larger Role in Fighting COVID-19, But…)
One U.S. couple, Matt Smith and Kathy Codekas — both of whom were lawyers, who became famous for their tweets during the DP onboard quarantine — refused to take the U.S. charter flight and opted to remain in Tokyo at a quarantine facility.
"We would have had more likelihood of contracting the virus in those circumstances on that plane than anything we did on the ship or during the quarantine," said Matt. "We've enjoyed the hospitality of the Japanese and the facility that allowed us to stay here."
Another American, Sarah Arana, said: "This was too much for Japan, and they shouldn't have had to bear the burden. The people of Japan did not deserve this. I am full of gratitude." (RELATED STORY: Japan Thanks Medical Workers for COVID-19 Sacrifice with 'Blue Impulse' Flyover)
After being cleaned by a new crew, the DP left Yokohama on March 26, or 52 days after it arrived as a very sick ship.
Assessment of the DP Experience
There were mistakes. Quarantine enforcement was inconsistent, especially from Days 14 to 16, when large groups of foreign nationals were leaving or getting ready to go. The MOH officials who went aboard were neither adequately trained nor equipped. Without a CDC in Japan, the chain of command among the various supporting groups on board was inefficient.
The expectation that the team of Japanese authorities would effectively enforce physical distancing and masks as time went by was optimistic. Communication in English, explaining the rationale of the challenges that drove critical decisions, was inadequate.
In the end, the criticisms boil down to three:
First, that it is inhumane and a violation of human rights to hold the passengers who were not sick in quarantine against their will. This criticism suggests that broad public health considerations are secondary to individual rights, a view not supported by the quarantines on the GP and multiple other cruise ships, as w

ell as the strictly-en

forced, mandatory lockdowns later implemented around the world.
Second, that a cruise liner is a petri dish for infectious diseases and should never have been used for the quarantine. This critique, however, offers no alternatives that might have been feasible on February 3. There were none.
Third, that the quarantine plan was flawed and also mismanaged. This is contradicted by the data showing that, in almost every passenger case, and the overwhelming number of cases among the crew, infection occurred before the ship arrived in Yokohama.
Part 2 : A Tale of Two Ships: How the Grand Princess Tackled the COVID-19 Outbreak
Author: Edo Naito
Edo Naito is a retired international business attorney. He has held senior executive positions, leading major business units in Japan, the Indo-Pacific region, and globally at several U.S. and Japanese multinational companies. He naturalized as Japanese in 2015 after living and working in Japan for over 40 years.