Bicycling through Japan During Covid: The Trip from Kyushu to Honshu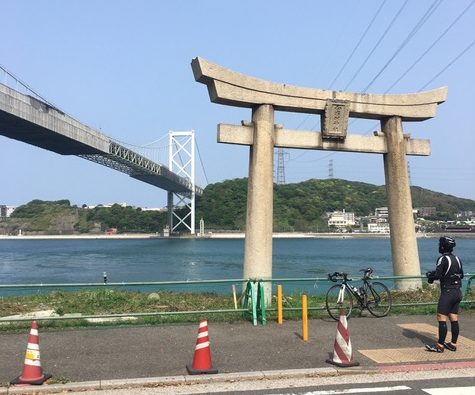 In this instalment of the series, I cycle from the onsen town of Beppu to the atomic bomb dome in Hiroshima.
Beppu is fantastic!! ¥100 JPY (about 93 U.S. cents) to bathe in an onsen, cheap, authentic food, bright and bubbly people. I was fortunate, because thanks to the emergency declaration, there were only a few like-minded tourists in town. The government was requesting people to stay home – but I was warmly received.
Onsen water seems to be quite corrosive in Kyushu. The facilities themselves looked like they were melting away.
And I paid only ¥2300 JPY ($21.45 USD) for a full-course meal with beer at a local Izakaya!
I also met a couple of bubbly ladies who had set up shop on the roadside to sell bread, flowers, and some vegetables. I filled my tummy with their homemade bread, and received some flowers with sweet words: Thanks, they said, for giving hope and energy by cycling all the way to their little town.
End of Capitalism / True Community Spirit
Inside Beppu I interviewed a takoyaki (grilled squid) restaurateur about the economic impact of COVID-19 on his tiny shop. He explained that the local community helped him a lot by ordering more than they normally do. But, he said, he couldn't help but feel short-changed, because this meant his business was not eligible for government COVID-19 subsidies.
The subsidies are cash payments from the government to small businesses to cover shortfalls in revenue compared to the previous year.
We both sighed, lamenting the end of free market capitalism. The true cost of COVID-19 will become clear with next year's budget and tax policy! Then, we can judge whether the lockdowns were indeed worth it, and whether peoples' appetite for safety outweighs the taxes they are willing to pay.
But what does it say about Japanese society that one hard-working taxpayer will pay for his neighbor's (and competitor's) subsidies? I still cannot see how we'll clean up the mess created by COVID-19's government response.
Home of Prime Minister Abe
I carried on north from Beppu, to the city of Kitakyushu.
There, I stayed at a lovely guesthouse in the middle of a deserted red-light district with a group of similar lost souls laying low from COVID-19. I met another ultra-long-distance cyclist who, unlike me, was pausing his around-Japan cycle trip due to the emergency.
I cycled across the Shimonoseki Strait, through an 800m undersea passage, shirtless, high on life from successfully completing the circumnavigation of Kyushu inside 10 days.
Next, I found myself in Yamaguchi prefecture, home of the prime minister and the old Choshu domain. The Choshu clan, along with the Satsuma clan (Kagoshima prefecture) were the chief protagonists of the Japanese civil war (Boshin War) and Meiji Restoration in the 1860s.
It is an historic area. The Choshu were on the brink of collapse when the revolutionary samurai Takasugi Shinsaku made several gambles with the aim of overthrowing the rapidly declining Bakufu Shogunate. He rounded up 80 citizens and armed them against pro-Bakufu elements within the Choshu Domain, succeeding in a small coup d' etat, and sealing the legendary alliance with the Satsuma to finally wrest power away from the Shogunate.
Yamaguchi prefecture has accordingly provided 9 prime ministers to the country, the most of all prefectures. Yamaguchi is a land of character, or kokorozashi, a never-say-die attitude.
It was a pleasure to be here. If we need anything these days, it's kokorozashi.
The people I met in Yamaguchi were really upbeat and nice. One memorable exchange was with an ojisan (old man) who bought me ice cream outside a Lawson (convenience store) shop. We talked about history and kokorozashi. He said he didn't give a damn about COVID-19! It seems I have to travel this far into the countryside nowadays to meet like-minded folk.
Yamaguchi prefecture is so rural that I couldn't even find a hotel. Instead, I set up a tent inside an unmanned train station and slept on the hard concrete.
Hiroshima – Site of the Atomic Bomb
At the break of dawn, I rolled up my tent and carried on through to Hiroshima.
At this point, I had cycled about 900kms. I didn't feel weary or tired at all – just excited. Excited about the people I was going to meet. Excited about the sites I was going to see. Excited about the food I was going to eat.
Once in Hiroshima city, I visited the atomic bomb dome monument. It is a testament to human violence and ingenuity. I gave an impromptu speech to an audience of – whoever watches my YouTube videos. Only one couple sat nearby on a bench, observing my curious diatribe.
The atomic bomb dome stands to remind us of the awesome technological prowess we have come to possess, and of its destructive capabilities.
The message is that we are capable of the destruction of our own species. That we should be fearful of war and be careful in how we treat each other.
It was a turning point in human history – a collective realization that we cannot fight "hot" wars on a whim. And so Hiroshima gave way to the Cold War.
COVID-19 seems to be another turning point in history, too. Except, we don't have a monument for that. Indeed, it would seem absurd to erect a monument to the virus, at least at this point.
Standing before the monolithic dome invites perspective and humility by framing current events in the larger context of humanity.
Where do we go from here? That's the question on everyone's lips.
Author: Julian Israel
Julian's videos of this trip are available here, and on his own YouTube channel.