Businesses Mobilize as Vaccine Pace Picks Up, but Uneasiness with Jabs Also Emerges
"It's important to get as many people as possible vaccinated, and that way we can increase the immunity of society as a whole"ーDeputy Defense Minister Yasuhide Nakayama, on June 10.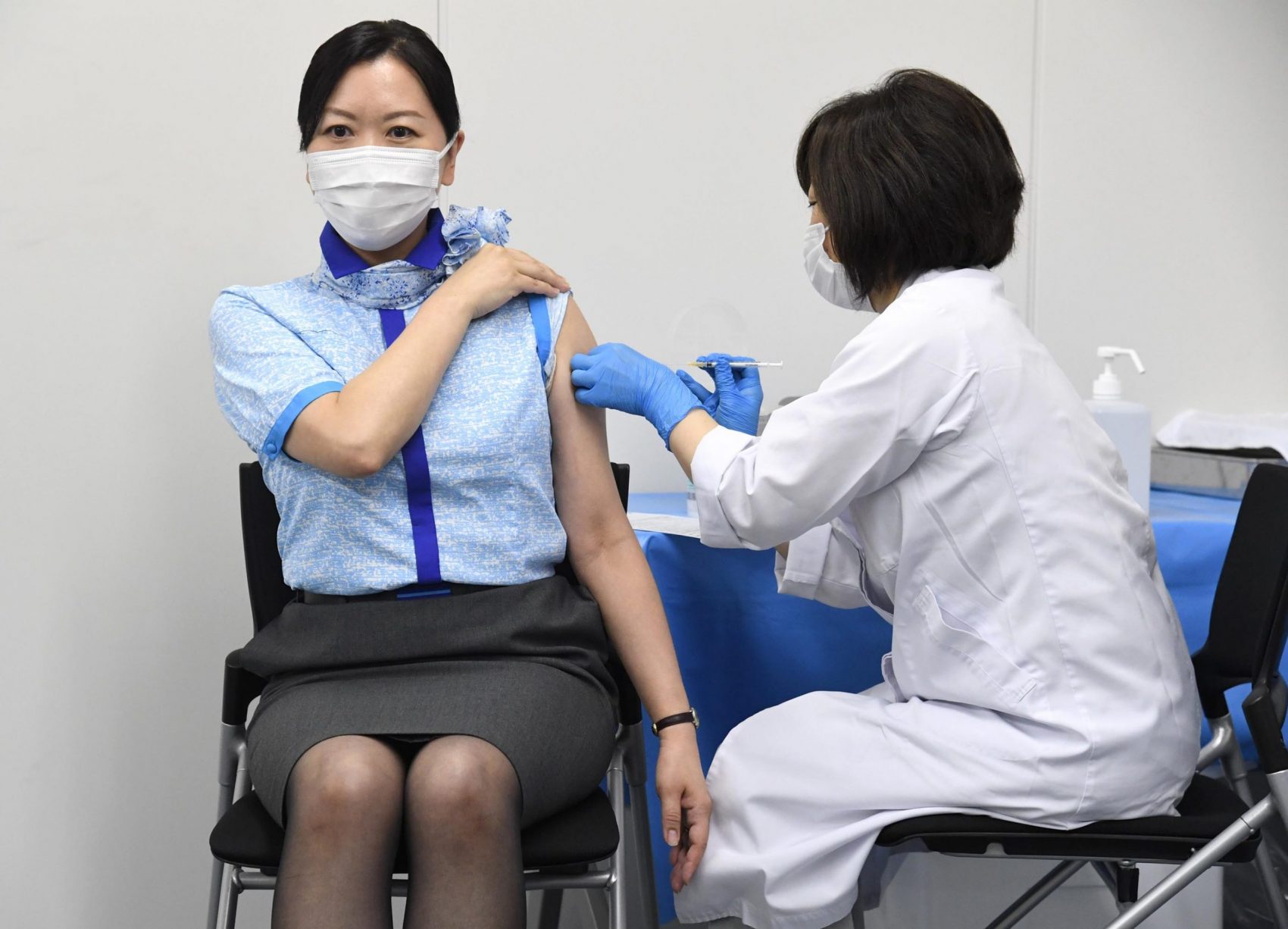 ~~
~
On June 10, the government confirmed that more than 20 million people had received their first jab.
#新型コロナワクチン の総接種回数が2000万回を超えました。 pic.twitter.com/vh0N9DtSbw— 首相官邸(新型コロナワクチン情報) (@kantei_vaccine) June 10, 2021
The number doubled in just under two weeks. Only 10 million people had received a vaccination as of May 28.
The announcement came as Japanese Prime Minister Yoshihide Suga said in a National Diet session on June 9 that the aim is to "finish vaccinating all those who wish to do so by October or November 2021" at the latest.
On June 11, Minister in charge of vaccinations Taro Kono expressed optimism for this aim, saying: "We have already reached 800,000 jabs in one day. If we speed up a little more we can get to 1 million vaccines per day. And on top of that, I have high hopes for workplace vaccinations."


Pace Picking Up Among Over-65s
In particular, the pace of vaccinating those over-65 has picked up, as just under 10 million people had received their first jab, roughly 27 percent of a total of 36 million people, as of June 13. At the end of April, PM Suga pledged to finish vaccinations of those over-65 by the end of July.
The effort has been aided by large vaccination centers administered by local governments and the Japanese Self-Defense Force.
RELATED: Inside the Mass Vaccination Center in Tokyo
For example, the JSDF-operated center in Tokyo administered over 71,000 shots in the first week of June, and more than 34,000 jabs were administered at the JSDF site in Osaka.


Businesses Start Mobilizing
Businesses and universities are also getting ready to help out in the vaccination effort, starting from June 21. On June 8, the government opened applications for businesses with over 1,000 employees who wish to set up vaccination centers for their employees.
As of June 15, a statement was published on the vaccine-related Twitter account saying that over 1,500 businesses had applied to set up company vaccination centers. The government estimates that this is equivalent to doses for about 6.85 million people. Among the universities, those with medical departments have been especially quick to respond, with Keio University coming forward to say they will organize vaccinations for the staff and nearly 50,000 people among the student body.
All Nippon Airways (ANA) started vaccinating its staff on June 15, and has drawn up a plan to finish vaccinating all employees by the end of August.
The Tokyo Medical Association held a press conference on June 8 announcing that they had established a Tokyo Vaccination Team to help out with the vaccination effort in the capital. The initiative, starting from mid-June, would be made up of doctors, nurses, pharmacists and dentists from the local association who could be contracted to work in company vaccination centers.


Expanding to Other Groups
Some local governments are also taking initiative. One plan which stood out was that of Suginami Ward, which announced on June 10 on its website that following the vaccination of those over-65 and with pre-existing conditions, it will be prioritizing vaccinations of those between the age of 12 and 39. Vaccine vouchers will be sent out to ward citizens starting from June 21, and vaccinations of younger residents would start from mid-July.
The Suginami website mentions the high level of infection in the ward among those between the ages of 20 and 30, and the upcoming summer holidays (starting in July), as the causes behind prioritizing this demographic.
Note that each ward is slightly different. So make sure to check the information of your own local government to find out when vaccinations will be available to your age group.


Local Governments Struggling to Keep Up
Some local governments have expressed difficulty in keeping up with the pace set by the government to vaccinate all the over-65 population by the end of July.
For example, Yokohama City in Kanagawa Prefecture has a population of over 970,000 over 65, but has revised its aim to vaccinate "80 percent of over-65s by August," according to the Mainichi Shimbun.
In addition, due to schedule adjustments to include mass-vaccination centers, some local governments reported that vaccinations were only available in August.


Sharp Decrease in Bookings at Mass-Vaccination Centers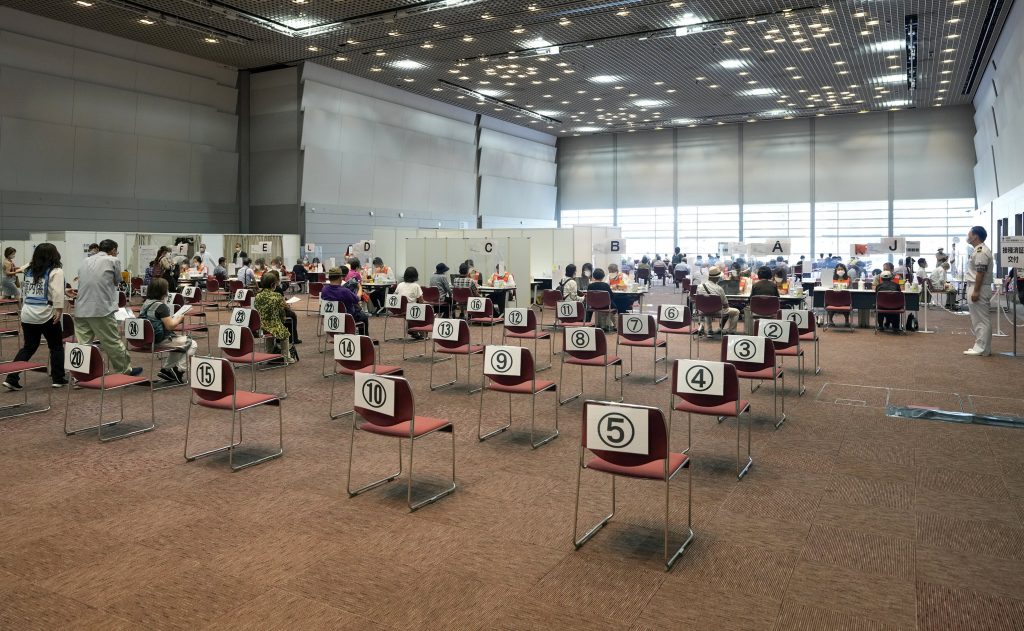 At the same time, there has been some difficulty in keeping demand up to the level of supply at some locations around the country.
One example is that after the initial speed in getting over-65s vaccinated in mass-vaccinations centers, the Japan Self-Defense force centers are seeing a drop in demand for bookings. Bookings for the latter part of June for vaccinations at the Tokyo Center had less than a third of places filled (30,000 over a total of 140,000) as of June 11.
To increase the chances that bookings are filled, the Deputy Minister of Defense said on June 10 that the JSDF plans to take steps such as broadening eligibility to include those over-65 from all over the country. Previously, only people in Tokyo and Osaka were eligible, and then the range was extended to the neighboring prefectures, Chiba, Saitama, Kanagawa, and Hyogo, Kyoto respectively. According to an article published by Sankei Shimbun on June 11, the idea has also been floated to lower the eligible age to those younger than 64, if vaccine coupons can be distributed.
Deputy Defense Minister Yasuhide Nakayama commented on June 10: "It's important to get as many people as possible vaccinated, and that way we can increase the immunity of society as a whole."


Uneasiness Also Pops Up
Yet not everything has gone swimmingly. An episode which particularly stood out took place in a small city in the Kyoto Metropolitan Area, called Ine.
The city, which has a population of about 2,000, started vaccinations of those over the age 12 from June 7, after the Ministry of Health extended the eligible age to include those between the age of 12 and 15.
Yet, NHK reported, the local vaccination hotline was flooded with hundreds of calls and emails in protest. These were reported to be mainly from people outside the prefecture, who were expressing fear that there were not sufficient clinical trials for vaccinating young students. Open threats, such as "I will kill you," were also among the reactions.
With the vaccination effort speed picking up, there is reason to be hopeful that normalcy is within reach. But in consideration of those who feel uneasy, an active information campaign needs to continue.
RELATED


Author: Arielle Busetto