Cherry Blossom Viewing Guide 2021: Tokyo
While exercising caution during COVID-19, we recommend some spots where you can soak up the sense of appreciation of nature as the spring unfolds.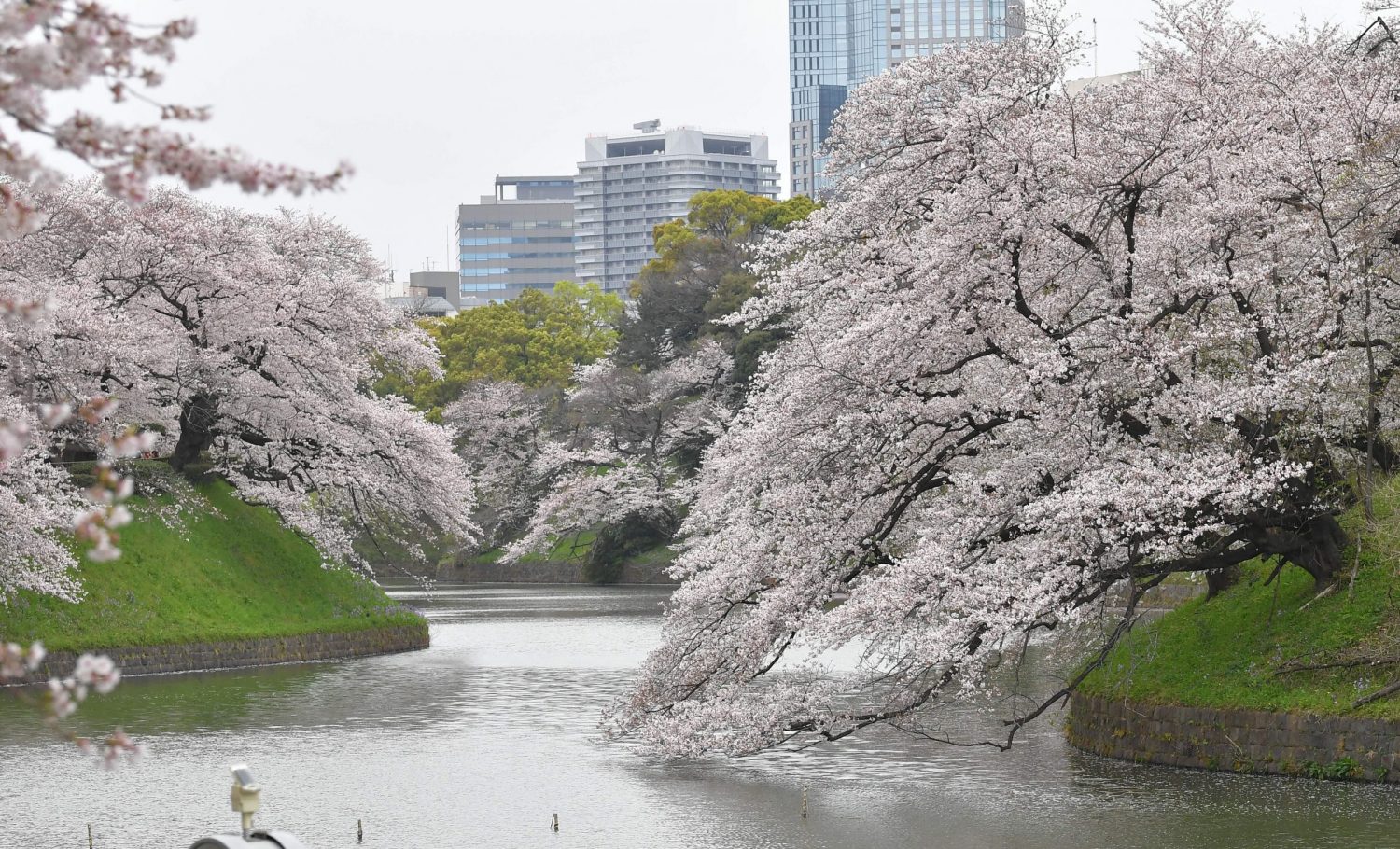 ~~
The beautiful ethereal blossoms of spring have arrived sooner than usual. Some forecasts even predict that the cherry blossom season will start in Tokyo as early as Friday, March 18, slightly ahead of normal.
JAPAN Forward has prepared this list of suggestions as to where to enjoy the beautiful flowers in Tokyo.
Tokyo has more than its own share of spectacular o-hanami spots.
A mixture of traditional and futuristic, Tokyo can be overwhelming — especially when considering the sheer amount of memorable places available to visitors, from Shibuya Crossing at Shibuya station, the Meiji Shrine and Takeshita Street in Harajuku, to Asakusa and other well-known local sights.
However, within this concrete jungle, plenty of green spaces do exist. And they offer unforgettable opportunities for cherry blossom viewing.
Be forewarned, however, that many big events with related food stalls have been canceled, and rules for picnicking in parks have changed to discourage large gatherings as a preventative measure against the novel coronavirus outbreak.


Shinjuku Park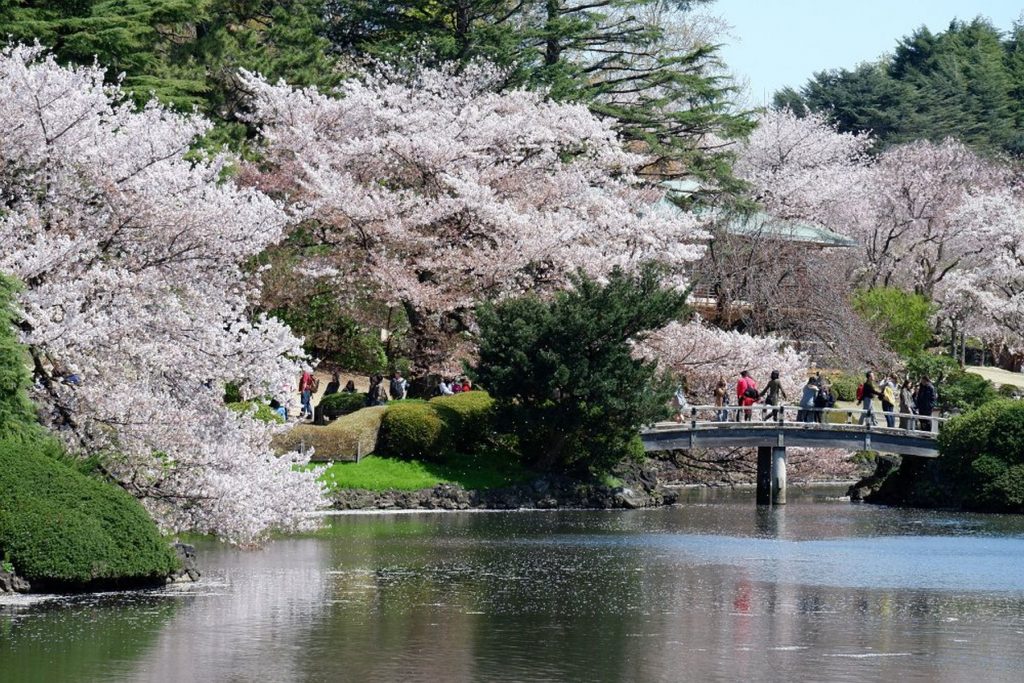 Perhaps the most famous of Tokyo's cherry blossom spots is the Shinjuku Gyoen National Garden (entrance fee ¥500 JPY). This public garden features about 1,300 trees and over a dozen varieties of flowering cherries, which bloom at different stages.
The park has large, open lawns and walking paths, making it accessible to those with baby strollers and wheelchairs, and a great choice for anyone wanting to spend a few hours underneath colorful blossoms. It is also a great place if you're searching for a more contemplative atmosphere, as opposed to the rowdy hanami extravaganza in some other locations.
Check out our past article on Shinjuku Gyoen flowers here.


Ueno Park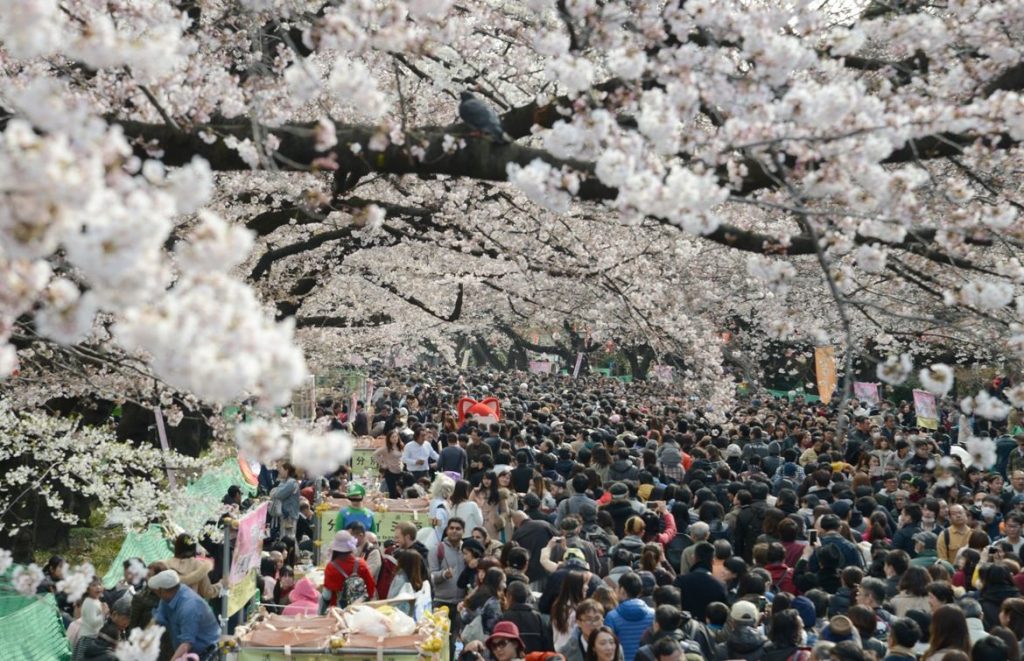 At the other end of Tokyo, Ueno Park (no fee for entry) is equally popular, but usually insanely crowded.
Blooming a day or two earlier than other places in Tokyo, the expansive park has an estimated 800 to 1,000 cherry blossom trees lining its central path. Boats are usually available for rent at the pond, and the park is lit up beautifully during the night.


Yoyogi Park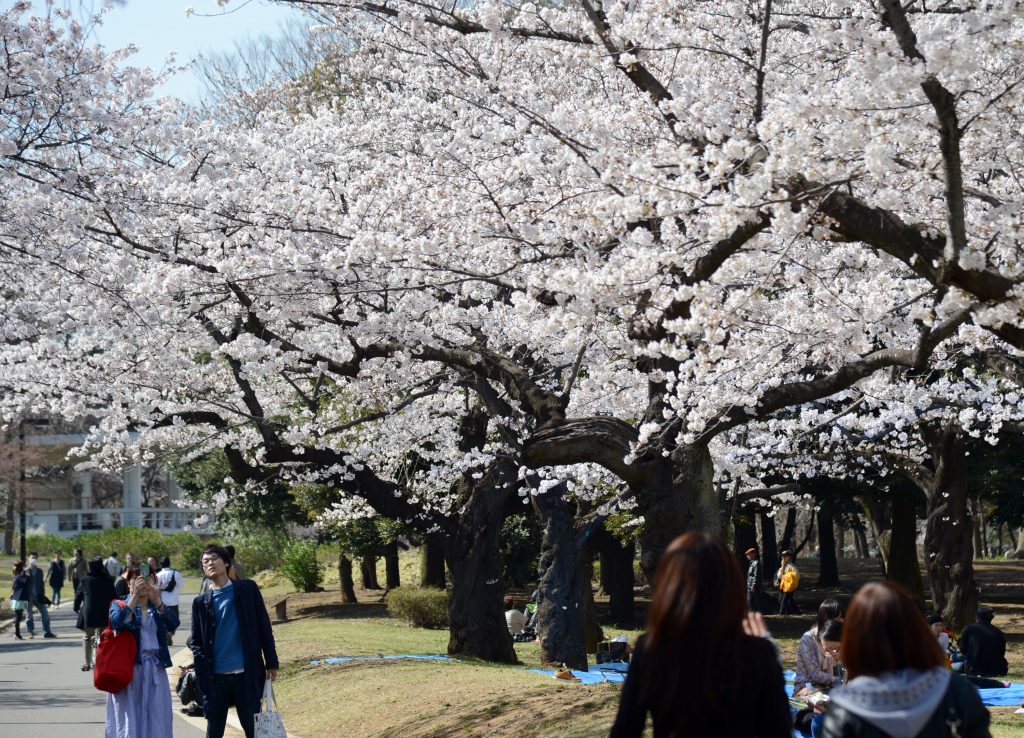 Heading south, Yoyogi Park (no fee for entry) is about the same size and just as raucous in its cherry blossom viewing parties. It has about 600 trees, and during the height of the season in past years has even had food stalls. While temporary food stalls may be restricted this year, there are cafes on the premises and plenty of cafes and restaurants around the stations near the park.


Evening Blossoms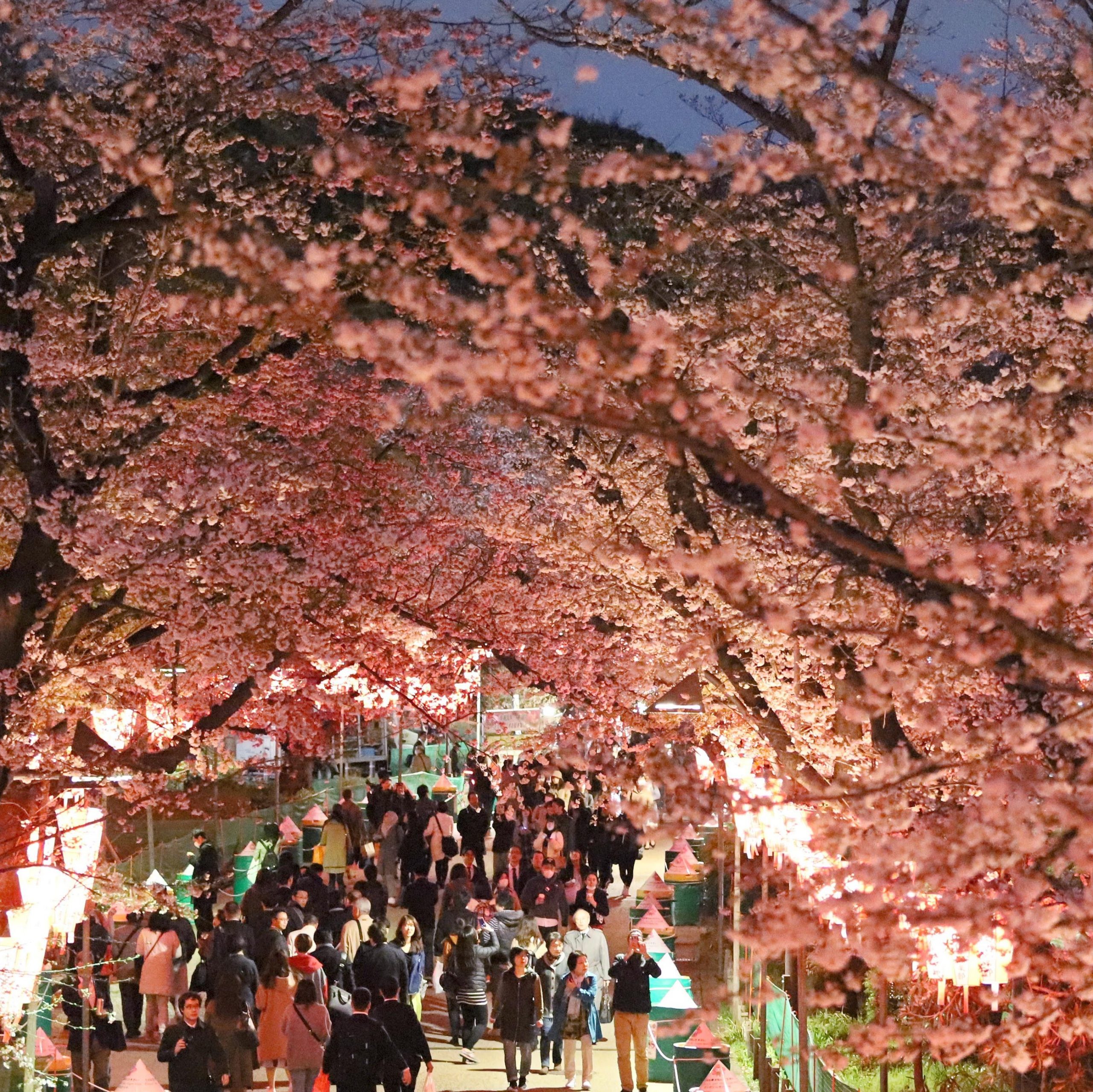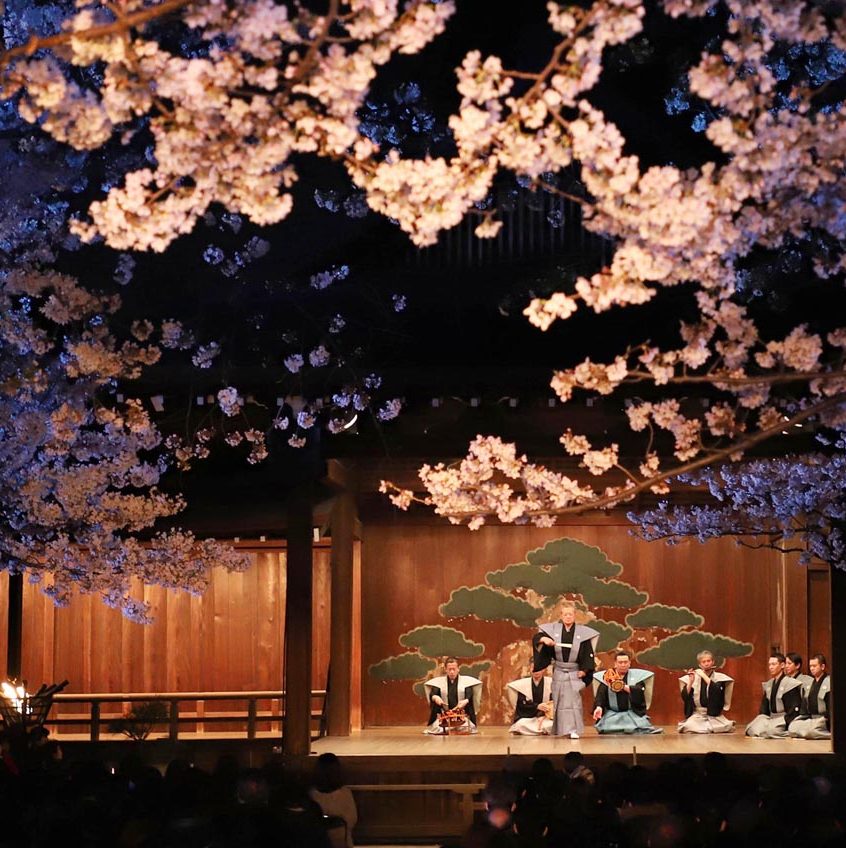 Additionally, both Ueno and Yoyogi parks are particularly popular spots in the evening. They gradually fill with fun-loving groups enjoying the cherry blossoms under the moon-lit sky, while enjoying picnics with colleagues, family, and friends.
In 2020, as a precaution against the novel coronavirus, it was announced that it wasn't possible to claim hanami space with the blue tarp in these parks, and food stalls were not available. The restrictions were in place to avoid the 3Cs, in particular to keep many people from crowding into a limited space. Instead, for those who wanted to enjoy the flowers while having an evening stroll, lanterns lit up the premises. Rubbish bins were still provided.
It's expected that there will be similar arrangements this year, but make sure to check the relevant park homepages here and here for updated information.


Chidorigafuchi and Yasukuni Shrine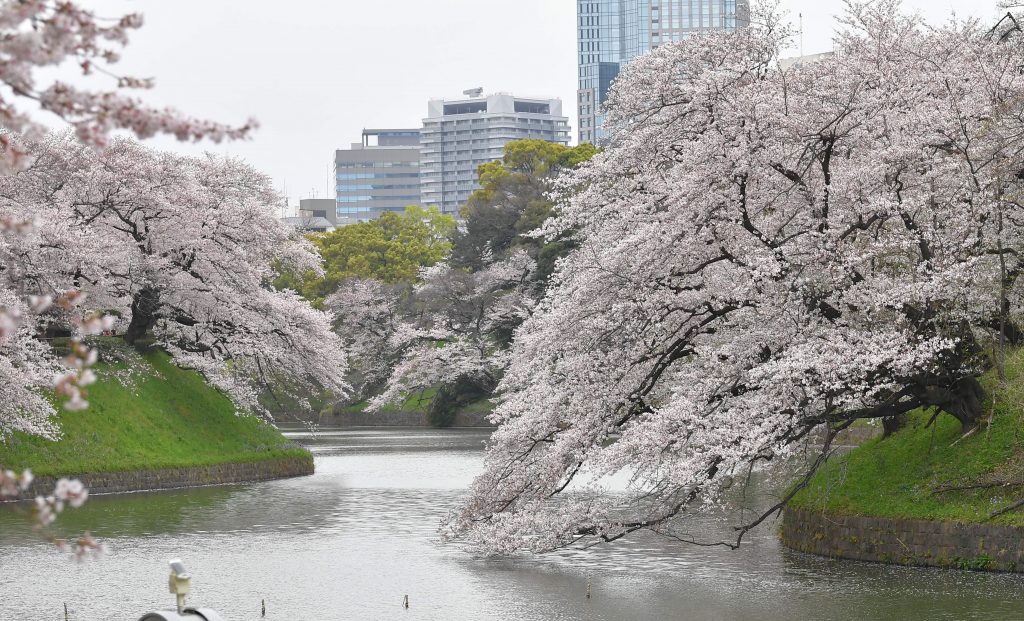 If you are in the mood for something a little more traditional, we highly recommend the area called Chidorigafuchi. This park dips around the Imperial Palace moat, with one entry point to the five-kilometer circular walking course very close to Kudanshita station.
An interesting fact is that Chidorigafuchi is just next to Yasukuni Shrine, whose cherry blossoms serve as the reference point for the status of cherry blossoms in Tokyo. You can see both on the same stroll.
Along Chidorigafuchi, cherry blossoms gently lean into the water of the moat below, along the more than 700 meter main pathway. You can either enjoy the view walking on the banks of the moat or rent a rowboat at the dock below. With the greenery, the water, the rowboats, and the surrounding high rise buildings of the office district, it makes the perfect cherry blossom postcard of beautiful and traditional- yet- modern Tokyo.
In 2020, the usual night light-up and the boats were closed to discourage people from gathering in groups in the area, and it appears that this year will be a similar quiet affair. Again, make sure to check the relevant homepage and take the necessary precautions, like wearing a mask and avoid consuming food and drinks.


Tokyo Cemeteries
Temples and public parks are not the only locations famous for sakura blossoms in Tokyo. Several of the metropolis' famous viewing spots are old graveyards. So, if you want something slightly off the beaten track, check out our article on cherry blossom in Tokyo cemeteries.

Meguro's Night Blossoms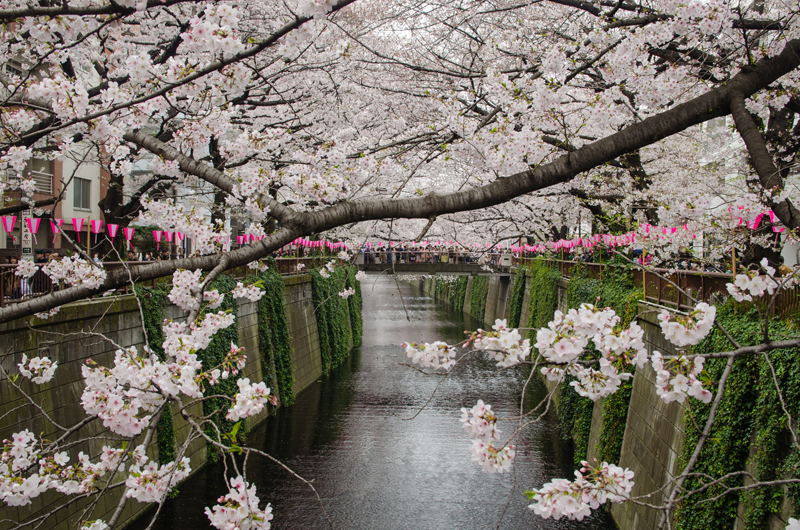 A half-hour train ride from the center of the capital city you will find the Meguro section of Tokyo. This area sports a popular yozakura (night cherry blossom viewing) spot along the Meguro River that is also beautiful during the day.
In a normal year the area is best enjoyed at night, with the typical food stalls and slightly pink-tinted lanterns illuminating the evening view.
However, in 2020, organizers announced that, as a precautionary measure, there will be no lighting provided, so that the blossoms can only be enjoyed during the day.


Asakusa and Sumida Park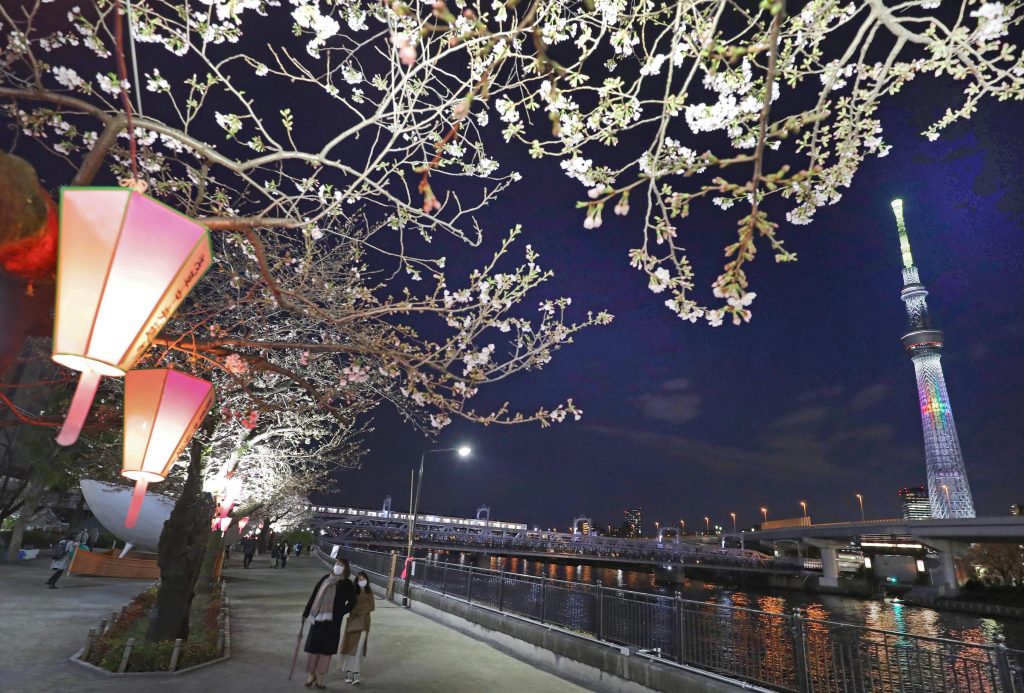 A night cruise is another possibility if you want to relax and enjoy the blooms but don't want to wade through the river of people along the shore.
If you happen to be near Asakusa and like a more modern feel, make sure you stop by Sumida Park, adjacent to the Sumida river. There you can get a glimpse of the modern architectural masterpiece Skytree behind a stunning row of cherry blossom trees lining the river.
Sumida Park is also a convenient destination if you are planning to do some sightseeing around Asakusa anyway, with Sensoji Temple and the striking Kaminarimon gate nearby.
Sumida Park is also a convenient destination if you are planning to do some sightseeing around Asakusa anyway, with Sensoji Temple and the striking Kaminarimon gate nearby.


Inokashira Park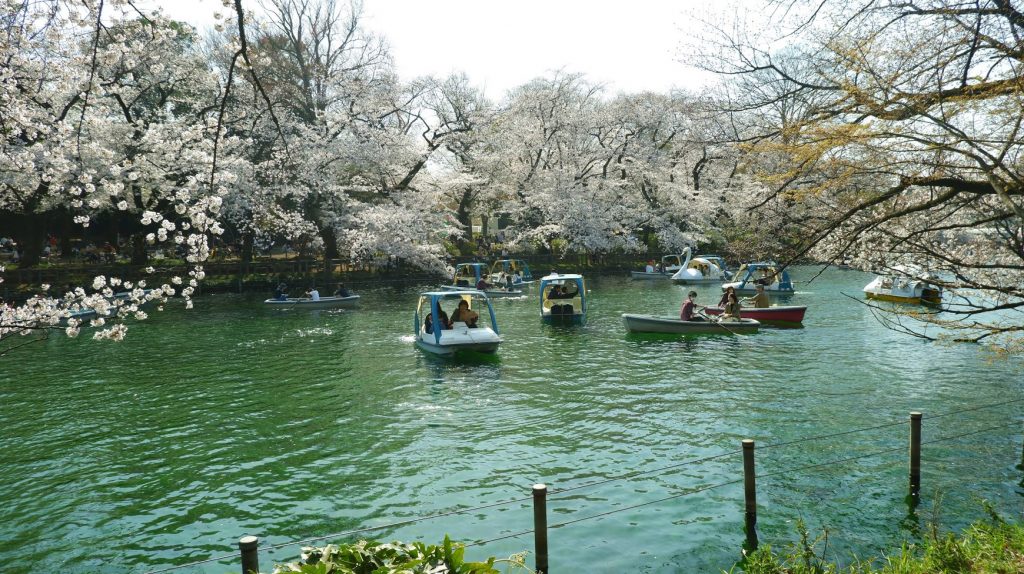 Finally, if you are looking for cherry blossoms in a park slightly further away from the madding tourist crowds, try heading to the trendy neighborhood of Kichijoji and the Inokashira Park.
This park is most famous for being the location of the Studio Ghibli Museum, but it is also a mercifully large park where you can momentarily forget you live in a concrete jungle. There is a large pond where happy couples often rent swan shaped boats, and you can stroll around enjoying the relaxed atmosphere.
In 2020, benches were blocked off to prevent people from camping out, but this year measures might be different, so make sure to check updates on the park's homepage for more information.


Conclusion
Many of the most famous places in Tokyo are calling for those going to enjoy the blossoms to exercise caution in light of COVID-19.
Wherever you happen to be, we recommend soaking up the sense of appreciation of nature as the spring unfolds, and enjoy the season with the beautiful cherry blossoms you are bound to find on your sightseeing strolls. The beauty of cherry blossoms is that they are peppered all around Japan and in nearly every neighborhood.
And, who knows, you might discover some new spots where to enjoy the delicate flowers.
Did we miss any of your favorite spots? Let us know in the comments below.


Author: JAPAN Forward