Continuity and Balance: Meet Japanese Prime Minister Yoshihide Suga's Cabinet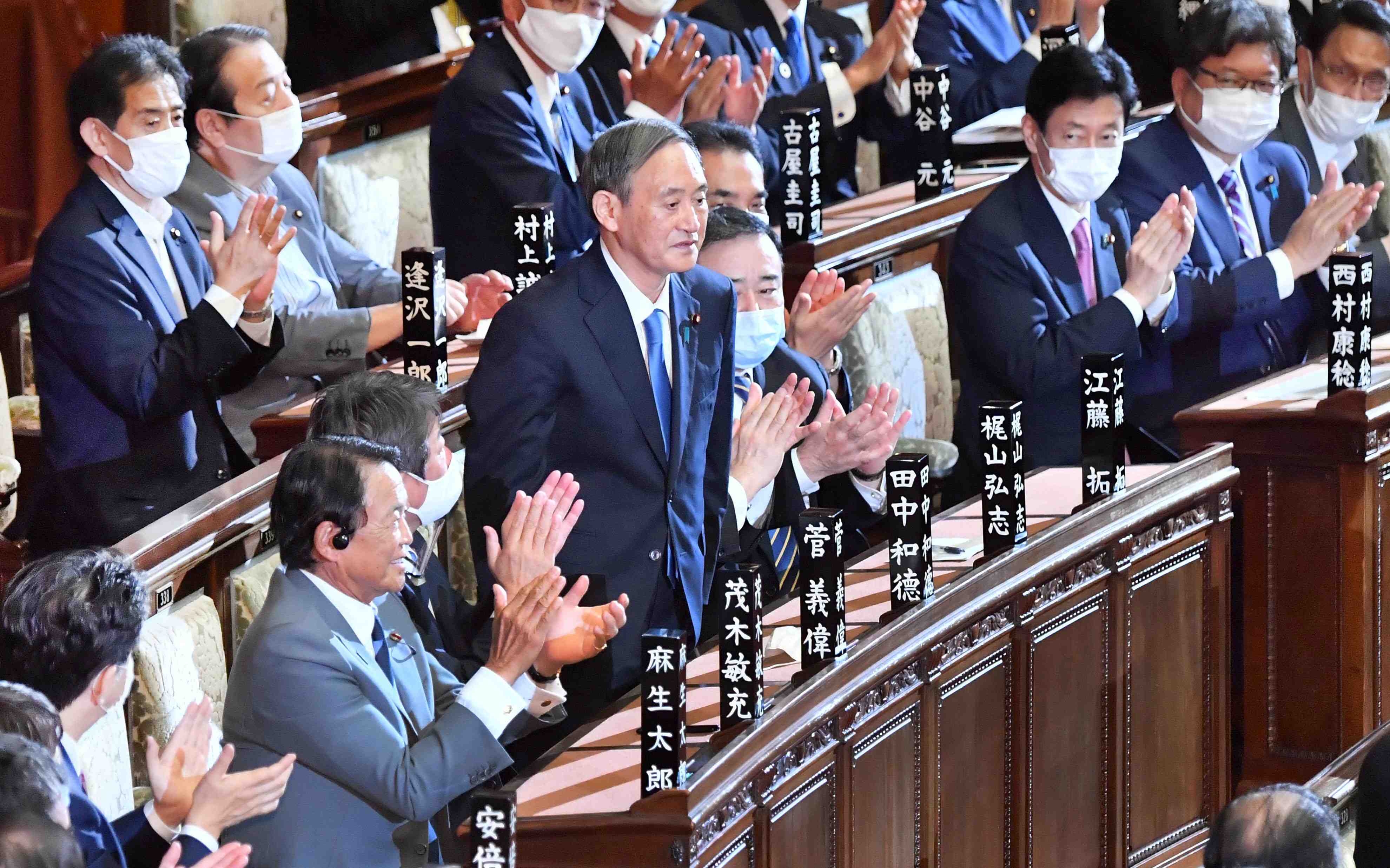 Yoshihide Suga officially became the 99th prime minister of Japan on Wednesday afternoon, September 16, succeeding Shinzo Abe, in whose Cabinet he served in the last eight years.
Mr. Suga rose to the position after Prime Minister Abe, 63, formally dissolved his Cabinet Wednesday morning and a vote was taken in a special session of both houses of the National Diet to elect him as successor.
The former Chief Cabinet Secretary is 71 years old, which makes him the oldest person to become prime minister since 1991. While seeking to continue his predecessor's legacy, Mr. Suga is aiming to push his own priorities as well.
Priorities from the New Prime Minister's First Speech
Mr. Suga, who held over 3,000 press conferences during the Abe administration as chief cabinet secretary, shared the main aims of his administration in a short address to the nation in another press conference on the evening of September 16.
Mapping out his top priority as the COVID-19 recovery, balancing both health policy and economic renewal, he said plainly:
Otherwise people's lives will not be possible. We will make use of our experience to take strong infection countermeasures, improve the testing system, secure the necessary medical facilities, and pledge a vaccine by the first half of next year (2021)."
To those who suffered economically due to the pandemic, Mr. Suga promised continued economic stimulus measures, including unemployment benefits and interest free loans. In addition, he also signaled continuing support for the "Go to Travel Campaign", designed to support the tourism industry.
Digitization and making the administrative processes in government speedier was marked as a second issue that the new prime minister clearly marked on his priority list. "Something which became clear in COVID-19 was the necessity to address digitization, and the revision of the supply chains, " he explained.
Mr. Suga showed an unwavering will to find a resolution to the issue of North Korean abductions of Japanese citizens, as most abduction victims have yet to be returned to Japan.
As the families of the abductees are getting older, there is no time to waste. I want to continue to work closely with the United States and take the lead with unwavering determination.
The National Diet Votes
The parliament's vote was largely a formality, given that Mr. Suga's party, the Liberal Democratic Party (LDP), with its coalition partner the Komeito, held an absolute majority in both houses of the National Diet.
Mr. Suga easily won the vote of Diet members, gaining 341 out of 465 in the House of Representatives, and 142 out of 245 in the House of Councilors.
Still, lawmakers went through the motions of casting their votes one by one, and sitting through the meticulous counting of the paper ballots. The whole process lasted just over an hour. Mr. Suga was officially designated as prime minister at just after 2 P.M.
Thereafter, Yoshihide Suga held a series of meetings, with members of the opposition and others, culminating in a reception with Emperor Naruhito.
Familiar Names, Some New Missions
Across several public appearances since August 28, Prime Minister Suga had expressed that he wanted to continue his predecessor's legacy on several issues, including foreign affairs. This was reflected to some extent in his choice of ministers.
New Chief Cabinet Secretary Katsunobu Kato announced the members of the Suga Cabinet on Wednesday afternoon, while the Prime Minister commented on several of them in his press conference the same evening.
Out of the 20 total ministers, eight are carry-overs from the Abe administration. They include:
Toshimitsu Motegi, 64, Minister of Foreign Affairs

Yasutoshi Nishimura, 57, Minister of Economic Revitalization

Shinjiro Koizumi, 39, Environment Minister

Taro Aso, 79, Deputy Prime Minister and Finance Minister

Seiko Hashimoto, 55, Minister of the Tokyo Olympic and Paralympic Games

Kazuyoshi Akaba, 62, Minister of Land, Infrastructure, Transport and Tourism

Koichi Hagiuda, 57, Minister of Education, Culture, Sports, Science and Technology.

Hiroshi Kajiyama, 64, Minister of Economy, Trade and Industry:
In total, 15 members of the new Cabinet held portfolios at some point during the Abe administration.
Suga's team sees a reshuffling of key players to different positions. For instance, Katsunobu Kato, 64, the Chief Cabinet Secretary — the "new Suga" — was most recently the minister of health, labor, and welfare. He incorporates continuity, but is also an individual whose job performance the public has been able to assess throughout his management of the COVID-19 crisis. In addition, he earlier worked as deputy chief Cabinet secretary for two years, supporting Mr. Suga in Prime Minister Abe's second term in 2012.
Mr. Suga had earlier made it clear that, for the position, he preferred someone whom he felt was in step with him. Mr. Kato however was described in some reports by The Sankei Shimbun as someone who had the ability to "fight the vertical structure of Japanese bureaucracy" — something that Mr. Suga had pledged as part of his governance agenda.
Kato's former post as health minister will be taken over by Norihisa Tamura, who previously served in that capacity under the Abe administration between 2012 and 2014.
Finally, many are seeing the new Cabinet as a reflection of the balance between the various LDP factions, whose support Mr. Suga will need to implement new initiatives. For example, five positions — the most numerous — were assigned to the largest faction in the party, the Hosoda faction, three posts to the Aso faction, two to the Takeshita faction, and so on.
Introducing the New Suga Way
Not everything will be as it was under the Abe administration.
One of the most interesting appointments involves the reshuffling of Taro Kono, most recently defense minister under Mr. Abe, who will be in charge of administrative reform.
Mr. Suga, in his various appeals towards becoming LDP president, had frequently pledged to "push forward with regulatory reforms to break down the vertical structure, and the culture of negative precedents, and vested interests in government."
Prime Minister Suga has also expressed the preference to work with people who have "a will to change things," and it appears that the new prime minister thinks that Mr. Kono embodies both of these aims.
Suga admitted in the September 16 press conference:
I've already suggested to Kono, for example with problem "x" that is happening, 'why don't you consider addressing this.' The various issues will be summarized by Minister Kono, and we will pull together policy as a nation. I consider regulatory reform at the core of the administration, Minister Kono and I firmly plan to push forward on this front.
To that end, reports seem to suggest that Suga wants this newly appointed minister to continue progressively breaking down bureaucracy in Japan. On September 15, Mr. Suga told reporters: "I'm the one who builds things; [first] I want Kono to do the tearing down."
The Prime Minister is thought to have also pushed for Mr. Kono, in essence suggesting that the latter could be one of the stars of the new administration.
Mr. Kono will also be taking over projects that Suga was in charge of when he was chief Cabinet secretary in the previous administration. These include tackling issues that involve coordination among several ministries and expanding the "Go To Travel Campaign" to boost domestic tourism.
There are also obvious changes that seem born out of necessity, like the addition of one ministry to take charge of the Osaka Expo set to take place in 2025. The minister in charge will be Shinji Inoue, 50, who is a former vice minister of the environment.
Another new addition includes the younger brother of Shinzo Abe, Nobuo Kishi, 61, who will take over as Defense Minister from Mr. Kono.
The new minister of digitization will be Takuya Hirai, 62. Mr. Hirai will be in charge of pushing the Suga administration's aims to digitize the government, including the further spread of the My Number Card system — similar to the social security number system used in several Western countries. Mr. Hirai previously was the minister in charge of information technology.
Unflappable as ever, Mr. Suga, when asked about the prospect of a snap election now that he formed a new government, repeated his earlier statement that his priority was COVID-19.
What the public expects and wants from the new cabinet is to manage to quickly resolve the issues related to COVID-19 infection and at the same time to rebuild the economy...At any rate, within the year, there will be a snap election. I would like to think about this with this tight schedule in mind.
Author: Arielle Busetto