Yoshihide Suga Wins LDP Party Leadership Race With Overwhelming Support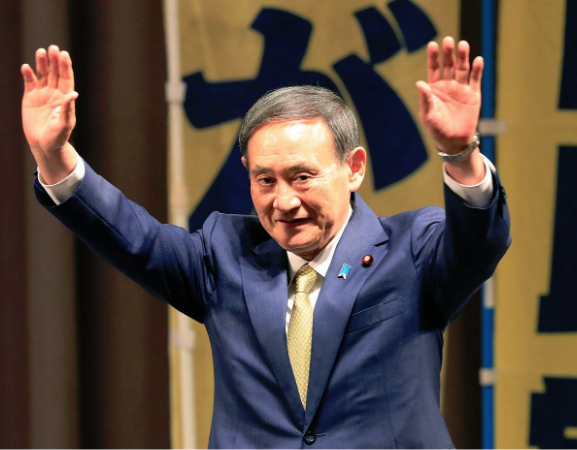 The Liberal Democratic Party (LDP) leadership election, which saw Yoshihide Suga elected in a landslide victory of 377 votes out of 534, took place in Tokyo on September 14.
The LDP party election was brought about by the sudden August 28 resignation of Shinzo Abe, who led the party and served as prime minister, for worsening health conditions.
Mr. Abe Passes the Baton
In a somewhat emotional address after the election, the current Prime Minister Shinzo Abe formally passed the baton to Mr. Suga as leader of the LDP::
I pass on today the baton of the leader of the LDP to Yoshihide Suga. For seven years and eight months, I've watched him silently working hard. I have no doubt that he will make the most fitting leader of the LDP in the new Reiwa Era. Under the leadership of Mr. Suga, let's overcome COVID-19, and create a shining new future for Japan.
Mr. Suga, after warmly thanking Mr. Abe, under whom he had served as Chief Cabinet Secretary since 2012, took up the microphone as the new party leader and explained once more his sense of duty in taking this position:
During the spread of COVID-19, we cannot allow a political vacuum. Prime Minister Abe has taken steps to overcome this crisis and make sure that each and every individual has a stable and safe life. We need to continue what was started, and I have the duty to do so.
Mr. Suga then repeated his main slogan during the campaign for LDP leader, and vouched to work hard for the people of Japan. A self-made man himselfーhe is not a legacy politician, unlike many in the political class in JapanーMr. Suga based his message on working hard and breaking down some of the bureaucracy in Japanese society:
The society I aim to build is based on effort, cooperation and assistance from the government. We will push forward with regulatory reforms to break down the vertical structure, and the culture of negative precedents and vested interests in government. I will create a government which works for the people.
Yoshihida Suga gave a press conference at 6 P.M. on September 14 to explain his aims as LDP leader in more detail, before the extraordinary National Diet session is called on September 16.
He shared once again his pride as someone who hails from the countryside, and unlike many Japanese politicians "came into the world of politics starting from zero" rather than from a family of politicians.
He further defined himself as a politician with extensive experience, and a modus operandi of "listening carefully for things that are not working on ground, and fixing them one by one."
As part of his wider policies, Mr. Suga pledged once more his will to set up a new Digital Ministry. Explaining that, "it has become clear during this period of COVID-19 that many things are not working in the system," he also proposed widening the use of the My Number Card data system that was introduced in 2015 for other services, such as medical insurance and drivers licenses.
Asked about his plans for the makeup of his cabinet including who will be the next Chief Cabinet Secretary, Mr. Suga refrained to comment except to say that, "it would be desirable to have someone who has a will to change things, and an understanding of what the people want."
Regarding the other burning questionーwhether there will be a snap election following establishment of the new government on September 16, Mr. Suga was reticent:
It's clear that many people want us to deal with the COVID-19 crisis, and try to restore economic activity. Until experts deem that the COVID-19 epidemic is declining I see it as difficult...There is also the fact that having received this office to become prime minister, I want to get to work on trying to solve on COVID-19 crisis.
A Look Behind the Vote
In due haste, the leading party in Japan's National Diet pulled together efforts to elect a new leader. Almost immediately, the race boiled down to three Diet members: Shigeru Ishiba, former LDP secretary general, Fumio Kishida, currently policy chief in the LDP, and Yoshihide Suga, currently chief cabinet minister in the Abe government.
Mr. Suga won overwhelmingly in the September 14 LDP leadership vote, taking home 377 out of the 534 valid ballots cast.
As the LDP with its partner the Komeito party holds a majority in both houses of the National Diet, Mr. Suga is expected to be voted in as the 99th prime minister of Japan in an extraordinary plenary session of the National Diet scheduled for Wednesday, September 16.
The second runner up was Mr. Kishida with 79 votes, followed by Mr. Ishiba with 68 votes. This runner-up result was contrary to expectations, which had seen the former foreign minister Mr. Kishida consistently behind Mr. Ishiba in the polls.
The total votes on September 14 were split between National Diet Party members (393 votes), and each of the 47 prefectures throughout Japan (3 votes each, for a total of 141 votes).
One observation made has been that Mr. Ishiba had strongly advocated more focus on local regions in his campaign, compared to the current concentration of resources in the capital, in a policy change which he called "the Great Reset." The campaign motto was expected to bring more support from the local regions. In fact, however, Mr. Suga still easily won on this front, winning 89 votes compared to the 42 votes won by Mr. Ishiba.
Yoshihide Suga (71) originally comes from a small village that is now part of the town of Yuzawa in Akita Prefecture. In addition, he is responsible for policies such as Furusato Nozei, a program created in 2007 to encourage tax-deductible donations to local municipalities, and the recent "Go To Campaign" designed to boost tourism in the wake of COVID-19, especially in the countryside.
Mr. Suga himself in the press conference later in the evening attributed his support among local LDP voters and among members of the LDP in the National Diet to these two elements as well as his experience as a city council member.
ADDITIONAL READ: The Man on Shinzo Abe's Side: Yoshihide Suga, Top Bet for Japan's Next Prime Minister
Author: Arielle Busetto