[Corona ni Makeruna] Meet the Top Chef who made Bento Boxes For Medical Workers During COVID-19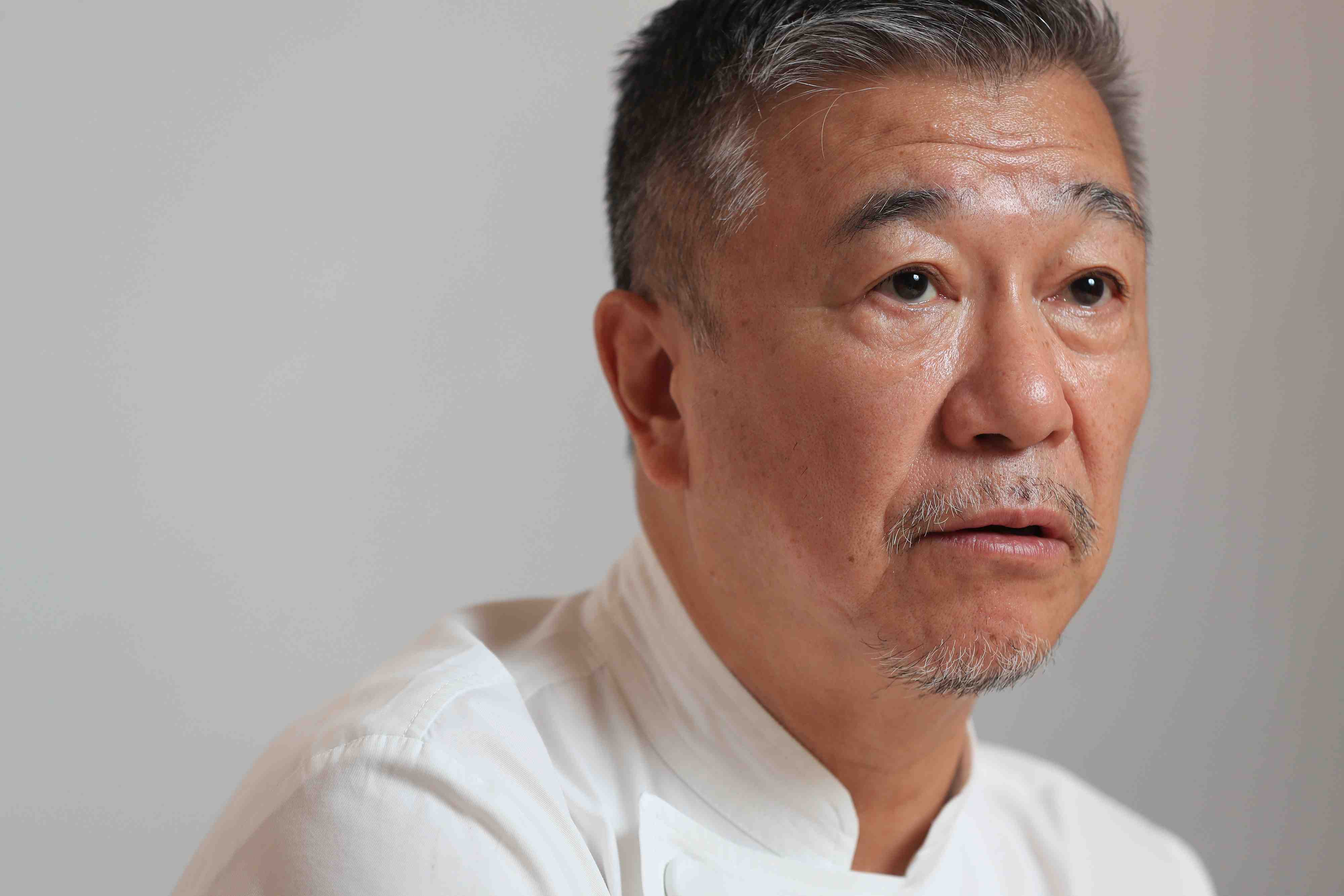 Restaurants have taken a heavy economic hit during the COVID-19 pandemic.

Tokyo was under a state of emergency between the first week of April and the last week of May, during which residents in general stayed home, severely reducing business for eateries, bars and restaurants.
Yet, the unique situation of COVID-19 didn't discourage everyone.
Tokyo's Chuo Ward is the base for what has become known as "the most difficult restaurant to book a table": La Bettola da Ochiai.
The owner-chef Tsutomu Ochiai, 72, talked to The Sankei Shimbun's Masako Nagashima about the difficult interlude. He explained that even though his business experienced a decline in revenue, during the state of emergency, he thought to himself "I want to make myself useful." With that in mind, he decided to join the initiative for making free bento boxes and distributing them to medical workers on the frontline of the coronavirus fight.
Ochiai commented "We all wanted to contribute jointly, and without giving up, work as hard as ever to improve the situation." Below is a recollection of how the pandemic played out from his point of view.
Since October 1, the government decided to include Tokyo in the "Go To" Travel Campaign, and we can somewhat see light at the end of the tunnel. However, there is still the possibility that the virus will spread again in the city. There isn't quite the feeling of: "let's all go out together for a meal!"
Even now in my restaurant, I am spacing tables out, putting screens between seats. Compared to before the pandemic, we are only letting in about 60 percent of the [usual number of] guests.
Following the declaration of the state of emergency, I closed the restaurant for two months. During that time, together with my chef friends like Yukio Hattori, the board chairman from Hattori Nutrition College, and Kiyomi Mikuni, we came up with a decision to make bento boxes for medical staff in the Tokyo area.
We set about creating a menu that would play to each of our strengths. I made my favorite ginger sautéed main dish. Because we wanted people to feel satisfied with their meal, to the point that the more they ate the more food there was, I also added Italian Style meatballs, and of course freshly bread baked from our restaurant.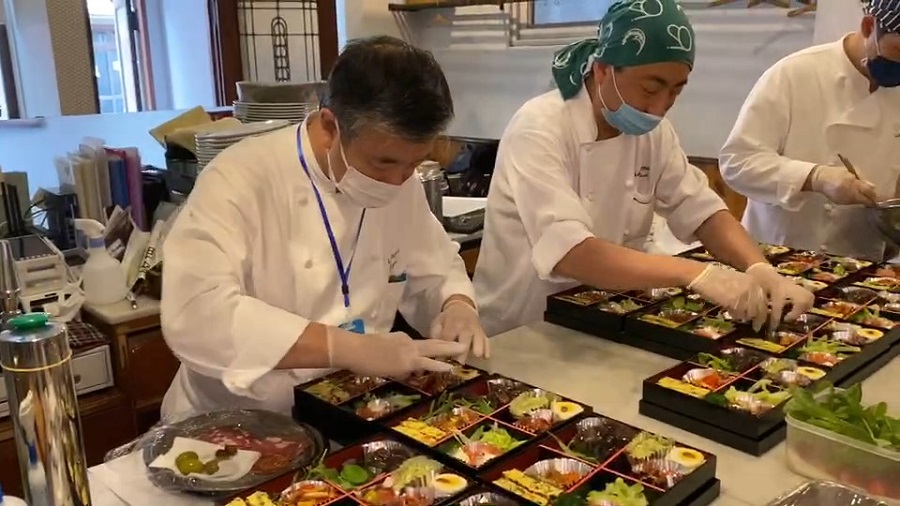 Our staff came and helped out with the preparations. We had heard that the medical workers tending to patients were having a rough time, so I wanted to do something to help.
One day while we were making the bento boxes, we heard a loud noise overhead, and as we went outside we saw six Self-Defence Airplanes "Blue Impulse" flying in the clear blue sky. Their air-acrobatics were a thank you gesture for medical workers. I was really moved. So we worked harder. We even made more than 200 puddings for those who might want something sweet with their lunches. There was even one time when we carried all of them in my car.
In the first half of May, as honorary chairman of the Association for Italian Cuisine Chefs, I participated as a representative for restaurants in a meeting with government officials, including the then Chief Cabinet Secretary Yoshihide Suga, the Deputy Prime Minister Taro Aso, and the Chief Policy Secretary Fumio Kishida.
I explained that although businesses were receiving cash hand-outs, emergency loans, and support to help pay their rent, there was a problem with speed. It took too long for businesses to receive the financial support. I tried to appeal to the government by explaining the situation of those in my industry.
We will not get rid of COVID-19 so easily. However, one special joy that we still have during this time is eating out. What we eat is important, but also where we eat, and who we eat it with.
I would be happy if we became the place where you choose to commemorate your wedding, or your start of the new school year. The smile of our customers is what gives us strength.
I worked at the head of the Association for Italian Cuisine Chefs for more than ten years, and then in June this year I took over the post from the chef at "Ristorante al Porto", Mamoru Kataoka. There are more than 400 chefs in the association, with more than 120 companies as supporting members.
Since August, we've started a YouTube channel where we introduce recipes and members to a wider audience. We thought that it's still a dire situation, but if we could help out young chefs even a little bit, it was worth doing.
There are of course those who say that "if you show the recipes online, there won't be anyone who will come to restaurants," but I think that cuisine made at home and in a restaurant are two different things. If with the YouTube channel, it makes people even a little bit happy and puts them at ease, isn't that the most important thing?
As we try to live with the coronavirus, all of us need to cooperate. In my restaurant we take the temperature of everyone upon entry and ask them to disinfect their hands. This is why I think that we need to amend the Act on Special Measures for Pandemic Influenza and New Infectious Diseases Preparedness and Response, so that businesses are not punished and forced to close [because of infectious diseases]. If we don't maintain our promises, it will cause an inconvenience to everyone.
The place where I studied cuisine, Italy, was heavily hit by the coronavirus. Despite that, I hear that they came up with this expression, "andrà tutto bene", (everything will be alright) and are trying their best to overcome the crisis. I would like to think positively as well, and give it my all so that the situation improves.
ABOUT CHEF TSUTOMU OCHIAI
Tsutomu Ochiai was born in Kamakura, Kanagawa Prefecture in 1948. At the age of 17, he chose to become a chef, and started studying French cuisine at the New Otani Hotel. Subsequently, he went to work at "Top's" in Akasaka. In 1979, Ochiai went to Italy to study. He came back four years later, and worked his way up to head chef in the Italian restaurant "Granata" in Akasaka. In 1997 he started "La Bettola da Ochiai," in the stylish neighborhood of Ginza, Tokyo. Among other accolades, in 2013, he received the Award as Outstanding Contemporary Craftsman from the Ministry of Health, Labour and Welfare. In 2020, Ochiai received from the Emperor of Japan the Medal with Yellow Ribbon, which recognizes the dedication to one's profession.
(Read the related article here in Japanese.)
Author: Masako Nagashima