Mike Pompeo's Plan for a Stronger, Larger Quad Suits the Conservative Governments of Britain and Japan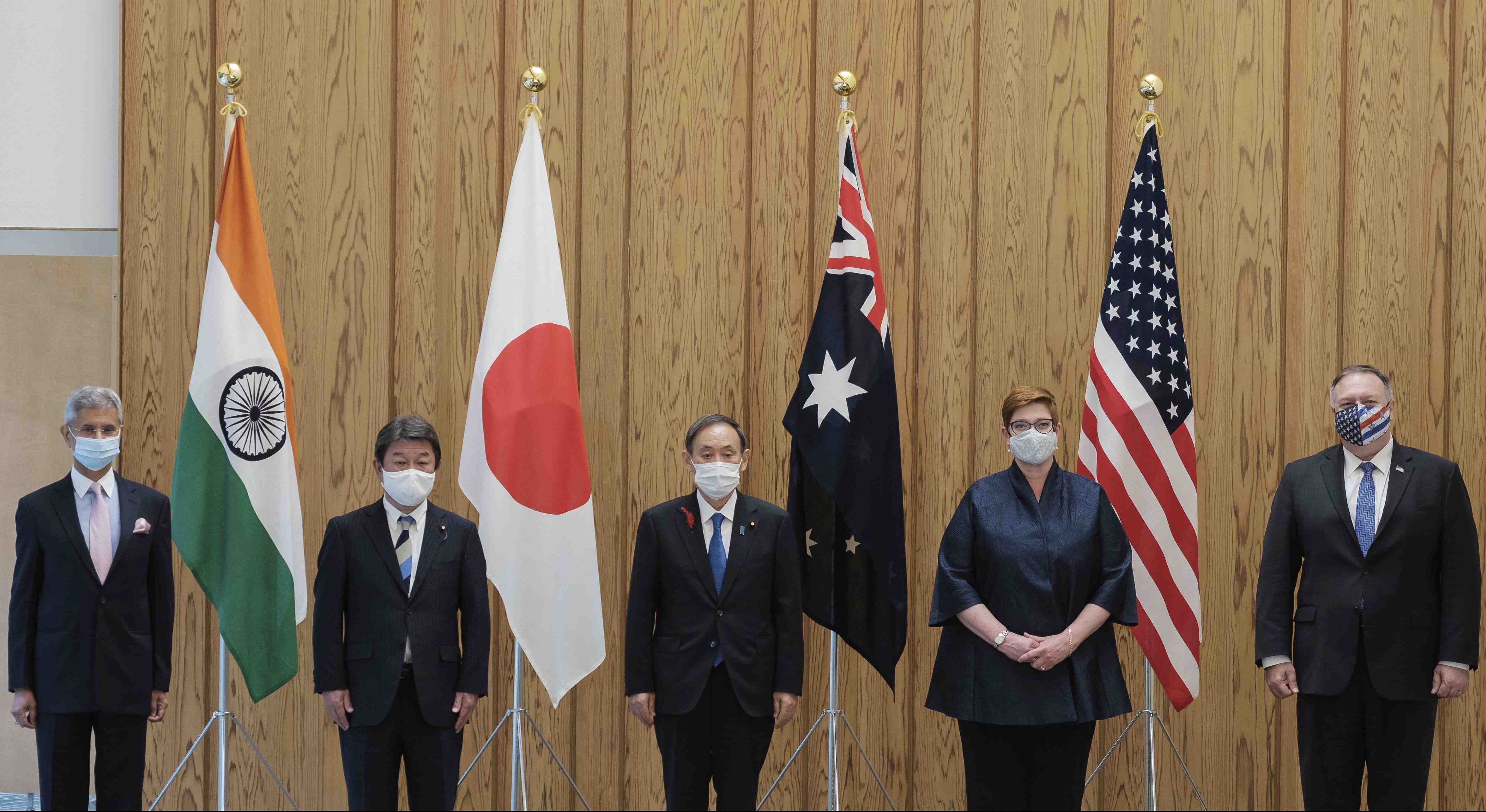 From left to right, Indian Minister of External Affairs Subrahmanyam Jaishankar, Japanese Foreign Minister Toshimitsu Motegi, Japanese Prime Minister Yoshihide Suga, Australian Foreign Minister Marise Payne and U.S. Secretary of State Mike Pompeo pose for a picture before a four Indo-Pacific nations' foreign ministers meeting at the prime minister's office in Tokyo Tuesday, Oct. 6, 2020. (Nicolas Datiche/Pool Photo via AP)
Listening to Britain's most senior military commander, one is left with the strong impression that he thinks the United Kingdom's way of life is already under attack from China.
General Sir Nick Carter, GCB, CBE, DSO, ADC is the Chief of the Defense Staff.
During a high level briefing earlier this month, he explained that China has been strengthening and modernizing its electronic assault forces, its internet assault forces and its battlefield cyber warfare forces.
China's tactic, according to General Carter, is to exploit "the ambiguous boundary between peace and war" in order to disguise its activities as civilian and peaceful, even though its actions are designed to further the goals of the military wing of the Chinese Communist Party, the People's Liberation Army, or PLA.
Moral Hazard
The General said that alongside the sophisticated new weapons of cyber warfare, China has also built the largest maritime surface and subsurface battleforce in the world. He said the PLA possesses an armory of ground launched cruise and ballistic missiles, some of which have ten times the range of conventional weapons.
RELATED READ: China Rapidly Dwarfing Japan in Naval Power, Would Establish Superiority in a Senkakus Showdown
General Carter told a webinar organized by the right-of-centre Policy Exchange think tank that: "Western states draw legitimacy from respect for the conventions, rules and protocols of war. Where we see morals, ethics and values as a center of gravity, authoritarian rivals see them as an attractive target."
Integrated Review
Sitting alongside him was Britain's Secretary of State for Defense, Ben Wallace. The two men are part of a team which is about to launch Britain's Integrated Review, which will outline an international strategy for independent Britain's place in the world, post-Brexit. It will encompass foreign policy, defense and security.
The full contents are not yet published. However, it is apparent from briefings that it will aim to position the U.K. as the strongest and most reliable ally of the United States, whatever the outcome of the November 2020 presidential election. There will be increased financial investment in defense and security, probably raising the defense budget to more than 2.7 percent of overall GDP, despite the recession caused by COVID-19.
The spending will focus on areas such as cyber defense and the U.K. will also maintain its nuclear deterrent. This consists of around 215 nuclear weapons, of which 120 are operationally available, according to the Center For Arms Control and Non-Proliferation. The Center estimates that China has a stockpile of around 320 nuclear warheads.
Defending Asia
Given General Carter's view of the challenge posed by China, it is perhaps understandable that much of the British strategy focuses on Asia.
Britain's former Secretary of State for Defense, Michael Fallon MP, put it this way to the conference of the governing Conservative Party, which took place virtually this October:
Our economy and our industries are under attack from our rivals and our enemies. They want to exploit our technology, steal our intellectual property, and are penetrating our cyber defenses. They want to disrupt our supply chains.
Mr Fallon believes that Britain must therefore continue to take a leading role in NATO and that the U.K.'s armed forces should be active in the Indo-Pacific region. He added:
Our reach should certainty exceed our grasp. We need a more consistent presence in the most important economic region of the world: the Asia Pacific. We need to work with key democractic allies such as Australia, Japan and India, in order to help keep the strategic waterways clear and do what we can to reduce threats.
No Bended Knee
This language has a lot in common with the words used by the American Secretary of State, Mike Pompeo, when he visited Tokyo this week for a meeting of the Quadrilateral Security Dialogue, known as the 'Quad' – an informal security group, consisting of America, Japan, Australia, and India.
Mr Pompeo's message was that Asia needs America as a forceful presence to stand up to China's "bullying" and "coercive power."
"If one bends the knee each time the Chinese Communist Party takes action around the world, one will find themselves having to bend the knee with great frequency," he told Nikkei Asia.
The governments of each of the Quad countries have their own reasons to go along with Mr Pompeo's line. Japan experiences China's naval pressure in the waters surrounding the Senkaku islands, which lie in the seas between the nations. In India, the media has seethed with anger against China since a clash on their land border in June, which left twenty Indian soldiers dead.
The Australian government is upset that some of its agricultural exports to China were hit by sanctions which were clearly politically motivated, with the threat of more to follow.
Canada is Coming
If the Quad expands in line with Mike Pompeo's wishes, then the signals coming from the government in London suggest that Britain would also like to join. Another likely supporter is Canada. When Prime Minister, Justin Trudeau, spoke to Yoshihide Suga recently, they used language which Mr. Pompeo would appreciate and talked of "promoting a free and open Indo-Pacific region."
Canada is taking a tougher approach to dealing with Beijing since the appointment of Foreign Minister François-Philippe Champagne last year. It recently sent a warship through the Taiwan Strait. China has been flying warplanes over Taiwan, which it regards as a renegade province and the PLA army has been conducting live fire exercises near the island's shores.
China's View
China regards the Quad as a pushback against its own growing strength and ambition. It resents interference in its foreign and security policy within the Asian region, particularly through a system which is led by the United States. It believes the PLA has a duty to robustly defend the country from foreign threats.

There will be a chance for China Foreign Minister Wang Yi to make his case against the Quad when he visits Tokyo soon. He speaks fluent Japanese and used to be the Chinese Ambassador to Japan. This will be his first encounter with Yoshihide Suga since he became the Japanese prime minister last month.
No doubt Mr Suga will listen politely. He has already had a cordial conversation with President Xi Jinping.
RELATED READ: Yoshihide Suga holds First Talks as Prime Minister with China's Xi Jinping
However, Japan's vision for the Indo-Pacific, as outlined by leading LDP party members, is focused on multilateral cooperation through trade, adherence to the rule of law and a commitment to peace and stability. In that regard, a strengthened and expanded Quad looks more likely to appeal to Mr Suga's government than a softer line on China.
Author: Duncan Bartlett
Duncan Bartlett is a regular contributor to Japan Forward. He manages the news portal Japan Story, which includes articles, videos and a regular podcast.