Deadly Flooding Delays Announcement of Royal Engagement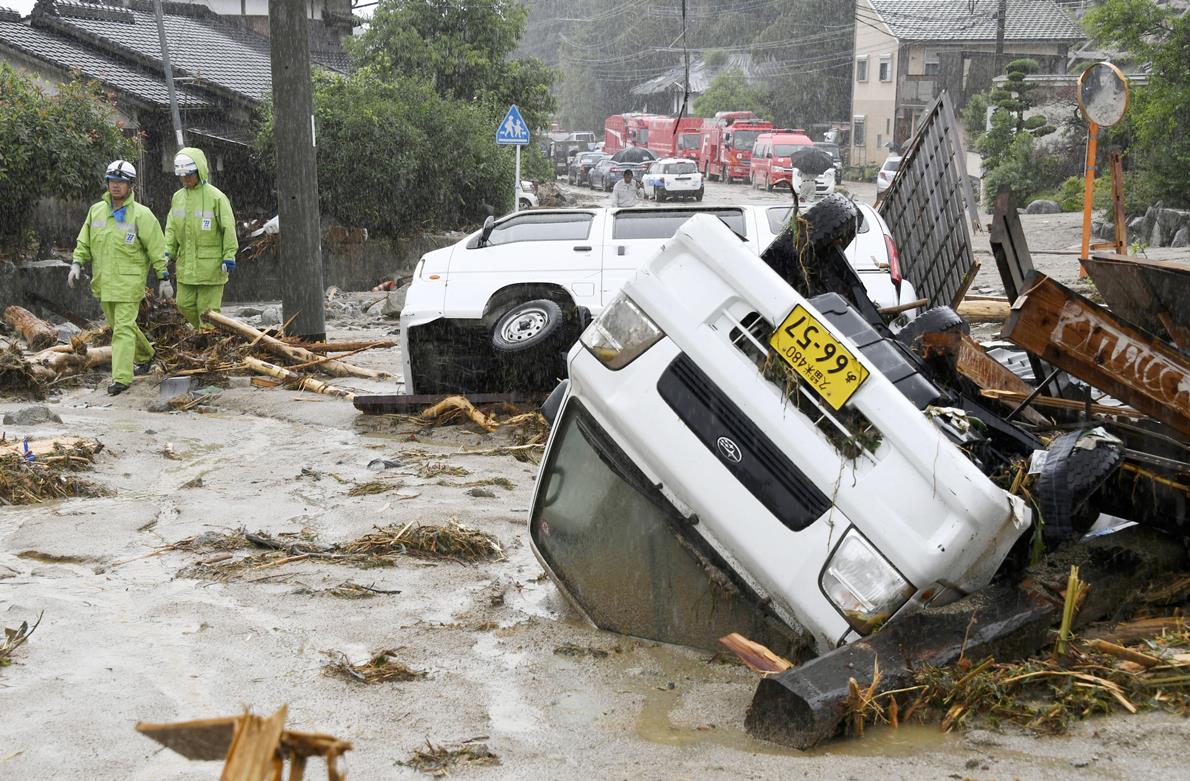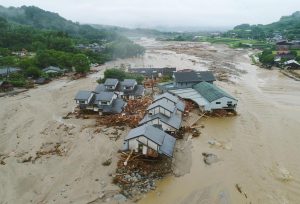 As record rains in northern Kyushu lead to widespread damage, the Imperial Household Ministry has decided to postpone the wedding announcement of Princess Mako, the eldest daughter of Prince Fumihito (Akishinonomiya), to her college classmate at International Christian University (ICU), Kei Komuro. An official announcement will be forthcoming.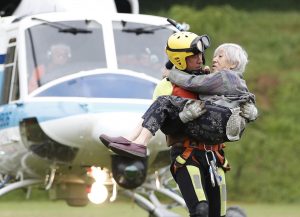 According to sources close to the Imperial Household Ministry, Princess Mako and Mr. Komuro are distressed by the reports of rain damage. Out of respect for their wishes, the Emperor and Empress agreed to the postponement. The announcement timing will be changed in accordance with upcoming recovery work.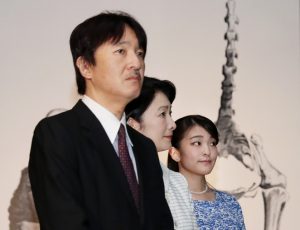 The wedding of their majesties' eldest daughter, Sayako Kuroda (48), to Tokyo parliamentarian Yoshiki Kuroda (52) was postponed twice, once after the Chūetsu earthquake of October 2004, and again after the passing of Kikuko, Princess Takamatsu, in December of that year.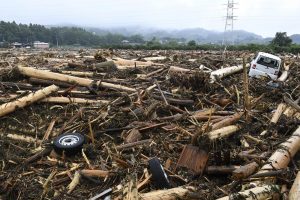 Irresistible Force of Nature
The postponement of the wedding announcement came as an acknowledgement of the irresistible force of nature pummeling the island of Kyushu.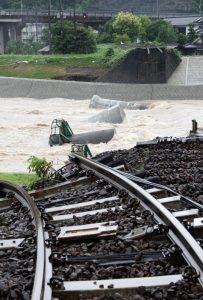 The "band-shaped precipitation system" which caused record rains in Fukuoka and Oita prefectures on July 5th was caused by two pressure fronts meeting in the Sefuri mountains on the border of Saga and Fukuoka prefectures.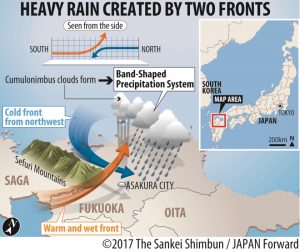 According to the Japan Meteorological Agency, on the afternoon of the 5th, a warm and wet high-pressure front blowing from the Pacific Ocean collided over northern Kyushu with air blowing in from the southwest. At the same time, a rainy season front descended south from northern Kyushu from the early morning until noon, while dry air from the northern part of the front was blowing in from the northwest.
The two winds, avoiding the Sefuri mountain range, hit against the downwind southern end of the range, and the warm southwestern wind moved over and above the cold northwest wind, creating cumulonimbus clouds. While the cumulonimbus clouds were blown to the western part of Oita prefecture, the heated southwest wind did not dissipate, but continued to rise up in the same place. The cumulonimbus clouds thus formed a single line called a band-shaped precipitation system.
The two winds met in Asakura city in Fukuoka, which lies at the eastern edge of the Sefuri mountain range and has sustained most of the damage. Cumulonimbus clouds, which ordinarily dissipate after an hour, continued to form and rain there, causing over 100ml of heavy rain to fall continuously over an extended period.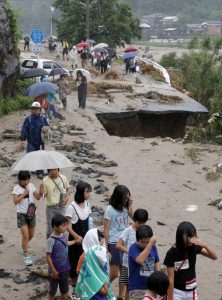 These wind patterns lead to band-shaped precipitation systems throughout the nation. Chief meteorologist Tsumoru Matsumoto explained, "There are also examples of band-shaped precipitation systems in the Kanto region. But it is difficult to predict in advance how and when they will arise."
(Click here and here to read the original article in Japanese)