UPDATE: Typhoon Hagibis Slams Tokyo, Easter Japan Amid Death, Injury, Evacuation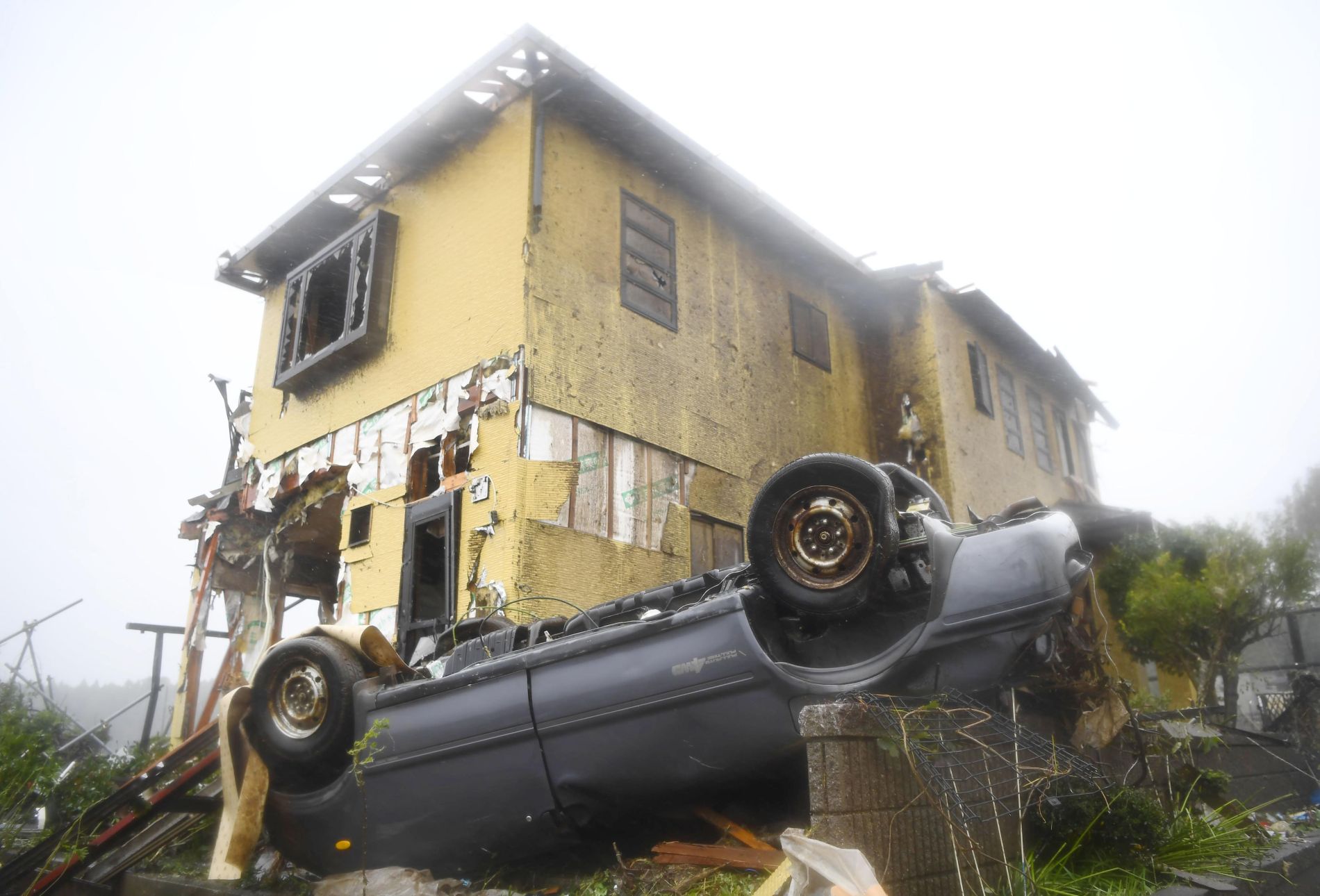 Typhoon Hagibis — potentially the strongest to hit Japan in 51 years — hit land in the Tokyo bay area around 9 PM on Saturday evening, and the wider metropolitan area has been battered by the heavy rain and winds.
As of posting, two people are dead. One of the victims was a man in Chiba prefecture, the other a man in Gunma Prefecture, who was caught in a landslide in Tomioka City. There are 9 people whose whereabouts are unaccounted for, including a man who was swept away by the Hirose river in Sendai. Around 80 people were injured in 26 prefectures.
Landslides were also reported in Sagamihara, Shizuoka, and Ito on the Izu peninsula. There were also warning that more than 100 dams would discharge water, an emergency measure put in place due to the rivers flooding.
On top of the typhoon, at 6.25 PM a 5.7 intensity earthquake hit Minamiboso, in Southern Chiba prefecture, an area which was heavily damaged by typhoon Faxai in September.
According to NHK, the national broadcasting network, as of Saturday evening, immediate evacuation orders were issued to more than 4 million residents in Iwate, Miyagi, Fukushima, Ibaraki, Tochigi, Gunma, Saitama, Chiba, Tokyo, Kanagawa, Niigata, Yamanashi, Nagano prefecture, and evacuation advisories were also issued for about 9 million people.
A Japanese Meteorological Agency (JMA) representative warned that the typhoon could bring extreme conditions. "which many haven't experienced in their lifetime."
In a press conference at 4:30 P.M. on Saturday, the JMA called on people not to wait for the warning to come through, and to evacuate quickly to a safe location should they feel in danger.
An hour earlier, the JMA announced that special provisions should be taken in Tokyo, Kanagawa, Chiba, Shizuoka, Saitama, Ibaraki, Nagano, Yamanashi, and Gunma in preparation for a Level 5 warning.
The 19th typhoon of the season in Japan, Hagibis has a force of 945 hPA as it moves north from Izu peninsula, towards Tokyo, Kanagawa, and Ibaraki. It is scheduled to head for Fukushima on the morning of Sunday, October 13.
As the typhoon moved north after passing over the Izu peninsula, a wind with a force of a tornado overturned a car, and hit a house in Ichihara in Chiba Prefecture, killing a man and injuring five people.
"I heard this really strong wind, and I was like, 'Oh, this is it,'" a man present on the scene told NHK.
One person was also injured in the town of Tokushima.
As of Saturday evening, 270,000 people in the greater Tokyo area are without electricity, with 120,000 in Kanagawa Prefecture southwest of Tokyo, and even 79,000 in Chiba prefecture, which was particularly hard hit in the last typhoon.
Evacuation, Free Wi-Fi
Prime Minister Shinzo Abe said the administration was coordinating with each ministry and working to ensure the evacuation information reached those at risk from rain, flooding, or landslides.
NHK, calling Hagibis "the most dangerous natural disaster in decades," showed images of violent waves off the coast of Chiba prefecture, the Tamagawa river in metropolitan Tokyo with worryingly high water levels, and even water overflowing out of the underground water system in the streets of Tokyo's Hachioji city.
Areas close to the sea or rivers, and people at low sea level or on the ground floor of buildings, are especially at risk, with evacuation recommendations issued even highly populated areas like Yokohama, Kawazaki, and Shibuya.
People in areas at risk were told Saturday morning to head to the evacuation centers on this page. In Shibuya ward alone, almost 230,000 people were advised to evacuate. Setagaya was among the wards issued a warning as well, as the Tamagawa river overflowed past 10 PM in the evening. However, as the winds and rain picked up later in the day, people were also told to not go in the streets if they felt that it was dangerous, and to move to a second floor if they stayed home.
To allow people to communicate in case they are left without wi-fi or signal, several mobile phone companies are providing open Wi-Fi free of charge in Tokyo, Kanagawa, Chiba, Saitama, Ibaraki, and Shizuoka prefectures.
If you bring your smartphone or PC to a place where Wi-Fi is installed and set the network name to "00000 JAPAN," you can use the internet for free regardless of your regularly contracted mobile company.
Empty Grocery Shelves, Cancelled Trips
People were bracing for the storm already on the evening of October 11, with shopkeepers taping windows to prevent damage from broken glass. Supermarkets shelves were empty of essentials like water, and survival objects such as camping cooking equipment.
On the morning of October 12, train stations were virtually empty, with Shinjuku station, normally full of people at the weekend, deserted as most trains stopped between noon and 1 P.M.
In an advisory posted on its website, Narita Airport said all inbound and outbound flights had ended as of 5 P.M Saturday. All road service and general traffic access to and from Narita Airport had also ended until some time on Sunday, October 13.
Haneda Airport's lists on its website showed 8 incoming and 10 outgoing flights for October 12 had been cancelled. It advised passengers to still "check the Same Day International Flight Information Search feature for information on subsequent flights."
However, there were still some people stranded at the airport due to last minute cancellations.
At 8 A.M. Saturday, many travelers at the international terminal were standing in front of the announcement board looking uneasy. A 38-year-old told The Sankei Shimbun: "I heard the typhoon was coming in the evening so I thought it would be alright. I thought there might be another flight, but there isn't. I don't have any choice apart from looking for a hotel."
Author: Arielle Busetto