EDITORIAL | Balance Environment and Economy in Setting Zero Greenhouse Gas Emissions Target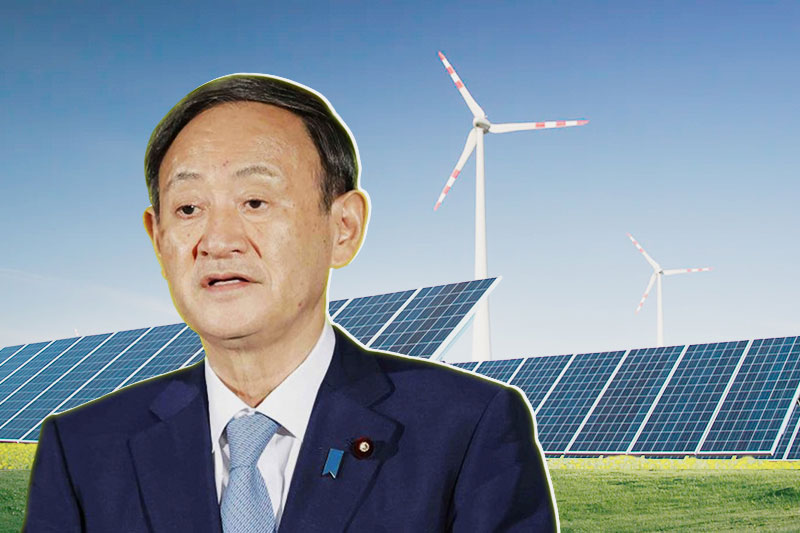 Japan aims to emit virtually zero greenhouse gases such as carbon dioxide by 2050, according to Prime Minister Yoshihide Suga's first policy speech on October 26.
The goal of achieving a "decarbonized society" is a global one, driven by global warming warnings from the United Nations' Intergovernmental Panel on Climate Change (IPCC), and the Paris Agreement, which aims to keep the rise in global temperature this century below 2 C.
Reduced consumption of coal and oil will help preserve resources for future generations. Since the mid-20th century, humans have used fossil fuels heavily, releasing huge amounts of carbon dioxide into the atmosphere. Tackling mass consumption of carbon dioxide and creating a sustainable society through other means is a sensible thing to do.
Adverse Effects on Society and the Economy
However, there are serious doubts over the feasibility of a carbon-neutral, decarbonized society that is dependent on renewable energy sources such as sunlight, which has an unstable supply. Suddenly going full throttle on the path toward decarbonization could be detrimental to both Japan's society and economy.
Under the Paris Agreement, Japan has pledged to cut greenhouse gas emissions by 26% by fiscal 2030, compared to fiscal 2013 levels. However, achieving such a target is doubtful at this current point in time.
Japan has seen lower greenhouse gas emissions in recent years, but much of this is due to a dwindling economy and mild winters. If and when COVID-19 is put behind us, greenhouse gas emissions are likely to increase overnight.
It is vital that we look at the issue of global warming from a broad perspective. Japan's greenhouse gas emissions represent about 4% of the global total. Even if Japan goes all out and achieves its Paris Agreement targets, this will have little effect on the global situation.
Not Enough to Counter China's Increased Emissions
China, the top global emitter, has pledged to hit peak emissions before 2030 under the Paris Agreement. This essentially means that it will increase emissions until 2030.
It also renders Japan's determined effort to reach a 26% reduction meaningless.
In late September, China announced that it aims to achieve net zero carbon dioxide emissions by 2060. President Xi Jinping made this statement during his address to the U.N. General Assembly.
"Zero emissions by 2050" campaigns have been gaining momentum since about 2019, and at least 100 countries — including the European Union — have made statements along these lines.
In spring 2020, then-Prime Minister Shinzo Abe told the U.N. that he wanted to leave Japan's 26% reduction target under the Paris Agreement unchanged. But either way, going against the international community has become increasingly difficult.
The Suga administration is swimming with the global tide. However, the new administration must also devise a realistic and wise strategy as it works toward achieving a sensible level of emissions reduction, and decrease in natural disasters due to climate change.
Suga is trying to create a "green society" through technological innovation that is compatible with both global warming countermeasures and economic growth. Specifically, the Prime Minister is promoting decarbonization technology, such as carbon recycling, whereby carbon dioxide is reused as chemical materials or fuel. No doubt this also includes application of artificial photosynthesis.
Proactive Promotion of Technological Innovation
Japan's wealth needs to be enhanced in order to achieve this breakthrough. The first necessary step is to ensure cheap and stable electric power. A substantial amount of electricity is required to run a digital society and supercomputers.
However, right now, Japan's electricity production framework for the future is imperfect. Nuclear power is a strong system for driving a decarbonized society, but the Fukushima nuclear accident of 2011 is a reminder of the potential safety issues concerning nuclear power.
The Nuclear Regulation Authority must speed up safety inspections in an efficient manner.
Solar power is expanding but it involves cutting down large areas of mountain forests — which is a threat to biodiversity. Trees absorb carbon dioxide, making them a vital part of the drive to achieve "virtually zero" emissions. Cutting them down is counterproductive.
The plan to reduce coal-fired electricity is also problematic because it poses a threat to energy diversity. It is a matter of concern that there appears to be a weakened geopolitical recognition of Japan as an island country with minimal natural resources.
The Japanese government recently started to amend its basic energy plan. We want the government to include in its amended plan highly efficient coal-fired power, taking into consideration new and additional nuclear power plants and cooperation with developing countries.
Policy makers must keep in mind that advanced forms of energy production technology are irreversible. If they abandon matters carelessly, reconstruction will be virtually impossible.
The environment and the economy go together. In the battle to combat global warming, countries across the world face their own economic dilemmas with national interests at stake. If Japan forgets this fact, the country will sink in 2050.
(Read the editorial in its original Japanese here.)
Author: Editorial Board, The Sankei Shimbun