Donations, Original Works Keep Shiki Theatre Moving Forward Amid the Pandemic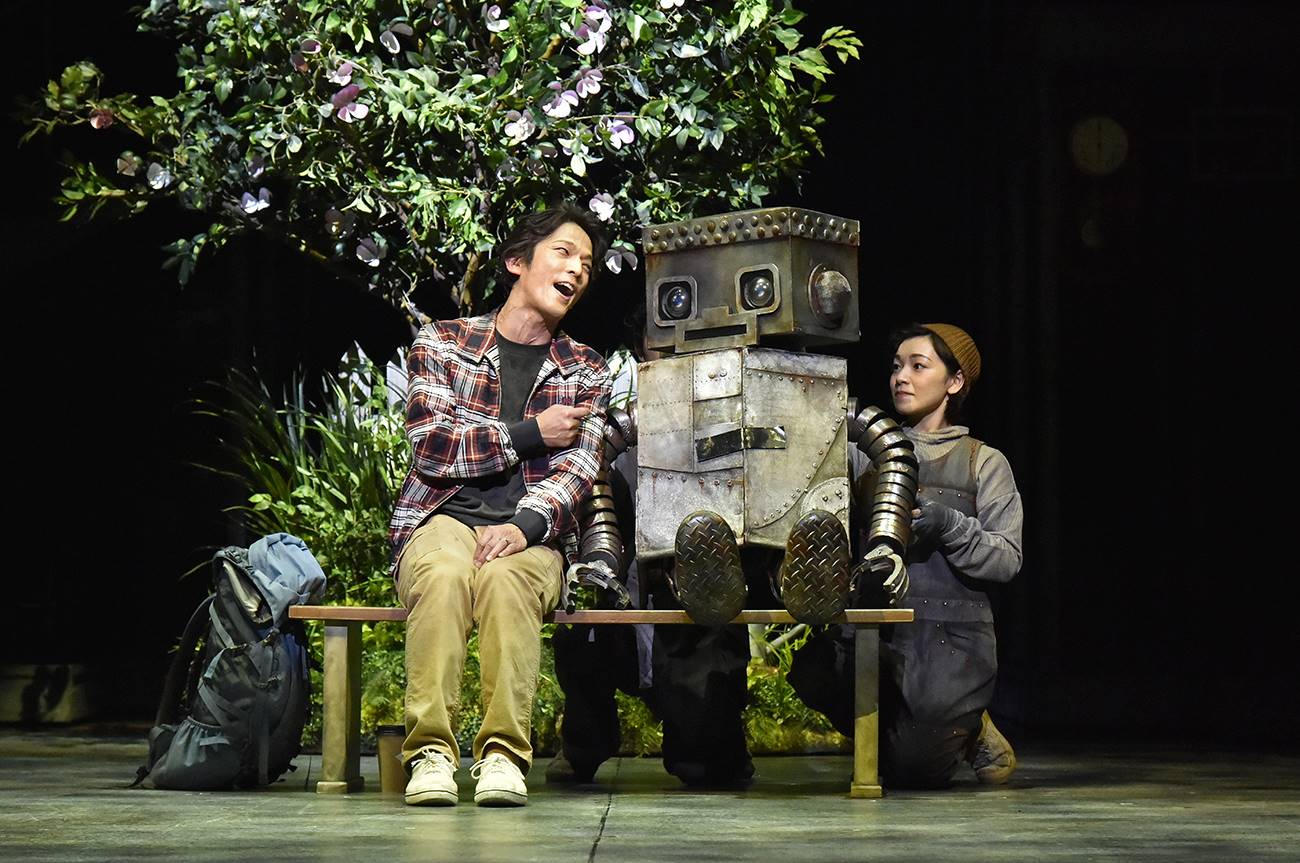 Above: Shiki Theatre Company's original production titled 'Robot in the Garden' opened at Tokyo's Jiyu Theatre on October 3 and will run until November 29.
The entertainment industry, including the performing arts, was the first to be labeled "nonessential" and bear the brunt of restrictions implemented in response to the coronavirus calamity. The Shiki Theatre Company, which has enjoyed steady support from dedicated fans since its founding in 1953 by director and businessman Keita Asari, was no exception.
Due to the coronavirus calamity, all of Shiki's private theaters and rehearsal halls were temporarily closed. But when a call for support went out through crowdfunding, donations came in, along with messages asking the theater company to "please survive".
Protecting Actors' Livelihood
"People living in this industry have been very hurt. At the same time, many are in financial distress," Shiki Theatre Company president Chiyoki Yoshida, 56, said when we asked him about the outlook for one of Japan's largest theater companies.
Shiki Theatre Company decided at the outset that protection of the livelihood of actors would be the first priority, Yoshida said. "We thought it necessary to take measures that would create financial security, so we estimated the approximate extent they would have performed on stage and continued to pay their salary," he added.
The nearly 600 actors who perform and practice in the theater company are contracted as sole proprietors. Because they are paid by a formula that takes into account their actual appearance in Shiki performances, the actors' income would decrease if Shiki cannot stage more.
"When asked what our assets are, I have to say it wo
uld be our actors. Their skills have been cultivated throughout their lives. It is impossible for anyone to replace them," he emphasized.
Interactions at 'Cats' Performances Called Off
While performances were resumed in mid-July, there were complications, particularly with productions that originated overseas, such as musicals, since licensing terms for each work prevent alterations. This time, though, license holders were willing to agree to changes in order to accommodate the restrictions caused by the coronavirus calamity.
The musical Cats, which reached 10,000 performances in Japan in 2019, required the most alteration. All scenes where the cats would come down from the stage to interact with the audience were cut, and the sales of rotating seats around the stage were cancelled. The Lion King production, which has continued its run without interruption since its premiere in 1998, was also modified.
Yoshida said that the audience is coming back to some extent: "If the current circumstances of infection risk can be kept under control, perhaps the attendance will gradually increase, little by little."
There is much hope that this will be the case since, in September 2021, the group will open a new venue, the Ariake Shiki Theatre (Koto-ku, Tokyo). The preparations are steadily progressing, with the opening of JR East Japan Shiki Theatre Aki (Minato Ward) on October 24, and JR East Shiki Theatre Haru in January of 2021.
Original Productions, Business Development
One exciting development is the launch of Robot in the Garden, the first new original musical in 16 years aimed at both children and adults. The production opened at Tokyo's Jiyu Theatre on October 3 and will run until November 29.
One of the goals that Yoshida set when he became company president in 2014 was to create an original production. When a performance has overseas roots, there are a number of restrictions that come along with it, and the Japanese side has no rights related to filming or overseas performances. Therefore, no new business opportunities are born.
Yoshida explained the broader significance: "In Japanese society, we are experiencing a declining birthrate and an aging population. Soon it will no longer be possible to operate within the business parameters we've relied on up until now that have been extremely focused on domestic demand. It is vital that we create our own original productions, where we can control the full license rights and opportunities."
Moving forward, Shiki Theatre plans to release one original production every year, and currently four projects are simultaneously in the works. Their philosophy, Yoshida added, is one of positive thinking: "Every production of the Shiki Theatre Company has a component that celebrates humanity. I would like to offer works that let audience members feel life is worth living, and that life is truly wonderful."
Massive Losses, Heartwarming Donations
The Shiki Theatre Company's crowdfunding effort exceeded its initial target amount of ¥100 million JPY (about $1 million USD) in just four days after its June 17 start. As of September 30, contributions had more than doubled, exceeding ¥200 million JPY (about $2 million USD), but they are still dwarfed by the more massive ¥8.5 billion JPY in losses ($81.5 million USD) suffered due to COVID-19 restraints.
The company has dedicated theaters in Tokyo, Nagoya, Osaka, and elsewhere, and puts on more than 3,000 performances a year. The annual combined audience exceeds three million, and sales are about ¥22 billion JPY (about $211 million USD). This year, however, some 1,100 performances were cancelled from the end of February to the middle of July. About 990,000 ticket holders were unable to attend performances.
Government calls for self-restraint and business restrictions due to the alarming spread of COVID-19 began at the end of February. Since then, performing arts events throughout Japan have been successively cancelled or postponed.
As shown by the strong public support of the theatrical company's crowdfunding effort, even such a major player as Shiki Theatre Company has no choice but to call for support in the harsh reality of these times.
(Click here to read the original article in Japanese)
ALSO ON ARTS SURVIVING THE PANDEMIC:
Laughter in the Time of COVID-19: Traditional Japanese Comedy Rakugo Goes Online
INTERVIEW | As Theaters Reopen, Actor Matsumoto Kōshirō X Imagines Kabuki's Future
[Corona ni Makeruna] Martial Arts, Dining, Concerts, Tutoring and the New 'Business as Usual'
[Corona ni Makeruna] Performing Arts Bounce Back in Osaka Amid the Pandemic
Author: Keiko Mizunuma