EDITORIAL | Ukraine Needs the World's Help to End Russian Aggression
Albanian PM Edi Rama put Ukraine in perspective at the UN, telling the Russian foreign minister "You stop the war and President Zelenskyy won't take the floor."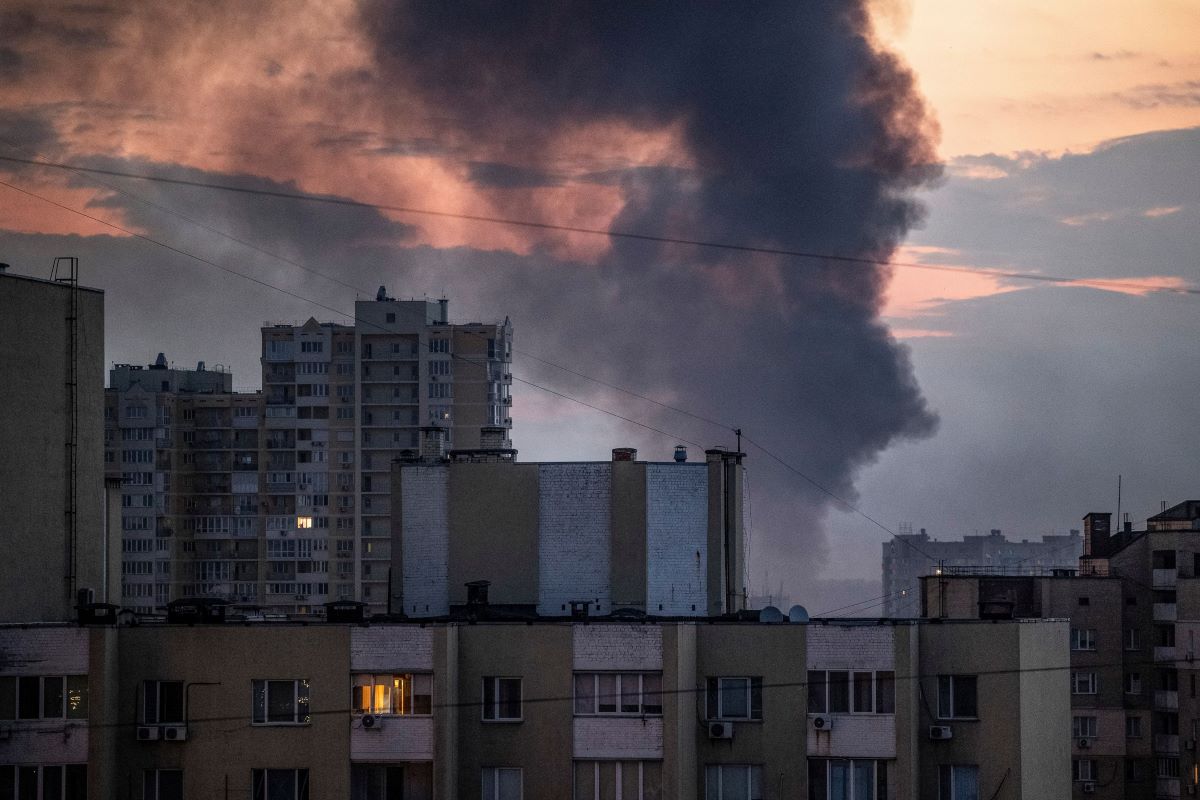 Many world leaders were in attendance recently as Ukrainian President Volodymyr Zelenskyy delivered separate addresses to the United Nations General Assembly and Security Council on the situation in Ukraine.
In his speech to the UN General Assembly, Zelenskyy accused Russia of continuing its aggression against Ukraine. He urged his listeners, "We must act united to defeat the aggressor."
Furthermore, he charged that Russia is "threatening" many nations by "weaponizing" food and occupying nuclear power plants in Ukraine. He thereby effectively made the point that Russia has become a threat to the entire world.
The UN Security Council also held a summit meeting attended by Prime Minister Fumio Kishida and US Secretary of State Antony Blinken. In it, Zelenskyy likewise condemned Russia's "criminal aggression" and demanded the withdrawal of Russian troops.
Zelenskyy's condemnation of Russia and call for unity in the international community is absolutely justified. Russia must not be allowed to succeed in its aggression, which runs counter to international law and humanity.
UN members must take to heart Zelenskyy's serious warnings and continue to provide effective support to Ukraine.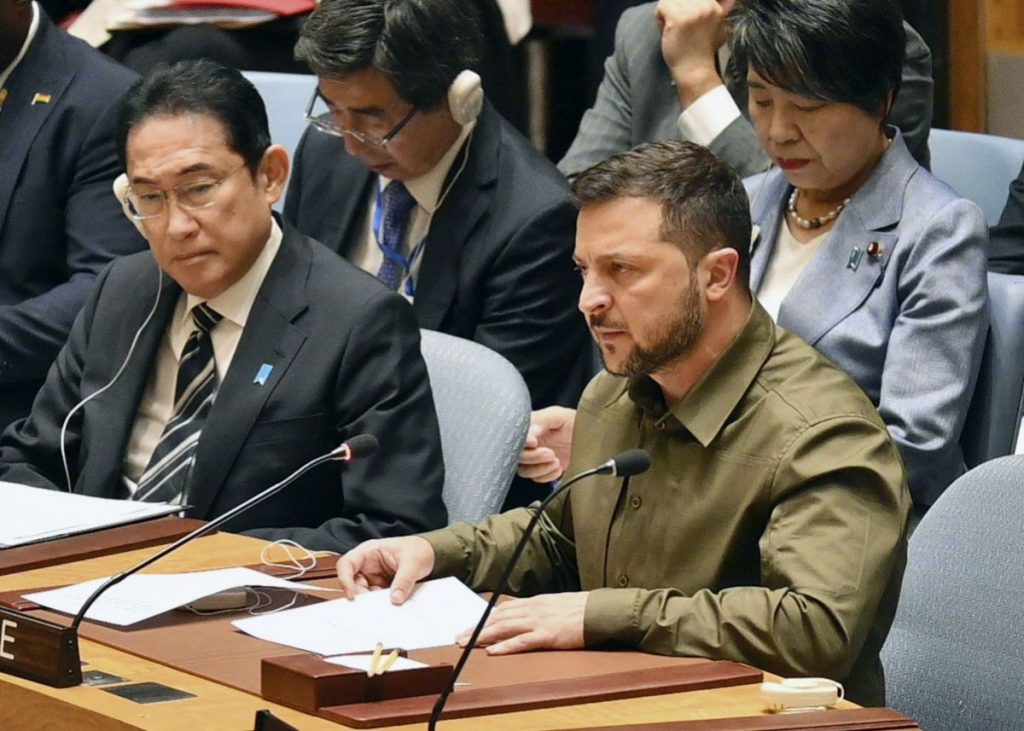 'You Stop the War and Zelenskyy Won't Take the Floor'
During the Security Council meeting, with several world leaders present, Russian Foreign Minister Sergei Lavrov offered several totally unpersuasive justifications for Russia's invasion. They included a declaration that "Moscow was forced to intervene to stop criminal actions by the Kyiv regime."
The Russian delegation expressed its dissatisfaction that Zelenskyy was allowed to address the Security Council before Russia's representative. But Albanian Prime Minister Edi Rama, who was chairing the session, responded curtly. "You stop the war, and President Zelenskyy will not take the floor," he said.
It has been over a year and a half since Russia began its invasion. But despite fierce Ukrainian resistance and sanctions by many countries, Russia refuses to withdraw.
Every country is suffering repercussions from the invasion, but most distressed are the Ukrainian people who are defending their homeland at the risk of their lives. The international community must not flag in providing support to them.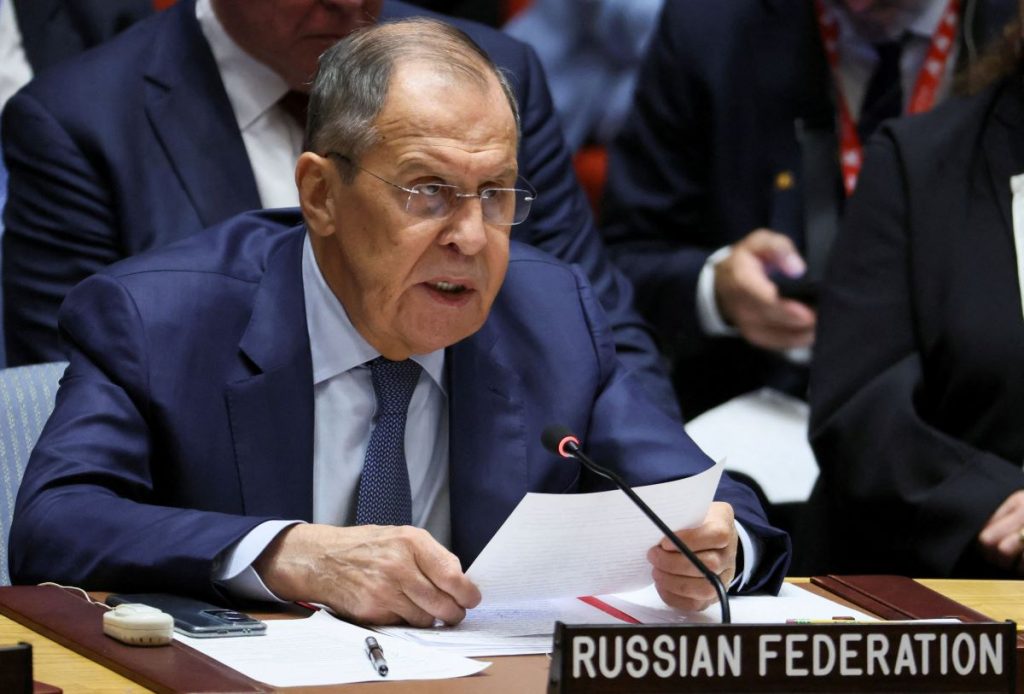 BRICS Countries on the Fence
It is undeniable that, when President Zelenskyy delivered his speech to the UN General Assembly, there were more empty seats than when he did so online in 2022. Nevertheless, the majority of member states have remained firm in their position that Russian aggression is unacceptable.
The presidents of Brazil and South Africa, for example, which, together with Russia, belong to the BRICS grouping of emerging economies, did not abandon their previous stances in speeches expressing understanding of Ukraine's position.
Prime Minister Kishida also reiterated to the Security Council that "Japan stands with Ukraine." Japan should play a central role in supporting Ukraine. It should also continue strengthening the unity of an international community that will not tolerate Russian aggression.
RELATED:
(Read the editorial in Japanese.)
Author: Editorial Board, The Sankei Shimbun