Toppling Tesla: Toyota Unveils Solid-State Battery Production Breakthrough
By combining new technologies with craftsmanship, Toyota has developed efficient methods for producing solid-state batteries and streamlining gigacasting.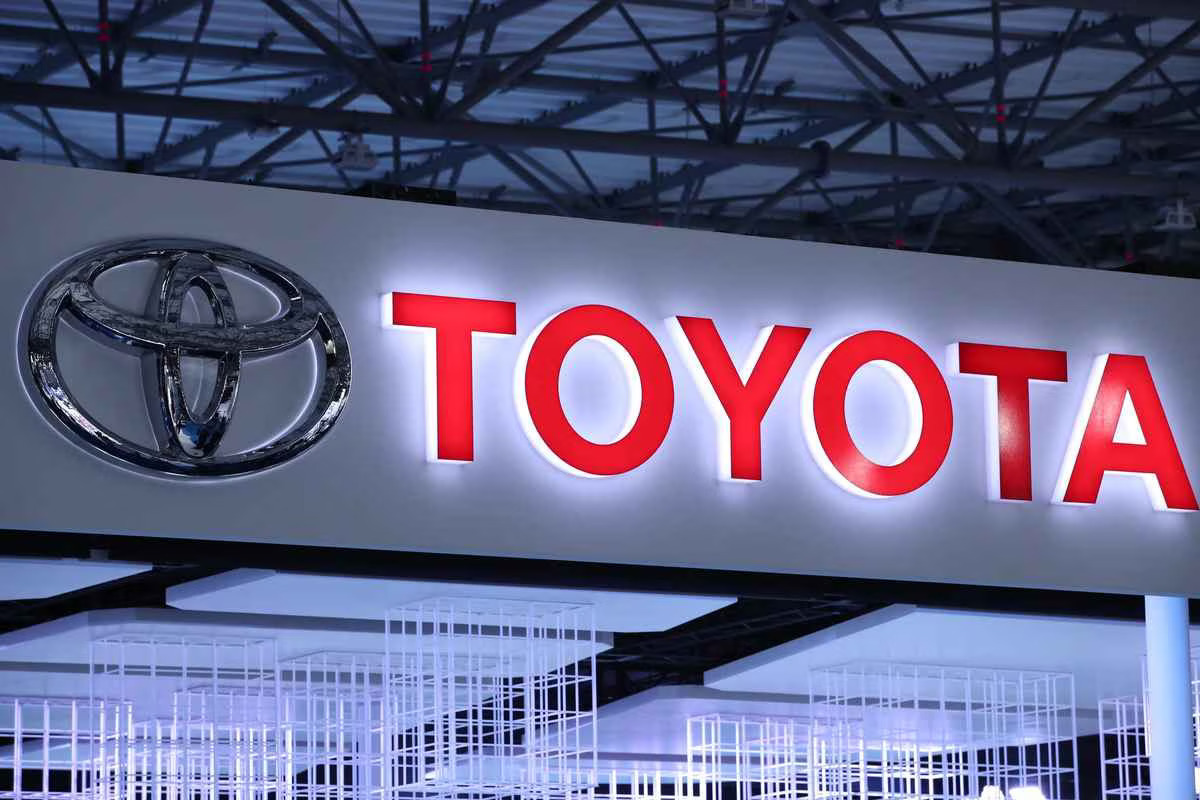 Toyota Motor Corporation recently held a technical briefing, previewing several new technologies it is developing. During the workshop, Toyota presented its assembly line for solid-state batteries, a core technology for next-generation electric vehicles (EVs).
The company also treated the press to a demonstration of its prototype gigacasting equipment. Toyota's highly efficient mass production technology combines new technologies with the company's manufacturing expertise and craftsmanship. Using this, Toyota aims to challenge Tesla and BYD Co Ltd's dominance of the EV market.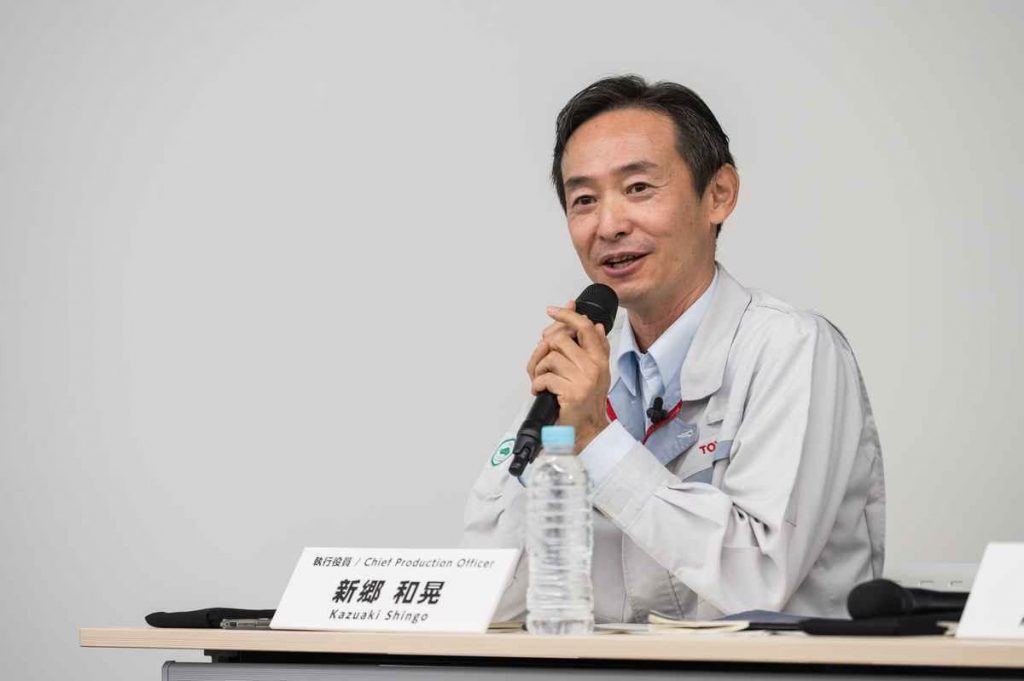 Mass Production of Solid-State Batteries
Transport pallets with materials for different batteries glide at high speed on two rails, upper and lower. When they reach the point of synchronization, the upper pallet robotic arm holding the material in place is released at incredible speed, impossible to follow with the eye. With exquisite timing, the robotic arm on the pallet below receives and stacks the material.
A development facility for solid-state batteries is located in a corner of Toyota's Teiho Plant (Toyota City, Aichi Prefecture). A method of mass production was tested using advanced mechanical claws that operate without power.
Solid-state batteries are currently being developed for commercial use in next-generation EVs by 2026 or 2027. Compared to conventional electrolyte-based automotive batteries, the performance of solid-state batteries is dramatically improved.
High Speed and Precision
This advanced technology can increase the cruising range of EVs to over 1,000 km (621 mi) but faces a significant manufacturing challenge. The difficulty lies in ensuring that the cathode components, anode components, and solid electrolyte layer, which make up the battery, adhere to each other perfectly.
Mass production involves layering battery materials at high speed and with high precision without damaging the materials. However, Toyota's application of the traditional Japanese karakuri (meaning mechanism or clever device) to automobile manufacturing solves the issue. Simple mechanisms that do not require additional power or wiring lead to stable production.
Gigacasting
Toyota's Myochi Plant (Miyoshi City, Aichi Prefecture) handles engine parts and other castings. Here, the gigacasting facility, which molds large body parts using aluminum, is moving into operation.
A robot pours molten aluminum into a cast, after which a clamping device applies 4,000 tons of pressure. With this process, body parts that once took several hours and dozens of parts to produce can be made in approximately three minutes.
Because Tesla pioneered gigacasting technology, critics have accused Toyota of imitating its competitor. As Toyota's Chief Production Officer Kazuaki Shingo admits, "We were honestly surprised by their manufacturing. It was simply beyond our imagination. We are open to learning from new options other EV startups may present as we continue to pursue this challenge."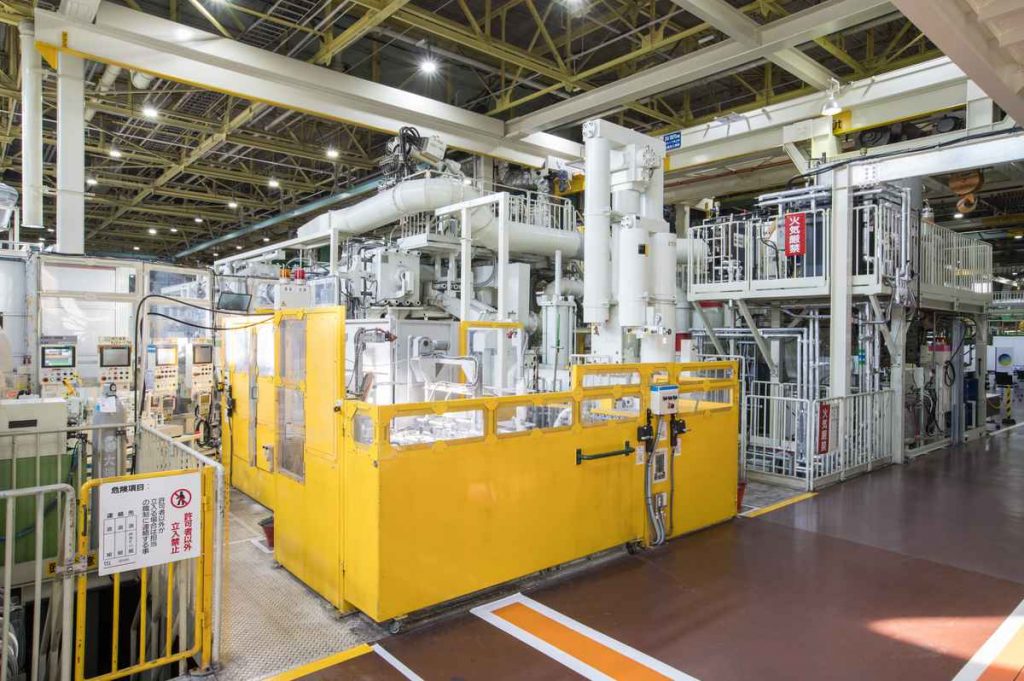 Applying Traditional Craftsmanship
In its goal of commercializing gigacasting, however, Toyota aims to surpass Tesla. The automaker aims for a 20% higher productivity rate than competitors through its manufacturing capabilities, which combine traditional craftsmanship and digital technology.
In gigacasting, which involves large machinery, it typically takes 24 hours to change the worn molds by crane. Toyota can now do this in 20 minutes. It has developed uniquely shaped molds using the master craftsmanship it has cultivated since its founding. The modular structure of the die-casting prototype separates the mold for the base and the mold for the car's shape. This enables the swift and automatic exchange of molds. According to Shingo, "Only Toyota has been able to do this."
Reducing Labor Waste
In addition, the company's unique digital analysis technology will reduce the number of defective products and labor waste by 20%. Although the construction method may be the same, Toyota's enhanced productivity sets it apart from Tesla. Pointing to this difference, the Myochi plant manager remarked, "They don't give much thought to streamlining the process."
Tesla and BYD have been able to design and invest in EV-optimized equipment from the ground up. Neither company has been constrained by the technology used to manufacture motor vehicles.
In this respect, Toyota lags behind Tesla, the leader in EVs. Some see maintaining its existing production facilities for engine-powered vehicles as a hindrance. However, Toyota's latest production technology is reason for optimism. Its skills acquired through years of automotive manufacturing and ingenuity in reducing labor waste may differentiate it from emerging companies.
RELATED:
(Read the article in Japanese.)

Author: Noboru Ikeda