[Eternal Hokusai] The Master's Art from the Perspective of a Painter
I would like to introduce you to some of Hokusai's illustrated books, which are known to painters, but rarely introduced to a wider audience despite the many excellent works among the illustrations.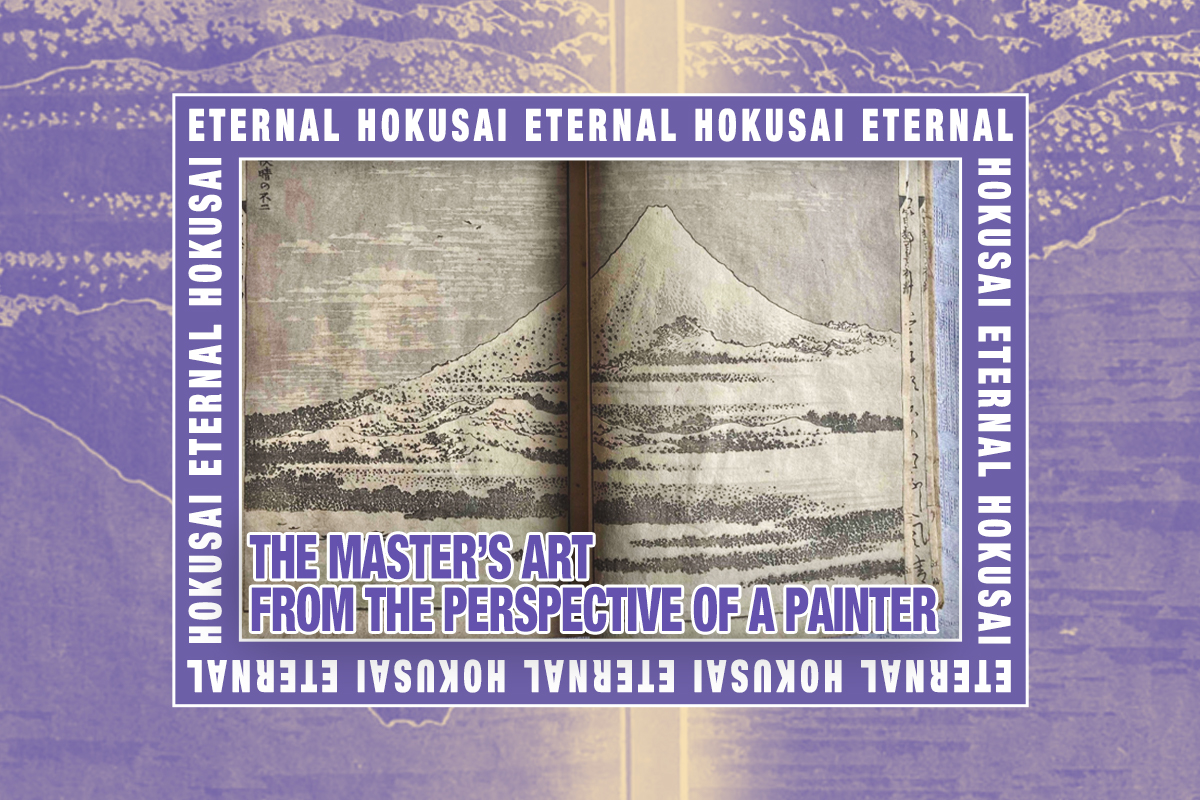 ~~


JAPAN Forward launched [Eternal Hokusai] to have curators and other specialists discuss the art of Katsushika Hokusai, and invited me to contribute an article. Since there are many Hokusai specialists out there, I decided to write about Hokusai and his art from the perspective of a painter.
First of all, I believe that Hokusai's greatness lies in his overwhelming technical skill as an artist, which can be seen in the works he created through his unceasing efforts and life pursuits.
In today's world, the meaning of art is gradually diversifying, and there is a tendency to think that technique is not important as long as an artist has his or her own style.
Recently, many people call themselves artists, but I have doubts about casually calling oneself an artist. Of course there are many opinions regarding this manner, but I am not in favor of using the term "artist" in a light-mannered way. I believe the term should only be applied to talented individuals who have mastered their art through a great deal of effort, and Hokusai is an artist who most certainly meets this requirement.
During the Edo period (1603-1868), the painters of the powerful Kano School were supported by the most powerful patrons, while Katsushika Hokusai was only an ordinary town painter. However, Hokusai's work surpassed that of the Kano School painters, who were the dominant artists at the time. Today, Hokusai is known around the world, but if Hokusai would still be alive and hear of this, he would probably say: "I'm just an ordinary town painter."
When it comes to Hokusai's works, most people probably think of the famous print series Thirty-Six Views of Mount Fuji series. However, I would like to introduce you to some of his
The Thirty-Six Views of Mount Fuji is a color print series in large-print format that depicts Mount Fuji from various locations. The three volumes of One-Hundred Views of Mount Fuji I am introducing here depicts the sacred mountain from an even wider range of angles, and some of them are truly spectacular.
Let me show you some of these illustrations from One-Hundred Views of Mount Fuji.


Image 1: "Fuji in Clear Weather" from volume 1 of One-Hundred Views of Mount Fuji, is the picture at the top of this page. This composition is reminiscent of the famous Red Fuji print of Hokusai's Thirty-Six Views of Mount Fuji. But without relying on color, Hokusai depicts the subtle shape of the mountain with more delicate brushwork than the larger Red Fuji print.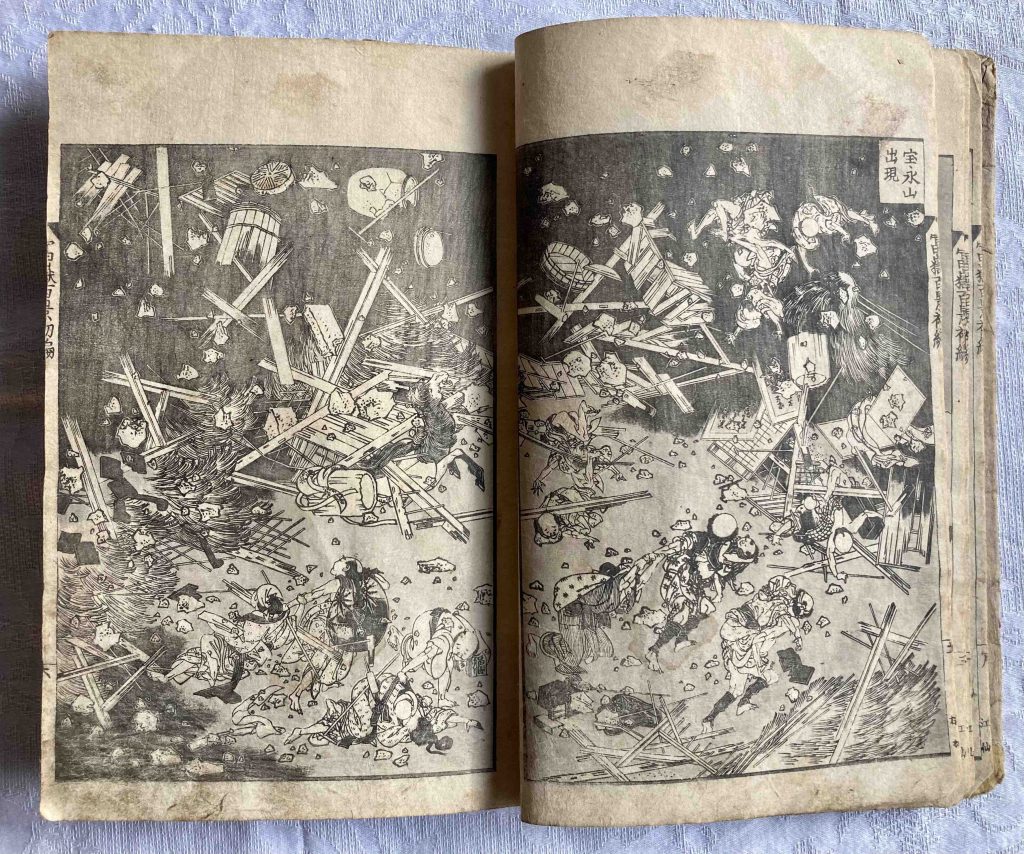 One day, Mount Hoei erupts from the side of Mount Fuji and strikes a quiet village. Hokusai depicts this scene with his characteristic imagination. In the midst of the panic-stricken villagers, a horse is struck by a door. This illustration is a perfect example of Hokusai's genius.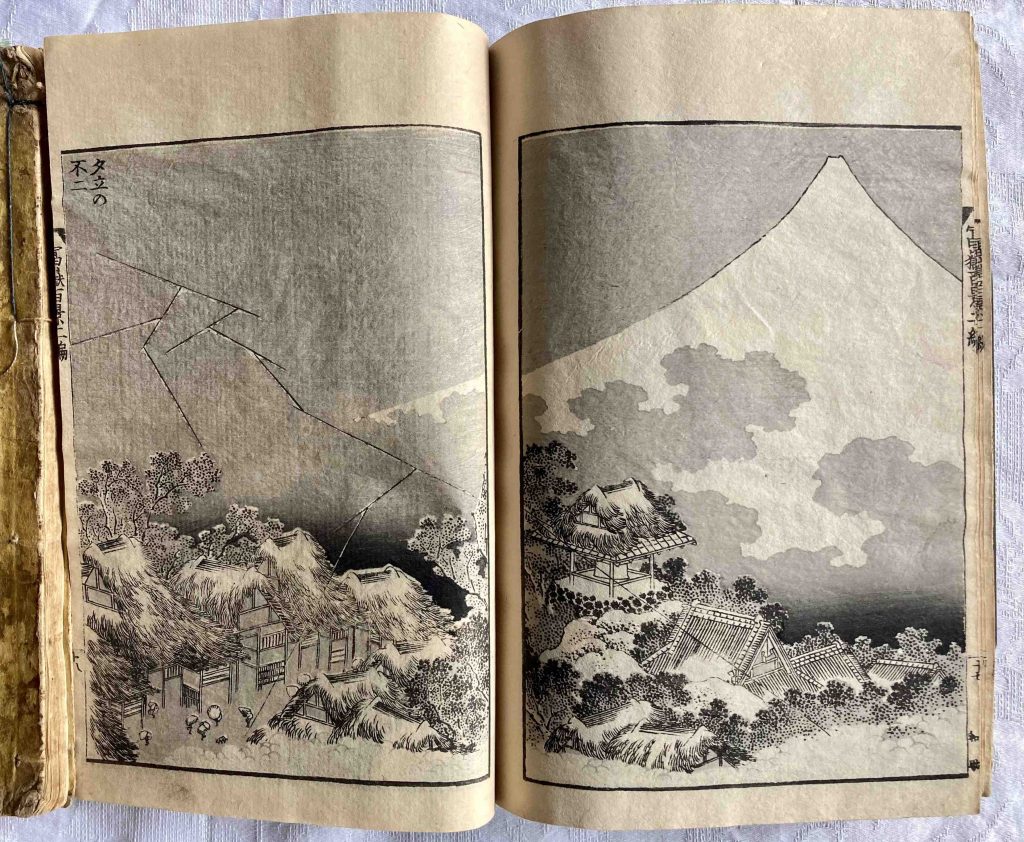 This composition shows a sudden bolt of lightning over a village. The villagers are depicted in the lower left corner. Despite the small size of this illustration, nature comes alive in this wonderful composition by Hokusai.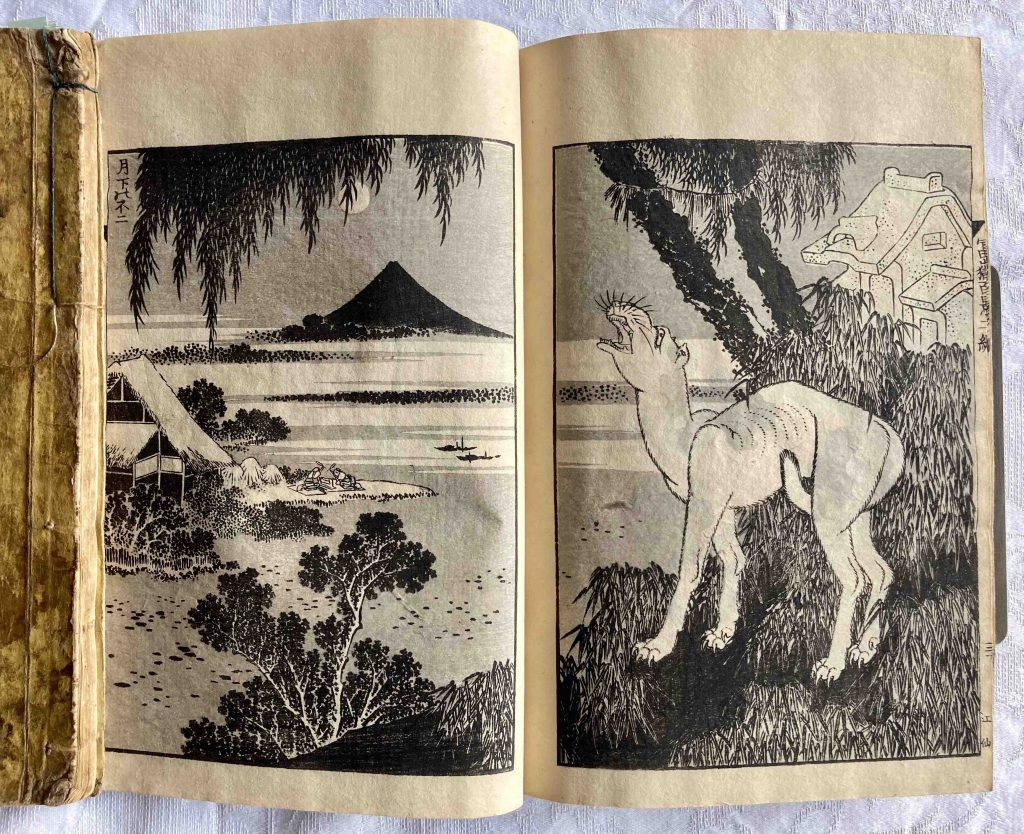 A wolf howls from a cemetery on a hill in the foreground. In the distance, figures fulling clothes and a silhouette of Mount Fuji under the shining moon can be seen. This image shows Hokusai's masterful poetic sentiment.
Although I have only shown you four images, there is an inexhaustible number of great pictures in Hokusai's One-Hundred Views of Mount Fuji. Hokusai's focus on nature and objects can also be found in his other illustrated books, which make him worthy of the eccentric artist name he used at one point in his life: "Hokusai, Old Man Mad about Painting."
If you are interested in Hokusai's One-Hundred Views of Mount Fuji , I hope you will take the time to have a look at all of its illustrations on the internet, or if possible, in an exhibition featuring Hokusai's works.


READ THE SERIES: [Eternal Hokusai] found here.


Author: Isao Toshihiko
Find other articles by Isao Toshihiko at this link.