FIGURE SKATING | Anna Shcherbakova Wins Gold in Stunning Upset After Kamila Valieva Collapse; Kaori Sakamoto Collects Bronze
Valieva wilted under the Olympic heat in titanic fashion, thereby allowing the 17-year-old Shcherbakova to win the gold.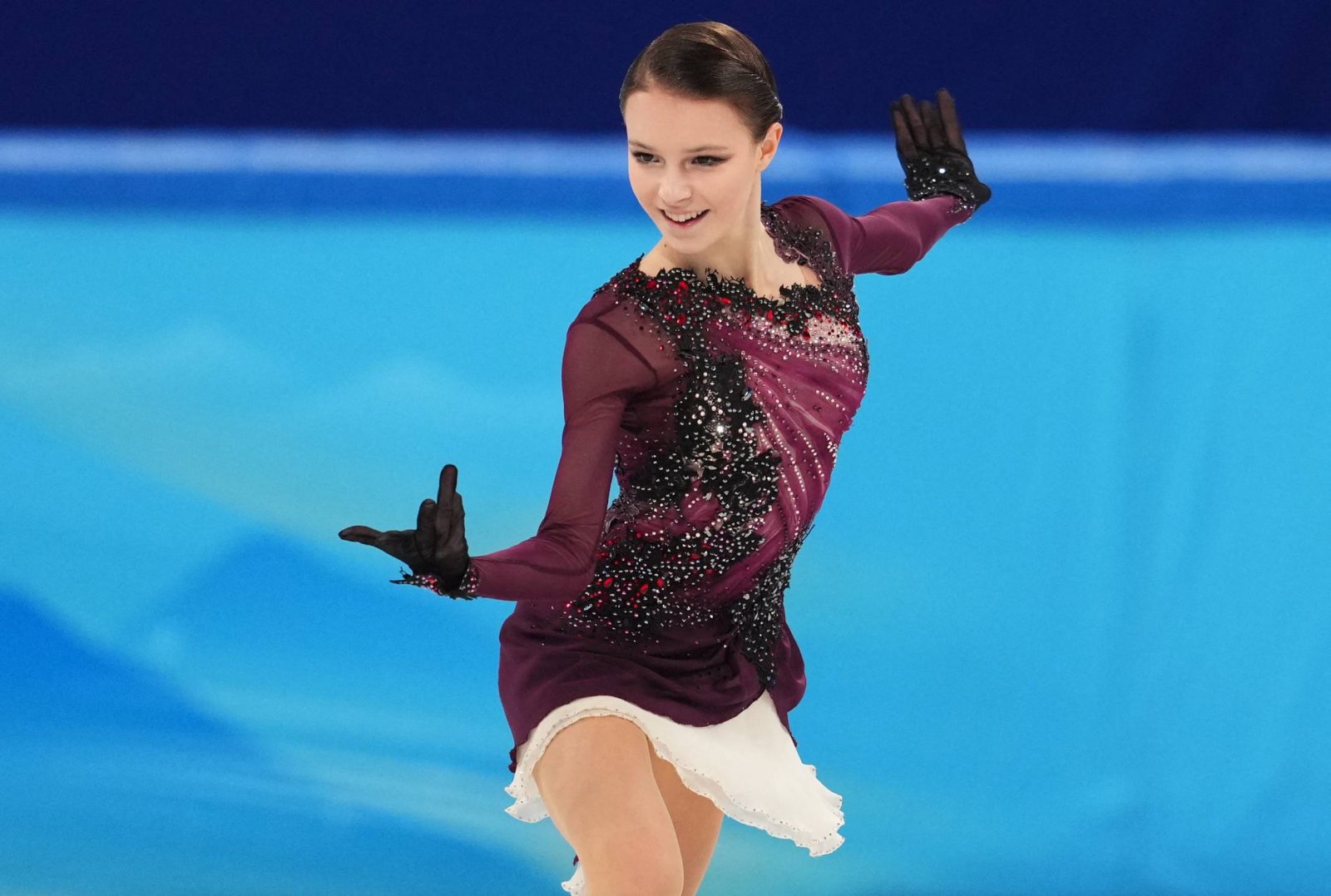 ~~
What was shaping up to be one of the most distasteful nights in Olympic history had a surprise ending that proved eminently more palatable Thursday, February 17 at Capital Indoor Stadium.
The Russian Olympic Committee's Kamila Valieva, the prohibitive favorite to win the gold medal, suffered an epic meltdown in the women's free skate that not only did not give her victory, but kept her off the podium entirely.
Talk about a twist in the plot. Good grief.
After being under a cloud of suspicion for more than a week since it was revealed that she had failed a drug test in December, the 15-year-old Valieva had a narrow lead over teammate Anna Shcherbakova after Tuesday's short program coming into the free skate.
But Valieva wilted under the Olympic heat in titanic fashion, thereby allowing the 17-year-old Shcherbakova to win the gold. Another teammate Alexandra Trusova captured the silver, and Kaori Sakamoto claimed the bronze.
Shcherbakova, the reigning world champion, skated an elegant performance to "Ruska" to earn the victory with a score of 255.95 points. Trusova, who landed five quadruple jumps, was close behind with 251.73, while Sakamoto's powerful and fluid effort brought her a tally of 233.13.


Valieva ended up fourth with 224.09, while Wakaba Higuchi was fifth at 214.44.
Valieva took to the ice with the majority of observers expecting her to take the gold ー with an asterisk that would remain until the investigation into her failed test for the drug trimetazidine was completed. There will still be a significant probe that will include her coach Eteri Tutberidze and her staff, but Valieva did the IOC a huge favor by not making the podium.
If she had, the IOC, furious at what had transpired, had already indicated that there would be no medal ceremony for the women's event or the team competition, where Valieva starred as the ROC won the gold. It was also highly unlikely that Valieva would appear at the mandatory press conference afterward if she had medaled.
Valieva was only allowed to compete in the women's singles after prevailing in a ruling by the Court of Arbitration for Sport that was announced on Monday.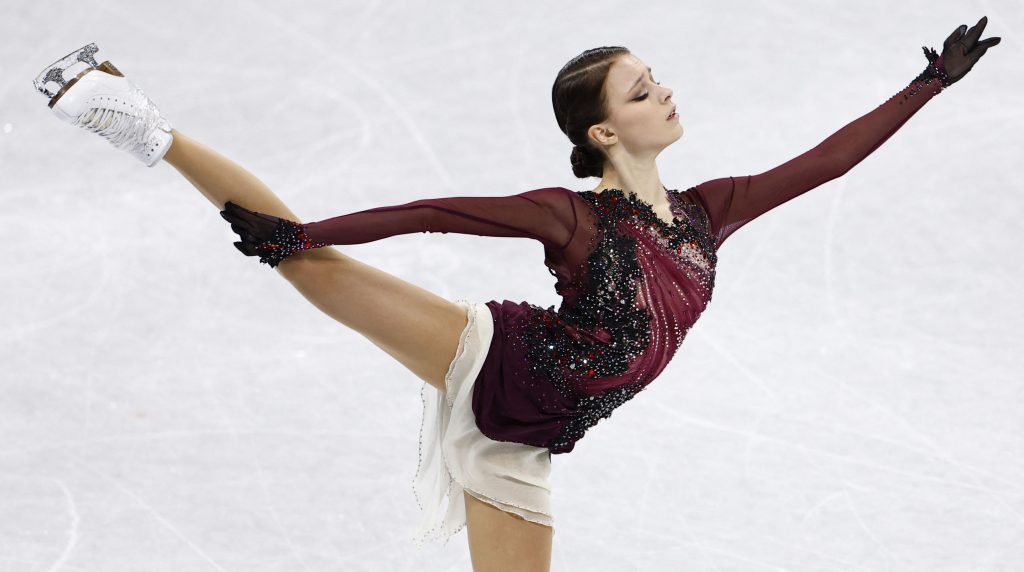 Shcherbakova's Brilliant Performance
Skating next-to-last, Shcherbakova opened with a beautiful quad flip/triple toe loop combination, followed by another quad flip, then went on to hit five triples. The Moscow native earned level fours for her spins and step sequence.
"The importance of this is so huge that I cannot fully understand it yet," Shcherbakova stated. "At the moment I have only felt the happiness from the fact that I was able to do everything I am capable of in my program."
Shcherbakova said she did not want to have any regrets at the end of her free skate.
"Just unbelievable happiness about my clean performance of the program," Shcherbakova commented. "My goal was to come off the ice with the full understanding that I have done my maximum. Today that is how it was."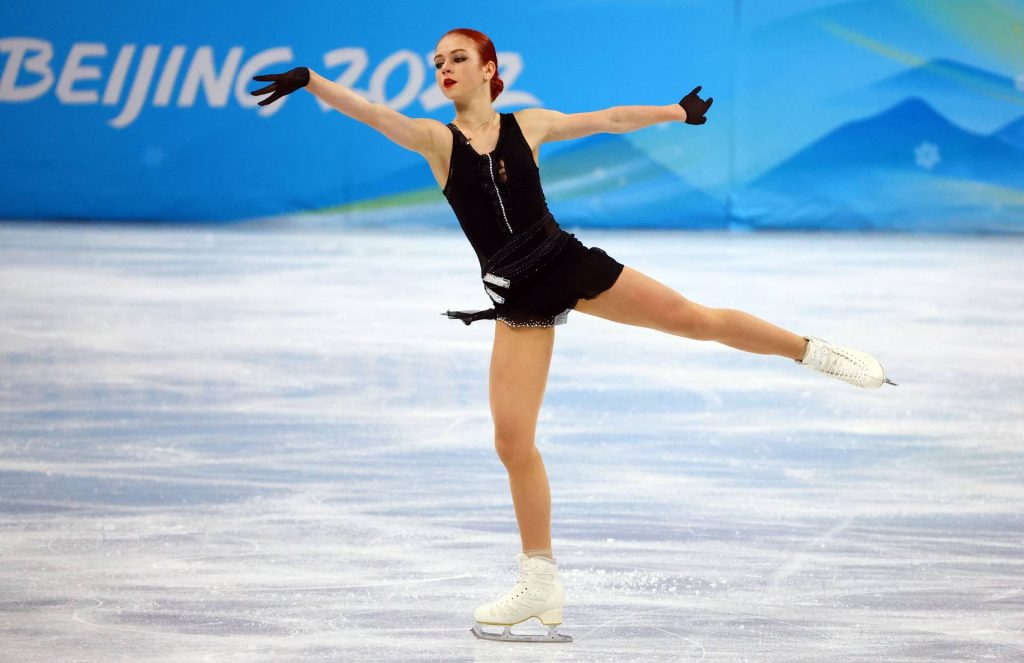 Jumps Carry Trusova to Silver
Trusova put on a jumping clinic, winning the free skate with a score of 177.13. The 17-year-old competed to songs from the "Cruella" soundtrack, and opened with a quad flip, then landed a quad salchow and quad toe, later adding a mammoth quad lutz/triple toe loop combo and another quad lutz that was judged a quarter rotation under. She received level fours on two of her spins and a level three on her step sequence.
Trusova was in tears after the final results were posted and indicated that she would not be taking part in the venue ceremony, although ultimately she did.
"I am not happy with the result," Trusova said. "There is no happiness. In the short and in the free I did everything I could. I am content with my programs."
Trusova confessed that she had sacrificed victories the past few years to try and push herself and the sport further.
"For the past three years I did not win a single important competition," Trusova remarked. "I was trying to achieve some lofty goals and more quadruple jumps. That's how it is."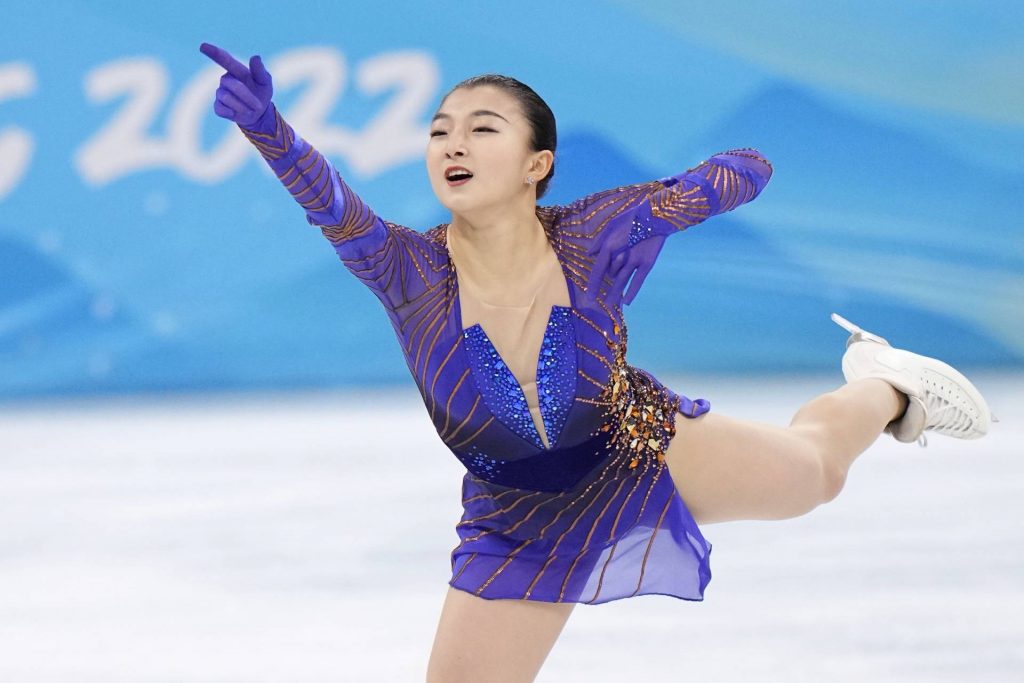 Sakamoto Delighted with Result
Sakamoto, a two-time Japan champion, skated to "No More Fight Left In Me" and put on a sublime showing, exhibiting beautiful line and edge and great ice coverage. The Kobe native, who was sixth at the Pyeongchang Olympics, began with a double axel, then hit a triple lutz that got an edge call, before reeling off six clean triples. She earned level fours on two of her spins and step sequence.
Sakamoto admitted that the outcome was unexpected.
"I was very surprised I won the bronze," Sakamoto stated. "I am very happy. The past four years have been very challenging. My instructors didn't give up on me. My goal at the Japan Championships was to skate at the Olympics and get a medal."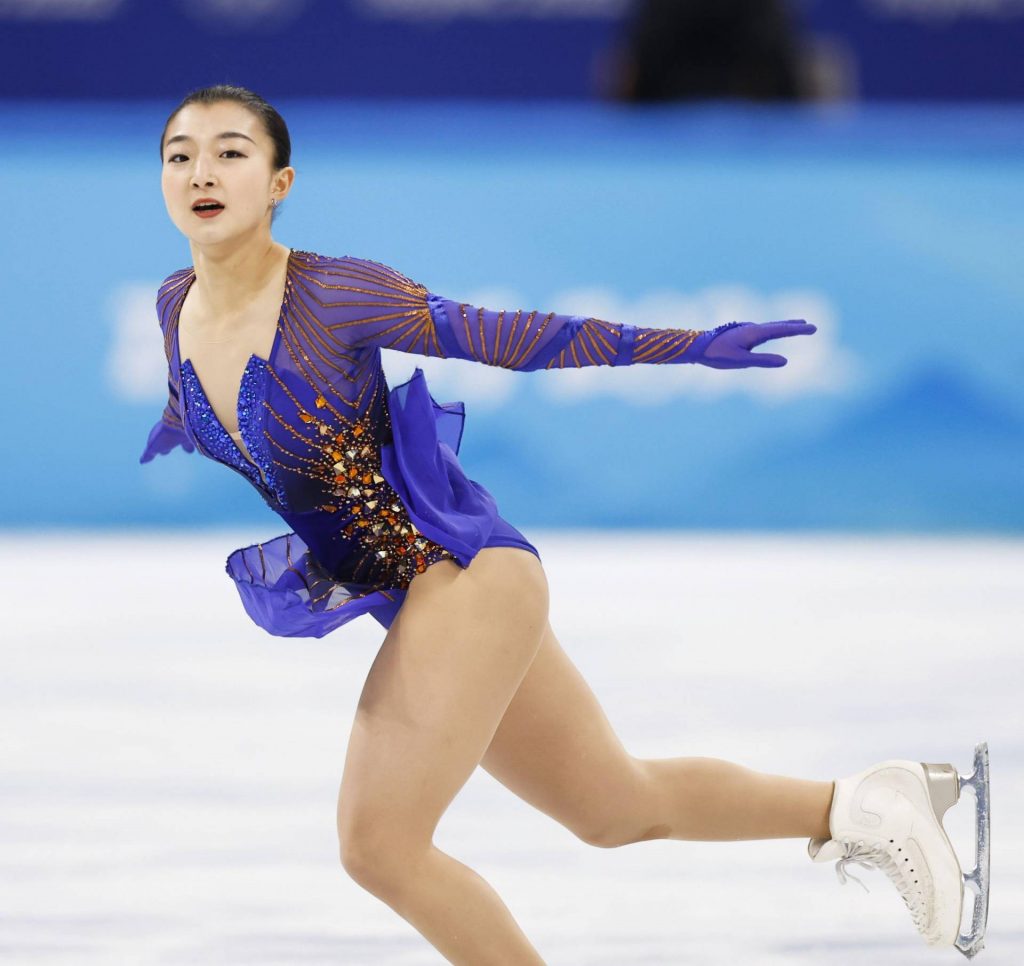 Sakamoto became the fourth Japanese woman, after Midori Ito, Shizuka Arakawa and Mao Asada, to win an Olympic medal. She was asked what message she wanted her skating to project.
"Skating can show freedom, openness, joy," Sakamoto stated. "That is the message I would like to extend while I am skating. The fact that I could perform well in both my short program and free skate makes me quite happy."
Sakamoto confessed that not having a quad made competing difficult for her.
"I don't have the big jumps the others have, which is a big handicap," Sakamoto noted. "I have to perfect all of the elements and make my movements quite delicately. I do this by working on them repeatedly in practice."
Sakamoto acknowledged that Arakawa's gold medal at the 2006 Turin Olympics was a catalyst for her career.
"I was in kindergarten then," Sakamoto recalled. "I still have the newspaper from that pinned on my wall."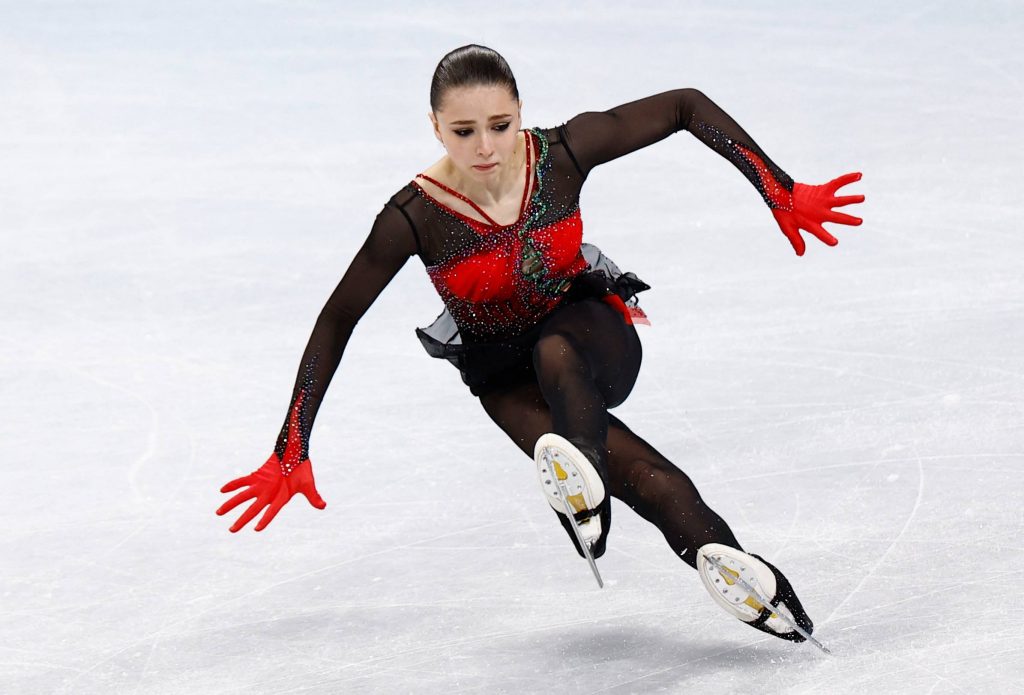 A Rocky Start for Valieva
Valieva competed to "Bolero" and was shaky from the start. The Kazan native was a quarter rotation under on her opening quad salchow, then under-rotated the ensuing triple axel, before falling on a triple salchow on the back end of a combination jump. She then went down again on a quad toe loop and stumbled on her triple lutz/triple toe loop combo.
Valieva received level fours on her spins and step sequence, but it hardly mattered in the end.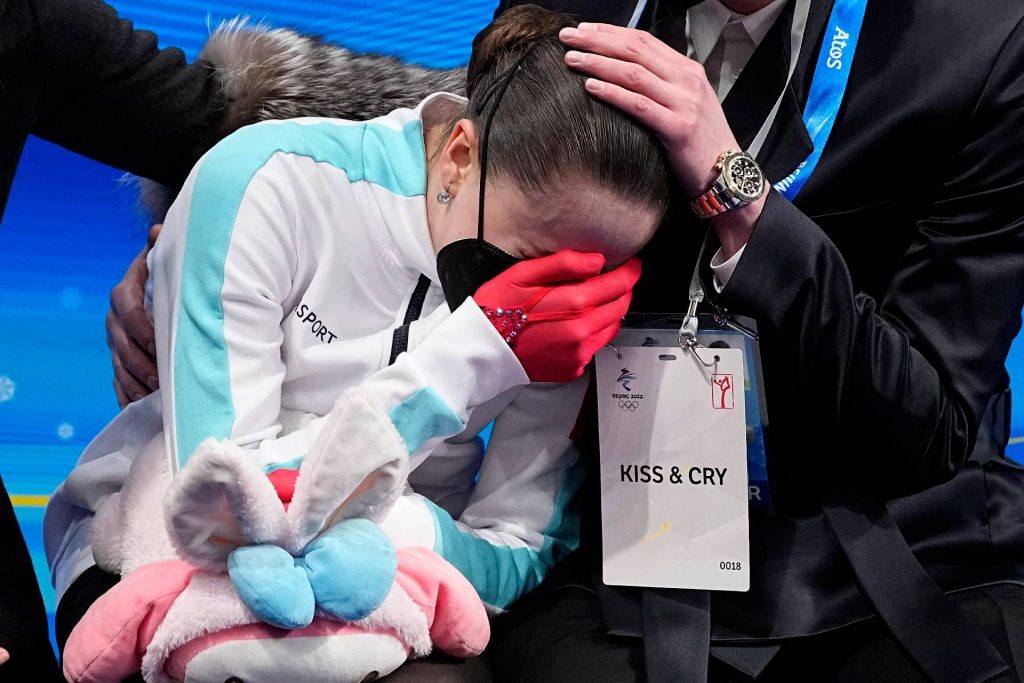 Higuchi Pleased With Performance
Higuchi landed her opening triple axel and was reflective afterward.
"It was a program that will take me further down the road," Higuchi stated. "I made the triple axel. I am so satisfied for accomplishing that."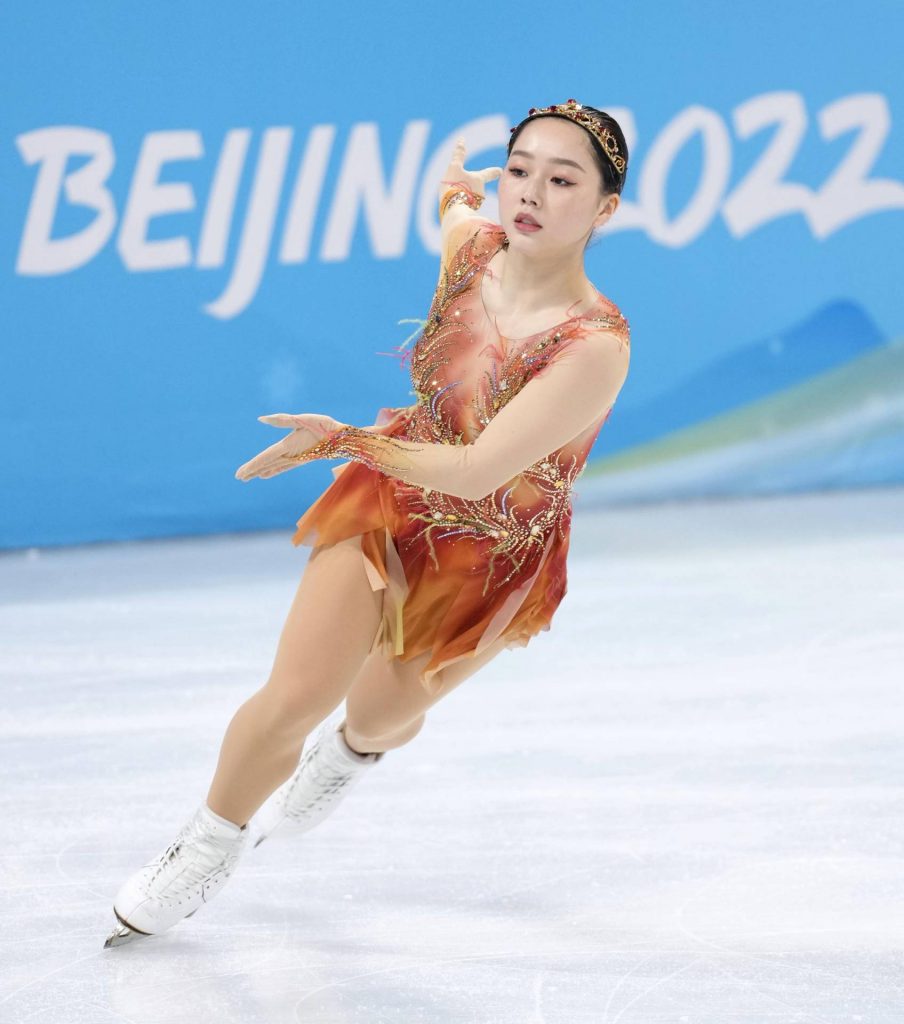 Higuchi was philosophical about her result.
"I had a bite of the bitter part of the Games [not winning a medal], but also the sweet part of it," Higuchi commented. "It's the best stepping stone for my athletic life in the next four years."
Mana Kawabe, the third member of Japan's team, finished 23rd on 166.73.
Follow the figure skating news and other events at the 2022 Winter Olympics in greater detail on JAPAN Forward's dedicated sports website, SportsLook.
RELATED:
Author: Jack Gallagher
The author is a veteran sports journalist and one of the world's foremost figure skating experts. Find articles and podcasts by Jack on his author page, here, and find him on Twitter @sportsjapan.