Fix the Law! 1 in 3 Illegal Immigrants in Japan Who Refuse Repatriation Has Criminal Record
About 1,000 who refuse repatriation have criminal convictions in Japan. Many are released into the general population and some commit new crimes, raising public safety concerns.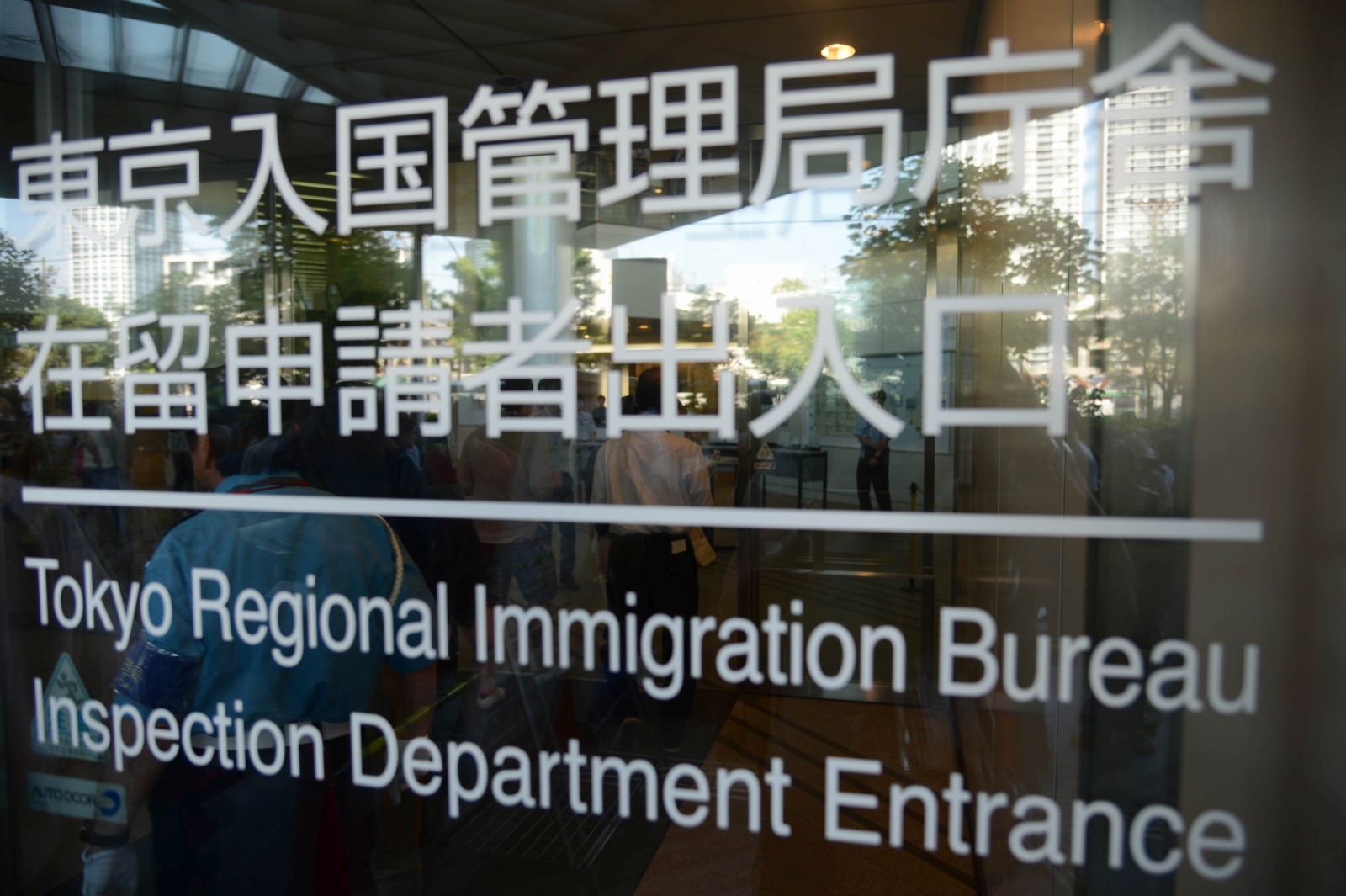 ~~
~
On November 29, the Japanese government and ruling party officials revealed that there are approximately 3,100 illegal immigrants in Japan who cannot be made to leave the country, either because they refuse to be repatriated or have other reasons. Among them, 1,000 have been convicted of crimes in Japan in the past.
The Immigration Services Agency of Japan is conducting a fact-finding survey and plans to once again submit a bill to revise the Immigration Control and Refugee Recognition Act during the ordinary Diet session in 2022.
When a foreign national is caught remaining illegally in Japan for various reasons, such as illegal work, the Japanese immigration authorities will generally detain the immigrant in a facility until deportation proceedings are complete and the immigrant leaves the country.
About 10,000 illegal immigrants agree to be repatriated each year. However, as of the end of 2020, about 3,100 foreign nationals had refused to leave Japan, or their home countries refused to accept them for repatriation.
Of these, about 2,440 have been provisionally released from detention facilities and live among the general public. Another 420 have fled while on provisional release and are wanted by the authorities.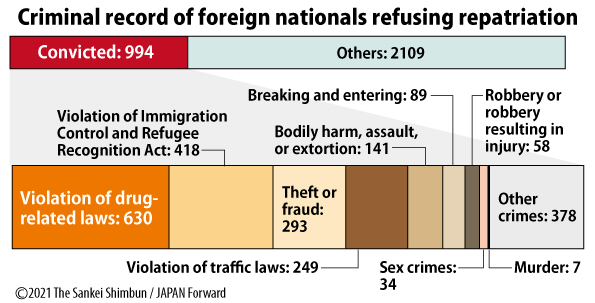 Of the 3,100 illegal immigrants who cannot be repatriated, about 1,000 have been convicted in Japanese criminal trials. While about 730 of them are still on provisional release, another 100 have fled while on provisional release.
The most common crime, including those committed by multiple offenders, was the violation of drug-related laws. These amounted to about 630 cases. This was followed by 420 cases of violating the Immigration Control and Refugee Recognition Act, and 290 cases of theft or fraud. Some were convicted of more serious crimes, including 60 cases of robbery, 30 cases of sex crimes, and 10 cases of murder or attempted murder.
Of the 1,000 who have been convicted of a crime, about 470 have applied for refugee status. The current law provides for the suspension of deportation and prevents immigrants from being deported while their refugee status application is still under review. Moreover, there is no limit to the number of times one can apply. It is suspected that some immigrants abuse this loophole by making multiple applications despite having no prospect of being granted refugee status.
Some have caused serious harm to the public. The Mejiro Police Station of the Tokyo Metropolitan Police Department announced the arrest of a Pakistani man in his 50s on suspicion of rape on November 12. The suspect allegedly approached a woman in her 20s in Toshima Ward, Tokyo, and sexually assaulted her in a public restroom in a nearby park.
It came to light that the man had a record of sex crimes that were committed while on provisional release after receiving a deportation order from the immigration authorities. He had also applied for refugee status.
As detention facilities reach their limit, more illegal immigrants are being granted provisional release. This is raising concerns about the maintenance of public safety.
At the ordinary session of the Diet in 2021, the government submitted a bill to amend the Immigration Control and Refugee Recognition Act, which would have set a limit of two refugee status applications per person and established criminal penalties for those who fail to comply with a deportation order. However, the bill was withdrawn after objections from the opposition that the amendment would diminish the effectiveness of refugee protection.


(Read the Sankei Shimbun report in Japanese at this link.)


Author: The Sankei Shimbun