Former Prime Minister Shinzo Abe Is Shot During a Rally
Shinzo Abe was delivering a speech ahead of the Upper House elections on July 10 when he was shot twice from behind and collapsed on the ground on July 8.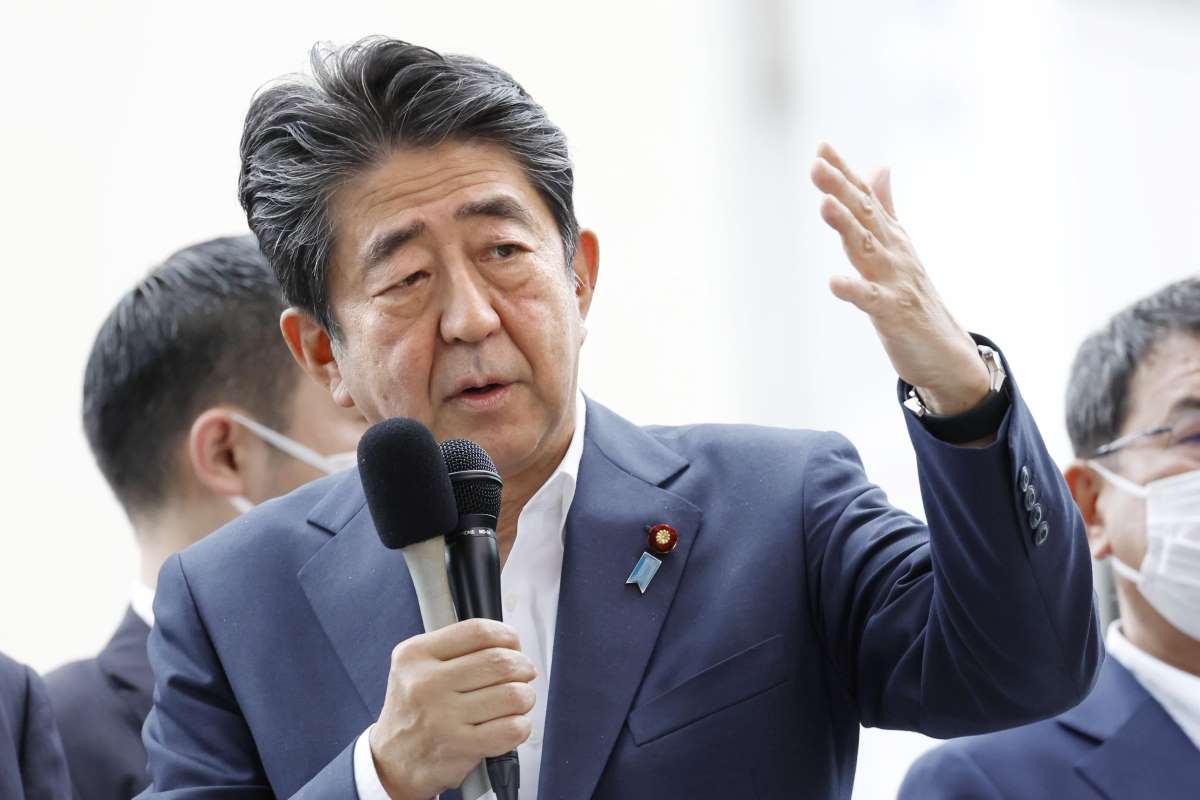 UPDATE July 8, 7 PM:
At 12:03 it was reported that Shinzo Abe was in a state of cardiopulmonary arrest, according to the police authorities.
Former Japanese Prime Minister Shinzo Abe, 67, was speaking at a rally in Nara in preparation for the July 10 Upper House election, NHK national broadcast reported.
Gunshot-like noise was heard just past 11:30 AM, as Abe was speaking near Yamato-Saidaiji Station. An NHK reporter on the scene confirmed that following the gun sound, she saw Mr. Abe bleeding around the chest area as he collapsed. He was carried away in an ambulance shortly thereafter, and the national broadcast showed footage of the former premier being hoisted in a helicopter and taken to Nara Medical University Hospital.
As of the time of this publication, his whereabouts and condition are still not confirmed. Chief Cabinet Secretary Hirozaku Matsuno held a press conference at 12:49:
"The condition of Shinzo Abe is still unknown, and we are in the process of confirming his whereabouts." Matsuno also said the government's stance of "strongly opposing" the violent behavior, which he deemed "completely unacceptable."
Mr. Abe is the head of a faction of the majority Liberal Democratic Party (LDP). On July 8, he was scheduled to participate in several rallies to show support for LPD members running in the election.
Prime Minister Fumio Kishida was also traveling the country during the campaign period, but will be coming back to Tokyo from Yamagata prefecture, said Matsuno.
The police revealed that immediately following the gunshots a man in his forties was arrested on the spot and his gun was taken away, local media reported.
Nihon Keizai Shimbun reported that it was thought that a man from behind Abe used a shotgun to inflict the injuries on the senior statesman of Japan. The man in question is identified as Tetsuya Yamagami, a 41-year-old from Nara Prefecture. He is currently under arrest for attempted murder, reported NHK.
Several local media reported that Yamagami is a former Self-Defense Force employee, who worked for the JSDF for approximately three years from 2005.
Gun-related crimes are extremely rare in Japan, due to stringent gun control regulations. Political rallies even of key figures are normally with very low security.
Many people are already reacting to the situation. Fellow political figures joined Matsuno in expressing their strong condemnation of the incident, and their opposition to violence.
Prime Minister Anthony Albanese of Australia said on Twitter that "our thoughts are with his family and the people of Japan at this time."
The Polish Ambassador to Japan posted on Twitter:
"We are all so shocked by shooting of f. Prime Minister Shinzo Abe. He has always been a great leader of #Japan and a wonderful friend of #Poland.
Today we are all praying for his well-being and sending our sympathy to his family."
Japan is currently only a couple of days away from the Upper House elections on July 10, yet several party leaders have said that the election campaigns have been suspended.
This is a developing story and will be updated as new information is available.
RELATED
Author: Arielle Busetto