G7 Hiroshima Leaders Envision the 'World Without Nuclear Weapons'
After visiting the A-Bomb Dome, G7 members quickly took a stance on global security in the G7 Hiroshima Vision. We unpack some of its key points below.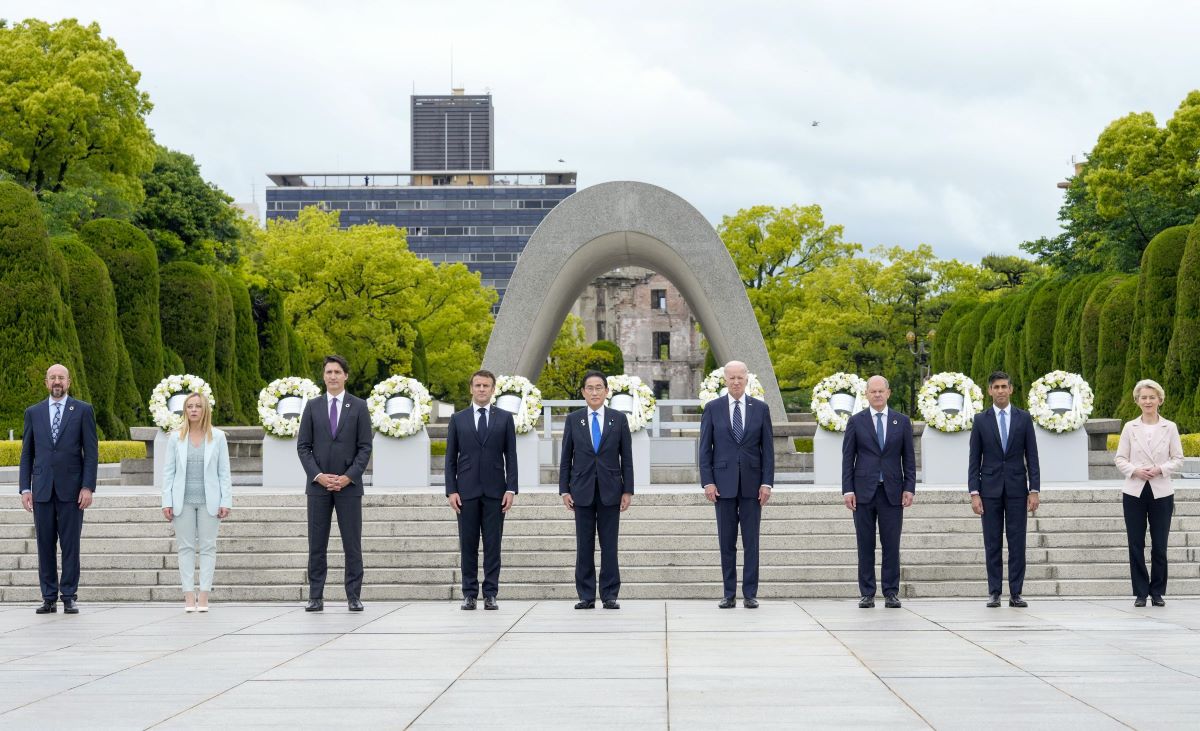 At the G7 Hiroshima Summit on May 19, leaders announced the Hiroshima Vision on Nuclear Disarmament. Dedicated to nuclear disarmament, the document reaffirms their "commitment to achieving a world without nuclear weapons with undiminished security for all."
Predictably, Russia's statement showed opposition to the Hiroshima Vision on May 20.
We look at what led to the announcement of a separate document on this issue alone. And in Hiroshima, we share some of the reactions on the ground.
The Background
Behind the wording was the symbolic location of the meeting. Hiroshima is one of only two cities to have suffered a nuclear bomb attack. Nearby in Western Japan, the other city is Nagasaki.
Hiroshima is also the hometown of Japanese Prime Minister Fumio Kishida. Although he grew up in Tokyo, he had previously defined advocating for a "world without nuclear weapons" as his "life's work." After all, the PM comes from one of only two cities to have survived the devastation of an a-bomb.
There is also renewed global attention to nuclear threats as the G7 Hiroshima Summit takes place. In March, President Vladimir Putin announced that Moscow was planning to place nuclear weapons in Belarus. It was seen as a clear move to increase pressure on the neighboring country Ukraine.
Nobel Peace Prize laureate International Campaign to Abolish Nuclear Weapons (ICAN) is a 2017 recipient. It has summarized the current state of affairs on nuclear arms:
With the danger of nuclear conflict at its highest level since the cold war due to Russia's and North Korea's threatening nuclear rhetoric, Japanese Prime Minister Fumio Kishida chose to host the summit in the first city ever to be attacked with a nuclear weapon in order to put nuclear disarmament high on the agenda.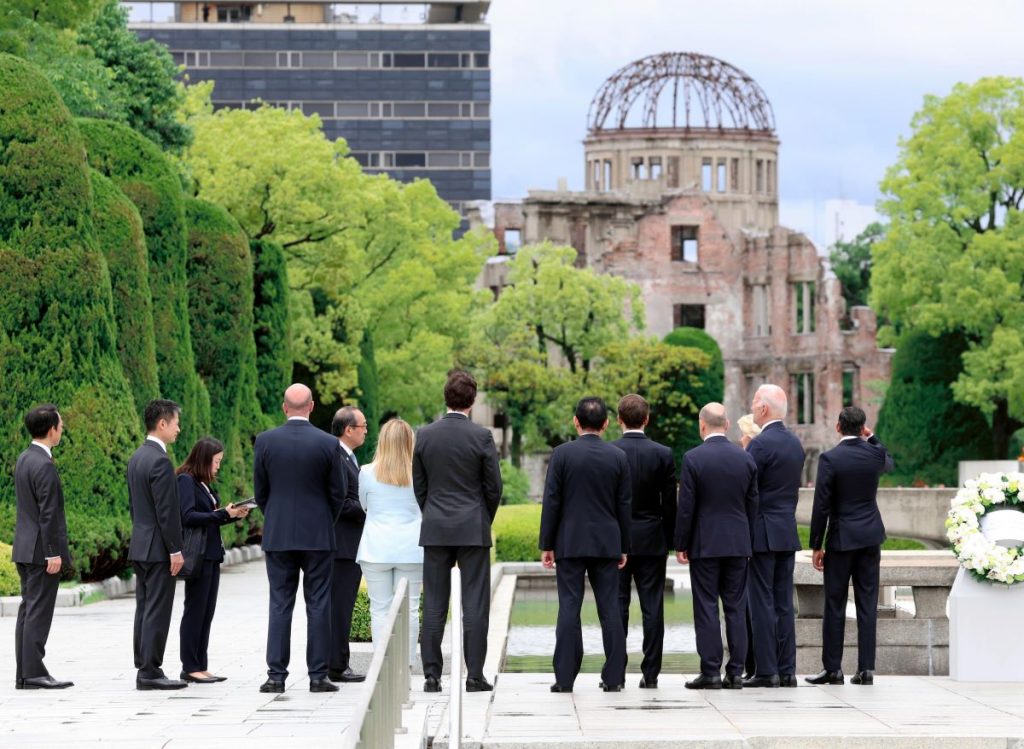 Leaders Leave Messages at the Museum
On May 19, the G7 leaders visited the Hiroshima Memorial Park and Museum for the first time in history. There they spoke to a-bomb survivor Seiko Ogura.
The messages leaders left at the Hiroshima Peace Memorial Park underscored the poignancy of their historic visit.
Japanese PM Fumio Kishida's words were:
As Chair of the G7, I am gathering here together with the leaders of G7 countries on this historic occasion of the G7 Summit to realize a world without nuclear weapons.
US President Joe Biden wrote:
May the stories of this museum remind us all of our obligations to build a future of peace. Together let us continue to make progress toward the day when we can finally and forever rid the world of nuclear weapons. Keep the faith!
Olaf Scholz, Germany's Chancellor, expressed his thoughts thus:
This place is a reminder of inconceivable suffering. Today, together with our partners, we renew here the pledge to protect peace and freedom with all determination. Nuclear war must never be waged again.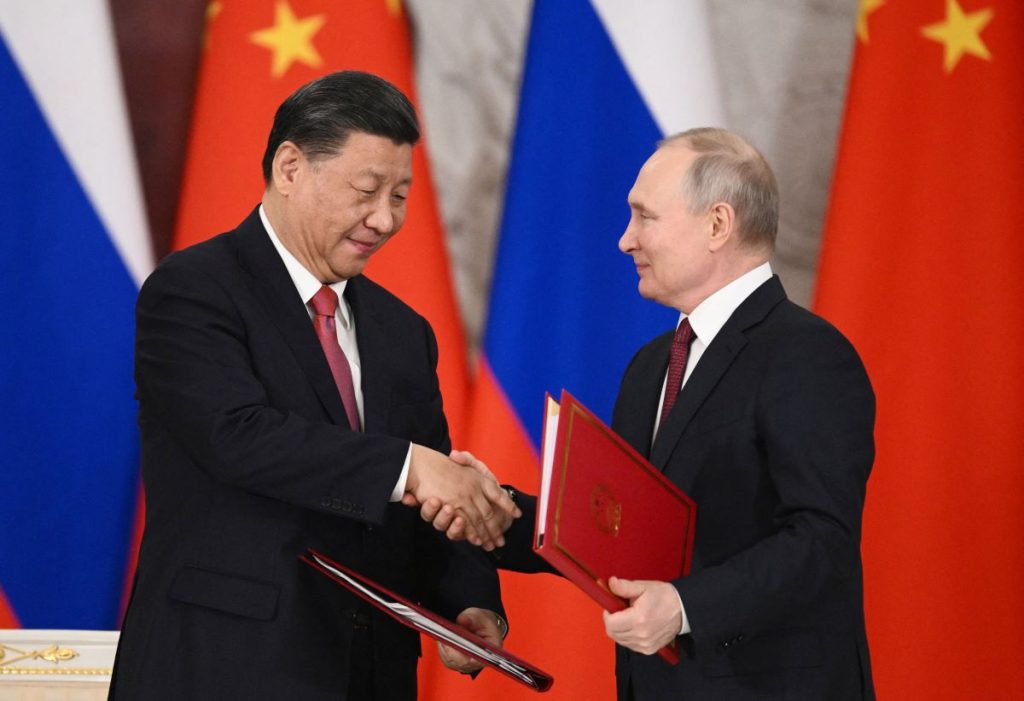 Hiroshima Vision and Nuclear Disarmament
It was in this context that the leaders released a separate document on nuclear disarmament. Their "Hiroshima Vision" calls for "commitment to the ultimate goal of a world without nuclear weapons." Moreover, it adds, "with undiminished security for all, achieved through a realistic, pragmatic and responsible approach."
In particular, China and Russia were called out for their stance on nuclear weapons. Namely, the leaders expressed their "regret" that Moscow had pulled out of the nuclear arms reduction deal. That is, the New START Treaty). Russia is called on "to enable a return to full implementation of the Treaty."
Regarding Beijing, the statement is also strong. "China's accelerating build-up of its nuclear arsenal without transparency nor meaningful dialogue poses a concern to global and regional stability."
Other elements that were mentioned in the leaders' document:
The importance of transparency in sharing information about national nuclear weapon arsenals.
Condemnation of nuclear weapon test explosions or other nuclear explosions, or any threats to do so. At the same time, emphasizing that bringing the Comprehensive Nuclear-Test-Ban Treaty (CTBT) into force is an urgent matter.
The importance of non-proliferation. In particular, there was a message was directed to North Korea. "We reiterate our unwavering commitment to the goal of North Korea's complete, verifiable, and irreversible abandonment of its nuclear weapons and existing nuclear programs." The text went on to mention other weapons of mass destruction and ballistic weapons.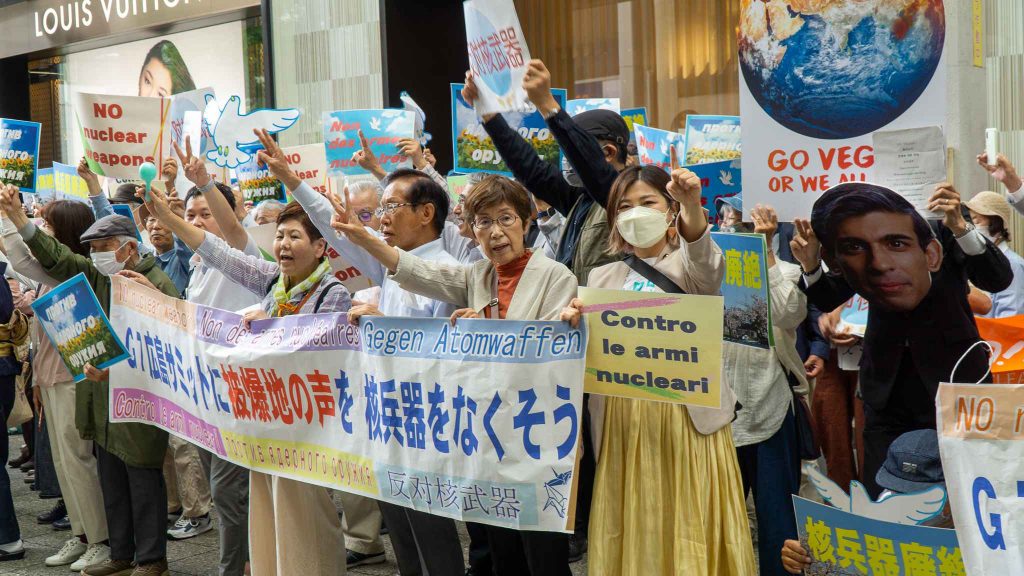 Reaction on the Ground
On the evening of May 19, several exponents from a-bomb survivor organizations held a press conference. In it, they expressed their views on the nuclear arms debate at the G7 summit.
JAPAN Forward spoke to The Hiroshima Council of A-Bomb Sufferers Organizations director, Kunihiko Sakuma.
"We are grateful that there is a lot of interest [on nuclear arms]. But for us, a key issue is how people are talking about it," he said.
Another organization representative said she felt "betrayed" by the fact that the issue of atomic bomb survivors was not given adequate attention. Looking at the debate shifting toward Russia's invasion of Ukraine, another activist said: "We don't want that the war in Ukraine gives justification for countries to hold nuclear arms."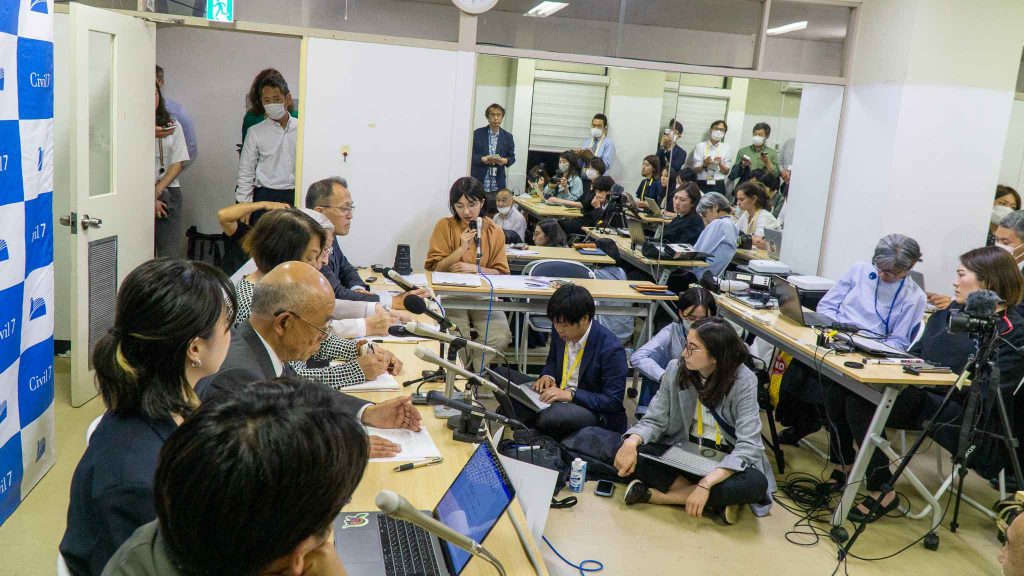 A woman and her two children were participating in a demonstration against the use of nuclear weapons in the Hiroshima city center on the morning of May 20. Sporting a t-shirt with the colors of the Ukrainian flag, she talked to JAPAN Forward about her motivations for being there.
"Prime Minister Kishida proposed the city as being a location for the G7 summit. But it seems that Kishida is more interested in nuclear deterrence than nuclear abolition," she explained.
"I am from Hiroshima. It's hard to say now, but if an agreement [of nuclear deterrence] were a result coming from a G7 summit in this city, of all places, I would be against it."
G7 Needs to Show 'Responsible Leadership'
In a statement shared with the press, interim ICAN Executive Director Daniel Högsta expressed his pushback to the stance of G7 leaders.
"What we got from the leaders on nuclear weapons following their discussion on international security yesterday was a rehash of ideas and proposals that have failed to deliver progress over the past three decades. They did not announce any new, concrete measures."
Continuing, he added: "What is needed from the G7 is responsible leadership to respond to the acute danger that nuclear weapons could be used in conflict for the first time since 1945. But rather than this, we heard criticism of Russia, North Korea, and China which, while justified, evaded the G7's own responsibility for the current threat nuclear weapons pose to everyone."
He concluded: "The G7 needs to produce a credible, actionable plan to engage all nuclear-armed states in disarmament talks using the international legal framework established by the United Nations Treaty on the Prohibition of Nuclear Weapons that came into force over two years ago and has already been signed by almost half the UN's members."
"Instead, we just heard rhetoric devoid of anything that would move nuclear disarmament forward."
Strong Words
On the other hand, some have welcomed the document with strong language.
Matthew Harries, the director on proliferation and nuclear policy at Royal United Services Institute for Defence and Security Studies, a defense-related think thank, commented on Twitter as follows:
This strikes me as a rather strong statement on nuclear disarmament, given the very challenging security environment. It also includes tough words not just on Russia, but on China too.
[It's] an opportunity to coordinate opposition to Russian and Chinese rhetoric and actions, but there is some language in here on disarmament that shouldn't be taken for granted, and may not have been easy to negotiate.
Follow the G7 Hiroshima Summit on Twitter, Facebook, Instagram, and here on JAPAN Forward.
RELATED:
Author: Arielle Busetto