[Gamer's World] 'Ahsoka': Japan's Love for the Star Wars Galaxy Far, Far Away ...
The force has always been strong with Star Wars in Japan, but the eponymous character of the new TV series Ahsoka seems to have special resonance with fans.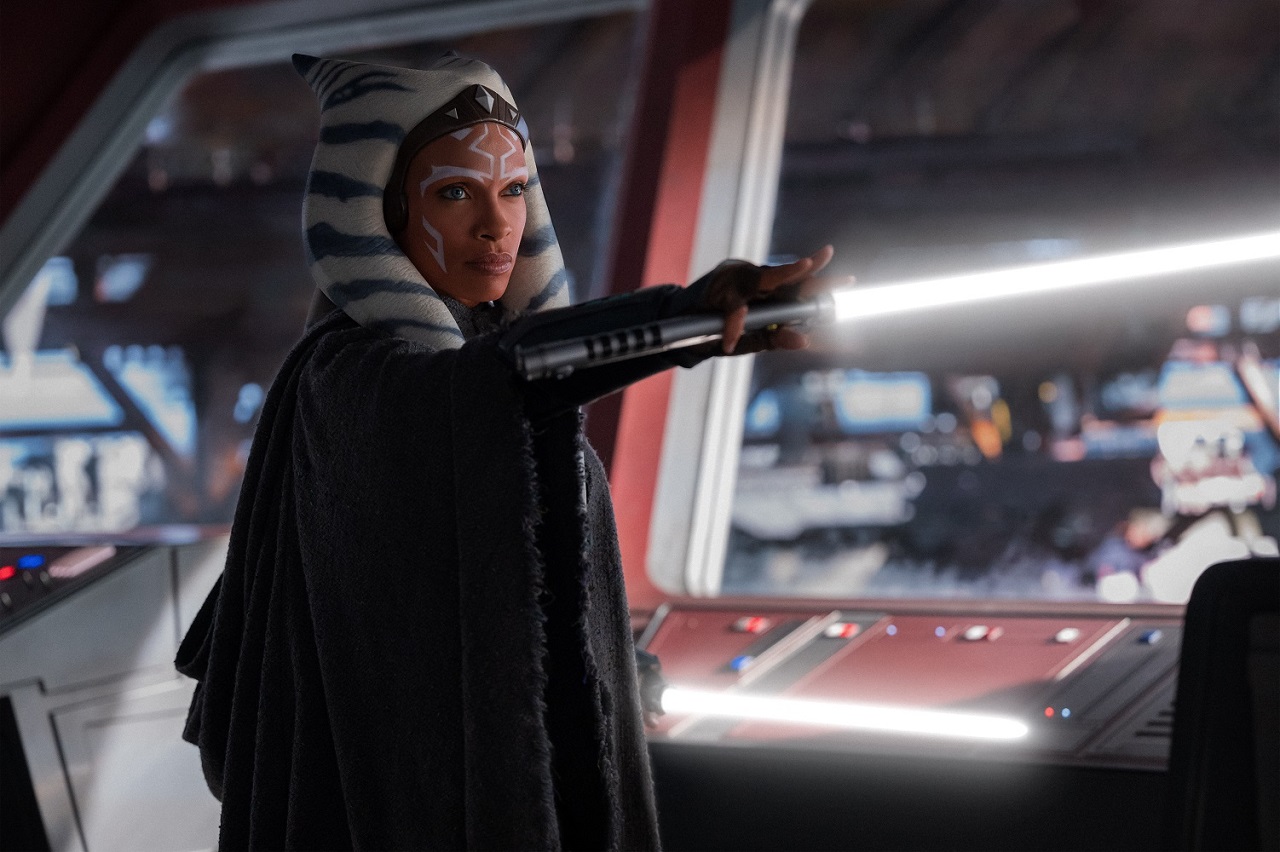 I took most of August off to visit my hometown London for my brother's wedding, and in doing so I took a backseat on this month's gaming news. So instead of going into the major announcements out of Gamescom, the big game releases like Baldur's Gate 3 and Armored Core 6, or the Earth-shattering news that Barack Obama is a Captain Falcon main in Smash Bros., for this month's column, I'd like to take the opportunity to talk about one of my favorite things in all the universe: Star Wars.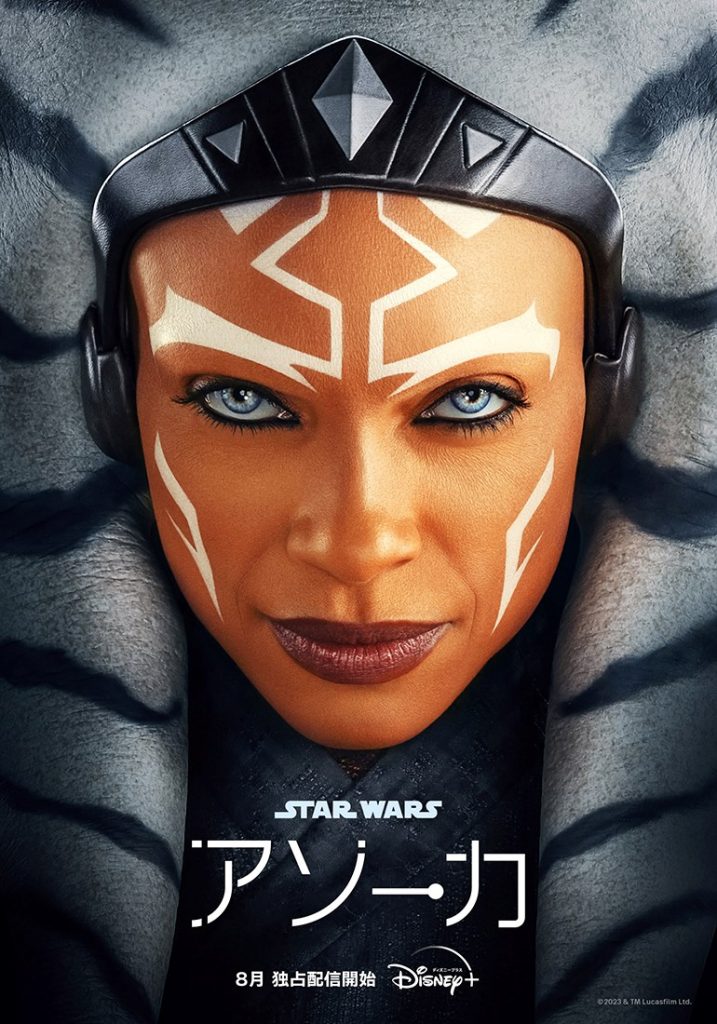 'Ahsoka'
August 23 saw the start of Ahsoka, the new Disney+ TV series based on the titular heroine of George Lucas and Dave Filoni's Clone Wars and Rebels animated series. The first two episodes dropped in the middle of the night UK time, so I woke up early to devour them. Then, I watched them again on my flight home to Tokyo the next day.
The live-action show stars Rosario Dawson as Ahsoka Tano, a one-time Jedi and padawan of Anakin Skywalker. It's set in between Return of the Jedi and The Force Awakens when the New Republic is celebrating the defeat of the Empire — oblivious in its arrogance that Imperial remnants are laying the groundwork for what will eventually become the First Order.
I enjoyed the first two episodes of Ahsoka a lot. It looks and feels like a blend of original trilogy and prequel trilogy Star Wars, with a thoughtful pace and a graceful score underpinning some very cool lightsaber action. As he did with the animated shows and The Mandalorian, Dave Filoni brings his encyclopedic knowledge of Star Wars to the fore. As a protegee of George Lucas, he imbues the show with tonal and visual references to old Westerns and the films of Akira Kurosawa, which underpinned the original trilogy as well.
Ahsoka also borrows liberally from the recent Star Wars Jedi: Fallen Order videogame and its sequel Jedi: Survivor, with puzzle-solving elements and fight scenes that seem heavily inspired by the games.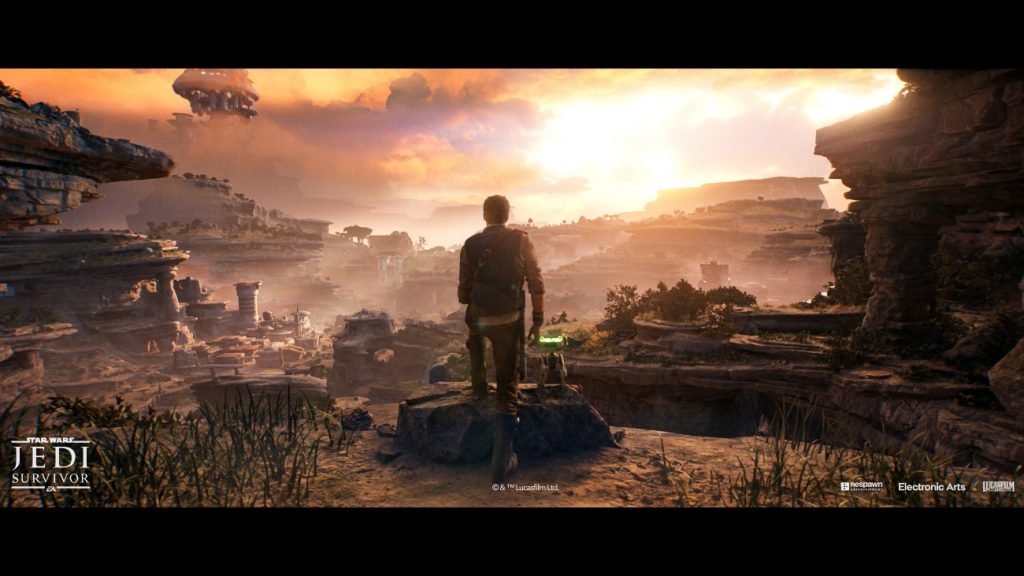 Japanese Influences
The force has always been strong with Star Wars in Japan. It's popular everywhere, of course, but Japan seems to have a special affinity for the franchise. Which is fitting, of course, as George Lucas drew so much inspiration from Japanese culture, basing the characters of C3P0 and R2-D2 on Tahei and Matashichi from Akira Kurosawa's The Hidden Fortress. He also dabbed with samurai and bushido philosophy mixed with Buddhist zen for the teachings of the Jedi, and of course, took inspiration from Feudal era samurai armor for the iconic design of Darth Vader.
Lucas and Aliens in TV Adverts
Back in the 1970s and '80s, Star Wars was such a hit in Japan that Lucas himself even appeared in a series of TV adverts for Panasonic. He mingled with alien and droid characters from Star Wars as he stiffly extolled the artistic virtues of Panasonic products in well-rehearsed Japanese.

This tradition of worldview-breaking use of Star Wars characters in Japanese ads has continued to this day. They include Darth Vader appearing in Samsung mobile phone ads and overseeing the production of Pocky snacks to Yoda endorsing Cup Noodles to Stormtroopers flogging Nissan cars.
And indeed, Japan's embrace of all things in a galaxy far, far away continues as well. For each of the sequel movies released by Disney, there was a full-scale red-carpet event in Tokyo. There, cast members such as Carrie Fisher, Mark Hamill, and Adam Driver appeared on a huge outdoor stage at the Roppongi Hills Arena to talk about the movies for a limited audience of lucky fans. Here's a video of one such event in which I come face to face with my childhood hero, Luke Skywalker himself:
Daisy Ridley and Rian Johnson in Tokyo
I interviewed Daisy Ridley in 2019 when she was in Tokyo to promote The Rise of Skywalker. Ridley talked about what she had learned from acting alongside Fisher before her death as well as her thoughts on Baby Yoda (as The Mandalorian's adorable mascot Grogu was known among fans at the time).
At an earlier red carpet for The Last Jedi in 2017, I quizzed director Rian Johnson about his divisive new film. He even took a photo of me and some other interviewers to post to his Instagram account — which I get to boast about forever. Here, look:
'Star Wars: Visions'
The first season of Star Wars: Visions on Disney+ in 2021 gathered nine short anime by different animation studios in Japan. It showed a wide range of takes on Star Wars mythology, from the ronin warrior protagonist of Kamikaze Douga's "The Duel" to the mystical Jedi intrigue of Production IG's "The Ninth Jedi" and the Astro Boy-esque bittersweet droid fantasy "T0-B1" by Science Saru.
Later, an additional short film by Studio Ghibli showed Grogu playing joyfully with the Soot Sprites from Spirited Away and My Neighbor Totoro. These loving renditions were a welcome way for Japanese creators to deliver their own takes on the Star Wars universe.
Star Wars Fandom in Japan
There is of course also a strong fan community here. There are bars all over Japan where Star Wars fans gather: the Tavern Pachimon Wars in Osaka, Tokyo Toy Cafe in Tokyo's Setagaya Ward, and online communities such as Cantina Japan. And of course, the semi-official cosplay groups 501st Legion and Rebel Legion each have a Japanese garrison of passionate members who make their own movie-grade replica costumes.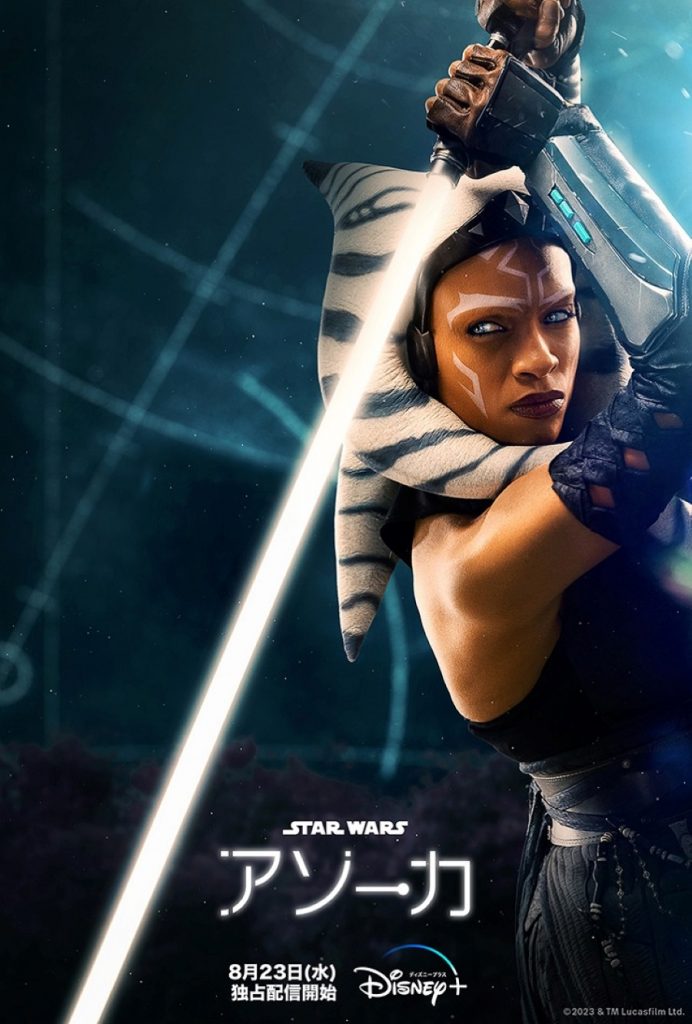 Ahsoka Tano
Which brings us back to Ahsoka. The character of Ahsoka Tano seems to have particular resonance with Star Wars fans in Japan. Ahsoka was first introduced in the 2008 animated film Star Wars: The Clone Wars, which was followed by a series of the same name that ran for seven seasons, and by four seasons of Star Wars: Rebels.
In the long period when no new Star Wars live-action movies were being made, before Lucasfilm was gobbled up by Disney, these animated shows continued the story. The Clone Wars series in particular filled in some of the gaps left by the prequels, and in turn, led to those movies being more positively re-evaluated by a younger generation.
According to Clone Wars co-creator Filoni, Ahsoka Tano's visual design was heavily influenced by Japanese culture. In particular, it was influenced by the outfit worn by San, the heroine from Hayao Miyazaki and Studio Ghibli's animated classic Princess Mononoke. Meanwhile, Ahsoka wields her dual lightsabers with a reverse grip. This was a nod to the Zatoichi novels and movie series about a blind swordsman, most notably played in 2003 by Takeshi Kitano.
A Character Loved by All
At Tokyo Comic Con in December 2022, myself and a colleague from IGN Japan interviewed several Star Wars fans of a range of age groups. It was for a feature about the current state of Star Wars fandom in Japan. While the fans we spoke to had differing opinions on some elements of the Star Wars universe, all were unanimous in their love of Ahsoka Tano.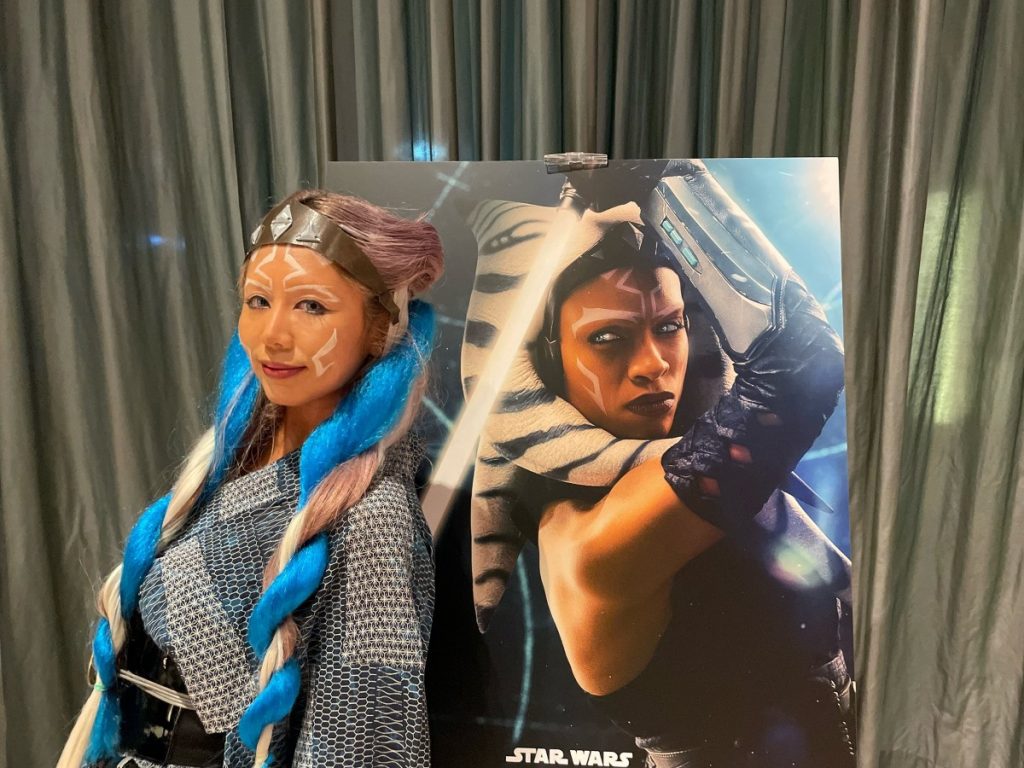 "Ahsoka has been in the background of the Star Wars series for a long time," explained yuuki, a hair and makeup artist who also cosplays as characters from Star Wars and other series. "Ahsoka doesn't appear in the live-action movies, but she's been there behind the scenes. She began as a child, and her way of thinking is so relatable — she's cute but strong, and we get to see in detail how she grows into adulthood."
The first full trailer for the new Ahsoka Disney+ series was released during Star Wars Celebration in London earlier in 2023. Then, IGN Japan published a breakdown video that explained details in the trailer, which quickly passed 185,000 views. There was also a lively discussion in the comments between Japanese fans eager to share their own theories for the show.

Hayden Christensen
Another hugely popular face among younger fans is Hayden Christensen's Anakin Skywalker. Anakin was the star of the prequel series, eventually becoming Darth Vader, but he was only portrayed by Christensen in two movies: Attack of the Clones and Revenge of the Sith. (Well, three movies if you count his cameo in the Special Edition of Return of the Jedi.) While his fall to the dark side in the prequel movies was handled somewhat sloppily, the character of Anakin was fleshed out greatly in the animated shows. He has become a fan favorite — including in Japan.
When Christensen returned to play Anakin in the Obi-Wan Kenobi series on Disney+, every piece of news, analysis, and opinion we published on IGN Japan was hotly received by our readers. And when Christensen visited Tokyo Comic Con 2022, tickets for signings and photo sessions were priced higher than any other Hollywood celeb at the show — and sold out regardless.
Incidentally, this led to one of my favorite fan photo moments, when gravure model and Star Wars superfan Marina Nagasawa posted a photo of herself trying and failing to make a heart sign with Christensen. Heartbreaking and adorable all at once.
あっ、、、す、すきです、、、
あっっあ、、ハートを、、、あっ、、、#東京コミコン#東京コミコン2022#アナキン#ヘイデンクリステンセン#スターウォーズ pic.twitter.com/LgaTsAzRTo— 長澤茉里奈(まりちゅう) (@nagasawa_marina) November 25, 2022
Anyway, it turns out that Christensen will also make an appearance in the new Ahsoka series. At which point I suspect Japan's Star Wars fan community will explode like a Death Star.
Star Wars Celebration 2025
In 2025, Star Wars Celebration, the official expo held by Lucasfilm, will be held at Makuhari Messe in Chiba Prefecture. This will be the first time the event will be held in Japan since 2008, and my team at IGN Japan will of course be ready to cover the show in all its glory. We have two whole years to wait, so maybe now is a good time to get frozen in carbonite.
Until then, remember: The force will be with you. Always.

RELATED:

Author: Daniel Robson
Daniel Robson is the chief editor of videogame news site IGN Japan. Read his series Gamer's World on JAPAN Forward, and find him on X (formerly Twitter).