Grand Champion Terunofuji Prevails over Kiribayama on Opening Day of Autumn Basho
The Mongolian is bidding for his eighth Emperor's Cup and needed all the strength he could muster against the determined komusubi wrestler.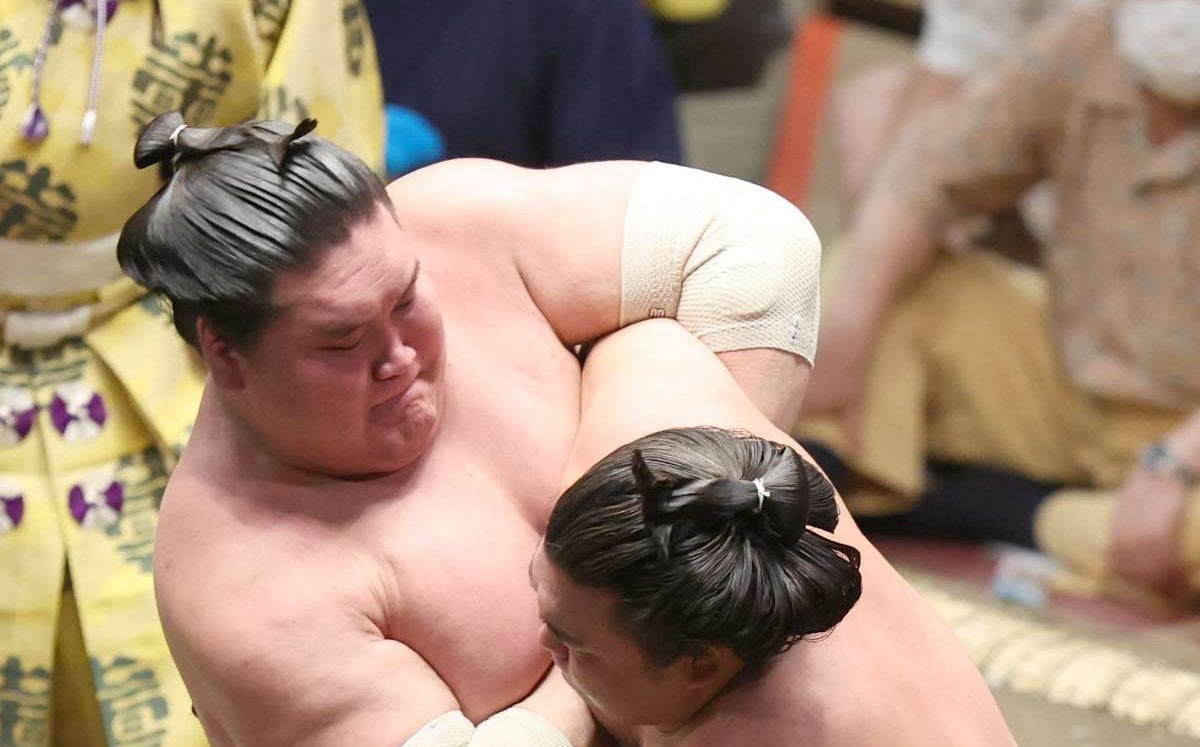 Grand champion Terunofuji survived a spirited challenge by Kiribayama on Sunday, September 11 to pick up a hard-fought win on the opening day of the Autumn Grand Sumo Tournament.
In day's final bout at Tokyo's Ryogoku Kokugikan, Terunofuji appeared to have the upper hand against his Mongolian compatriot, but Kiribayama wiggled free from an arm bar hold and then went on the attack.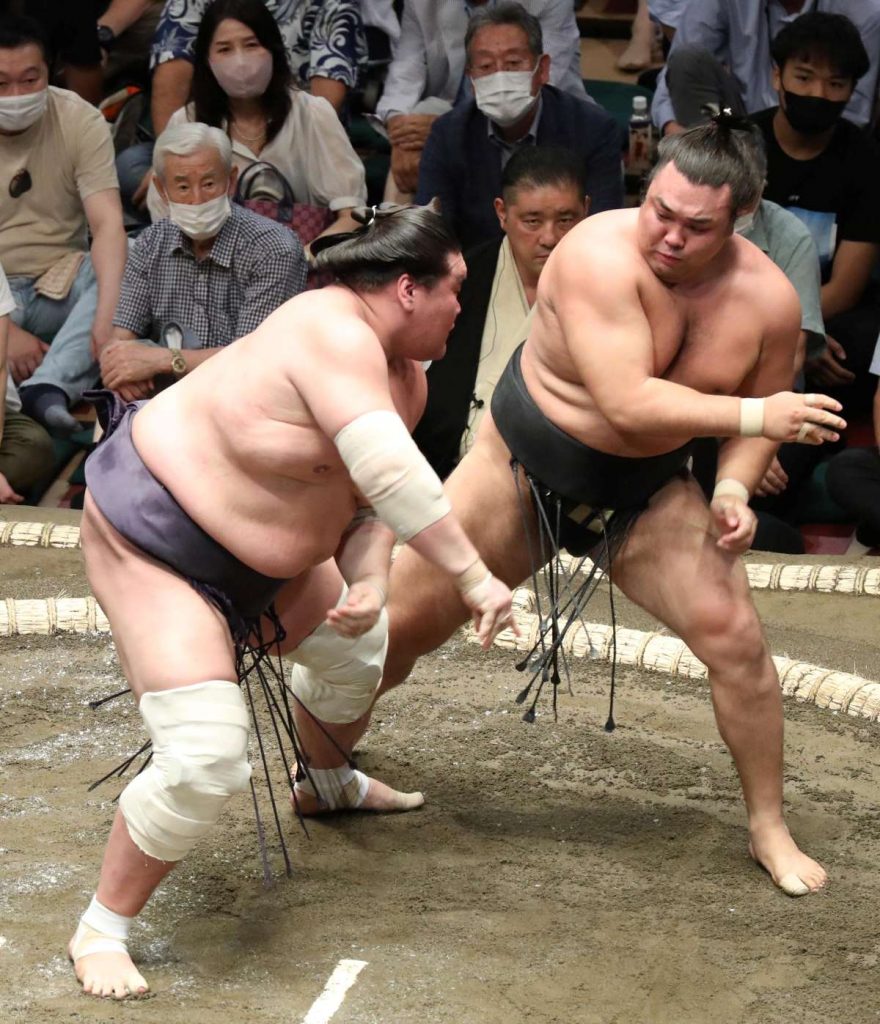 After fighting off an arm throw attempt by the komusubi grappler, Terunofuji forced Kiribayama to the edge where he finally prevailed with a frontal force out.
Terunofuji, who is bidding for his eighth Emperor's Cup, lost his sumo match on the opening day in the previous two tournaments so was determined to kick off his Autumn campaign with a win.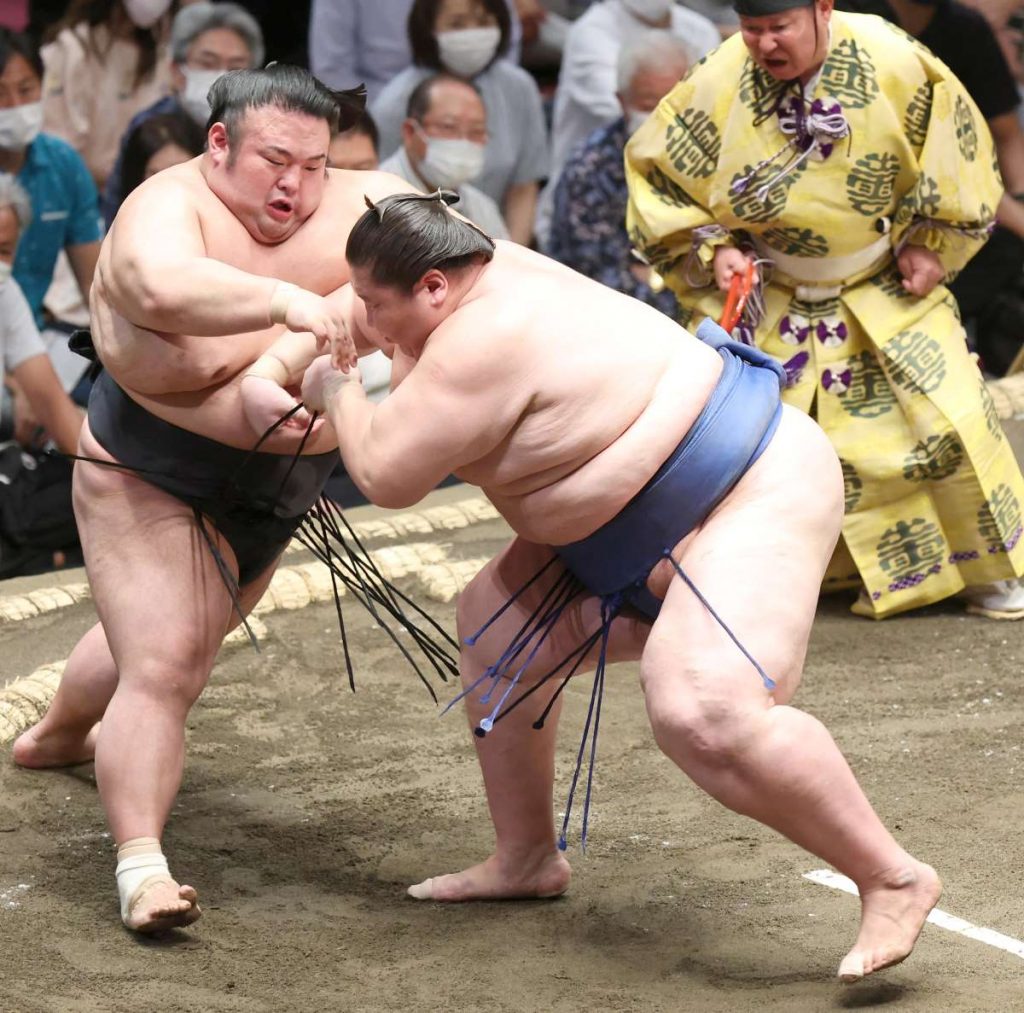 Winner of July Tournament Off to Strong Start
In other major bouts, Mongolian Ichinojo, the winner of July's Nagoya tournament, stunned ozeki Takakeisho at the face-off and then used a frontal push out to start off with a win.
I just wanted to hit him hard and move him back," Ichinojo said. "I want to move forward and do my style of sumo. All the practice I have done has helped me get to the point where I am now. My goal is to get double-digit wins here."
Ichinojo won his first Emperor's Cup in Nagoya and looked full of confidence against a determined Takakeisho who was outmatched by the 192-cm, 211-kg Mongolian.
Ichinojo had to wait eight long years for his first championship and was promoted to komusubi for the Autumn tourney.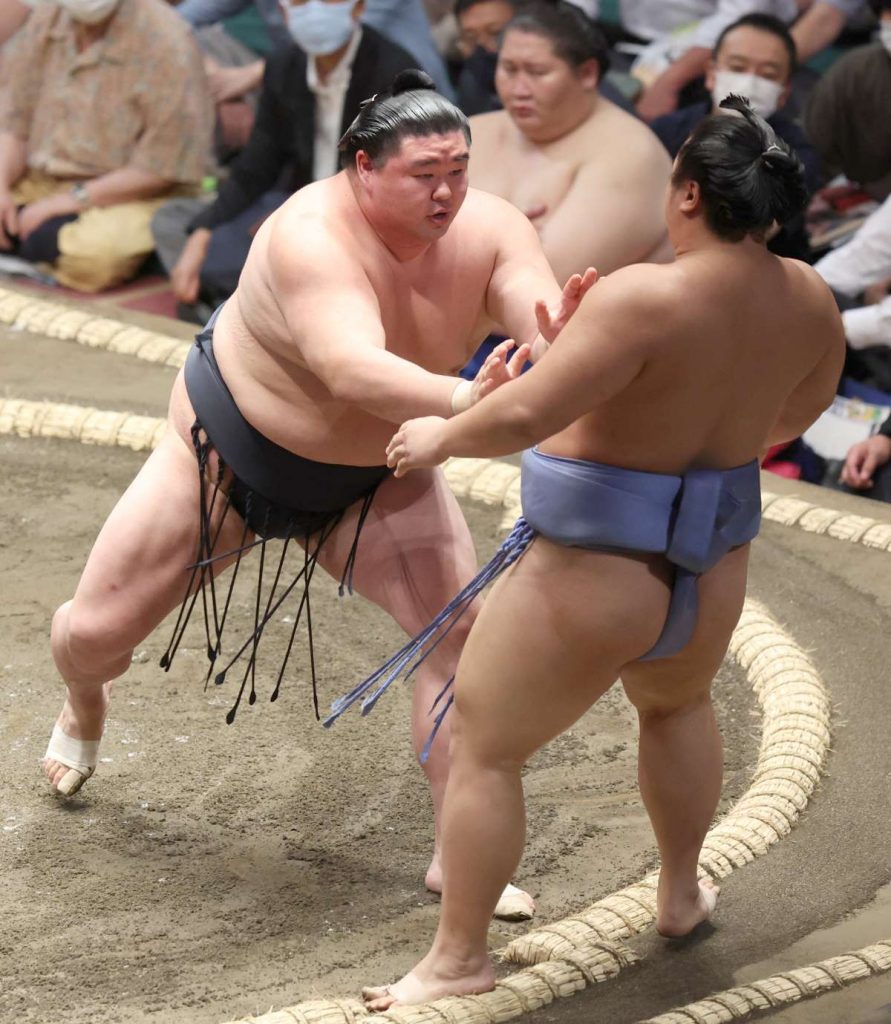 Ozeki's Shodai, Mitakeumi Take Convincing Wins
The tournament's other two ozeki wrestlers fared better than Takakeisho.
Ozeki Shodai took advantage of a superior face-off to overpower Tobizaru with his powerful arm thrusts to start the Autumn meet on a positive note.
Shodai has started slowly in the previous three tournaments and has vowed to get off to a better start so will be pleased with Sunday's opening-day win.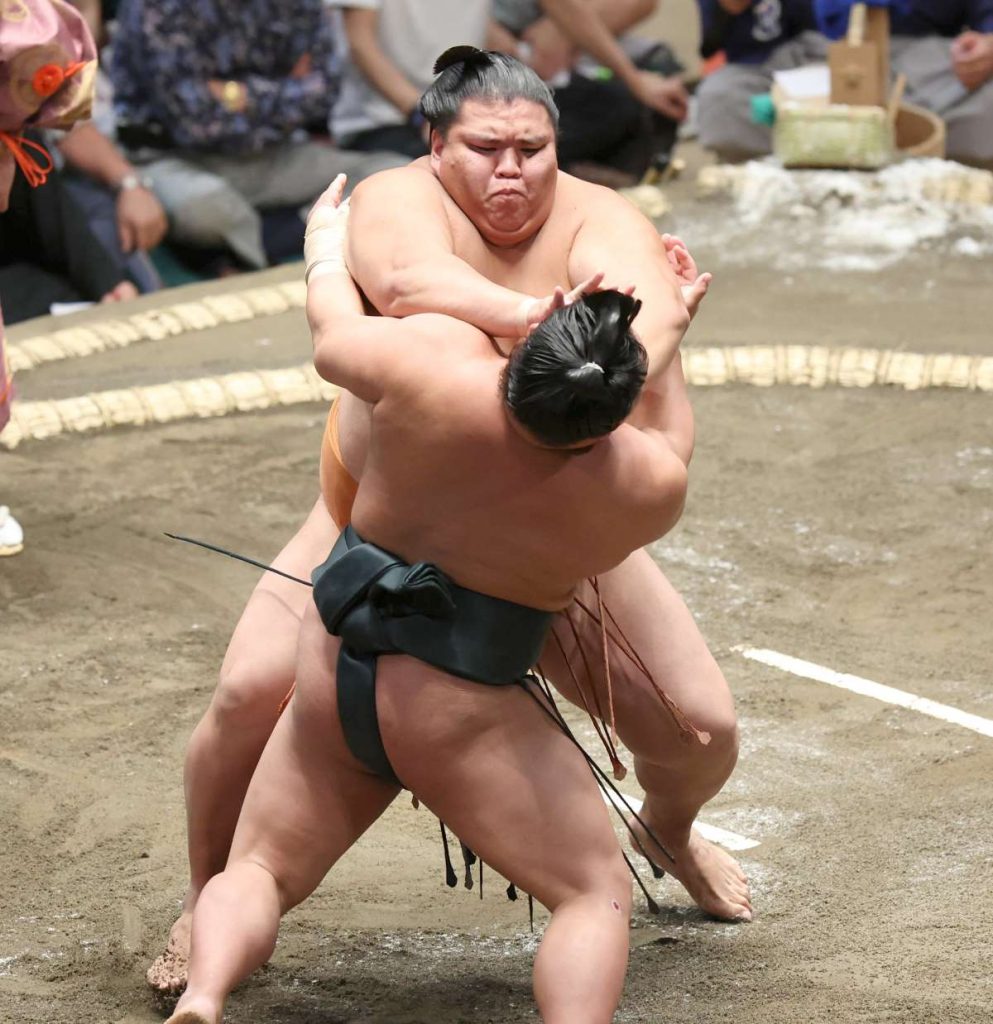 Ozeki Mitakeumi completely overpowered top maegashira Midorifuji with a series of powerful thrusts to the upper body to start in convincing style.
Mitakeumi is a "kadoban" ozeki meaning he needs a winning record in this tournament to maintain his rank for the next tournament. He was forced to pull out of the July tournament on Day 7 due to a COVID-19 infection at his Dewanoumi stable.
Mitakeumi will face Ichinojo on Day 2 while Terunofuji takes on Tobizaru.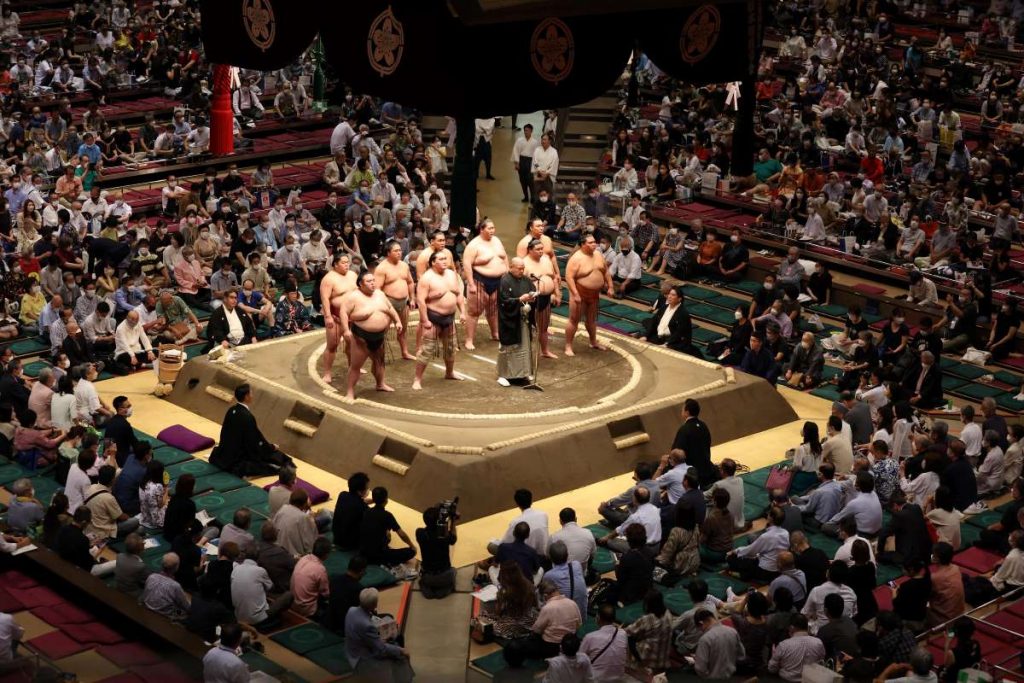 Veteran Wins Mongolian Showdown
In an all-Mongolian showdown, veteran Tamawashi, a No. 3 maegashira, knocked newly-promoted sekiwake Hoshoryu off balance after the face-off and then used a frontal push down to send his opponent toppling off the raised ring.
No. 2 maegashira Kotonowaka used his weight advantage to drive Wakatakakage back after the face-off and then deployed a frontal force out to defeat the sekiwake grappler.
Sekiwake Daieisho swatted down Meisei in a matter of seconds to post a one-sided win over the No. 2 maegashira.
Komusubi Abi injured his right elbow and left ankle before opening day and was forced to pull out of the tournament. The Shikoroyama stable wrestler is not expected to return to the 15-day tournament.
Further down the ranks, No. 6 maegashira Wakamotoharu used a rare backward pivot throw at the edge of the ring to throw down fifth-ranked Sadanoumi to start off with a win.
No. 6 maegashira Endo fought off a forearm to the head at the face-off and shoved out Bulgarian Aoiyama, a seventh-ranked maegashira, to earn an opening-day win.


RELATED:
Author: Jim Armstrong
The author is a longtime journalist who has covered sports in Japan for more than 25 years. You can find his articles here.