Haneda as Airport of the Future: Where Robots Guard, Carry, and Translate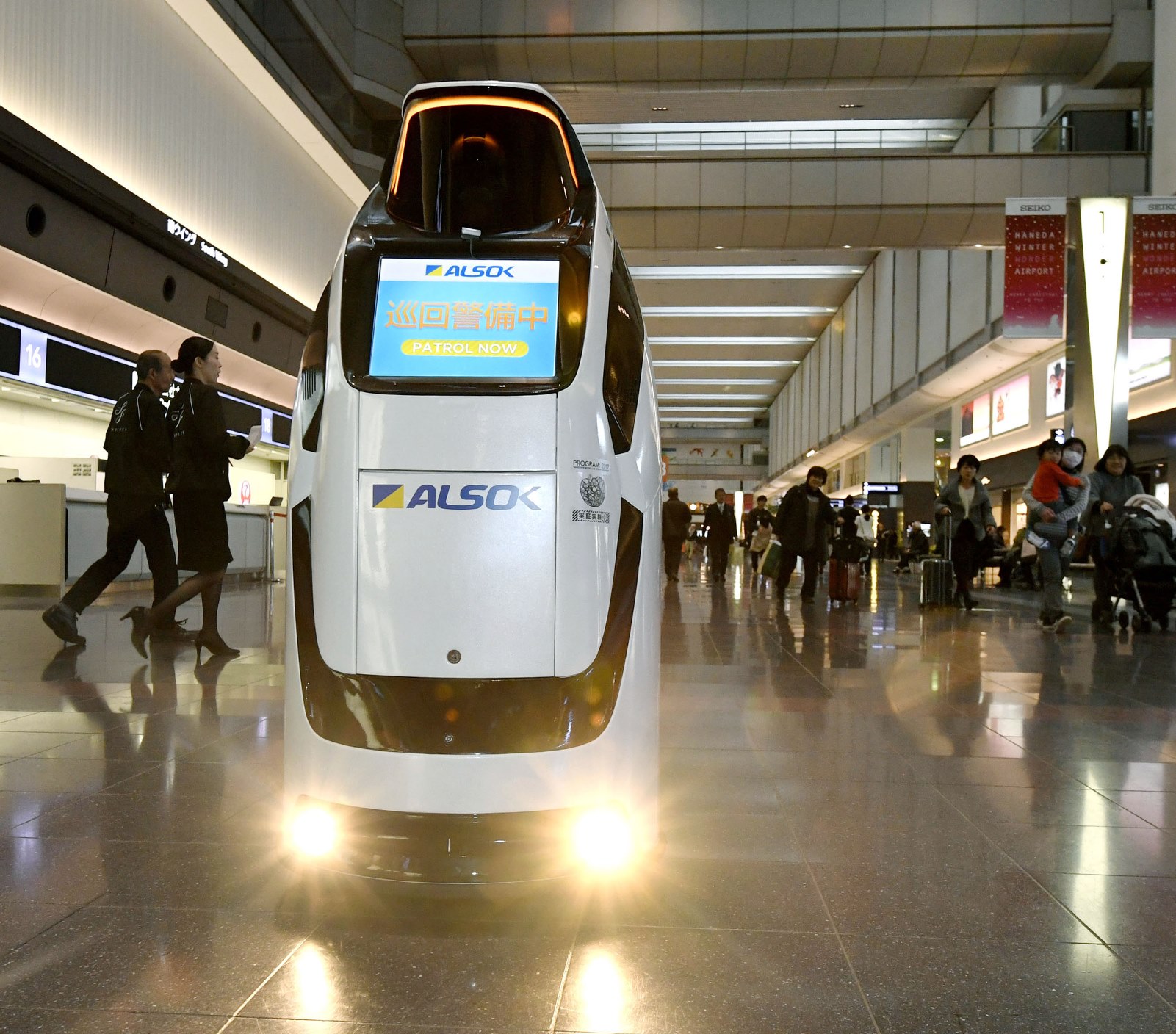 Haneda Airport is a bustling gateway to the Japanese skies—and it is accelerating preparations for the use of robots. A second set of trials is being run between January and February 2018 to determine whether robots truly improve services for visitors—just in time for the 2020 Tokyo Olympics and Paralympics, where a spike in the number of tourists is expected. Visiting now, we might just get a sneak peak of "the airport of the future," where robots walk among humans.
The robot trials are being run by Haneda Robotics Lab, established by the Japan Airport Terminal Co., which operates Haneda Airport. The lab recruited a diverse range of participants and decided on the several categories in which the robots would be applied during the trials. The tests allow verification of whether robots are safe for use around humans, and whether they actually improve services for airport users—something that cannot be tested in a lab setting alone. Haneda Airport is the perfect environment for conducting the trials, as multitudes of people, demands, and desires intermingle at this international hub.
2018 Robot Trials
In the second set of trials, seven robots are being tested in three areas: security, logistics, and translation. They are working in turn for eight to 12 days each, beginning January 9, at the Terminal 1 departure lobby on the second floor.
The Reborg-X is an autonomous security and guide robot developed by Sohgo Security Services. Released in 2015, the Reborg-X has been recruited for security work, and currently nine are deployed in museums and shopping malls. It is able to stop automatically, to prevent collisions and accidents when it encounters people or objects.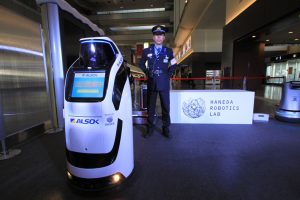 During the day, it guides visitors through the airport using a touch panel located at the front. In the evening, it takes on the duties of a security guard. It's observation skills and intruder-detection technology are also being tested for use in the huge terminal.
Two types of robots were selected for the logistics tests. The box-shaped OTTO 100 and OTTO 1500 were developed by a Canadian robotics company. The sensors at the front and back allow it to move autonomously through the terminal. According to the domestic distributor, these robots have been put into use in U.S. factories. The plan at Haneda is for OTTO to carry heavy baggage.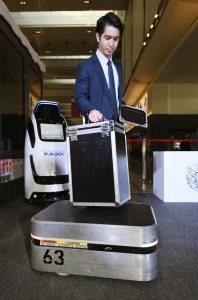 The delivery robot, Relay, is able to carry small packages, which can be stored inside its hollow, cylindrical body. It is anticipated that Relay will provide services, such as delivering products from shops in the airport to customers resting in lounges. One of the points of observation during the tests is to see how people from different countries react to these robots.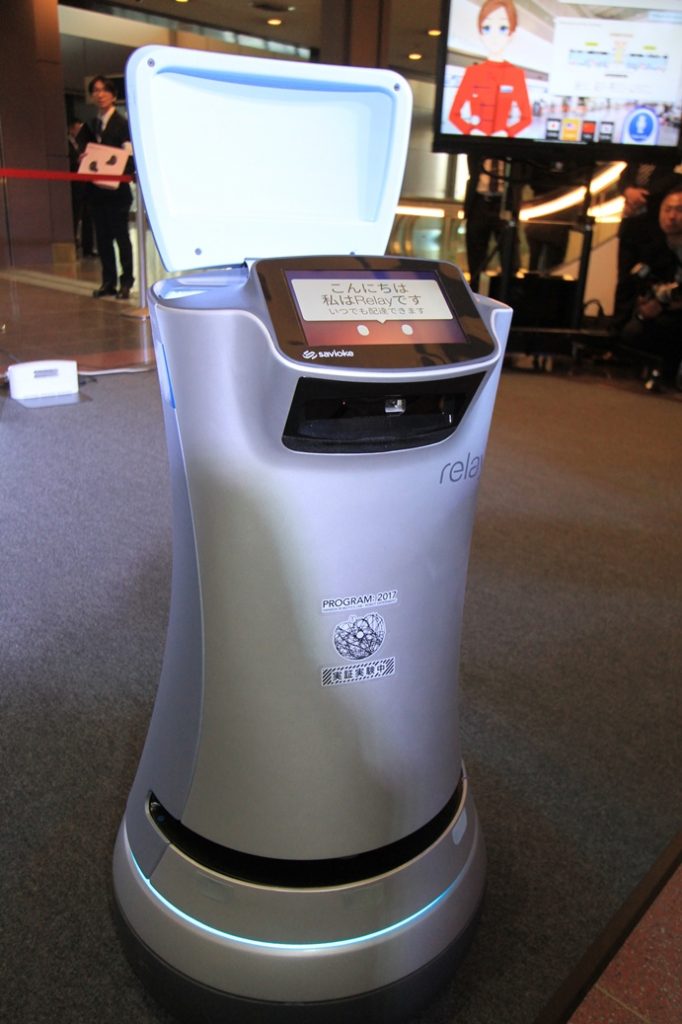 What Language Do You Speak?
One frustration expressed by many tourists travelling in Japan is the difficulty communicating. Merely providing translated information boards at the airport is not enough. Hoping to address the communication gap, the government, in its 2018 budget proposal, has allocated funding for tablets with translation software that would help employees communicate with tourists better.
Four types of robots have been recruited for the communications trials. Cinnamon and Robocot are both compact robots. Cinnamon is an autonomous, smart robot with a camera and artificial intelligence (AI) technology that allows visitors to converse with it. The trials are testing its ability to provide guidance in various languages. Its managers are experimenting with long-distance control, using a smartphone.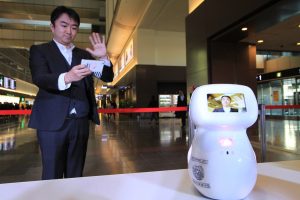 Robocot is equipped with IBM's AI technology, Watson, so visitors can converse with it using the touch panel or by speaking. The quality of its conversations and simultaneous translation were tested in four languages: Japanese, English, Chinese, and Korean.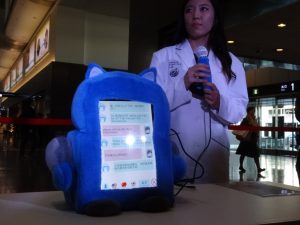 The third type of robot is the AI customer service system KIZUNA, which might not be your typical robot, as it's essentially a big screen. The user can ask questions by voice or text, and a female character will appear on the screen and respond with human-like movements. It feels much like video chatting. This system also provides guidance in Japanese, English, Chinese, and Korean.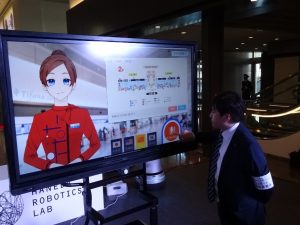 Wearable Robots
The final category is wearable robots, like the Hearable Device prototype, which would be used by airport employees. These robots are designed in the form of wireless earbuds and consists of a microphone, speaker, and sensor, which detects the wearer's movement and the direction they are facing.
The trials are testing the efficiency of using a microphone and speaker in providing services in the airport as well as the robot's indoor positioning system, which, it is hoped, will help locate and monitor airport employees.
Airport of the Future
Haneda Airport is now an environment for field testing technology of the future. The first trials, held in 2016, tested robots for cleaning, mobility support, and guidance. Out of the 17 robots tested at that time, 10 are currently undergoing design improvements and experiments for future implementation.
Japan Airport Terminal Co. president and COO Nobuaki Yokota believes that robotics is a crucial tool in solving the labor shortage due to population decline. The final goal of the company is to improve the overall quality of services by finding tasks that robots can do to make humans more efficient and customers more satisfied.
It is hoped that, by using robots to reduce the burden on airport employees, an environment will be created where people with specialized skills can work for longer periods. According to Shimizu Junichi, deputy manager of the Development Division of the Japan Airport Terminal Co., this, in turn, is expected to reduce employee loss and cut down the indirect expenses needed for hiring and training.
The trials also offer an opportunity to promote Haneda Airport as the "showcase of Japan," where people can experience services at the forefront of intelligent technology. As Hino Kaneko of the Japan Airport Terminal Co. Economy Department commented, with about two years to go until the Tokyo Olympics and Paralympics, "our eyes are gleaming with anticipation."
We are waiting to see whether robots will really transform Haneda Airport into an airport of the future.
Yukako Hino is a staff writer of the Sankei Shimbun Economic News Department.
(Click here to read the original article in Japanese.)