One OK Rock 'Ambitions' in Manila: Pure Talent, Art in Motion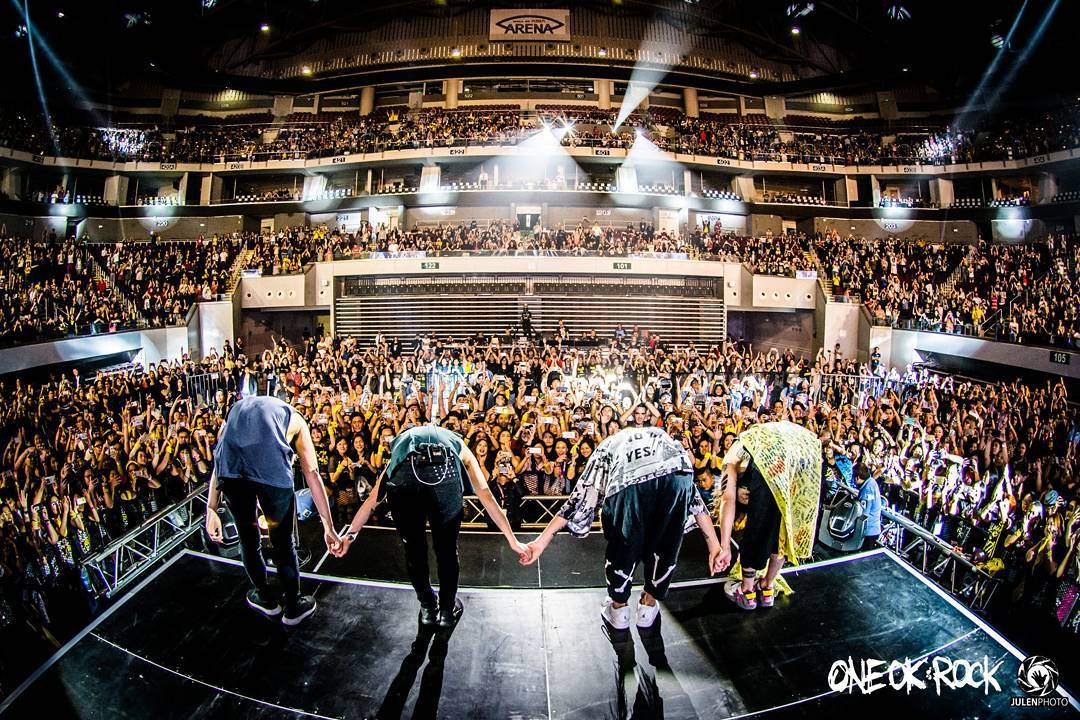 I have been a fan of One OK Rock (OOR) long before they sang the theme songs for the three Rurouni Kenshin live action films (they had had successful albums before these). I had been watching them, thanks to the world wide web, even before they electrified concert halls outside of Asia, in Europe and the Americas.
So imagine how euphoric I was when I finally got to see them live in 2016, during their XXXV concert in Manila! It was such a highly-charged evening, nothing less than what I had seen in their concert videos, that when vocalist Taka Moriuchi said, "See you next time!" I was sure I'd watch them again.
Last January 29, that "next time" was here. The Mall of Asia Arena, as in two years ago, again burst with the energy of the band and the hysteria of thousands of us OORockers. Their Ambitions concert was a reminder that this Japanese band, whenever you think you've identified all the reasons to love them, would just decide to get better.
That Monday night, the moment the lights dimmed, fans started screaming. When the instrumental intro from their latest album Ambitions played, the crowd just roared. And when Taka, Toru (Yamashita, lead), Ryota (Kohama, bass), and Tomoya (Kanki, drums) finally opened with "Bombs Away," the hall just sort of exploded.
Then all eyes and ears were on Ryota as he performed a bass solo to signal the next song, "Deeper Deeper," after which the band took things up a notch with "Taking Off." They didn't give the fans the chance to breathe since they followed it up with "Cry Out."
That was just for the opening. Because the fans went wild as band members took turns greeting us in Filipino.
The screaming, jumping, dancing, singing, and head banging just went on the entire night. It's the effect they have on you when the four of them hit the stage. Taka hit the notes effortlessly while bobbing and running across the stage and leaping. Toru and Ryota never missed a chord even while spinning. And Tomoya, his precision with the drums was pure thrill.
Next, Toru took centerstage playing the guitar solo for their old song, "Re:Make," before the band slowed things down a bit with "Clock Strikes," where Taka displayed his impressive vocal range as the crowd sang along, "Believe that time is always forever!"
https://www.instagram.com/p/BekKKN_ng0f/
Then it was time to groove to Ryota's bass patterns and Tomoya's intricate drum rolls as they performed "Bedroom Warfare," shortly before serenading the fans with their popular track "Wherever You Are" (a song that Taka wrote for his friend's wedding).
There's a story about the ballad "Wherever You Are" that Filipino fans are very proud of. The stanzas of that song are in English; the chorus and the coda are in Japanese. In their 2016 concert here, when Taka was obviously poised to sing an English version of the chorus, he was visibly surprised that we Filipinos sang along in Japanese!
This time, during the Ambitions concert, the fans were out to surprise them again. The band clearly already expected us to sing along again in Japanese, but they probably didn't expect to see an ocean of yellow and red lights to go with that. Earlier at the lines, coordinators from OOR's official Philippine fan club, the Philippines One Ok Rockers (P.O.O.R.), distributed special yellow and red tapes to cover our phone flash lights with, so we could simultaneously light up our mobile phones for that exact song number.
Taka followed it up with "One Way Ticket," a song about a long-distance relationship, before taking a short break and leaving Toru, Ryota, and Tomoya to impress the crowd with destructive bass and guitar solos as well as thundering drum beats.
Soon, the band picked up the pace again with "Bon Voyage" and "I Was King," before Taka crooned another sentimental song, this time about a dying relationship, "Take What You Want."
Taka then told the crowd they had three songs left, and asked us to count down with him, starting with perhaps their most popular track, "The Beginning," the one used in the first Rurouni Kenshin movie. And you don't play "The Beginning" without following it up with "Mighty Long Fall," the theme from the second Kenshin film. The crowd just went wild.
There's a backstory too to "Mighty Long Fall." In 2016, most of the fans positioned around the stage failed to get Taka's signal for them to perform a "wall of death," thus missing what had been a standard feature in the other legs of their concert. This time around, at OOR's second Manila concert, the fans finally redeemed themselves, prompting Taka to exclaim, "That's right!"
https://www.instagram.com/p/BeiezB7BBNF/
The last song made not a few fans teary-eyed. For the most part of "We Are," Taka let the fans sing as he reminded everyone that, no matter what others say, young people should stand tall and be unafraid. The song is a reassurance for the youth not to measure their worth according to what society expects of them or condemns about them. "Never tell yourself you should be someone else," one of the lines translates.
The lights dimmed, perfect for the fans to turn on their mobile lights of yellow red again, as the band members left the stage. But we wouldn't send OOR off just yet. We asked for an encore—we knew they'd return to the stage, as they had done in their other concerts abroad.
So Taka, Toru, Ryota, and Tomoya returned with the upbeat "American Girls," sending the ladies in the audience screaming even louder when Taka changed the lyrics to "Come and break my heart, you Filipina girls!"
The band ended the night with their classic song "Kanzen Kankaku Dreamer" and had everybody go wild one last time together.
Then it was time for the end-of-show rituals: Toru threw personalized guitar picks out to the crowd; Ryota, the towels they had used that night to wipe their faces; Tomoya, a pair of drum sticks (I wanted them!). Finally, the band picked up the banner made by P.O.O.R. on which fans had scribbled messages while they were lining up for the show. The band, holding the banner, faced the camera with the crowd for a groupfie, which the posted on their official Instagram account.
Taka, Toru, Ryota, and Tomoya, hand in hand, then made a deep, long bow.
The applause was only broken by Tomoya shouting, "Mahal kita!" (I love you!) and would go on even after Taka had again made the promise, "See you soon!"
Why did I come back for One OK Rock? Yes, I remember: an OOR concert means you get to hear pure talent and see art in motion. If there's a perfect definition of how a band should perform, it would be them.
So, yes, 'til next time, One OK Rock! See you soon!
https://www.instagram.com/p/Beitzx1BfVu/
After their Manila concert, One OK Rock performed in Hong Kong and South Korea. The band will have their Ambitions Japan Dome Tour from March 31 to April 22. Check the schedule here.
Micah Go, the writer, is a high school student from the Philippines. He is a keen observer of Japanese pop culture. He's learning to play the drums by listening to as wide a range of the rock genres as possible. This article first appeared on the Manila-based Rappler.com, and has been republished here with permission.