Latest Japanese Souvenir Craze: Hanko Seals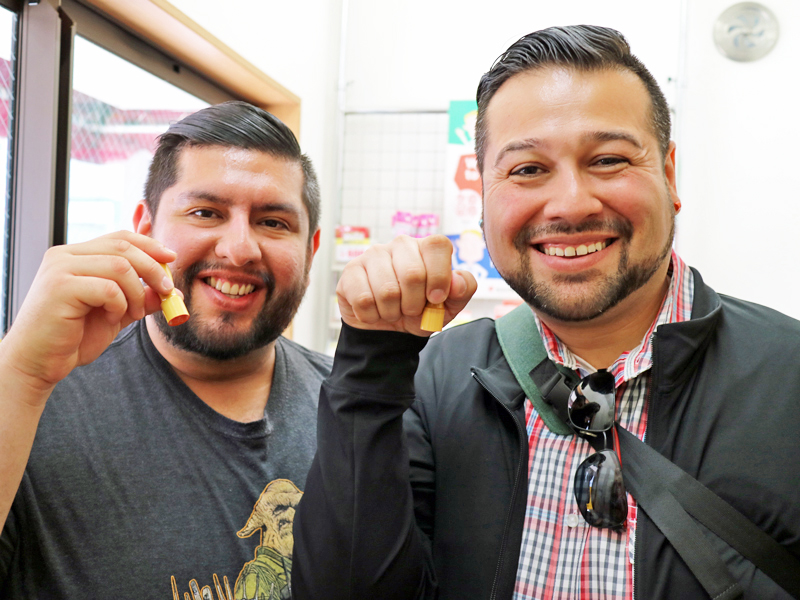 Ken Ishii
The number of foreign tourists who have name seals (hanko) made as souvenir of their trip to Japan is growing. For most, souvenirs carved with their names are rare in their home counties.
Hanko shop owners in Tokyo, who expect the number of foreign tourists will continue to increase ahead of the Tokyo Olympic and Paralympic Games in 2020, have taken notice. Pleased with the trend, they are starting to learn to converse in English to convey the charms of the hanko to foreign guests entering their shops.
English Conversation Lessons
The Tokyo Hanko Engravers Association, consist of 138 seal cutters, is planning English conversation classes for its members. Managing director Manabu Yamaguchi, 50, said that since 2013, when Tokyo was chosen to host the 2020 Olympics, the association has undertaken an initiative to attract more foreign visitors into hanko shops through improved language skills and by creating English-language websites for participating shops.
The association also made an English language brochure with basic customer questions and answers, such as, "What is a hanko seal?" and "Do I pay in advance?" that enable shopkeepers to help foreign tourists place an order. Yamaguchi said the English conversation lessons are meant to enable seal cutters to have a more meaningful business conversation with their foreign customers, beyond the basics of the brochure. A total of 40 seal cutters are planning to attend the initial lessons.
Another Twist
"The number of foreign tourists who actually purchase name seals is growing," said Fumikazu Matsuzaki, 58), president of Bunbukudo Inbou.
Bunbukudo Inbou is a seal cutter located in the Oi Ginza Shopping District, about a three-minute walk from the east exit of the JR Oimachi Station.
"Shop layout? It is less than a tatami mat," Matsuzaki smiled.
It is hard to imagine that tourists from abroad will pay a visit to Bunbukudo Inbou, but Matsuzaki said generally two pairs a week visit his shop. Foreign customers are after his original "dual hanko," which he invented in the autumn of 2016.
Foreign tourists generally order name seals in kanji or hiragana using characters with sounds similar to their first names. Yamaguchi, who thinks that the charm of hankos will decrease by half if foreign tourists have them only in kanji or hiragana—as other people cannot read them when they go home—put Roman alphabet characters under the kanji characters and filed for design and trademark registration, calling the seal "dual hanko."
This twist gained popularity among foreign tourists. They began coming to Bunbukudo Inbou to buy dual hanko worth JPY3,000 just after Matsuzaki opened an English-language website and posted a video on YouTube. Now, it is not uncommon for foreign tourists order three or four hanko at the same time for their family.
When he asked foreign tourists the reason for the popularity of his hanko, Matsuzaki found it is the charm of having your name carved into the souvenir. He thinks every seal cutter will have a chance to do such business in the future.
"Hotels are under construction in places where nobody would have imagined before. One day, all of a sudden, foreign tourists will likely walk around all over in front of us," he said.
'If I Can Speak More English'
"The number of foreign tourists started to grow about 10 years ago. Recently their number is especially large."
This is the observation of Takahiro Makino, 42, the third-generation owner and president of Sano Inboh. Sano Inboh began operation in 1932. The seal cutter is located in the middle of the popular tourist areas of Ueno and Asakusa, where a large number of foreign visitors are always walking around. Hotels located within 200 meters or so of the Sano Inbou shop are also very popular among foreign tourists. More hotels and guest houses are under construction in the area.
Makino leaves communications with foreign tourists entirely to his mother Keiko, 67, and his wife Yukiko, 42.
Yukiko said modestly, "My mother-in-law can speak English, but I can't." But Yukiko has the talent to push through the communications barrier only in Japanese. For instance, recently she talked up a storm with German tourists, sharing war stories about raising her children. She is still in disbelief, but she surely received an order from them.
However, Yukiko would like to talk more with foreign tourists using good English. Makino and his mother Keiko share the same goal.
Makino thinks foreign tourists are likely to order a more expensive hanko if he can explain the materials in English. Besides, he said, it must take a lot of courage for foreign tourists to step into the shop. He said he would like to be able to talk to them when they do so. For this reason, he plans to attend the association's English conversation lessons.
Dealing with Customers Face-to-face
The association sent its members a questionnaire on the subject of foreign tourists this March. In Taito Ward, 100% of the seal cutters replied that the number of foreign visitors is on the increase. Fifty percent said the number of foreign visitors is considerably increasing, while 50% replied the number is somewhat increasing.
Yamaguchi said the number of foreign tourists who walk past hanko shops in Ueno and Asakusa by chance and then stroll into the shops to order seals is increasing.
However, three-quarters of the seal cutters in Bunkyo Ward replied that no foreign tourists come into their shops. Shop location seems to make the difference between winning and losing. The response rate stayed steady at 37%.
Still, Yamaguchi thinks the ability to communicate with foreign guests is a high-profile issue. He said hanko sales in shops have been losing ground to online sales for the past 15 years. But in the sales to foreign tourists, face-to-face communication is an advantage. Shop owners propose kanji characters responding to the sound of the names of the foreign customers and then carve their names into the seals after explaining the meaning of the characters. The brick-and-mortar business model of traditional hanko shops could be an asset as face-to-face communication with foreign tourists is required.
The association's planned English conversation lessons for members should help make this communication smoother.