[Hidden Wonders of Japan] Jellyfish Trending Hot in Kyoto and Tokyo Aquariums!?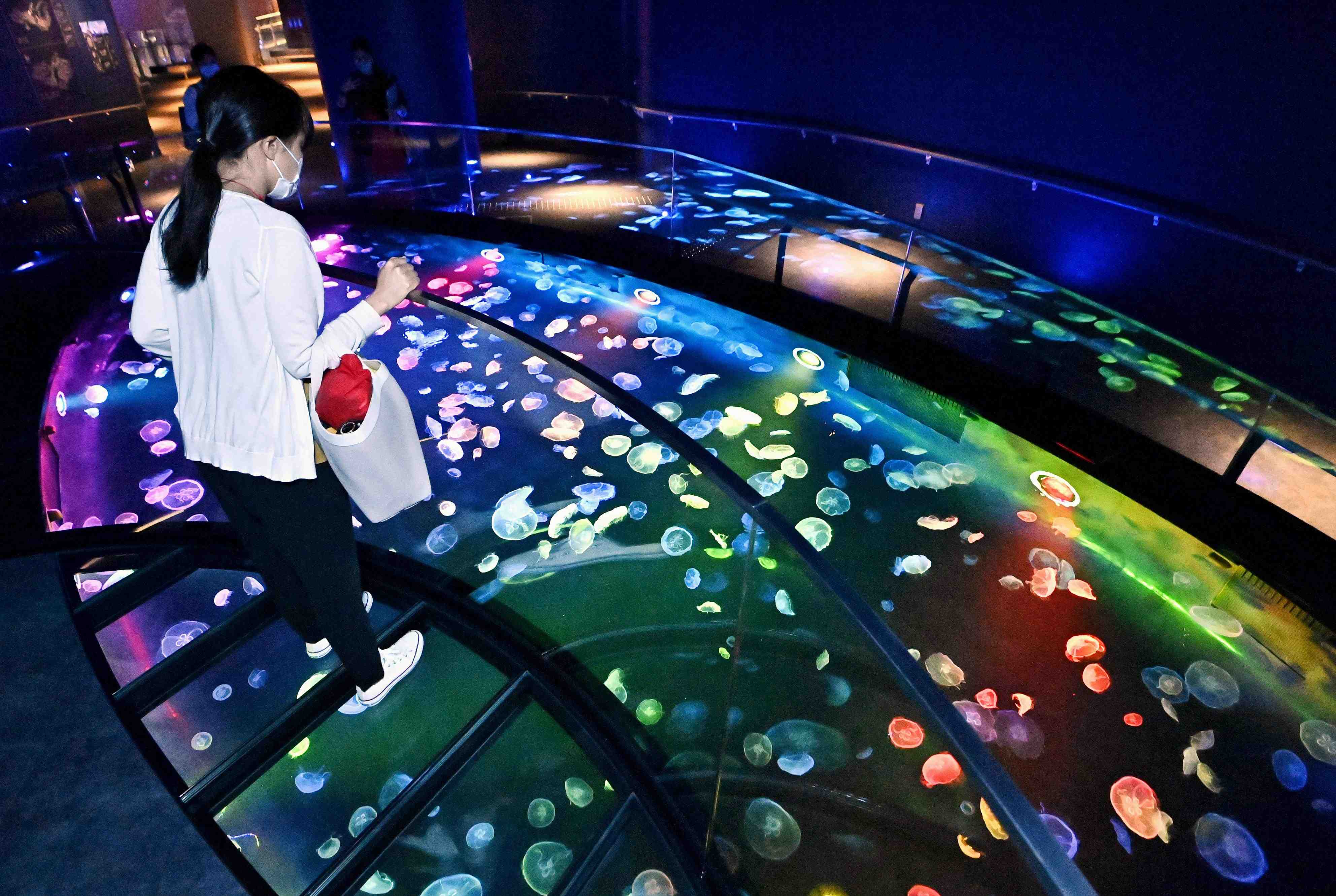 Jellyfish are currently a big hit in aquariums throughout Japan.
'Floating' with Jellies from Above at Sumida Aquarium
A new main attraction called the "Big Schale" at the redesigned Sumida Aquarium, (Sumida Ward, Tokyo), which opened on July 16, is an oval-shaped water tank with a diameter of 7 meters, where approximately 500 moon jellyfish float around on the surface of the water.
The aquarium's Jellyfish Area has expanded to twice its former size, and there are now 700 jellyfish from 14 different species on display. Blue LED lights illuminate the Big Schale, creating an enchanted atmosphere. And instead of see-through acrylic sheeting, the open-top tank allows visitors to observe the jellies directly.
With a glass-floored deck extending over the open-tank, visitors can also feel as if they are floating on the surface of the ocean water along with the jellyfish.
All 14 jellyfish species are bred and reared at the facility. The displays enable visitors to watch the aquarium keepers at work from close quarters while they prepare the food for the aquatic life at the aquarium.
Kyoto's 'Kurage Wonders' has 5,000 Jellyfish on Display
The Kyoto Aquarium (Shimogyo Ward, Kyoto), also opened its renewed jellyfish display area "Kurage Wonders" ("the wonders of jellyfish"), on July 16. It was the first large-scale renewal of the aquarium since it first opened in 2012.
With approximately 5,000 jellyfish from 23 species on display, the facility has the most jellyfish in all of Western Japan.
The display area covers 350 square meters and with 40 installed water tanks. The main attraction is "GURURI", a tank with a panoramic dome measuring some 6.5 meters in diameter. It offers visitors a 360-degree view of 1,500 Moon jellyfish drifting inside the magically illuminated tank.
Also on display is a jelly breed caught in the sea off of Miyazu City, Kyoto, which has been bred successfully by aquarium keepers. Furthermore, visitors can enjoy a number of other species, such as spotted jellyfish, a popular ornamental species, and the hard-to-breed and short-lived, Dipurena ophiogaster.
Aquarium director, Katsuhiko Matsumoto says he hopes visitors can enjoy the aquarium as if they were "stepping into the world of jellyfish".
Originally planned for the end of April, the opening of Kurage Wonders was delayed due to the coronavirus pandemic.
What is your hidden wonder of Japan? Submit your photo here.
(Follow these links to read about the Sumida Aquarium and the Kyoto Aquarium in Japanese.)
Author: The Sankei Shimbun