[Hidden Wonders of Japan] Osaka's Colorful 'Neutram' Trains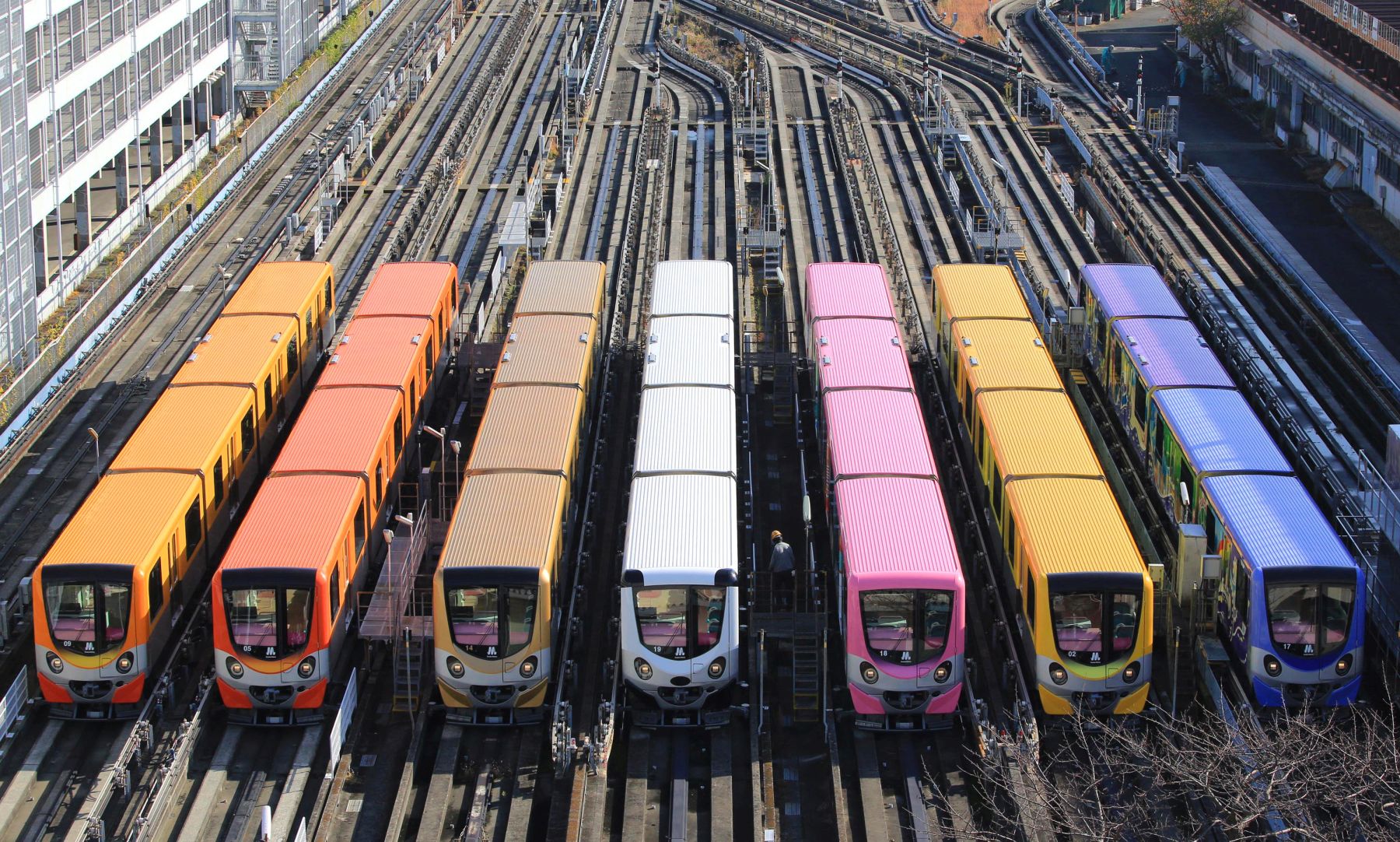 Osaka Metro Southern Harbor Port Town Line 'Neutram' trains are lined up in the Nakafuto railyard, Suminoe District, Osaka City. (Photo by Kenji Suzuki; Canon EOS 5D Mark III: EF70-300mm F4-5.6L IS II USM)
Like little toys straight out of a picture book, these colorful trains looked so out of place that I couldn't resist taking a picture of them.
After rush hour one morning, in a railyard next to Nakafuto Station, trains pulled in one after another before being perfectly lined up against each other in Suminoe District, Osaka City.
When all nine lines of the Osaka Metro were privatized in April 2018, the colors of the South Harbor Port Town line stood out the most, and were nicknamed "Neutram." The line spans 10 stations between Cosmos Square and Suminoe Park, an approximate total of 7.9 km.
Neutram is a neologism from the words "new" and "tram." It started running in 1981, and was the second driverless train line in Japan at the time.
Although it hasn't followed recent Artificial Intelligence (AI) trends, it was the leading conductor-less train of its time. When operations first began, many people thought driverless vehicles were dangerous. Because of this, for over 10 years there was always a conductor in the front carriage for safety. Nevertheless, the trains became increasingly likeable and underwent many design changes, from images of animals to the faces of genki (healthy energetic) children on its seven colored carriages.
The 2025 World EXPO will be held in Osaka's Yumeshima area, which is currently connected by bus service. Hotels en route are bound to become booked up for it.
But, before that, this year's G20 Summit will be held at Intex Osaka on June 28. Perhaps everyone, including Prime Minister Shinzo Abe, United States President Donald Trump, and Russian President Vladimir Putin will be charmed into cohesion by these loveable trains. I'd like to think that Xi Jinping's heart will also be warmed when he sees the panda designs on the trains.
What is your Hidden Wonder of Japan? Upload your picture here.
(Click here to read this story in Japanese.)
Author: Kenji Suzuki, Photojournalist, The Sankei Shimbun