[Hidden Wonders of Japan] Tottori Prefecture Locals Eat Pink Curry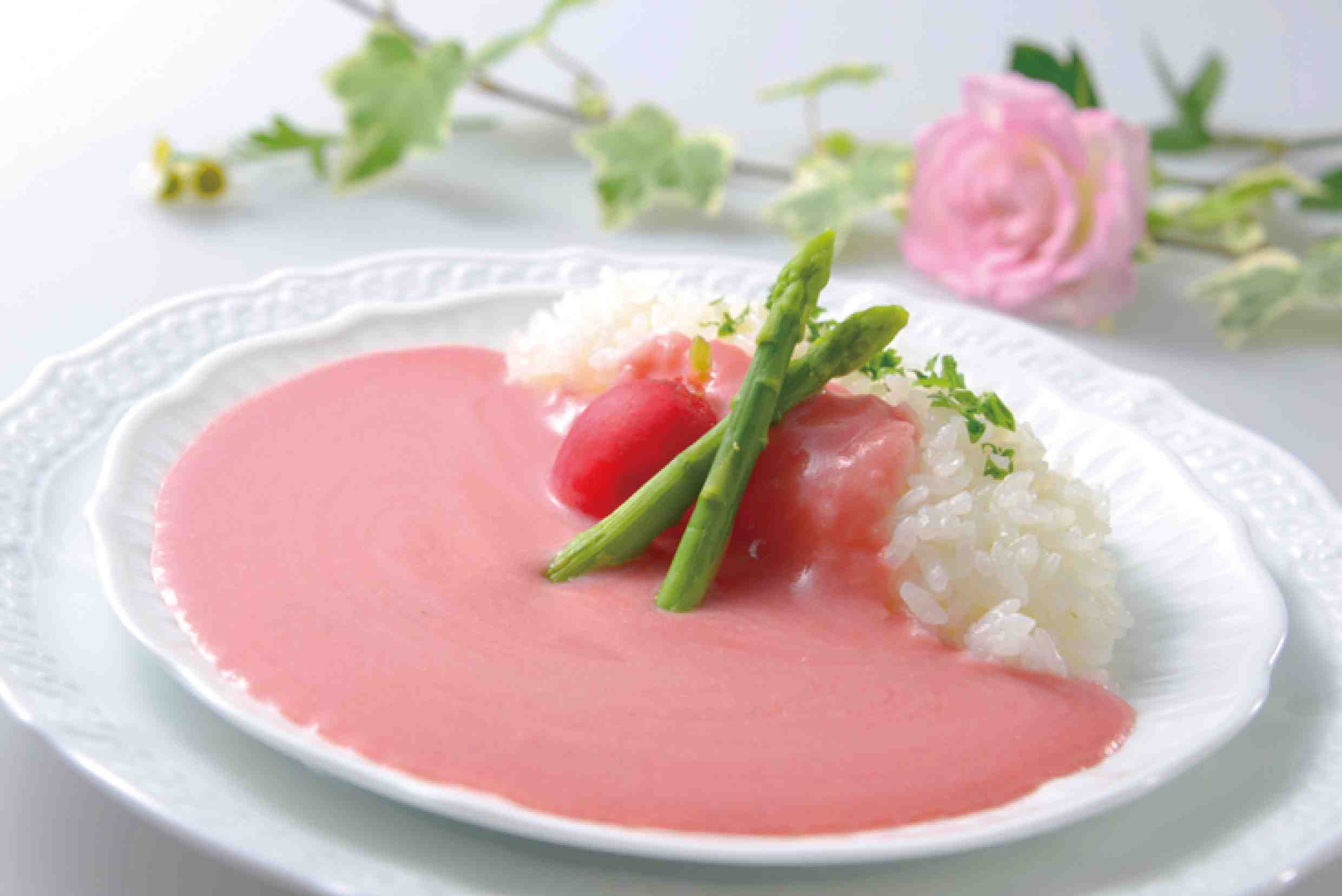 "Locals of Tottori Prefecture are eating pink curry." This is the rumor that's been going around, especially in Thailand.
It all started from a bright pink curry that has been sold by a Tottori Prefecture food company since 2012. The curry is causing a stir among foreign visitors in Japan who are enjoying the gap between how it looks and how it tastes.
Triggered by 'Manga Kingdom'
The pink curry is sold by Brilliant Associates Inc., a company of 20 employees in Tottori City. Their best-selling product, the Pink Karei (curry) is a peculiar color, yet it is an authentic curry. 
The product development was triggered by a project in Tottori Prefecture called "Manga Kingdom Tottori," which promotes regional development. While thinking about the future of Manga Kingdom, with its popular comics like, Gegege no Kitaro (Spooky Kitaro) and Detective Conan, Brilliant Associates CEO Tomiko Fukushima was inspired by the "lack of female manga characters."
With Jinpūkaku, a nationally-designated Important Cultural Property in Tottori Prefecture, as its motif, Fukushima self-produced a manga titled, Hana Kifujin — The Tottori Yamanote Story. Four aristocratic sisters from the story became the image characters for the product.
Moreover, Tottori holds a record of having the number one curry paste consumption per family in all of Japan. Fukushima chose the color pink for the curry, which she felt suited the four female characters.
The Secret is Beets
The brilliant pink color derives from beets, which are used in the Russian cuisine, borscht. Because beets were not produced in Tottori at the time, Fukushima commissioned a local farm to grow them for her.
After serving the curry at Oenokian (Tottori City), an old Japanese-style café gallery managed by the company, the curry's extraordinary impact garnered rave reviews and it immediately became a popular dish on their menu. Answering customers' wishes to take home the curry as souvenirs, the company spent two and a half years coming up with a ready-to-eat packaged version of the curry.
"I've always had many personal things that were pink," said Fukushima.
In 2015, her love for the color inspired her to create and sell her second pink product, the "world's first" pink soy sauce. Fukushima said, one day she was looking at soy sauce and imagined how beautiful it would be if it were pink.
Since then, the company has been stirring up interest by expanding the series with products such as mayonnaise, wasabi, coffee, Japanese sake, and coffee gelato.
Also at the Luxembourg Embassy
On February 12 in Tottori City, Brilliant Associates opened the Marine Field Labo, a facility dedicated to developing their pink products. The facility is equipped with a large kitchen and an area where tourists can experience making sushi.
Shinji Hirai, governor of Tottori Prefecture who attended the opening ceremony, happily revealed, "Tourists from overseas are coming to Tottori due to their mistaken image that the curry here is pink."
Around 70% of tourists from overseas who flock to Oenokian for the pink curry are from Thailand. Starting with a TV program that introduced the curry, it became widely known through SNS and word of mouth. Fukushima said, "Perhaps the pink curry was easily accepted in Thailand because they eat green curry."
With the pink sake becoming known as a "good drink for making a toast," Fukushima is being invited to more overseas events. Recently, they provided Japanese sake and pink curry at the Emperor's birthday reception, which was held at the Japanese embassy in Luxembourg.
Fukushima is confident of her "eye-catching" business strategy. "A bit of a twist in PR will expand the business in various directions," she said.
What is your hidden wonder of Japan? Upload your photo here.
(Click here to read the article in Japanese.)
Author: The Sankei Shimbun