HIGHLIGHTS: Fuji Rock 2022, Day 1
It was an exciting first day with Awich's breakthrough performance, The Hu resonating deeply in the mountain backdrop, old and new groups wowing the crowds.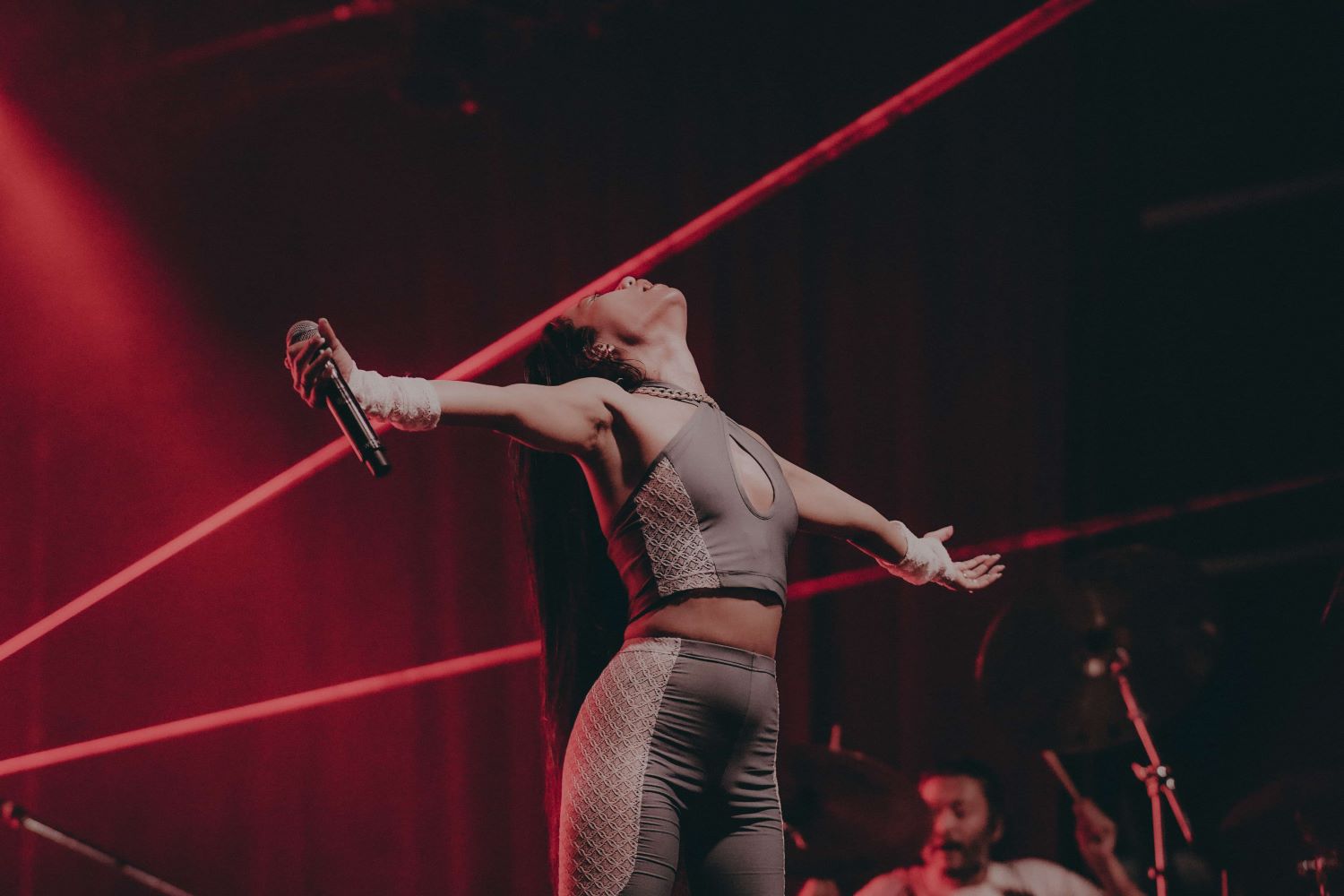 Day 1 of Fuji Rock 2022 on Friday, July 29, offered an eclectic lineup, giving everyone something to enjoy as the festival got underway.
JAPAN Forward is covering the event live from Naeba Ski Resort in Niigata, bringing you updates and recaps at regular times in the morning (via YouTube) and the evening (via Twitter Space) and through articles and photos on the website.
We picked out these highlights for you:


Awich: Rise to Queendom
Over the last couple of years, Japanese rapper Awich has been blazing a trail in Japan, with a triumphant recent show at the Nippon Budokan, a guest spot on Japanese TV's biggest year end countdown show Kouhaku Utagassen, and a recent collaboration with Naomi Watanabe on a Doja Cat single.
Her set at Fuji Rock felt like another important milestone in this rising star's career. More than any Japanese artist in recent years, Awich feels like one on the cusp of global stardom.
Awich was born and raised in Okinawa, where she was exposed to English language and to Western hip-hop culture due to her proximity to the local United States military base. She then spent a spell in Atlanta in her young adulthood years. Later, she returned to Japan under tragic circumstances.
It has taken her well over a decade of hard work to find breakthrough success.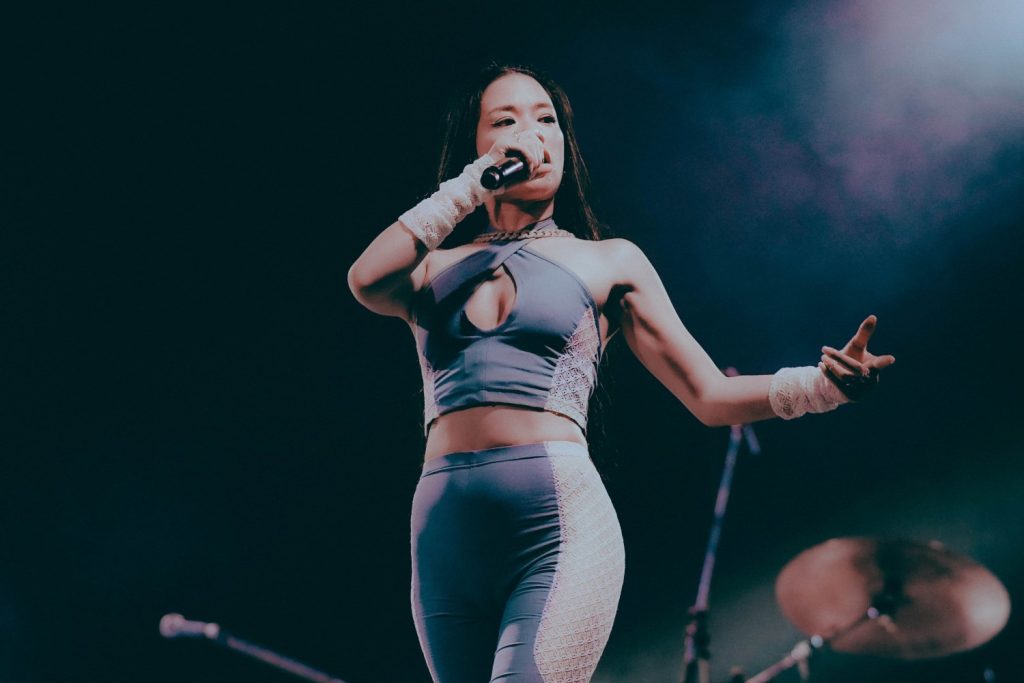 And Breakthrough
Friday night's show at Fuji Rock felt like a celebration of this success, with a parade of guest rappers as well as Yoshie Nakano from Ego Wrappin' (whose "Shikisai no Blues" Awich sampled on her track "Kami Hikouki"). Awich even featured a rap cameo from her teenage daughter. But while Awich seemed happy to share the spotlight, it was clear that these guests and indeed the audience were there to support Awich's rise to queendom.
What sets Awich apart is her extreme strength, along with a forceful sense of showmanship. She commanded the stage from the moment she appeared in silhouette to perform her recent hit "Queendom," the lyrics for which are a snapshot of her troubled story to date. But above all, she is a beacon of hope — proof positive that you can succeed if you never quit trying.
Backed by a live drummer, double-bassist, keyboardist, and a guy shouting intermittently through a megaphone, Awich embraced her raunchy attitude on tracks like "Dore ni Shiyou Kana," weaponizing her sexuality on "Kuchi ni Dashite," and pouring forth with emotion on recent single "Tsubasa," which is about the time debris from an American helicopter shockingly fell on her daughter's school next to the US Marine Corps Air Station Futenma.
The crowd gave their absolute attention, offering ovation after ovation throughout her set. And those who came with vague interest having heard the buzz around this rising artist left as diehard fans. An incredible show from a truly unique artist. — Daniel Robson


The Hu: A Brutal Moshpit Ensues
Surrounded by the tree-lined mountains of Niigata, The Hu are ideally suited to a festival like Fuji Rock. This Mongolian band's music carries a message of everyone respecting nature, according to respective heritage, even as we evolve with the times. And despite the language barrier, this came across loud and clear during their set on the Green Stage on Friday July 29.
The Hu literally worship the mountains in their lyrics, so that suits the "Fuji" part of the equation. And they definitely don't skimp on the "rock" part either.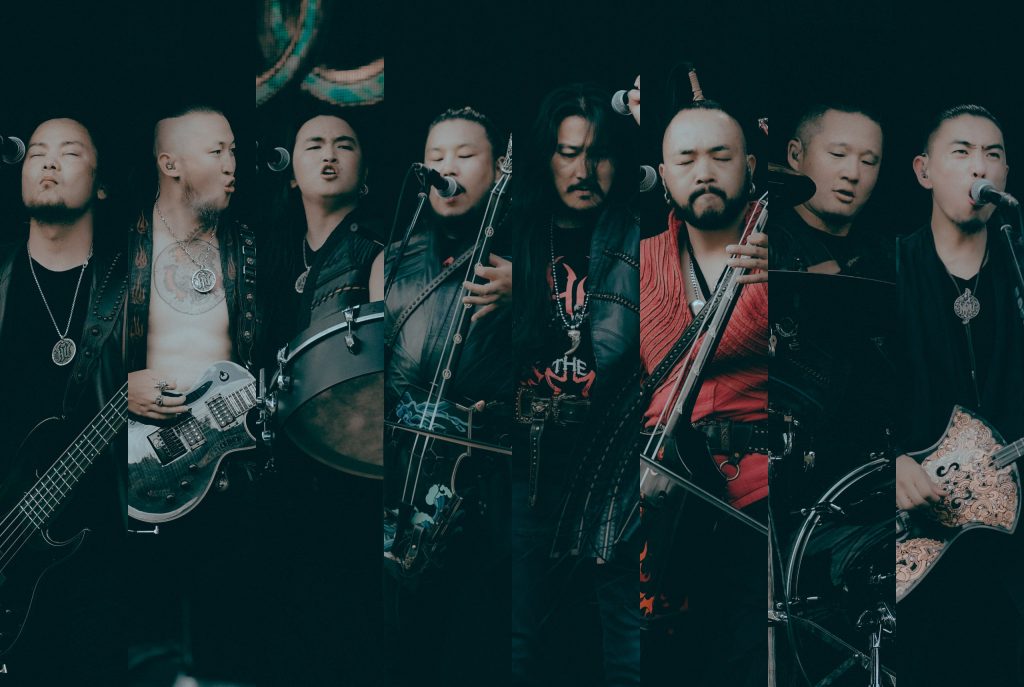 Over the typical foundation of drums, bass, and distorted guitar, they layered the sounds of traditional Mongolian instruments such as the "morin khuur" (horsehead fiddle), the "tovshuur" (three-stringed guitar), and even a jaw's harp. But the real thrill was hearing six of the band's seven members delivering thick, powerful throat-singing harmonies. Combined with the other instruments, they delivered a guttural, rumbling sound you could feel in your gut.
They played a lot of new songs from their upcoming second album Rumble of Thunder, including recent singles "Black Thunder" and "This is Mongol." As with their previous songs, the new tracks boasted tightly arranged rhythmic riffs and a beating metal heart, dripping with wild mountain testosterone.
They ended their set with their two biggest songs, "Yuve Yuve Yu" and "Wolf Totem," and a brutal moshpit erupted among the Hu-T-shirt clad diehard fans at the front, with me among them. As bodies clashed and limbs flailed, it was a group experience as cathartic as The Hu's music itself, making wolves of all of us. — Daniel Robson


Xiexie: A New Favorite
The Rookie-A-Go-Go stage is where Fuji Rock puts smaller or unsigned bands who are just beginning to break through. Even if you don't know any of the artists performing, it's always worth stopping in when you're passing — the chances are you'll find a new favorite band.
Xiexie was one such group, a Japanese four-piece band playing daydreamy shoegaze (or should that be xie-gaze?). Their midnight music is all gentle rhythm, bright guitar, and longing vocals, infused with melancholy melodies that are filled with heartache yet warmly comforting and, at last, wonderfully uplifting. — Daniel Robson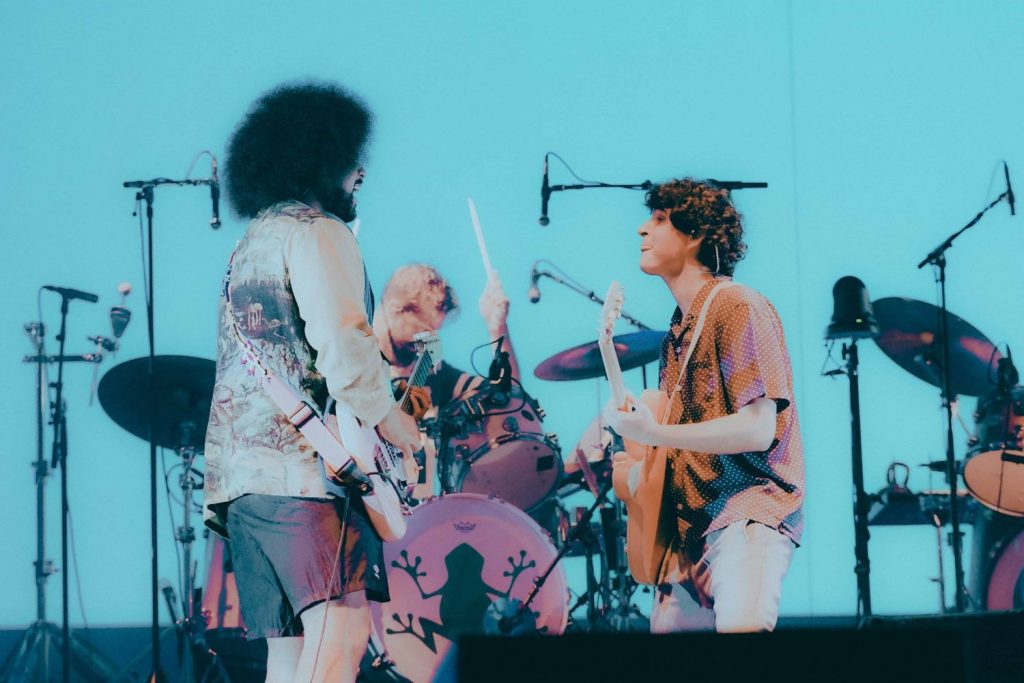 Vampire Weekend: Finally, 'Father of the Bride'
The last time Vampire Weekend performed in Japan was at Fuji Rock in 2018. On Friday, the veteran indie-pop group's set was nothing short of a bittersweet moment ー for the band and their fans, who had long awaited their return to Japan. Lead vocalist and guitarist Ezra Koenig expressed their gratitude as the band was finally able to perform songs from their 2019 album Father of the Bride to the ever-enthusiastic Fuji Rock crowd.
Despite initial technical difficulties occurring during their first few songs, the band powered through and delivered an astonishing audio-visual performance, elevated by the members' infectious and playful energy that reverberated throughout the Green Stage grounds.
The audience reciprocated, cheering on the band fervently and dancing along to the group's magical-sounding tunes. It was a perfect way to cap off the first day of Fuji Rock 2022. — Micah Go


Bonobo: Enchanting, then Energizing
From the United Kingdom, Bonobo is back with another album, Fragments (2022), which includes collaborations with artists Miguel-Atwood Ferguson, Jamila Woods, and O'Flynn. His set at Fuji Rock was the perfect opportunity to charm his fanbase in Japan.
His dreamy, down-tempo, at times ambient electronic sound sets itself perfectly with the magical atmosphere of Fuji Rock and the backdrop of the misty mountains of Naeba.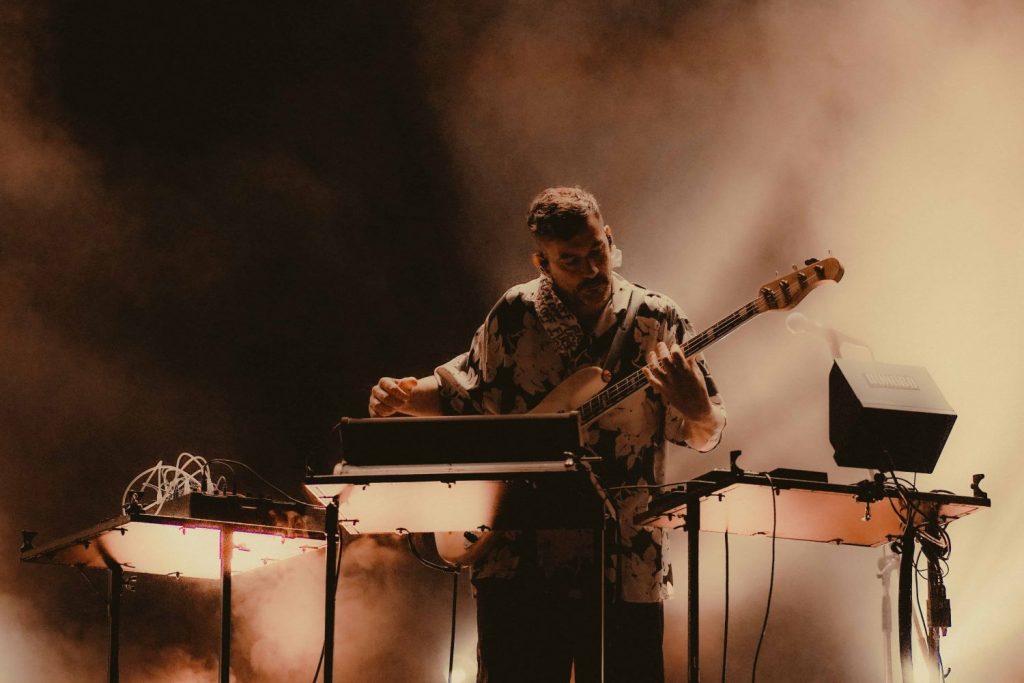 Fresh from many major performances in the UK at Glastonbury Festival in June, and at the Royal Albert Hall in May, on July 29 Bonobo spoke to the crowds from the White Stage at Fuji Rock and exclaimed, "Japan, I missed you!"
Appearing on stage with a full four-man band, Bonobo's set reflected the various aspects of his style and the variety of sounds: one moment, enchanting the audience with his ambient music; the other, energizing the crowds with the classic "Cirrus." — Arielle Busetto


Otoboke Beaver: 2 Ferocious Sets, Alright!
Playing their second show of this year's Fuji Rock Festival — having performed a surprise set at the pre-opening night party on Thursday, July 28 — Kyoto punk band Otoboke Beaver ripped a new hole in the Naeba Shokudo stage. Their super-fast, scratchy riffs and rhythms chopped and changed throughout each deceptively simple but technically complex song, as vocalist Accorinrin barked hilarious lyrics in a mix of Kyoto slang and broken English.
Songs about a fear of motherhood on "I Am Not Maternal" (with lyrics that translate as "I like dogs; if I give birth it'll be a dog") or not wanting to be the one who has to share out the salad at dinner on "I Won't Dish Out Salads" could be taken at face value, or maybe they say something deeper about refusing gender norms in Japan's patriarchal society. Either way, watching not just one but two ferocious sets by Otoboke Beaver was a lot of fun! — Daniel Robson


RELATED:
Look for our live coverage on Twitter, and our most recent Fuji Rock articles. First, though, check out our preview articles for the festival:
Authors: Daniel Robson, Arielle Busetto and Micah Go