Hokkaido Sled Dogs Build Trust with Their Snow Tracks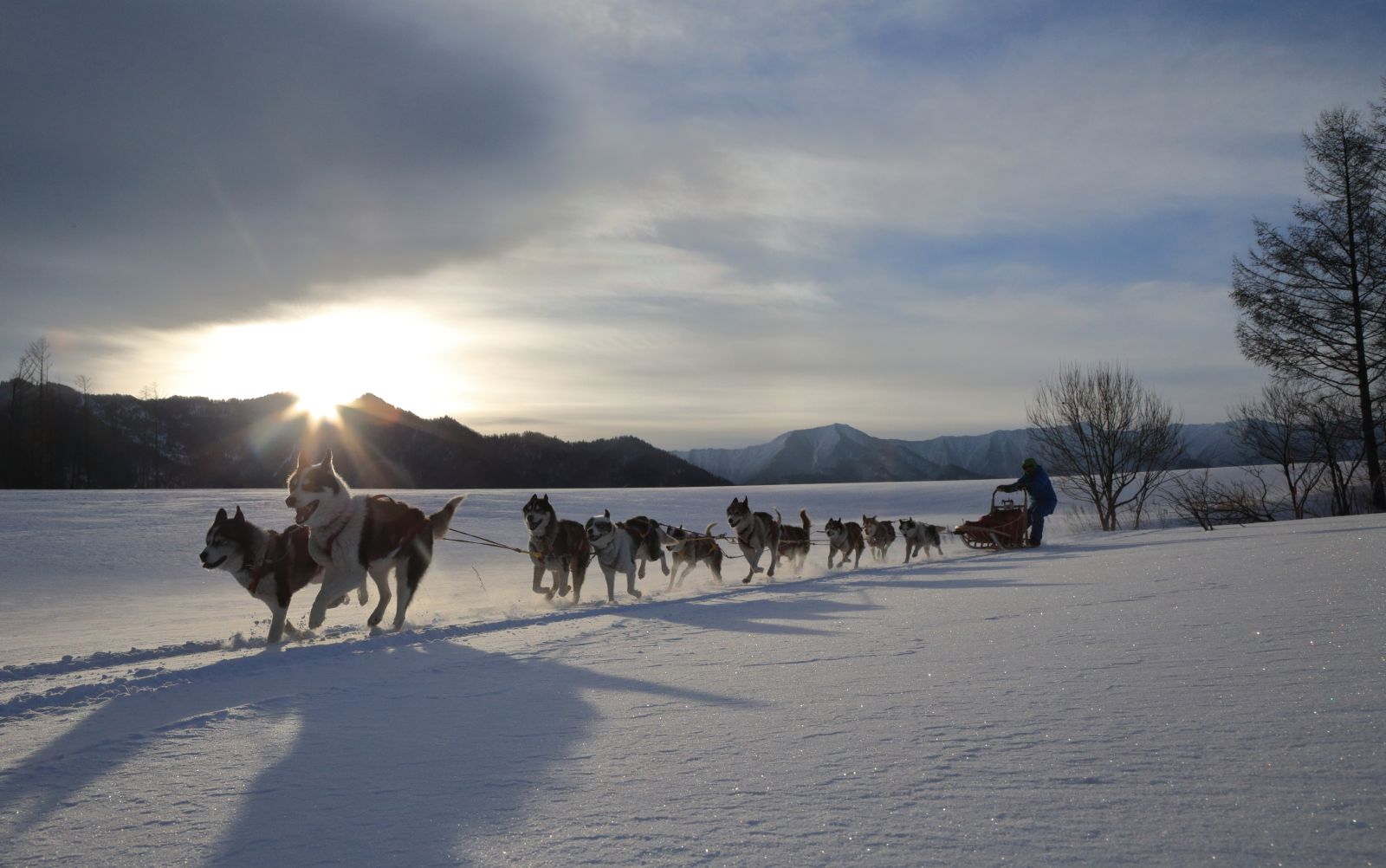 Picture the scene: the freezing cold territory of the north. In a harsh climate stripped of all waste, this is a place where animals live alongside people.
What kind of relationships are born here? To find out, I went to visit the wolves that famously accompanied Naomi Uemura and his team of Arctic explorers, and their "musher" (sled-puller) in Hokkaido.
In the depths of winter, the temperature can drop below -20C in Shirataki, Engaru town in Hokkaido. Here lives a 42-strong pack of wolf dogs, most of which are Alaskan Huskies. They are managed by the company Outrider, which runs sled dog tours.
Company president and kayak maker Hidetaka Murabayashi, 55, first came across sled dogs when he was making a sled for a client. "I first became interested in Siberian Huskies. They were nimble-footed creatures."
The turning point came when he adopted two Alaskan Huskies who had successfully crossed Antarctica with the explorer Keizo Funatsu. They had retired from front line duties, but with racing experience in Alaska they were somewhat different from other species.
"I realized dogs need a trainer, just like a sandlot baseball team needs a team manager." Assigning one dog to lead the pack, they soon started to run in unison.
Mostly importantly, the "team" was made up of people as well as dogs.
When asked about the harsh winter environment, Murabayashi explains: "Although we can't communicate with words, there is a need for mutual understanding [between animals and people]". In this way, "animals and people can help each other out and feel a shared sense of achievement". This is what appeals to him most about sled dogs.
The temperature was -7C before lunchtime. I decided to take on the challenge of a 16-km return sled dog route.
Before we even depart, the dogs were jumping up and down, unable to contain their excitement. They bark loudly as if to say, "Hurry up, let's go!", and the jealous barks of those who were not chosen to go with us this time reverberate around the snowfields.
"Go…HIKE!" As soon as the order is given, the pack sets off in full force. We're blinded by powder snow and all we can see are the reassuring backs of the nimble-footed dogs as they run.
The musher's job isn't just to stay on his sled. Sometimes on a steep slope he has to get off the sled and kick his way through the snow, climbing over it alongside the dogs. When they stop for a break, he hugs them, and calls out words of encouragement as they head for the finish line.
The cold is biting and the work is comfortably tough. But above all, I definitely felt a sense of trust with the dogs that went beyond words.
SLED DOGS
Known as wolves, wolf dogs, and Alaskan Huskies, sled dogs are specialized in the winter transport of sled-pulling. Friendly and obedient with a mild nature, they are accustomed to extreme cold and strong enough to run long distances on supplies of approximately 1-2 kg of food a day. Training these dogs for long distance racing is popular in the American state of Alaska.
Author: Inui Emori, Photojournalist
(Translated by Sara Doel)