Housing Plazas Provide A Taste of Japanese Home Culture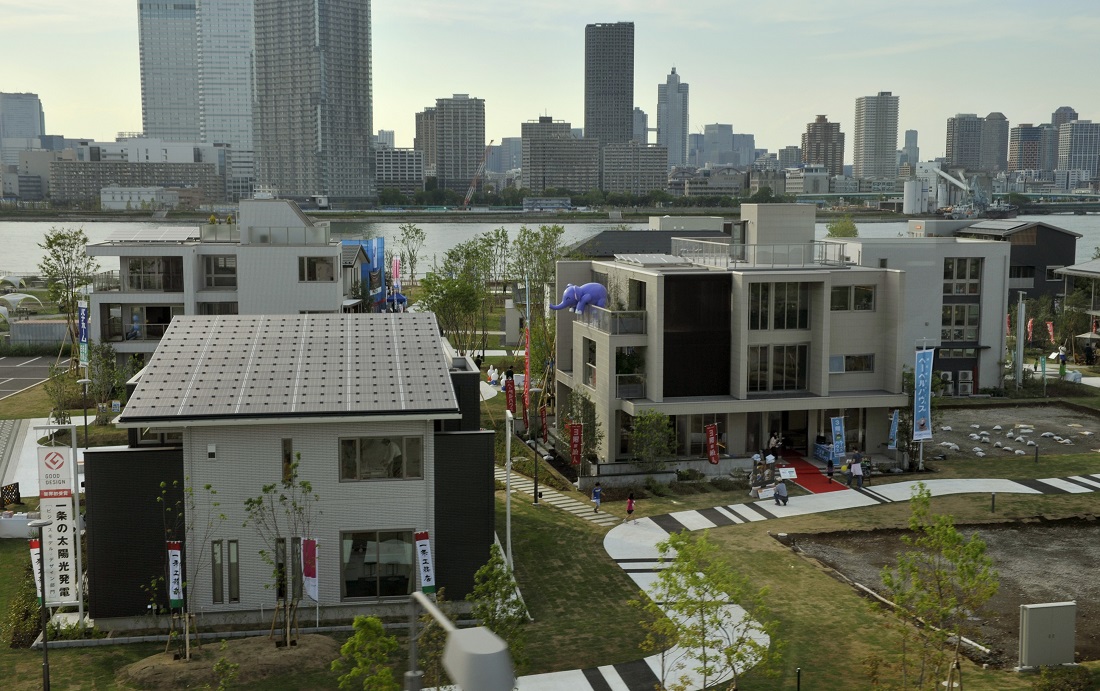 Jessy LeClair
Have you ever been curious and wanted to just take a glimpse behind the closed doors of a Japanese house?
With the spread of room-share services like Airbnb, some visitors now have the chance to see a little of what everyday life is like inside a Japanese house or apartment. Even so, many visitors to Japan might never have the opportunity to personally experience Japanese home living.
However, there is a well-kept secret—Japanese model home plazas—available to anyone for free! Here you can see and experience a real-life Japanese house.
Model home plazas in Japan are outdoor exhibition spaces offering fully-built model homes. Imagine a broad street lined with stately homes, each graced with a beautifully-tended garden, colorful banners, and inviting entryway.
You can simply walk into any of the houses—no ticket required. Enter one of the houses and you will be greeted enthusiastically by the staff, and may even be treated to a steaming cup of green tea.
The challenge is that housing plazas are poorly advertised and many do not have English-language websites. However, as long as you can navigate to the housing plaza, it is straightforward from there.
It should be noted that these housing plazas are designed with people looking to purchase a home in mind. You may be asked about your desired home layout or whether you already own a plot of land on which to build. Speaking from my own experience, I received a warm welcome even when I honestly admitted that I was just curious to look around inside.
Technologically-Advanced Houses
Japan has a reputation for being technologically advanced. But, did you know that Japanese houses are also technologically ahead of the curve?
Large Japanese home-building companies often partner with technology companies. They can build homes with the very latest in earthquake- and fire-proofing, and whatever-proofing technology. I recently visited a Sekisui House model home at the Yokohama Home Collection to see what they offer.
The Seisui House staff demonstrated the special shock-absorbing rubber used in the new homes to dampen swaying during earthquakes. While an ordinary rubber ball bounced high several times, the ball made of proprietary rubber fell with a hard thud, not even bouncing once.
Prefabricated housing technology in Japan has also started attracting international attention. A recent article in Curbed titled "Preparing for our prefab future: A burgeoning US prefab market has much to learn from Japan" highlighted the advances of Japanese factory-built houses.
Prefabricated housing is assembled from components created off-site, usually in a factory. Imagine something like a Lego house. The components range in size from simple supports to entire prefabricated wall panels. The size of the components is limited by what can be safely (and legally) transported through the narrow streets of Japan.
Excluding mobile homes in the United States, only about 2% of U.S. homes use modular technology (U.S. Census), compared to nearly 15% in Japan (data from Japan Prefabricated Construction Suppliers and Manufacturers Association).
The industry emerged in Japan after World War II, when the country faced a severe housing crisis. Now a handful of major players dominate the industry, including Daiwa House, Sekisui House, and Sekisui Heim. These companies produce "brand-name" houses, much like we have brand name cars in the U.S.
Access to Japanese Private Life
Even if you have lived in Japan for a long time, you might not be invited into the homes of your Japanese friends or colleagues. In Japan, the home is considered private, and often quite closed.
However, homes in Japan, and all around the world, are a foundational part of the culture. Our homes are not only where we perform the basics of living—like eating, sleeping, and spending time with our family—but also where we observe rituals and act out cultural dynamics in our interactions with family members.
As a result, culture and the home are tightly intertwined. The design of a house responds to the values and priorities of the culture in which they are built.
Consider the cultural habit in Japan of elderly parents living with their children and grandchildren. In the United States, such multi-generational homes are relatively uncommon. According to a survey by the Japanese Cabinet Office, only about 17% of people over the age of 60 live with their children in the United States, versus almost 60% in Japan. Not surprisingly, houses built to accommodate such multi-generational living are more common in Japan.
What people often overlook, though, is that as much as we influence the design of our houses, the design of our houses also influences us in strange ways.
Our Houses Create Us
Spend an hour inside the atmosphere of a Japanese home and you might just come away with a deeper grasp of Japanese culture.
Notice the way the space is divided, or the way windows are placed to allow light into the home. How do you feel in the house? How do you move around the house? Which parts attract you? Where would you spend your time? How do you think your lifestyle might change living in the house?
In the U.S., we say you have to "walk a mile in someone's shoes" to truly understand their experiences, challenges, and thought processes. But maybe, we should spend an hour in someone's house.
Try it! Maybe the experience will deepen your understanding of Japanese culture, and perhaps you will learn something new about your culture as well.
Guide to Visiting Japanese Housing Plazas
Here are 4 locations in the Tokyo area:
TBS Housing Shibuya Tokyo Homes Collection
(TBSハウジング渋谷会場)
Address: 5 Chome-53-7 Jingumae, Shibuya-ku, Tokyo
(東京都渋谷区神宮前5丁目53-7)
Access: 10 min walk from JR Shibuya Station
Homes: 15 homes available (including many "big brand" homes like Daiwa House)
Website: https://www.tbs-housing.com/house/index_0.html
Housing Plaza Seta
(ハウジングプラザ瀬田)
Address: 5 Chome-20 Seta, Setagaya-ku, Tōkyō-to 158-0095, Japan
Access: 10 mins walk from the Yoga station on the Tokyu Denentoshi Line
Homes: 17 homes available
Website: https://www.housing-messe.com/asahi-seta.html
Akabane Housing Stage
(赤羽ハウジングステージ)
Address: 2 Chome-33-3 Akabanekita, Kita-ku, Tokyo
(東京都北区赤羽北2-33-3)
Access: 5 mins walk from Kita-Akabane station on the JR Saikyo Line
Homes: 12 homes available
Website: http://www.housingstage.jp/exhibition/akabane/
Katsushika Kanamachi Housing Gallery
(葛飾・金町ハウジングギャラリー)
Address: 1-19-5 Kanamachi-cho, Katsushika-ku, Tokyo
(東京都葛飾区金町1-19-5)
Access: 10 mins walk from Kanamachi station on the JR Joban Line
Homes: 5 homes available
Website: https://www.e-a-site.com/showrooms/detail/66