Dai Nippon Printing Wins Big at the 2019 Global Environment Awards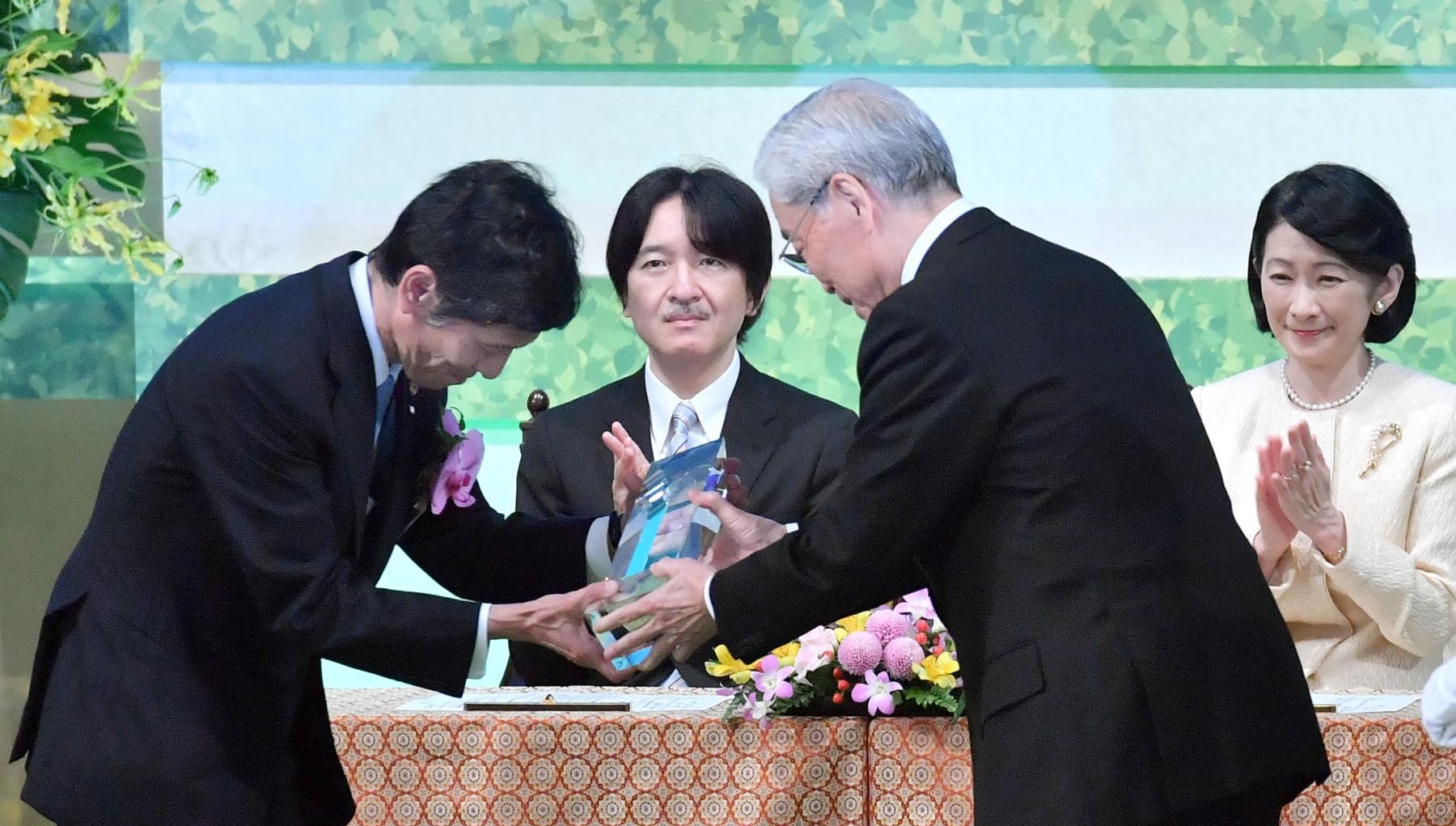 The commendation ceremony of the 28th Annual Grand Prize for the Global Environment Awards, attended by Crown Prince and Crown Princess Akishino (background), was held on April 22 with the Fujisankei Communications Group Chairman Hisashi Hieda (right, foreground) awarding the Grand Prize to DNP President Yoshinari Kitajima.
Dai Nippon Printing Co., Ltd. (DNP) took home the top prize at the 28th Grand Prize for Global Environment Awards Ceremony held on April 22 at the Meiji Memorial Hall in Moto Akasaka, Tokyo. The now Crown Prince and Crown Princess Akishino were in attendance as the winning companies and organizations were honored for their contributions in the fields of environmental conservation and global warming while working toward a sustainable society.
The Fujisankei Communications Group (FCG) sponsors the annual event, which aims to find ways to achieve harmony between economic development and a healthy, sustainable global environment. A representative from each of the winners was presented with a certificate and trophy.
DNP took first place for its development of a thermal insulation box that allows for long-distance transport of perishables by vehicles not equipped for freezing or refrigeration. The way it works is similar to that of a Thermos bottle. On hand to accept the award was the company's president Yoshinari Kitajima. He vowed, "In the future we will continue to strive to find solutions to various social issues, and work to bring about a sustainable global environment."
In his welcoming remarks, FCG chairman Hisashi Hieda said that Japan is being looked to for strong leadership in the achievement of the UN's sustainable development goals (SDGs). He added, "In the Reiwa era we will soon be entering, and through this awards framework, we intend to push forward in creating in Japan a country that is brimming with prosperity and vitality, thanks to harmony between the environment and the economy in various fields."
Fujio Mitarai, Chairman and CEO of Canon Inc., who also serves as chairman of the committee for organizing the Global Environment Awards, said, "We are eager to raise the profile of the awards in Japanese society and do all we can to help achieve sustainable social and economic development."
Strong Interest in Recycling Technologies
The awards ceremony took place in the garden of the Meiji Memorial Hall. the Crown Prince and Princess and the other guests heard descriptions of the winning technologies and the reasons they were singled out for the prizes.
In addition to the prize winners, many business leaders and dignitaries from various walks of life attended the reception following the ceremony, and the Crown Prince and Princess could be seen engaged in lively discussion with other participants.
The royal couple confided that they are very interested in environmental technologies and products. Crown Princess Kiko explained that one reason is that their 12-year-old son, Prince Hisahito, has shown a keen interest in this area.
"It seems he's studied about the importance of separating different kinds of garbage," remarked Masao Itoko, managing executive officer of Suntory Holdings. Itoko's company is currently trying to develop disposable PET (polyethylene terephthalate) plastic bottles with a low impact on the environment. He added that Crown Prince Akishino himself told him, "The development of a more environmentally friendly PET bottle would certainly be a boon for many people."
Other attendees voiced a hope that this year's awards would serve to further spur environmental measures.
Crown Prince's Remarks at the Awards Ceremony
Crown Prince Fumihito, who was then-Prince Akishino, congratulated the winners and offered words of encouragement to those attending the awards ceremony. Below is an unofficial translation of his remarks: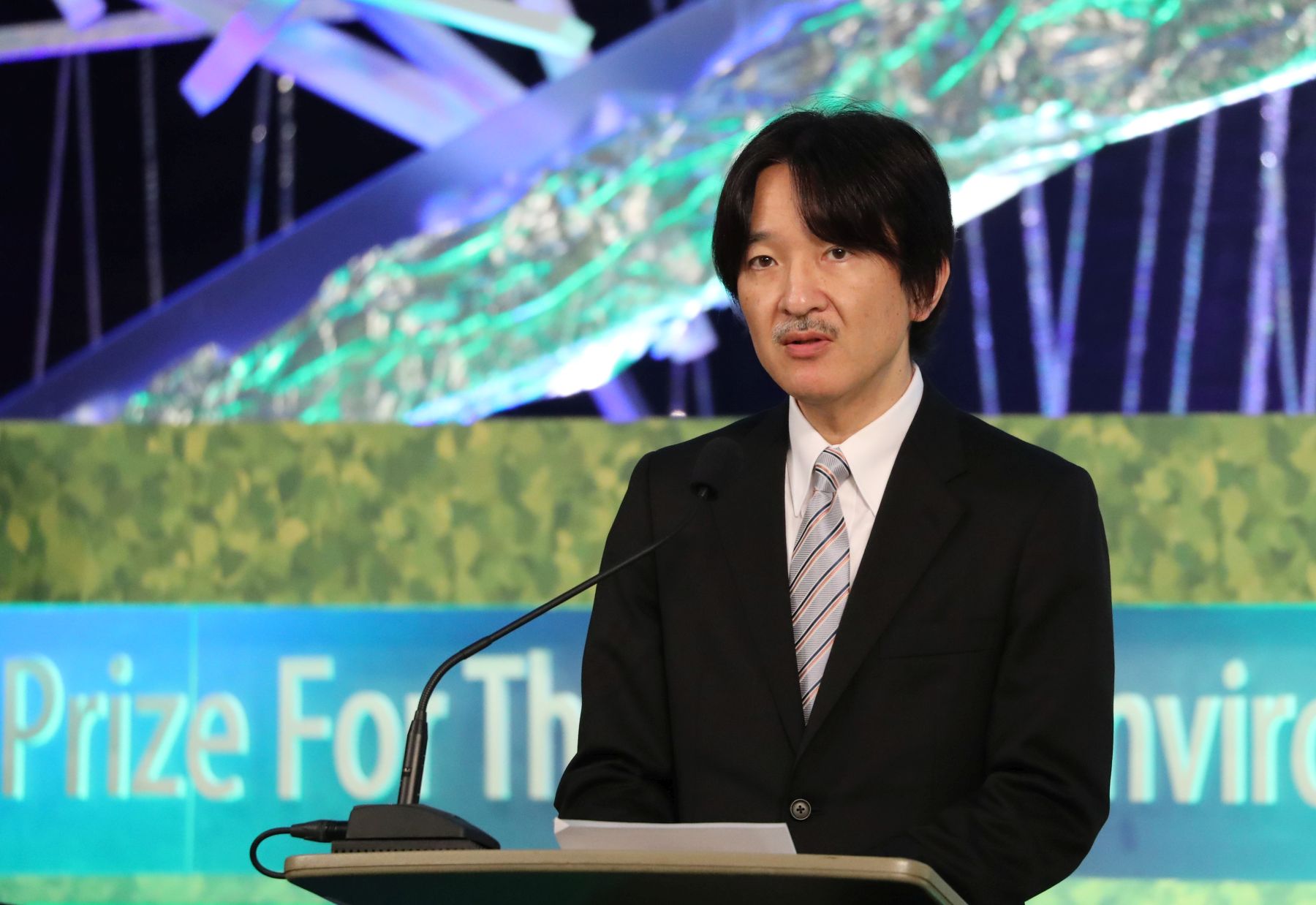 In recent years we have seen a burgeoning global interest and awareness of problems concerning our environment, including climate change and a loss of biodiversity, and the issue of microplastics.
Furthermore, we have witnessed natural disasters in various places around the world, a major cause of which appears to be global warming. Japan, for example, has been buffeted by torrential rains and other abnormal weather, which have inflicted a heavy toll in terms of human lives and the people's livelihood.
I strongly believe we must give more thought to issues related to the global environment. While striving to preserve the natural environment, we also need to become more conscious of disaster prevention and mitigation, and search for better ways to coexist with nature.
This year's ceremony marks the 28th annual Grand Prize for Global Environment Awards. These awards were established with the goal of benefiting society by honoring efforts to the preserve the environment through the development of products and related technologies that contribute to the creation of a sustainable, circular society.
Recently the scope of these awards has expanded from a focus on industry initiatives to include local governments, schools and citizens groups. This reflects the rising awareness and activism of citizens concerning environmental issues, which in turn has contributed to global environmental conservation.
With much attention now being given to the sustainable development goals, or SDGs, adopted by the 2015 UN Summit, and the international framework for combating global warming under the Paris Agreement set to take effect in 2020, our country will be called on to contribute even more advanced environmental technologies and knowledge to the world.
Moreover, it is truly important for us to be able to accumulate actual results that will make Japan a model for international society in terms of creating a sustainable economy and society.
Finally, I sincerely hope that the recipients of this award, together with all of you here today, will continue your activities for preservation of the global environment, and that such efforts will broaden and multiply.
Thank you for your attention.
The 28th Global Environment Awards Recipients: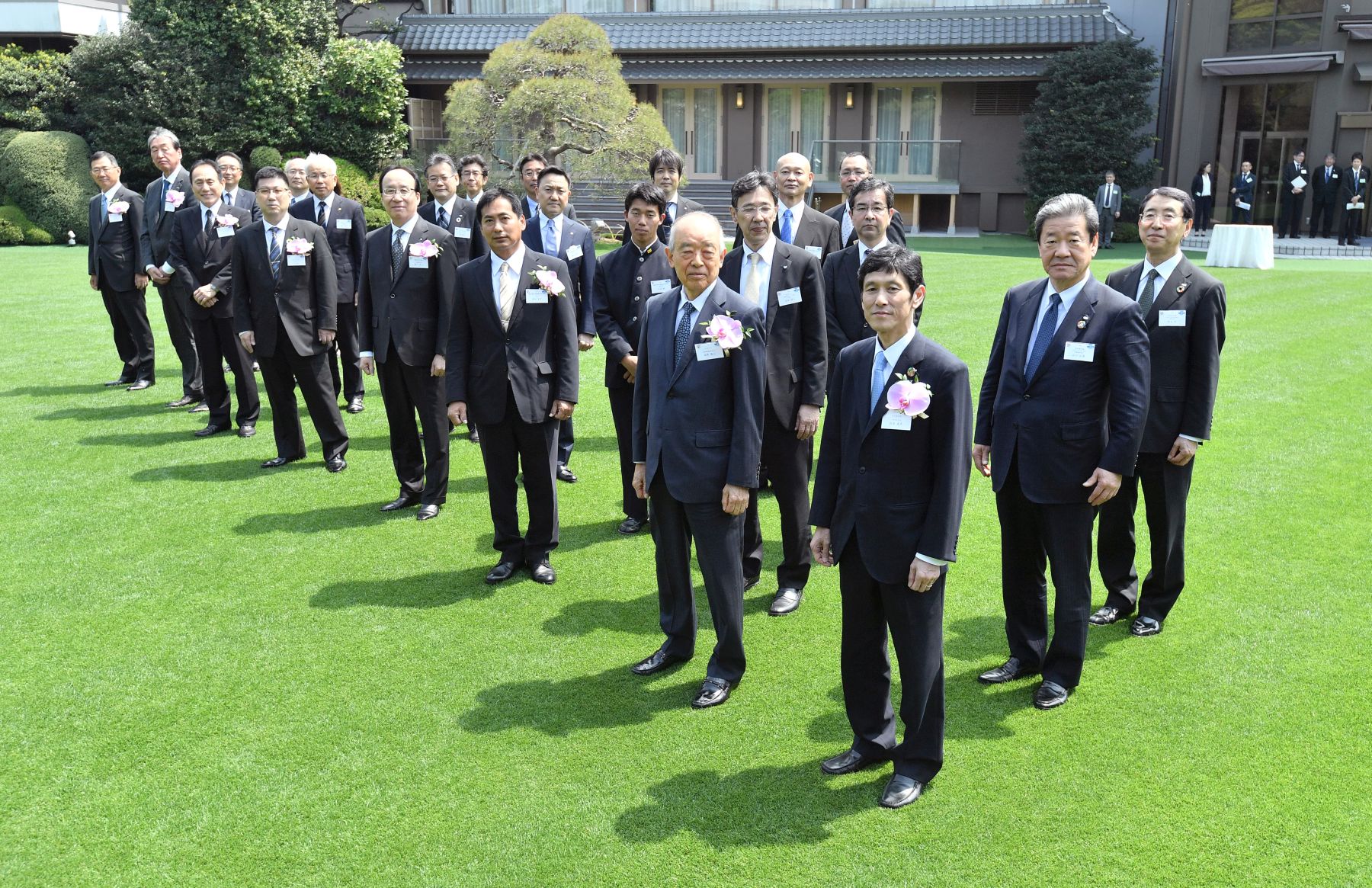 Grand Prize: DNP
Environment Minister Award: N/A
Learn more about the Global Environment Award by following these links to stories on the 2018 awards and the 2017 awards.
(Click here, and here to read related stories in Japanese. Click here to read the remarks of Crown Prince Akishino in their original Japanese.)
Author: The Sankei Shimbun and JAPAN Forward