[ICE TIME] Nathan Chen Remains on Collision Course with Yuzuru Hanyu
The five-time defending U.S. men's champion is eager to compete against the Japanese skating superstar at the 2022 Beijing Olympics.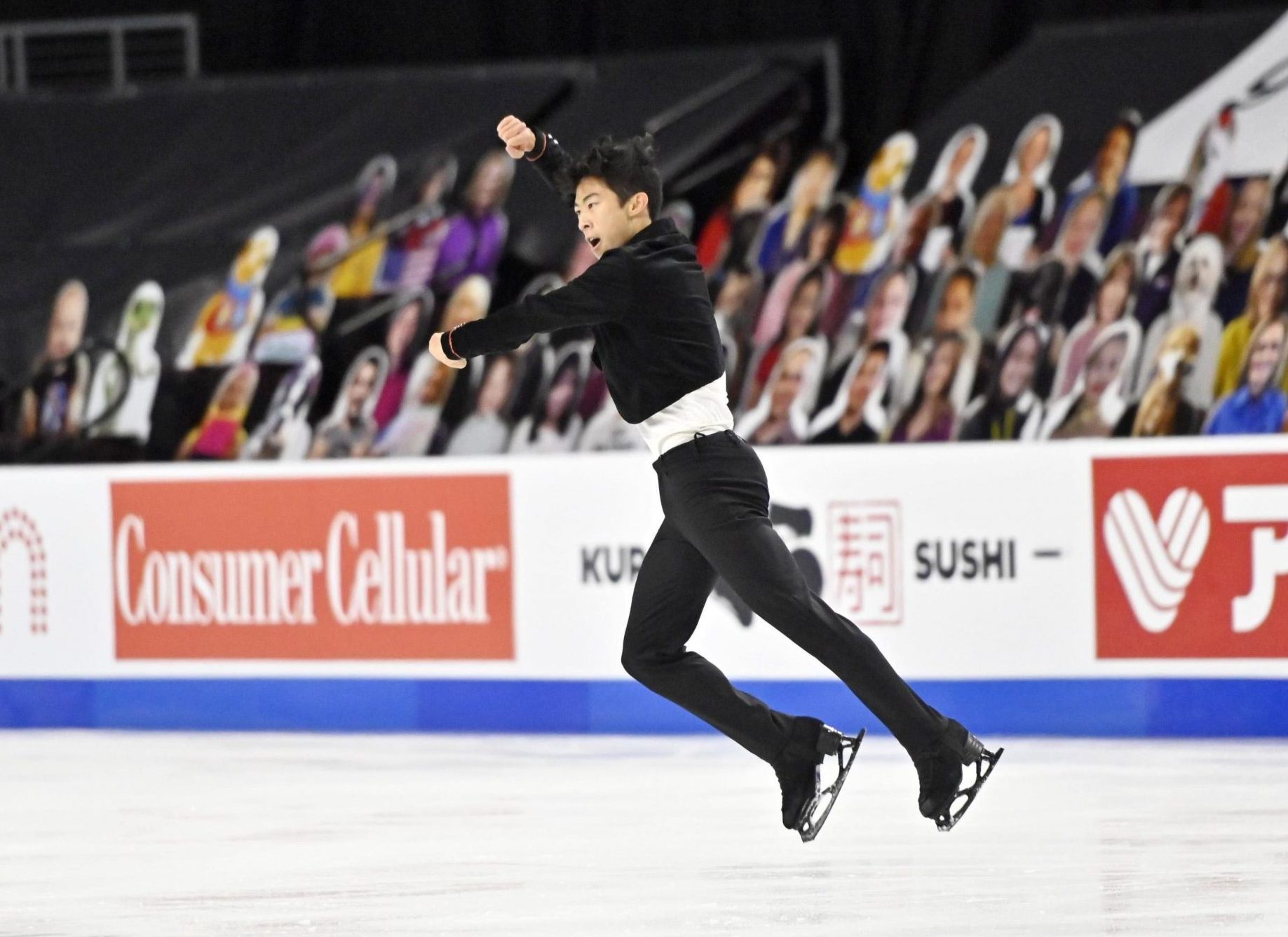 ~~
Nathan Chen won his fifth straight U.S. Championship last weekend in Las Vegas and afterward looked ahead to his expected showdown with two-time Olympic champion Yuzuru Hanyu at the 2022 Beijing Games.
The 21-year-old Chen became the first man since the legendary Dick Button to capture the U.S. title in five consecutive years with the triumph. Button, also a two-time Olympic gold medalist (1948, 1952), claimed the U.S. crown seven years in a row (1946-52).
Chen won with a total score of 322.28 points, more than 30 points ahead of second-place finisher Vincent Zhou (291.38) and 45 in front of Jason Brown (276.92), who came in third.
"It's always been a dream of mine to be able to win a national title, to win a world title, to win an Olympic title," Chen stated. "Easier said than done. I thought that I had a chance in 2018 and that didn't happen. I'm able to live with that."
After a disastrous short program at the 2018 Pyeongchang Games that put him in 17th place, Chen rallied to finish fifth by winning the free skate, but could only watch as Hanyu became the first man since Button 66 years earlier to earn a second straight gold in the men's singles competition.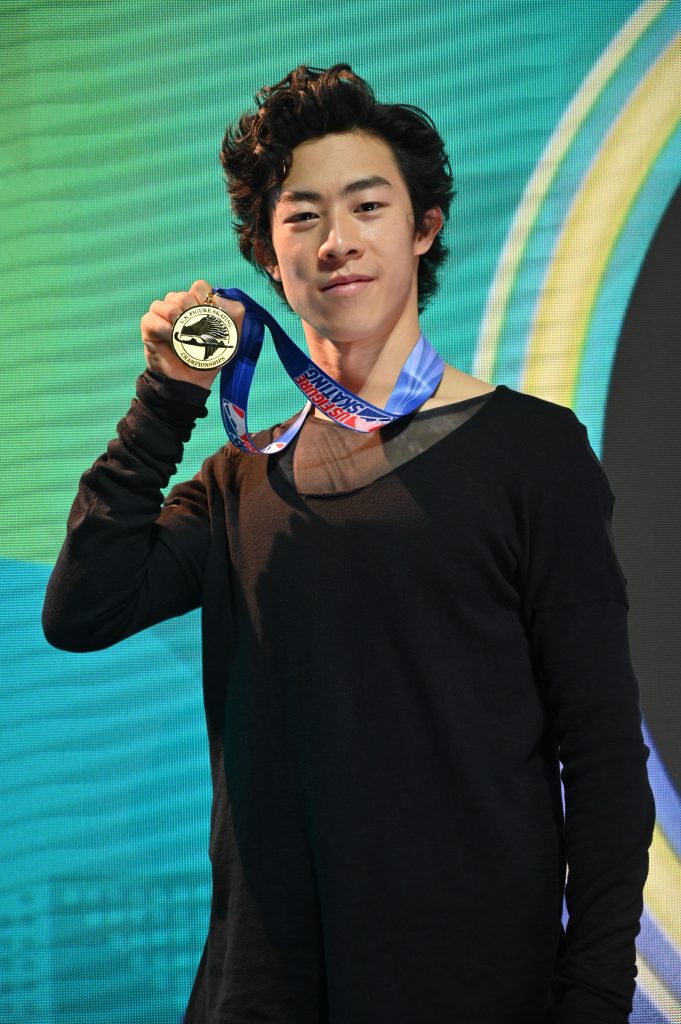 One of the old adages in sports is to "know who you are competing against," and it is clear that Chen is keeping a watchful eye on both Hanyu and Pyeongchang silver medalist Shoma Uno with Beijing just 13 months away.
Chen, who has won the last two world championships that were contested, said he watched the recent Japan Championships in Nagano where a resurgent Hanyu blew away Uno and the rest of the field with a decisive victory.
"I'm watching one, because I haven't seen skating for a long time," Chen told JAPAN Forward. "Whenever your competitors are skating, it's good to at least know what they are doing. That doesn't necessarily mean you have to change your game plan, or change your training, or do anything super crazy.
"It's good to be aware of what's going on. If some competitor happens to throw out something that's incredible, that has never been done before, it's nice to just be aware of that," Chen continued. "Just kind of see how things are going."



RELATED STORY: Figure Skater Yuzuru Hanyu Sets the Path for His Third Olympic Gold


Chen, who is on a break from his studies at Yale, admitted he was impressed by what he saw of his two rivals last month.
"Everyone is looking great. No one has lost anything," Chen commented. "Still looking very, very strong. It will be exciting to see them in person again."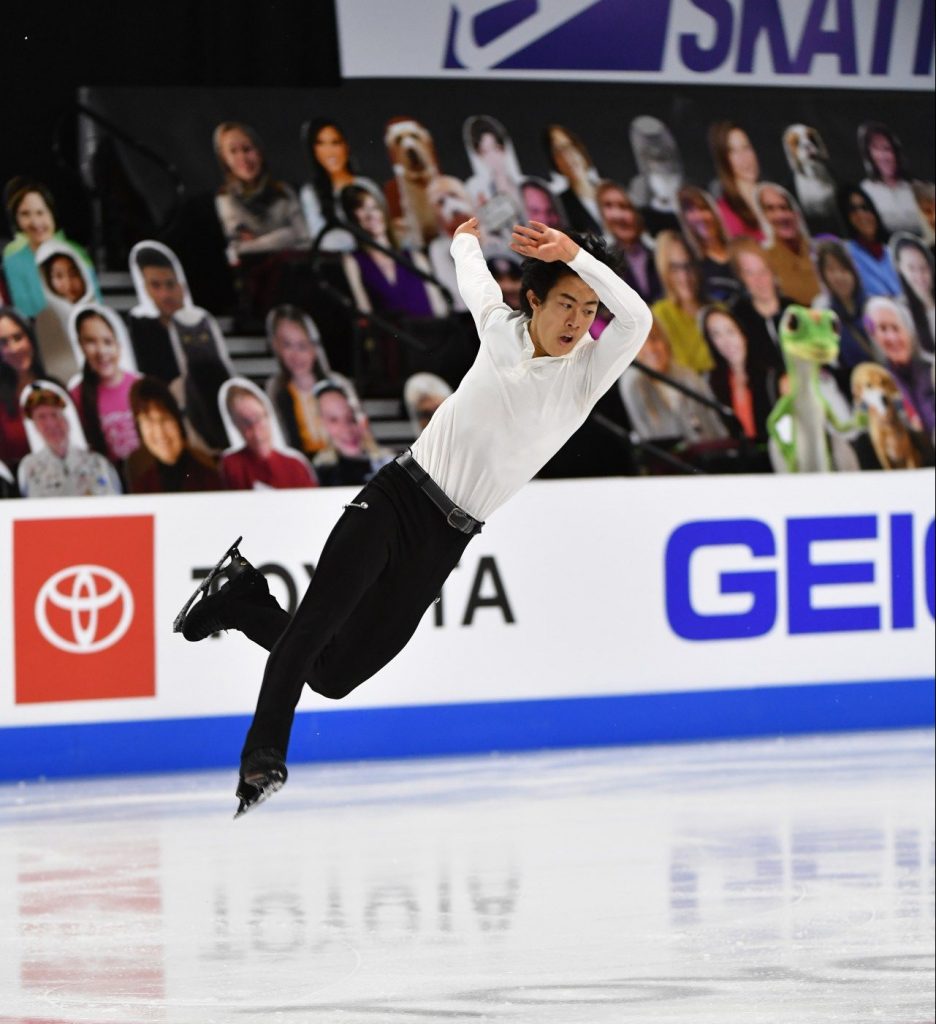 A Classic Sports Rivalry
Great rivals in any sport always look forward to battling head-to-head, and Chen and Hanyu are the superstars of skating now. When they take the ice in the same competition, for skating it is the equivalent of Muhammad Ali vs. Joe Frazier or Wilt Chamberlain going up against Bill Russell.
In a conference call ahead of the U.S. Championships, Chen said he admired Hanyu's determination during the pandemic which has separated him from coach Brian Orser in Canada for several months.
"I know he's been training basically by himself, so training in isolation is tough," Chen remarked about Hanyu. "I give him a lot of credit for being able to still stay on the top of his game. I think he's looking quite strong. It was really a nice break to be able to watch some skating, especially from Yuzu, and especially from Shoma as well. It's been a long time since I really saw them skate 'live,' so it was nice to be able to see that.
"I'm looking forward to whatever competition we can have in the future to compete against each other, because training or competing with him (Hanyu) is just such a unique feeling and experience," Chen added. "I really love it and I always look forward to it."
Chen and Hanyu are next slated to meet at the world championships in Sweden in March, but as with everything else, whether the competition is held is up to the state of the pandemic. The International Skating Union is set to discuss the fate of the event at a meeting on Thursday, Jan. 28.
"The one thing that is really important about worlds this year is the spots for qualifications for the Olympics [which are determined by the results at worlds]," Chen stated. "That being said, it ultimately comes down to the safety of the athletes, the safety of the fans, the safety of the federations and everyone that is involved with the competition.
"If it is something that will happen where a lot of people are going to get sick, I definitely don't think it is the right call. Whatever opportunity comes, I will definitely take it," Chen continued. "I hope safety comes first. Regardless of when the competition happens, I don't think the skaters really care. I think the skaters want to have the opportunity and want safety."


When asked about sustaining his own motivation and training in the pandemic, Chen cited two factors.
"This is a very strange season and I think that as motivation comes it's mostly just two things," Hanyu stated. "One is the Olympics. You know in the back of everyone's mind the Olympics are coming up. It's about a year plus out from the Games, so that's the main motivator for most athletes I would assume.
"The second thing is just the fact that I'm able to train right now," Chen added. "A lot of people are focused on a lot of other things that are much more real than training, than skating. That I am able to just not have other things directly impact me while I'm on the ice, and just being able to slowly focus on being on the ice and really appreciate that I have training time and healthy training mates and people that are being responsible and staying safe."
Chen, who is undefeated in all competitions since Pyeongchang, acknowledged that inconveniences to skaters regarding training and events are fairly insignificant to people that are facing life and death issues during the pandemic.
"I think a lot of people are struggling a lot more than elite athletes," Chen said. "I don't think there's really much to complain about, like 'I'm lacking motivation or all this stuff.' We get this opportunity so you make the most out of it and enjoy that we have this opportunity because this is definitely not the same struggle that other people are facing."


Chen Appreciates Japanese Fans' Support
Despite being seen as Hanyu's likely main obstacle to capturing a third straight Olympic gold medal, Chen maintains a loyal following among Japanese skating fans and says he misses seeing them at events in this most unusual season.
"There are a core group of Japanese skating fans that have sort of been following me for quite some time," Chen noted to JAPAN Forward. "I know them fairly well now. They are able to contact me through social media and Instagram, so sometimes they will send me messages."
I asked Chen if he had a message for Japanese fans who have been frustrated by not being able to travel to competitions overseas this season.
"I hope that skating is a fun distraction for everyone ― both abroad and domestic," Chen said. "It has been a tough year for everyone. Everyone is facing different challenges. For the majority of people, it hasn't been smooth sailing. I hope this [the U.S. Championships] is a welcoming distraction from what is going on.
"Truthfully, I'm thanking everyone for the support," Chen continued. "It has been a long time [that] they have been supporting us. It really means the world. Without the fans and the support, it is kind of pointless to do all these competitions.
"I hope we can get back to regular competition soon, so they can come in person. It really does feel different not having them here. The difference in energy, the difference in excitement. It just has a very different vibe."
Chen, who has traveled to Japan many times to skate in shows here, is looking forward to the day he can return and see his Japanese fans in person.
"I love doing the shows in Japan," Chen stated. "It is always awesome to be able to see that much love for the sport. All of the skaters love the sport so much. It really feels amazing to see that visibly shared with a lot of different skating fans in Japan."
Following his most recent win at the U.S. Championships, Chen was reflective when talking about his chances at next year's Olympics.
"Of course I would love to be able to win the next Olympics, but if that doesn't happen, it's not like my legacy or who I am is ultimately diminished," Chen commented. "I'm still happy with everything that I've done. I'm proud of everything that I've already accomplished in skating. I still would love to improve and be better, but truthfully, I'm really happy with where I am and what I've already done, so whether or not I get that title at the Olympics is not going to define me as a person."


Author: Jack Gallagher
The author is a veteran sports journalist and one of the world's foremost figure skating experts.