In the Land of Typhoons, Why Are Power Poles Slow to Disappear in Japan?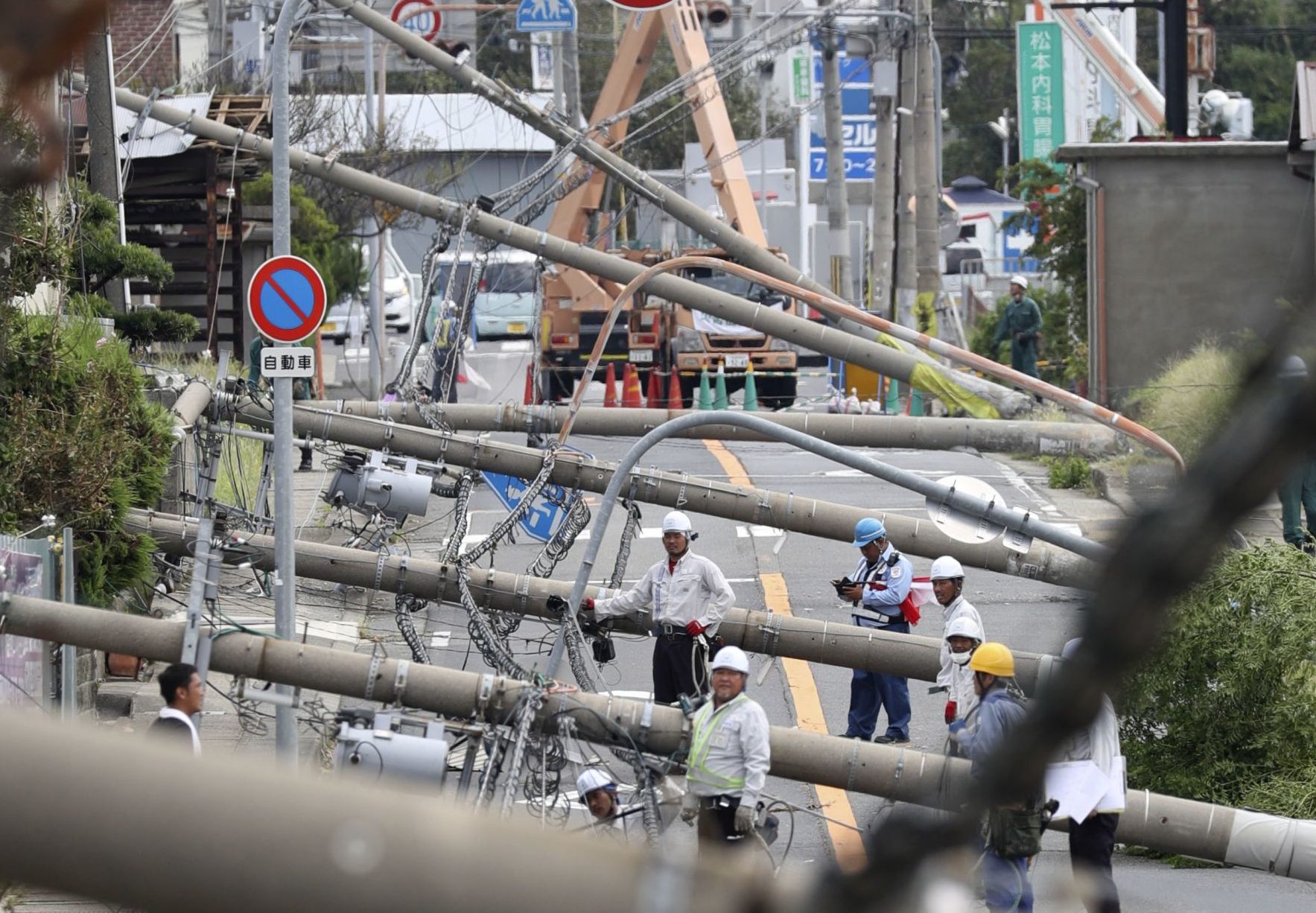 Surprisingly, only 8% of the electric power lines throughout the 23 wards of the Tokyo Metropolis are installed underground. The recent experience of Tokyo's close neighbor Chiba Prefecture highlights Japan's vulnerability to electricity transmission during a natural disaster.
Typhoon Faxai triggered a massive blackout, mainly due to utility poles being destroyed beyond imagination by the typhoon's powerful winds. Even after two weeks, the massive blackout across Chiba Prefecture could not be fully restored.
Experts have suggested that fundamental readiness measures for such disasters require the "disappearance of utility poles." The government has also expressed intentions to speed up its plans to bury power lines underground.
The reality, however, is that Japan is falling far behind compared to major cities in regions such as Europe. As advanced as Japan's infrastructure is in so many ways, why is the removal of roadside utility poles so sluggish?
2000 Utility Poles Damaged
Heavily tilted utility poles, electric cables dangling lifelessly and fallen trees blocking the roads... The operation to restore power in Chiba proved to be extremely difficult, with heavily tilted utility poles, electric cables dangling lifelessly and fallen trees blocking the roads...  Recovery workers sighed wearily, saying, "We can't see the end," and disaster victims in the area were faced the severity of life with no electricity.
A 56-year-old restaurant owner in the Chuo district of Chiba City was forced to throw out food supplies in his refrigerator and freezer because of the power outage. Then, even though his power was restored in three days, it took him another two days to procure new food supplies because the power failure's impact extended out to surrounding areas. "I'd like the power cables to be buried underground if damage like this can be prevented," the man expressed.
Utility poles were damaged in various ways by the storm, including direct damage from strong winds and secondary damage by tin roofs or other objects blowing into them. The Ministry of Economy, Trade and Industry, estimated that approximately 2,000 poles had fallen.
Land, Infrastructure, Transport and Tourism Minister, Kazuyoshi Akaba, commented on plans to move forward with burying utility cables underground, pointing out that the country and utilities need to work hand in hand in order to prevent the recurrence of the extensive damage caused by recent natural disasters.
WWII Reconstruction in Background
Installation of utility cables below ground in Japan has proceeded at a very slow pace and actualization is proving to be a high hurdle to cross.
According to the MLIT (Ministry of Land, Infrastructure, Transport and Tourism), all utility cables are installed underground in such major cities such as London, Paris, Hong Kong, and Singapore. In Taipei, a high 96 percent of the cables are buried. In Osaka, however, only 6% are installed underground, and in Tokyo's twenty-three wards a mere 8% of utility cables are underground. (Domestic numbers are estimated according to a survey conducted by the MLIT at the end of 2017)
In other countries the "no power pole" concept has long been utilized for aesthetic reasons when designing infrastructure in urban areas. However in Japan, the priority after World War II was to reconstruct the country as quickly as possible. The outcome was use of above-ground utility poles for electrical cables because they were "quicker and cheaper," according to the National Institute for Land and Infrastructure Management.
This allowed for the effective delivery of electricity nationwide. However, because the cables came directly in contact with wind and rain, their vulnerability was exposed every time a natural disaster occurred. Also, prolonged periods of blackouts particularly stand out due to the increased number of disasters in recent years.
Given the circumstances, the Act to Boosts the Disappearance of Utility Poles was adopted in 2016, and the nation hoisted the goal of starting construction to bury cables along roads stretching over 1,400km within a span of 3 years from 2018 to 2020.
High Costs Becoming A Burden
Still, an accelerated implementation of the plan remains uncertain.
Professor Shoichi Akiba of the Department of Civil Engineering at Nihon University's College of Industrial Technology points out that one of the reasons for the delay is the high cost of construction.
According to the land ministry, it will cost about \530 million JPY (about $5 million USD) per kilometer for the most standard construction method, which requires pipes to be buried underground so that the electrical cables can run through them.
Besides transmission cables which electricity companies will be responsible for, local governments and road administrators will shoulder construction costs of around \350 million JPY ($3.3 million USD) per kilometer. Although 50% of the costs of moving electric cables underground will be supported by the national government, local governments will still need to be responsible for around \170 million JPY ($1.6 million USD) per kilometer. Considering the financial difficulties experienced by many local governments, many will think twice about going forward with the plan.
A simplified construction method where the cables are directly buried underground, also popular overseas, costs only around 260 million JPY (about $2.4 million USD) per kilometer. However, installing a utility pole instead is only a fraction of that cost per kilometer.
Another dilemma is the lengthy construction period. In order to replace utility poles, water and gas pipes also have to be moved and branch- offs of utilities to individual homes must be constructed. It may take as long as 7 years from the design stage to completion of the infrastructure.
On another note, more than a few downsides of underground cables have been pointed. Inspection for problems can be conducted visually with utility poles. However, this would be impossible once the cables are buried underground and when repairs are required, digging up the ground could be required. Such costs may very well bounce back in the form of electric bill hikes.
Regardless, Professor Akiba adamantly emphasizes, "Utility poles must disappear if protecting lives is the priority. Japan needs to accelerate the nation's understanding that this is a necessary burden, and move forward to meet the standards set by the international community without further delay."
(Click here to read the story in its original Japanese.)
Author: The Sankei Shimbun