India's Northeastern Region Gets Attention for Japanese Cooperation
The recent visit of Japanese Prime Minister Shinzo Abe to India will be remembered for many things, especially the attention given to Japan-India cooperation in the infrastructure sector. They launched projects, like the Mumbai-Ahmedabad high-speed corridor and the focus on the AAGC (Asia-Africa Growth Corridor).
However, there is another part of India that has received special attention in the joint declaration issued by the two countries, and that is India's remote Northeast.
The joint statement notes that "the two Prime Ministers welcomed the India-Japan cooperation on development of India's North Eastern Region (NER) as a concrete symbol of developing synergies between India's Act East policy and Japan's Free and Open Indo Pacific Strategy. In this context, they noted with satisfaction the setting up of the India-Japan Act East Forum."
The "Act-East Policy" is an important part of India's foreign policy. As part of it, New Delhi has been trying to reach out to countries in Southeast Asia and East Asia. While there are economic imperatives for the policy, there are also strategic reasons behind it, as New Delhi would like to offer an alternative to Beijing's growing foothold in this part of the world.
Interestingly, New Delhi has not participated in the One Belt One Road (OBOR) initiative and instead has been trying to come up with its own model of infrastructure development. Hence, it is quite significant that the India-Japan joint statement issued during Abe's visit notes that, "the two Prime Ministers also underlined the importance of all countries ensuring the development and use of connectivity infrastructure in an open, transparent and non-exclusive manner based on international standards and responsible debt financing practices, while ensuring respect for sovereignty and territorial integrity, the rule of law, and the environment." It was an oblique reference to the OBOR initiative.
Why India's Northeast Important?
First, Northeast India's location is very strategic as it shares borders with countries, like China and Myanmar, among others. Four Northeast Indian states—namely, Arunachal Pradesh, Nagaland, Manipur, and Mizoram—share a more than 1,600-kilometer land border with Myanmar.
Second, there is a historical connection between Japan and Northeast India. Japanese forces had come to Northeast India during World War II until they were finally defeated at the Battle of Kohima in India's Northeastern state of Nagaland.
Third, Japan and Japanese companies already have a strong presence in Southeast Asia. Northeast India can therefore become a bridge between India and Southeast Asia.
Fourth, China claims the Northeast Indian state of Arunachal Pradesh and in the past had raised a ruckus when the Dalai Lama visited this frontier Indian state. The recent stand-off with China over the Doklam region of Bhutan makes it even more important for India to join hands with countries like Japan in the development of infrastructure in this part of the country.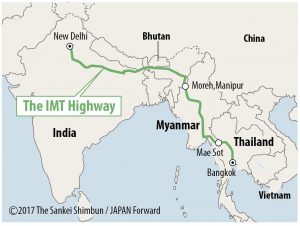 Tokyo has earmarked a loan for the "North East Road Network Connectivity Improvement Project" to improve National Highway-40 and for the construction of a bypass on NH-54. Besides, as the joint statement notes, Japan is involved in a host of projects in the region "ranging from key infrastructure, such as road connectivity, electricity, water supply and sewage, to social and environmental sustainability, such as afforestation and community empowerment, as well as people-to-people exchanges including the 'IRIS Program' inviting youth from the NER to Japan."
Challenges
Given the terrain, Northeast India can be quite a challenge in the infrastructure building sector for India and Japan. In addition, frequent landslides and flooding in the region are also big obstacles. Add to that, in different states of Northeast India, different political parties are in power, thereby adding to the problems.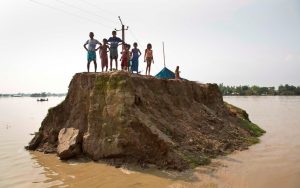 The Modi government has been paying a lot of attention to Northeast India. Earlier this year, Prime Minister Shri Narendra Modi inaugurated India's longest road bridge over the Lohit river in the Northeastern state of Assam. During the bridge's inauguration, he remarked that "the bridge will not only save money, reduce travel time, but comes as a foundation for the beginning of a new economic revolution. That is why the whole nation has its eyes on this bridge."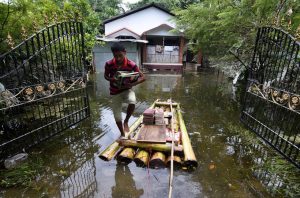 India is also undertaking construction of the India-Myanmar-Thailand trilateral highway, which will connect the Northeast Indian state of Manipur with Mae Sot in Thailand, thereby leading to direct physical connectivity between India and the ASEAN region. This year India and the ASEAN are also celebrating 25 years of their dialogue partnership. India's External Affairs Minister had noted in a keynote speech on ASEAN-India relations that "while on the one hand, the Act East policy aims to enhance India's multi-faceted engagement with ASEAN and the wider Asia Pacific, on the other, it seeks to deepen economic integration, politico-security cooperation and socio-cultural dialogue with countries of the region for domestically better integrating our North-East with the wider, the North East is a 'natural partner' in India's Act East Policy."
Hence, given historical, economic, and strategic considerations, India-Japan cooperation in Northeast India has a lot of potential and is a sign of things to come.
Dr. Rupakjyoti Borah is with the Institute of South Asian Studies at the National University of Singapore. His latest book is The Elephant and the Samurai: Why Japan Can Trust India? He has been a visiting fellow at the University of Cambridge (UK) and the Japan Institute of International Affairs (Tokyo). The views expressed are personal. E-mail: rupakj@gmail.com, Twitter @rupakj.