INTERVIEW | Dassai Blue's Hiroshi Sakurai on the US Market's Potential for Sake
The Dassai chairman shared his dream for the company's sake brand and approach to the untapped potential of the US beverages market.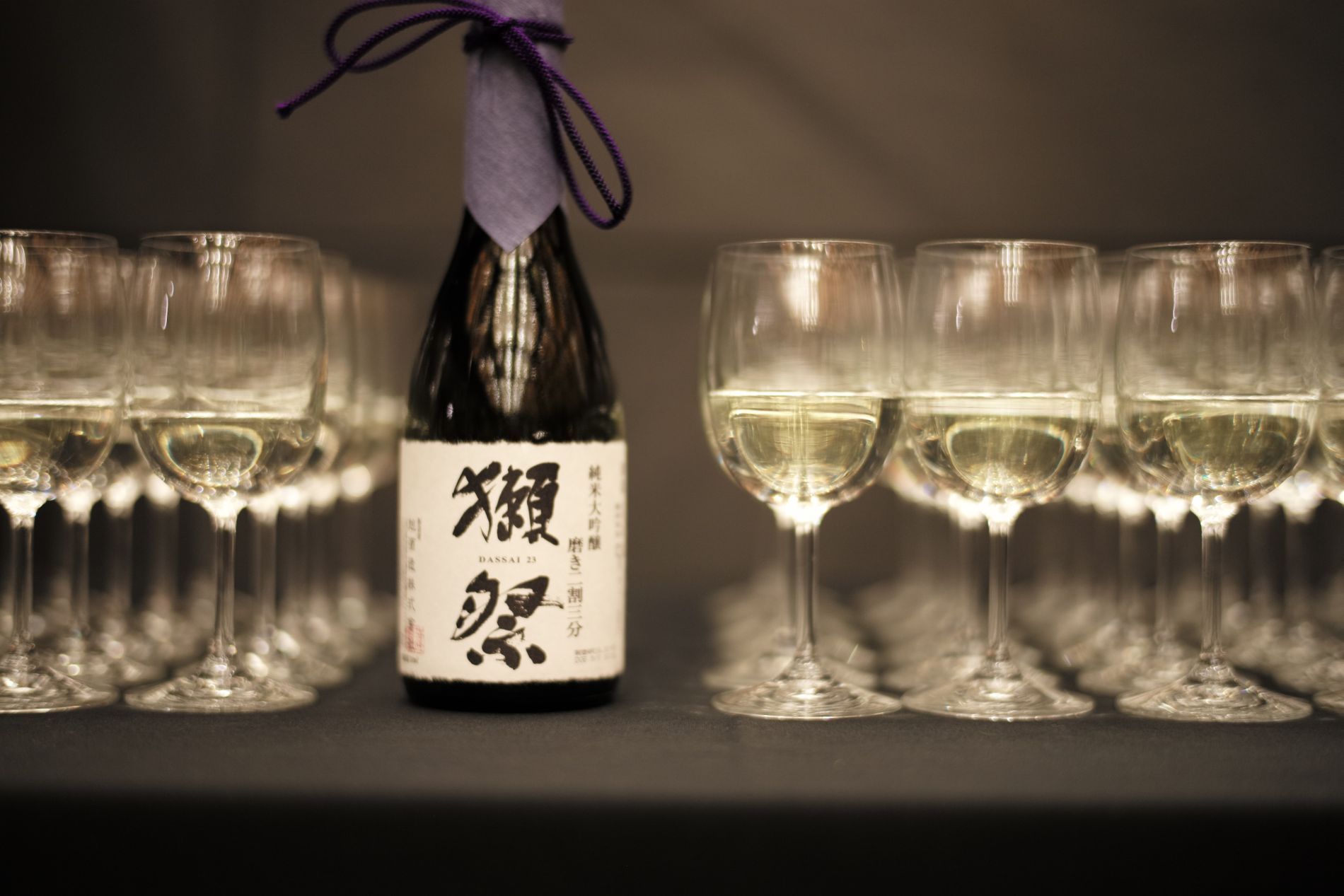 Last part
Part 1: INTERVIEW | How Hiroshi Sakurai Conquered Tokyo, Then the World, with Dassai Sake


In the first part of this article, we focused on the achievements of Hiroshi Sakurai, and his path in bringing the now globally known brand of Dassai from obscurity to success.
These days, the future looks bright for this sake company based in Iwakuni, Yamaguchi Prefecture.
Sakurai, who is now chairman, having handed over daily operations to his son Kazuhiro, envisions the company expanding its United States business, highlighting the prestigious rice Yamada Nishiki and bringing the Japanese method of sake making to the world.
Reiwa Academy hosted Hiroshi Sakurai as the guest of JAPAN Forward's editor in chief Yasuo Naito in an event on January 20, 2022, featuring his strategy and opinions on the pandemic, his path to success, and Dassai's next steps bringing sake to the United States.
Excerpts of the final part of the discussion follow.


After Tokyo and Europe, why did you choose to build a sake brewery in America?
Personally, I think the Anglo Saxons are the ones who pulled the world forward. Of course, when it comes to food, France and Italy are hugely important. But in America, there was the start of civilization, culture, and economic growth.
Inside the United States these days, the West Coast is a huge center for technology, but the real center is still the East Coast. Therefore, we decided to make a sake brewery there [along the East Coast] under the brand name Dassai Blue, and enter the US market.


Dassai is relatively known in the US. How do you explain the success?
If I have to be honest, we are also not entirely sure.
All we did was to do our job properly, and try to sell in the US. People in the alcoholic beverages sector might disagree, but I think that others were not trying hard enough.
We had entered the Tokyo market with the will to survive. We were also determined to also expand our sales in the United States. However, we had no big overarching strategy.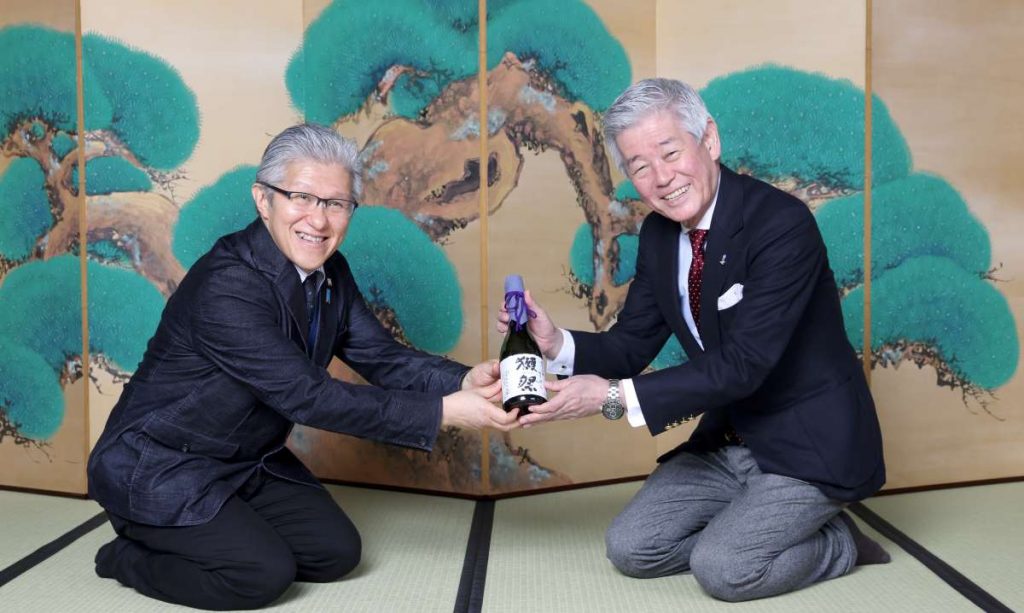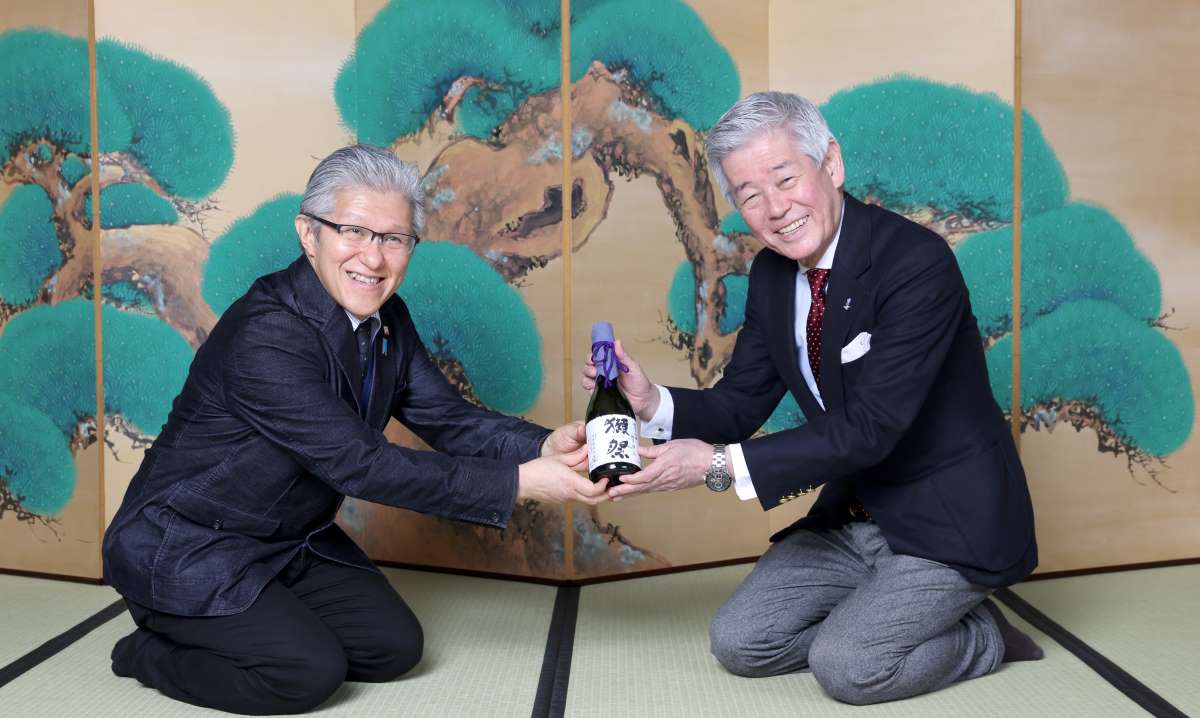 How long did it take to break into the US market?
At the beginning there were things that were tricky, maybe because we went to the United States after sales were starting to increase in Japan.
We had meetings where our clients said that because we were becoming a bigger name in Japan, if they didn't sell our sake, then it would be a loss for them.
At any rate, we could only store about one twentieth of our capacity, and our first order was just one or two pallets. But, even at that, it seemed like an incredible amount. I was amazed that we could sell so much in America.


How are sales in the US now?
If you manage to get a hold of a container [to ship the product], sales rise at a steady rate. Therefore, even though it might be costly, even if it costs double, we are trying to hire [shipping] containers, because sales are strong.


Is it just sheer willpower which makes a difference then?
At the heart of the issue is that we need to increase the price of sake. If we export to the US with Japanese prices, it will be a loss for many.
The prices need to follow the rise of the costs of living, otherwise the producer will be suffocated.

I understand that you are trying different ways to raise the price of sake, such as the cultivation of Yamada Nishiki rice. Could you please talk more about that?
On January 15, we ran a contest for farmers all over the country (Japan) to produce the best possible Yamada Nishiki. The ones who win get a financial prize in exchange for some of the rice.
We bought 60 units of rice from the winner, for ¥500,000 JPY per unit ($4,330 USD). That means in total ¥30 million JPY ($260,382 USD). The MC at the event joked that with that you could buy a Ferrari.
The motivation behind this project is that, these days, there is not a lot of hope in Japan's agricultural sector. Everyone is hard-working, but that isn't enough. You need to make it fun, to do something more.
By holding this contest once a year, you can imagine that if a farmer wins a prize of ¥30 million JPY, then other farmers will put some real effort into their work as well. The idea was to push everyone to think like that.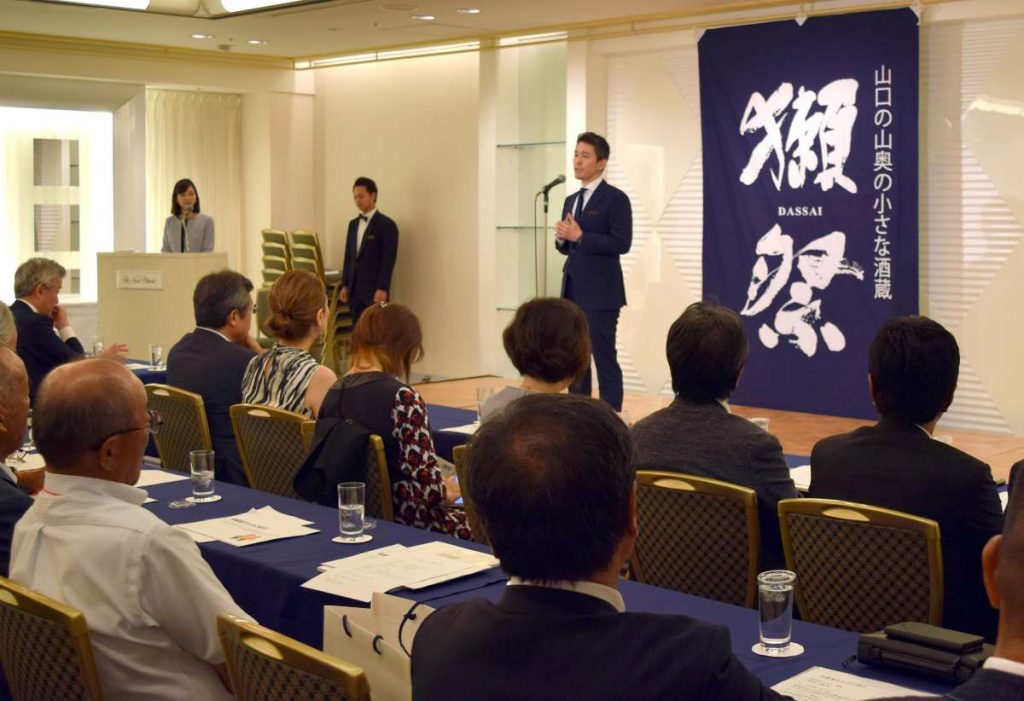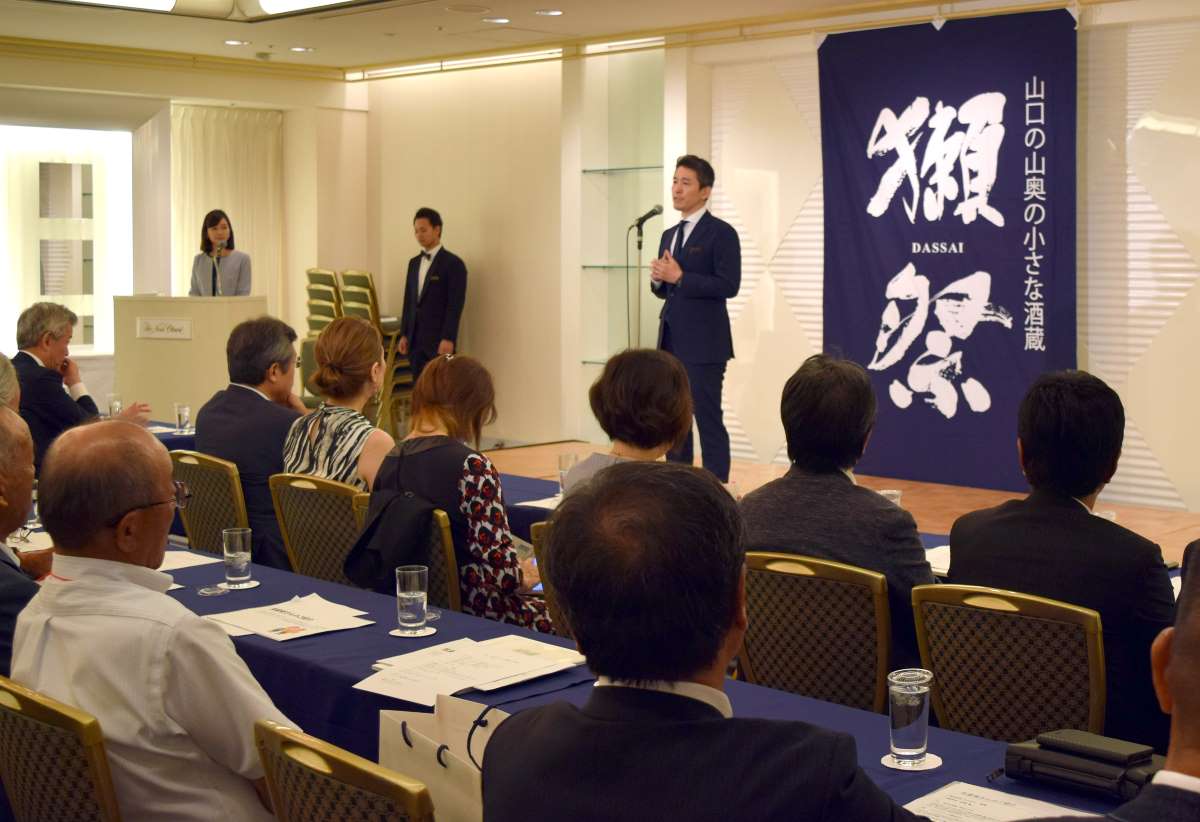 Do you think initiatives like these can lead to an increase in the price of sake?
Yes, because, after all, one can't do this alone, and otherwise the situation is that the current price doesn't reflect the real cost.
Recently, I gave five bottles to Sotheby's Auction House in Hong Kong, they were part of a limited collection of 23 bottles. They went for ¥843,750 JPY per bottle (approximately $7,323 USD), bought from people in China, Taiwan, Hong Kong, and Japan.
Unlike wine, up to now sake couldn't access the high end of the market. But with this auction, it was like a new world was opened to us.
Out of the remaining 18 bottles, we sold most of them within a year in London, Dubai and Las Vegas, there are now only three left in Japan, which we promised to some of our clients.


Why produce the rice in the United States, instead of just importing it from Japan?
First, it's cost-effective. But also, sake still hasn't properly arrived in the United States. Most people don't know about it, and those who do, like Japanese Americans, don't drink it regularly.
One can't enter the market on the low end, so we need to enter on the high end.
If we want to enter the high-end market, we need to be there physically, try different products, release them and see the reaction.
Due to COVID-19, we had a delay of about two years. There is also an official approval process, so we think we can aim to release our first sake in the US by the end of this year (2022), early 2023.


How do you plan to source the rice?
We plan to bring some rice from Japan, and use some which has been grown in the US. Recently they have started producing it in Arkansas and California.


Is the taste different?
My understanding is that Yamada Nishiki was brought to the US approximately 20 years ago, and has been grown there since then. I brought some back and had it tested genetically. It's definitely Yamada Nishiki, but something in the exterior is different.
One could bring the plants and start growing from scratch, but you need the approval of the government, and since Yamada Nishiki already exists [in the US], it's not an easy feat.
It might take several years before we bring back the original shape of Yamada Nishiki.


It sounds like another story in the making…
The book of failures is set to get thicker! I always say this, we have many ratios we use, but the only time we use the ratio 2:1, is when we compare the failures versus the successes.


What is your dream?
There is just one, actually. In order to make sake, it takes a lot of time and manual work (tema, 手間).
Yet, with the development of technology, the question until now has been to what extent can we decrease human labor?
The work of humans was seen as useless.
But you can't make good sake unless you have manual labor. It's very important. I want to bring this idea abroad.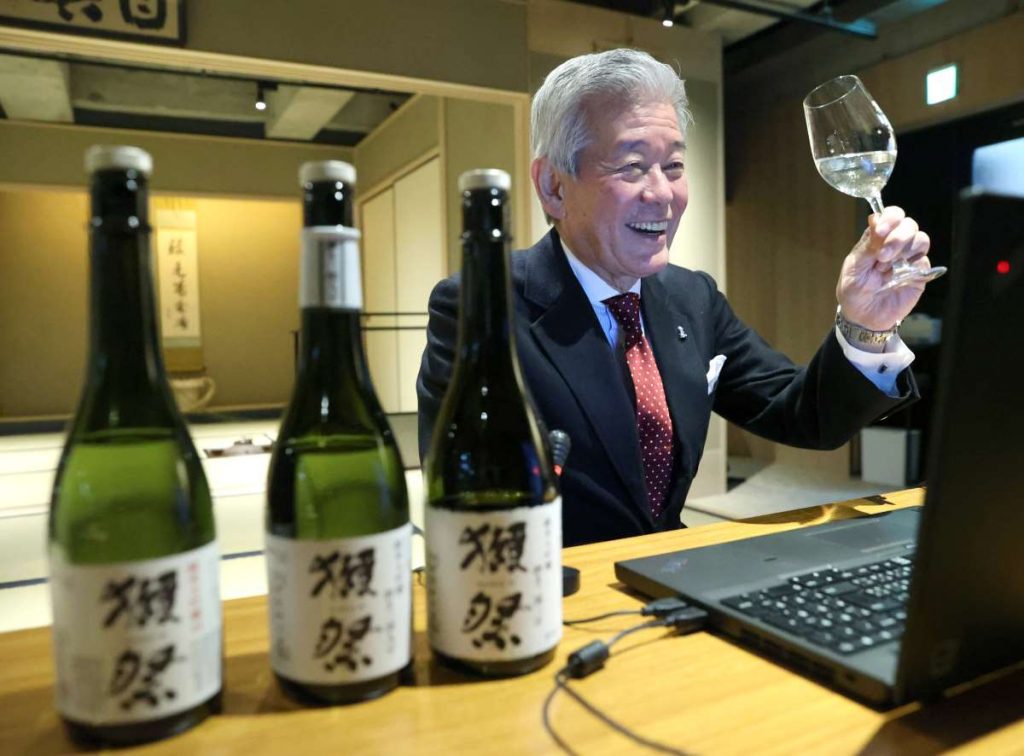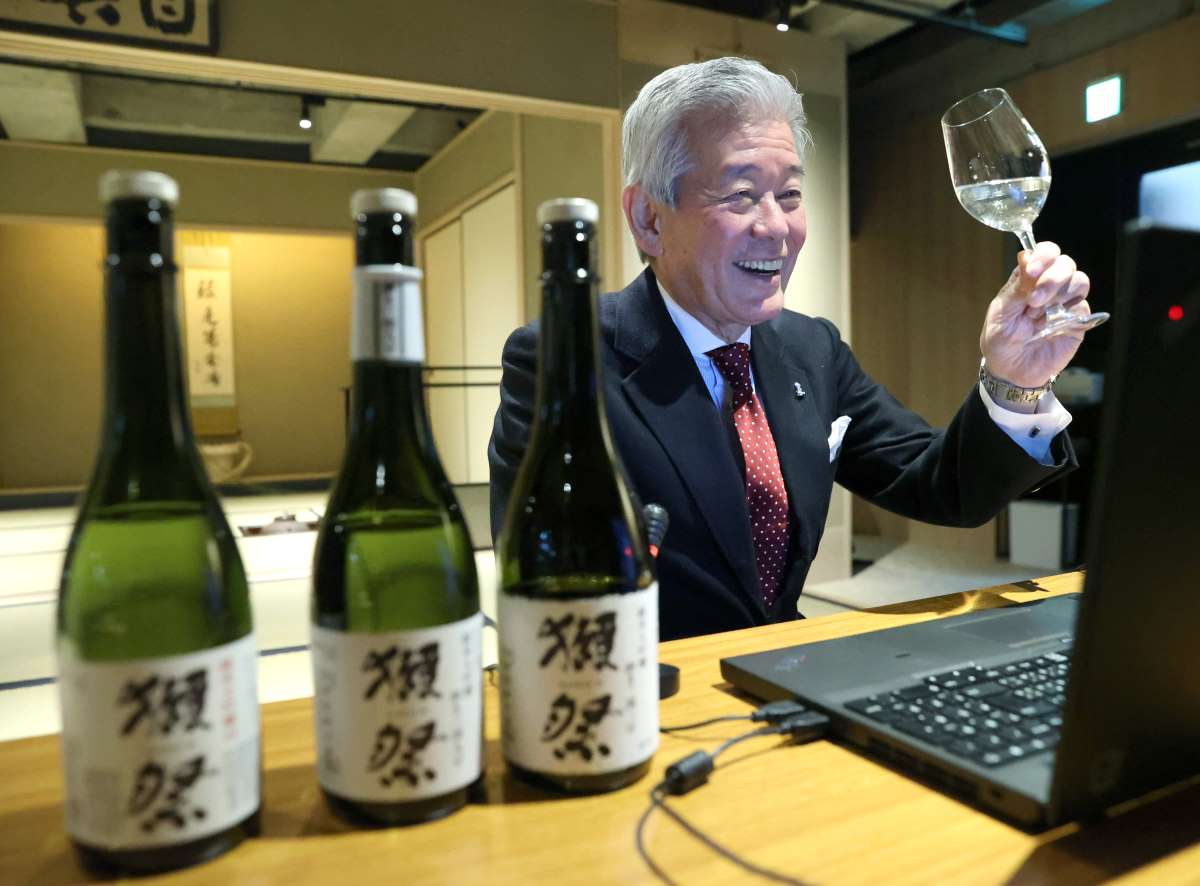 As it happens, you were also awarded the EY Entrepreneur of the Year Japan in 2021. Could you tell us about that?
It's a prize in Monaco that recognizes entrepreneurs around the world, because starting new things is hugely important. Therefore the idea is to recognize them and have them connect with each other.
I think that we can't compete with past achievements, but using manual labor is the Japanese way, it's a cultural thing and I think we need to appeal more to that.


In Japan, chilled sake was not the common way to consume it. Recently, chilled sake has become the norm. Do you see a return to warmed sake?
Sake is good both chilled and warm. Hot sake is good, and in fact we drink our sake heated up at about 50 degrees Celsius.
However, historically speaking, hot sake is quite recent. Chilled sake was the norm, and then warm sake became a custom from about the Edo period (1603-1867).
Now, there are those who drink it warm, there are those who drink it at room temperature, and there are those who drink it chilled, I think it's fine to have a variety.
From what I have seen, foreigners don't often like warm sake. Chilled sake is a lot easier to approach. But perhaps, if sake becomes a fad, there might be a future when warm sake also becomes popular.


What is your approach when delivering sake abroad?
I have always thought that because there are those who are drinking sake for the first time, you need to make it good. Japanese have a switch, they are used to the taste, and can tell what is good and what isn't.
For those who have never tried it, if they don't think that it tastes good, then the conversation ends there.
In other words, the victory lies in the flavor: the aromas, the balance when you drink it.


One often talks of pairing, is that something you think about?
We focus on making good sake, and then if our customers think of good pairings we are happy. In general, I think customers will find that they will be in the mood to try sake when they go to eat Japanese food or sushi.
What I have been told from sommeliers abroad is that Japanese sake goes well with vegetables, something which is quite difficult for wine, cheese, and boiled eggs.


RELATED:
Interview by Yasuo Naito
Text by Arielle Busetto
(Click here to read the article in Japanese.)