Japan and Vietnam: An Emerging Partnership in a Contested Region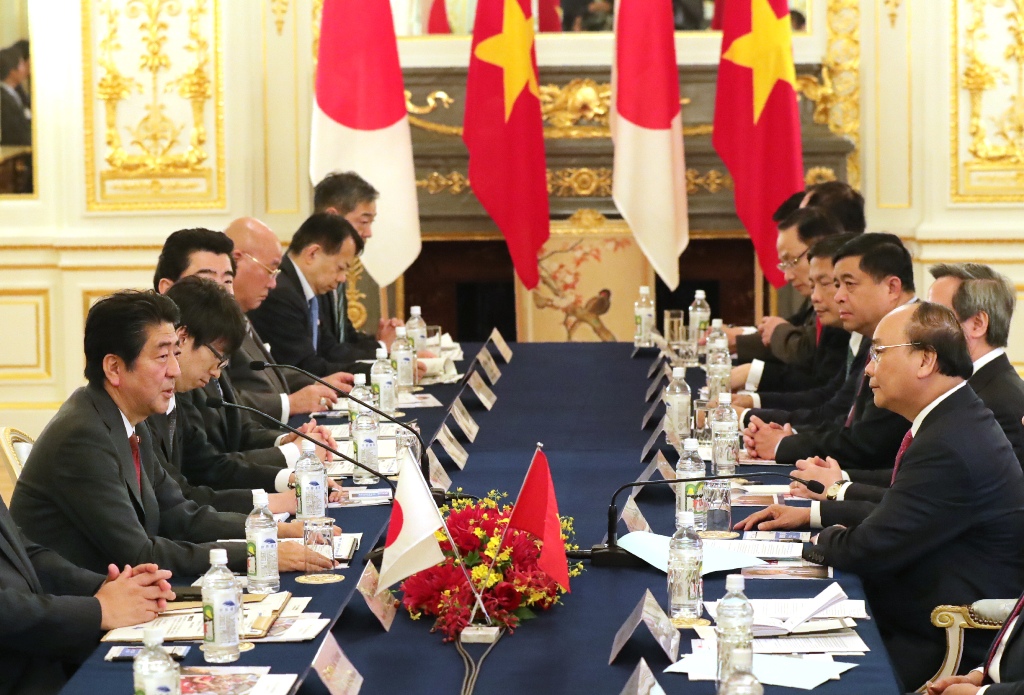 While traveling across northern Vietnam I kept seeing a particular store called Japanese Shop that primarily sold imported goods. Curious, I asked my friend, who then was guiding me through Hai Phong. He told me, "Japanese products are really popular in Vietnam right now."
However, it's not merely Japanese products, but Japan itself that is increasingly popular in this Southeast Asian country. Indeed, the luxury Osaka-based retailer, Takashimaya, opened a store in Ho Chi Minh City (Saigon) back in 2016, while 7-Eleven and AEON recently began their own forays into what many consider a largely untapped key market.
Vietnam has an expanding middle class and one of the fastest-growing economies with a gross domestic product just 11 years behind China's. It has a young population—about 56 million people, or almost 60% of the country, is under 35—making it an alluring market for Japanese overseas investment.
This fact has not escaped Japan, whose investment has grown steadily over recent years. In 2017, Japan was Vietnam's biggest investor with about US$9.11 billion, meaning 25.4% of its total foreign direct investment (FDI) came from Tokyo.
Much of this FDI has been directed towards infrastructure development. For example, I was able to cross the Cau Binh—a 1,280 meter (4,200 foot), cable-stayed bridge connecting Hai Phong City with the Thuy Nguyen district—constructed between 2002 and 2005 with 7,426 million yen.
Bilateral trade also exceeded US$33.4 billion—roughly doubling the $16.8 billion reported in 2010, and making Japan one of Vietnam's largest trade partners in 2017. The two countries reportedly aim to boost trade further to $60 billion by 2020.
Likewise, Japan and Vietnam are signatories to the Comprehensive and Progressive Agreement for Trans-Pacific Partnership, a slightly modified successor of the Trans-Pacific Partnership that United States President Donald Trump rejected. It reduces tariffs in a market spanning almost 500 million people. This agreement alone could enhance cooperation in some new areas, including agriculture, tourism, education, human resources, and transportation.
Perhaps worth noting here is the flood of Vietnamese students into Japan. They now account for nearly a quarter of international students, behind only Chinese, who make up 41% of the foreign student population.
Many of these developments have occurred in part—although not exclusively—because of a more assertive China.
Tensions between Vietnam and China are certainly not anything new. Although lasting only three weeks, the Sino-Vietnamese War in 1979 devastated northern Vietnam and even threatened the capitol, Hanoi. The result was a series of border clashes that continued for decades.
More recently, tensions have centered on the Spratly Islands—a group of islands, alongside maritime features like reefs, in the South China Sea. The disputed islands hold a strategic importance, sitting astride international maritime trade routes.
Further, there appears to be sizable oil and natural gas reserves in the area. An older Chinese estimate placed the potential at as high as 213 billion barrels of oil, while a more conservative 1993/1994 US Geological Survey report estimated a total of around 28 billion barrels in the offshore basin of the South China Sea. A more recent USGS study, in 2010, placed the total near 750 million barrels of oil, which still classifies as a major oil field, albeit offshore.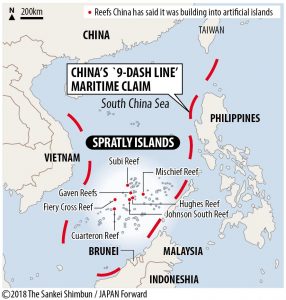 Unsurprisingly, Beijing has asserted territorial claims through land reclamation and artificial island building—including the construction of an airfield on Fiery Cross Reef in 2015—often calling the area "a second Persian Gulf." However, these islands are disputed, with six countries making some kind of claim.
Tensions have occasionally boiled over, with a naval battle in 1988 between Chinese and Vietnamese forces killing 64 sailors. In 2011, a Chinese vessel reportedly attacked a Vietnamese oil exploration ship near the Spratly Islands. This resulted in anti-China protests, which occurred again following China's deployment of an oil rig in the disputed waters during mid-2014. The protests quickly morphed into a riot after it was reported that Chinese vessels had skirmished with a Vietnamese flotilla. Vietnamese crowds hunted Chinese workers, set buildings ablaze, and fought police. Twenty-one people were killed, nearly 100 injured, and 1,000 arrested.
While anti-China sentiment is quite commonplace in Vietnam, it remains a sensitive issue for the ruling Communist Party. This is because, despite their disagreements, Beijing remains the country's largest trading partner and Vietnam is well-situated for ongoing Chinese investment. Tourism continues seemingly unabated, with a reported 63.5% increase among mainland Chinese visitors in the first quarter of 2017.
Nonetheless, Hanoi has continued a policy of diversifying its international connections, as evidenced by its growing relationship with Japan.
A meeting between Japanese Defense Minister Itsunori Onodera and his Vietnamese counterpart, Ngo Xuan Lich, in late 2017 indicated an emerging strategic partnership. Onodera publicly disclosed that Vietnam appeared willing to revise a once-a-year restriction for Japanese ships entering Cam Ranh Bay in recognition of the two countries' special relationship. This was particularly significant because ships from a foreign country are technically not allowed multiple port calls in this facility. Possible sharing of defense equipment and industrial collaboration were also discussed, including assistance from the Japanese Self-Defense Forces in medical capacity-building.
Japan admittedly has provided Vietnam with maritime security assistance in previous years, even supplying patrol boats. However, when viewed in the context of Tokyo's initiative to advance security cooperation among the Association of Southeast Asian Nations—known as the Vientiane Vision—it marks a comprehensive policy that Prime Minister Shinzo Abe reinforced during his visit to 10 ASEAN countries. Aside from reaffirming Japan's longstanding relationship with Southeast Asia, this charm offensive has seen a deepening of defense ties. Although still a work in progress, the Vientiane Vision aims to create a comprehensive direction for ASEAN-Japan defense cooperation, including maritime security.
Japan's relationship with ASEAN, and specifically Vietnam, has clear strategic importance. However, it cannot be defined solely in the context of China or the South China Sea territorial disputes. The changing Asian security landscape has also unquestionably influenced its development in recent years.
New arrangements are emerging in the region and it seems likely that a closer relationship between Japan and Vietnam is materializing—despite, or perhaps, in spite of Beijing's influence.
Patrick Kelly is a reporter with JAPAN Forward. He currently is living in Tokyo, Japan.