Japan Calls State of Emergency for Tokyo and Surrounding Three Prefectures
This comes as Tokyo reached nearly 2,500 new infections in one day for the first time on January 7, an increase of nearly 1,000 cases compared to the previous day. Nationwide, new infections reached the record of 7,000.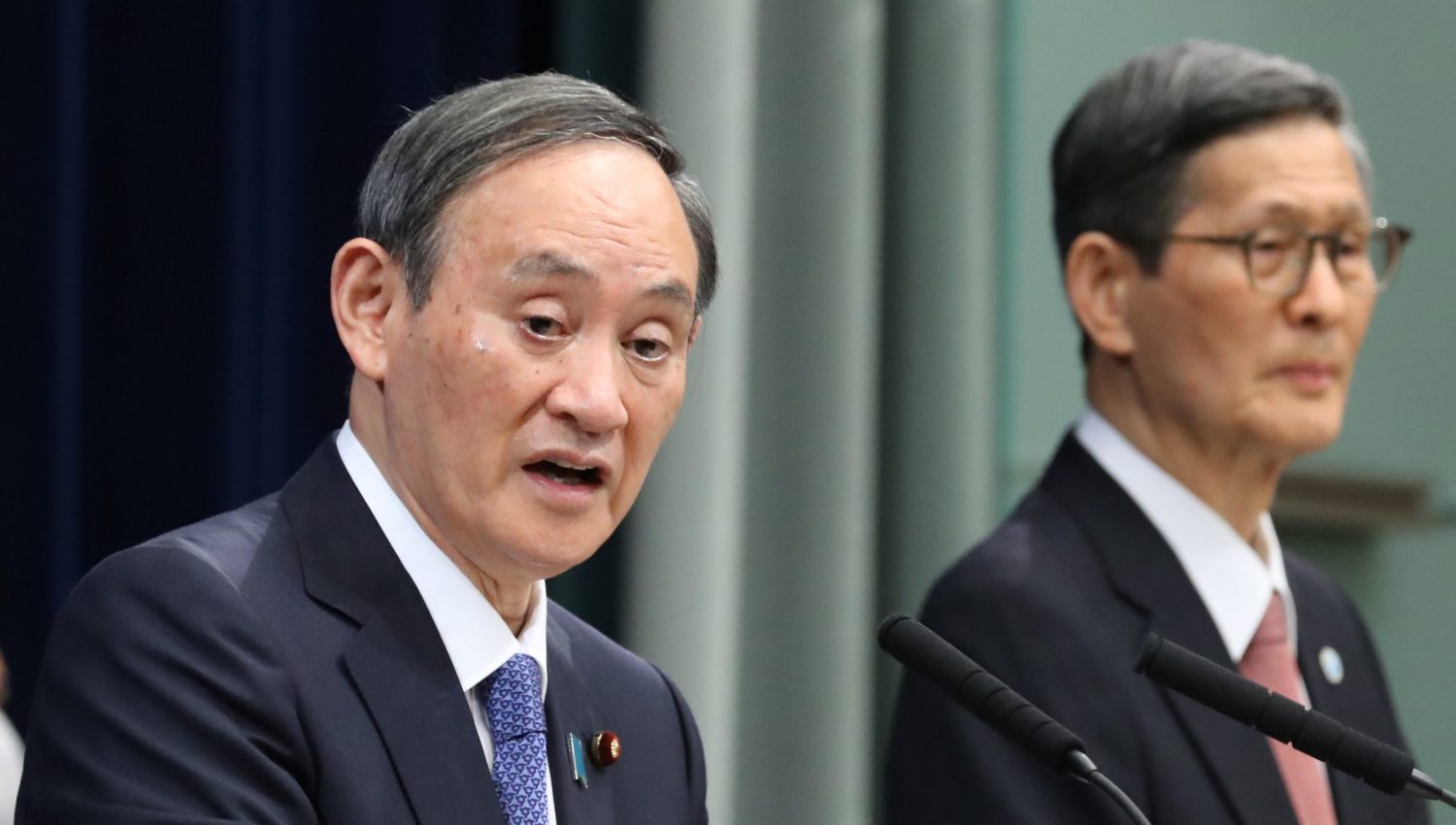 ~~
Prime Minister Yoshihide Suga in a cabinet meeting called a State of Emergency for the Tokyo Metropolitan Area and the three neighboring prefectures of Saitama, Chiba and Kanagawa, at about 5:30 P.M. on January 7. The new measures will be in effect from January 8 until February 7.
This comes as Tokyo reached nearly 2,500 new infections in one day for the first time on January 7, an increase of nearly 1,000 cases compared to the previous day. Nationwide, new infections reached the record of 7,000.
Additional details of the emergency measures were provided as the prime minister appealed to the nation for cooperation in a 6:00 P.M. press conference following the declaration.


Why Now?
Calling a state of emergency gives both national and local governments the power to strongly pressure businesses to voluntarily reduce working hours, and to publish names of establishments that don't comply. Japan doesn't have the legal framework to impose stronger measures such as lockdowns or financial sanctions in case of lack of cooperation.
On the reasons for calling the state of emergency now, PM Suga explained that the situation called for a strong message in order to secure public cooperation in bringing infections under control.
"Over the end of year and the New Year, infections have stayed high, and the conditions in medical facilities are very severe. In order to address this, we have to decrease the spread of infection, which necessitates calling the state of emergency."
In another press conference at the beginning of the year, Suga had pointed out that although other areas like Osaka and Hokkaido have seen a slowing pace in the spread of infections, the greater Tokyo area is showing no such improvement.


Four Areas of Action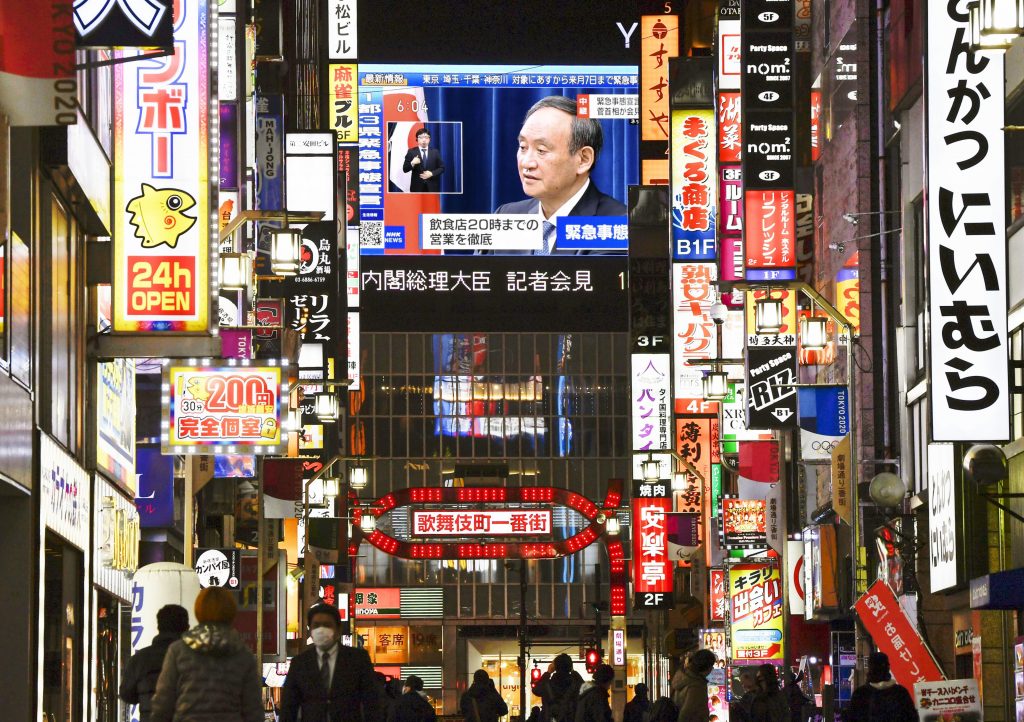 Yoshihide Suga delineated four main areas of action impacting citizens:
1. Shortening operating hours for restaurants and bars to 8 P.M.;
2. Encouraging the workforce to telework up to 70 percent of the time;
3. Avoiding unnecessary outings after 8 P.M.;
4. Limiting entry to sport events and concerts.
The sector worst hit by the new measures of the state of emergency will be the restaurants and bars. This is because, especially in the capital, eating and drinking establishments are considered a major reason for the rise in infections among people in their 20s to 50s. Emphasizing this, Mr. Suga said "experts agree that the common thread behind the majority of cases where the route of infection is unknown is eating out."
Reinforcing this point, the head of the government COVID-19 subcommittee Professor Shigeru Omi explained why it was important to focus on eating out:
Looking at the data elsewhere, in at least 30 or 40 percent of the cases, we have clearly traced that eating out is the main factor.
The call for shorted operating hours for eating establishments was crafted specifically to address this issue. Take out and deliveries will still be allowed after 8 PM. Alcoholic beverage service will be allowed from 11 A.M. until 7 P.M.
For establishments cooperating with the measures, the government will handout compensation up to a monthly sum of ¥1,800,000 JPY (approximately $17,382 USD) per business. For those not cooperating, local governments will have license to publish a list of the businesses by name in a bid to bring public pressure for their cooperation, as allowed under clause 45 of Japan's Law on Infectious Diseases Prevention.
From late November 2020 in the Tokyo area, restaurants and bars were asked to close at 10 P.M. However, there was widespread criticism from experts that the message wasn't getting across, especially to the younger generations.
In fact, PM Suga directed part of his message to younger generations:
I would like to say to young people, that more than half the new infections are people under 30. The symptoms in this age group are often light. But if young people get infected, this links to a larger spread of infection among everyone. I would like you to be considerate and keep your parents and grandparents in mind.
For most, the use of telework was encouraged. Concretely, companies were asked to decrease the number of people commuting to work by 70 percent by encouraging telework and staggered working hours. Everyone in the designated areas will also be asked to avoid all unnecessary outings after 8 P.M.
In order to discourage residents from going out after 8 P.M. businesses other than restaurants are also expected to be encouraged to close by that hour, including sports clubs, department stores, and museums.
Events such as concerts and sport matches will also be affected. Events will only be allowed with less than 5,000 people and/or at half capacity, and with limited food consumption.
The previously much criticized GoTo Campaign will continue to be suspended until further notice, in accordance with the State of Emergency.


What Ends the State of Emergency?
The condition for exiting the state of emergency is that the areas covered have improved enough to come down from the fourth and highest level of alert. This suggests not only the overall number of infections matter, but also whether hospitals remain more than 50 percent full.
On the question of whether stronger measures such as sanctions could be applied in cases of non-compliance, Mr. Suga announced in the press conference that he was planning to discuss the topic with experts and that the government was considering presenting a proposed amendment to Japan's Law on Infectious Diseases Prevention at the National Diet as soon as possible.
In general, Mr. Suga appealed for the collaboration of everyone in the country, as he said:
It has almost been one year that we have been fighting against COVID-19, and throughout citizens have cooperated with government measures. I would like to thank you for this. This time, the wave of infections has become larger than we imagined. But I think we can overcome this, and for that I need to ask everyone to limit their lives.


Financial Support for Struggling Hospitals and the Unemployed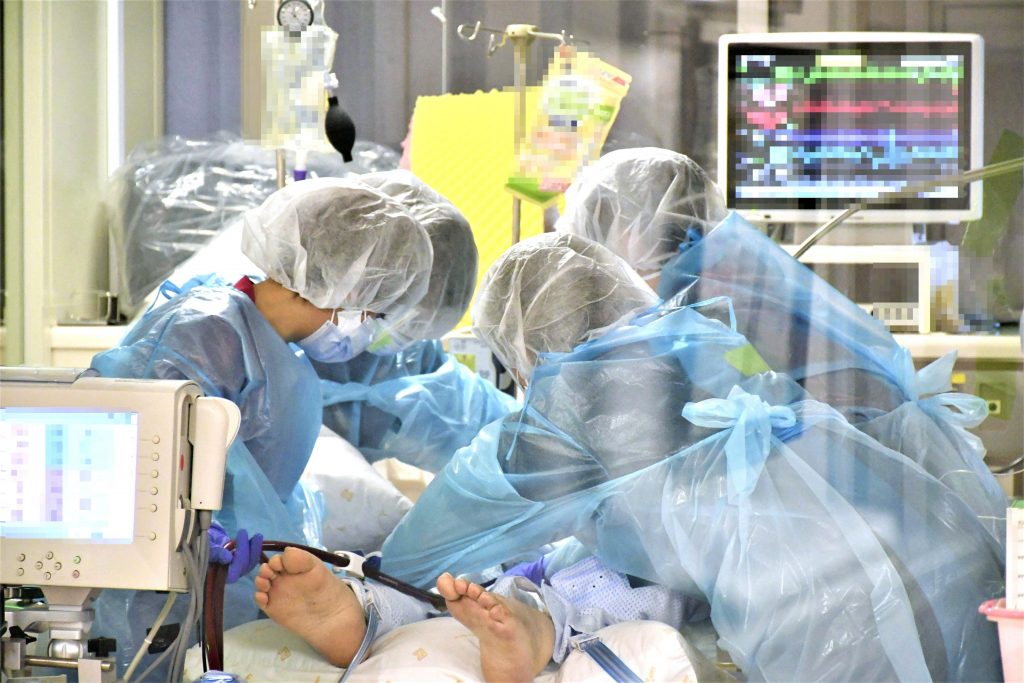 PM Suga iterated the government's responsibility to protect the economy.
Since last year (2020), the unemployment rate in Japan during COVID-19 has been the lowest at 2.9%, which is the lowest level among major countries. It is our political responsibility to protect employment. We will continue to prioritize the protection of employment and the continuation of our businesses.
To that end, Mr. Suga repeated his will to continue paying unemployment for those who qualify, up to ¥15,000 JPY ($145 USD) per day. Those eligible include part time workers and freelancers.
In addition, the prime minister expressed his determination to increase support of hospitals in order to increase the bed capacity for COVID-19 patients. To this end, the government will increase incentives by an extra ¥4.5 million JPY ($43,452 USD) per COVID-19 patient, and ¥20 million JPY ($193,095 USD) for every bed in intensive care.
In addition Mr. Suga pledged the assistance of the Self Defense Force, should hospitals be struggling: "We have a complete system in place so that the medical staff of the Self Defense Force can be dispatched at any moment upon request."


What's Different This Time Compared to April 2020?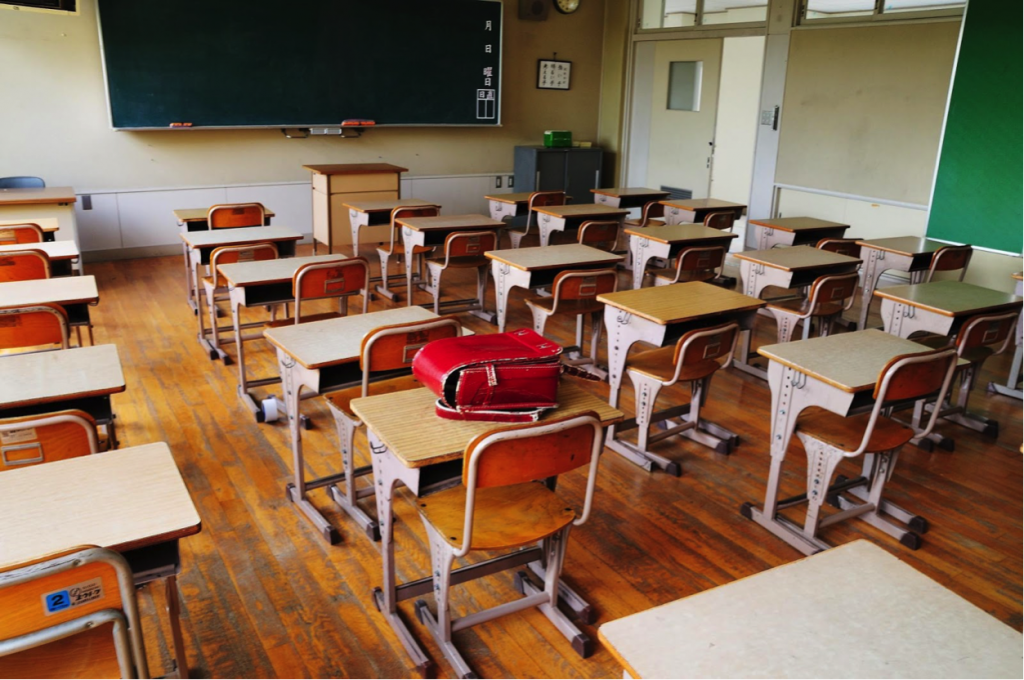 Schools were closed in the April 2020 state of emergency. This time, students will be less affected by the new measures compared to other age groups. Elementary, middle and high schools can stay open, and educational institutions are asked simply to decrease high risk extracurricular activities. Universities are encouraged (but not mandated) to make use of online classes, but university entrance exams are scheduled as normal.
When a state of emergency was called was in the first week of April 2020, as now, Tokyo was among the first areas subjected to extra measures, after which the measures were extended nationwide on April 16. The emergency measures stayed in place for nearly two months, until the end of May.
This time the state of emergency is scheduled to last only be for a month, for the time being.
Regarding the shorter anticipated length of the emergency measures, Professor Omi explained that, based on the previous experience, it could be possible to decrease the number of cases in one month:
Perhaps it seems difficult to get to stage 3 in one month. However, if all the above are satisfied, if everyone works hard, I think it is possible to reach stage 3 in one month.
The areas covered are also different. Last year, other major metropolitan areas such as Osaka were also included in the initial state of emergency, after which the measures were extended to the whole country.
Finally, although closing by 8 P.M. and refraining from going out will affect various businesses, most typical businesses will be allowed to operate before that time. In April 2020 cinemas and museums, among others, were all closed, and most large events were cancelled or postponed.


Author: Arielle Busetto