Japan Ends World Lacrosse Men's Championship on a Positive Note
With a fifth-place finish, the Japan lacrosse squad secured a spot in Pool A for the 2027 tournament, giving it a berth in the playoff stage.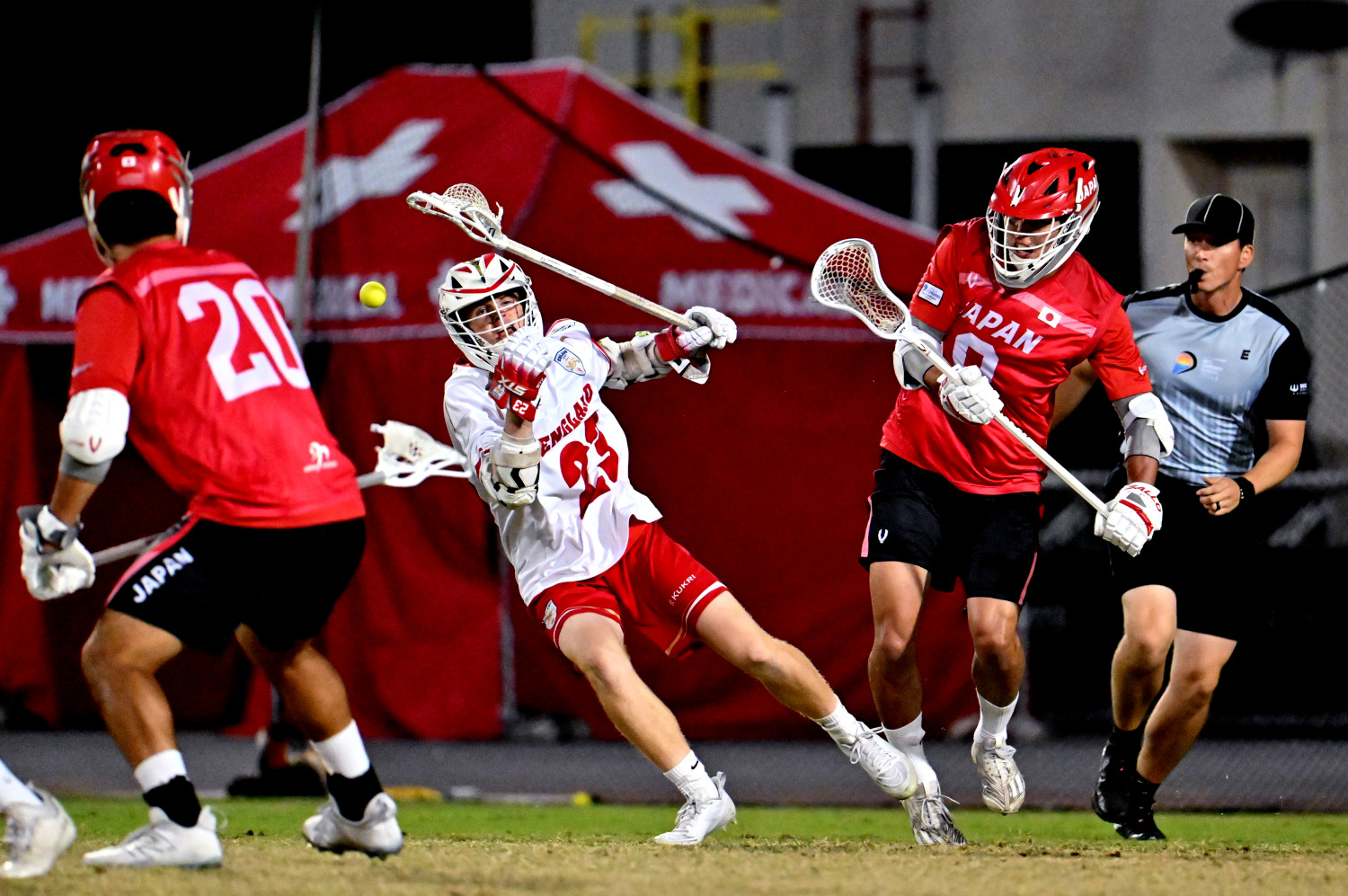 SAN DIEGO ― Japan didn't achieve its goal of earning a top-four finish in the 2023 World Lacrosse Men's Championship. But it came as close as possible to doing so in the 30-team tournament.
Coach Naofumi Suzuki's team finished the tournament on a positive note, defeating England 8-4 in the fifth-place game on Friday, June 30. It was a bounce-back victory for Japan after a 10-5 defeat to Haudenosaunee (formerly known as the Iroquois Nationals) in the quarterfinals on Wednesday, June 28.

Suzuki addressed the team after its final match of the tournament here, telling the players, "We could not reach fourth place this time. But I believe your great performances during the championship inspired many players in Japan."

The passionate ambassador for the sport also commented on the big picture that is tied to Japan's seven matches in California.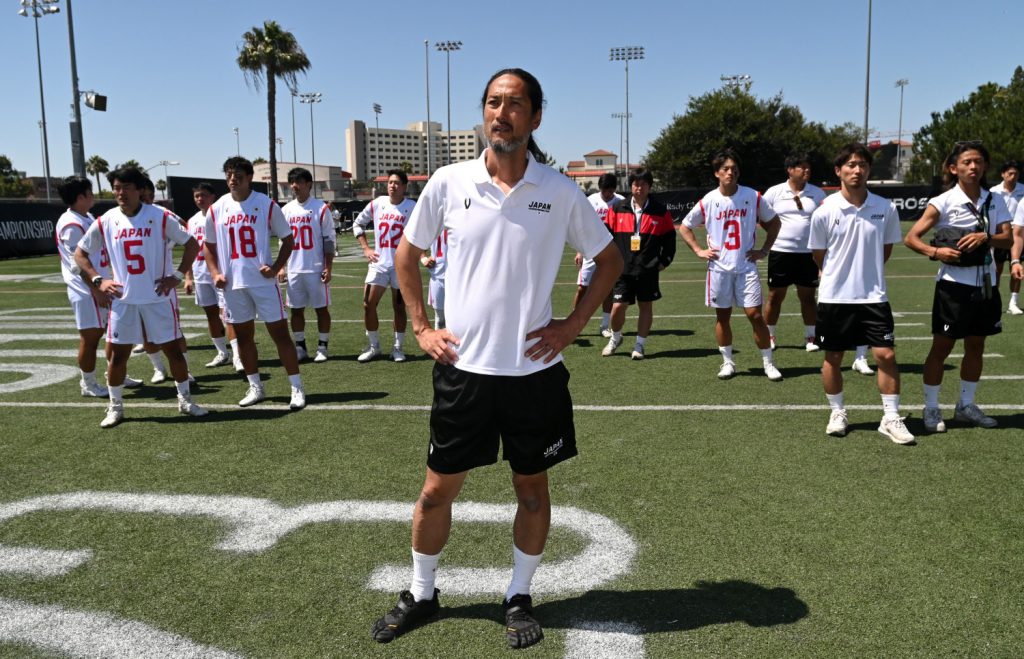 "That [overall performance] makes a good atmosphere for the progress of lacrosse in Japan," said Suzuki, a former University of Tokyo lacrosse player. The Japan mentor, who received a PhD at the University of Glasgow, is currently working as a professor of sociology at Tokyo's Hitotsubashi University.
At the 2010 World Lacrosse Men's Championship in Manchester, England, Japan finished fourth, its best-ever finish in the tournament. (All-time overall results are posted on the event's Wikipedia page.)


On Saturday, July 1, the final day of the 14th edition of the global tournament, the United States defeated Canada 10-7 to win the world title for the 11th time. In the third-place match, Haudenosaunee topped Australia 11-6.
Hakozaki Injured Late in Japan's Final Match
For Japan, its victory in the fifth-place match was marred by an injury to attacker Sota Hakozaki, who was injured late on a tackle by defender Andrew Baxter. When he was unable to get up, Hakozaki was taken to a San Diego hospital in an ambulance. According to published reports, Hakozaki was experiencing lower neck pain after the play.
Inside Lacrosse reporter Dan Kaplan described it as a "severely unsportsmanlike play" from the Team England player.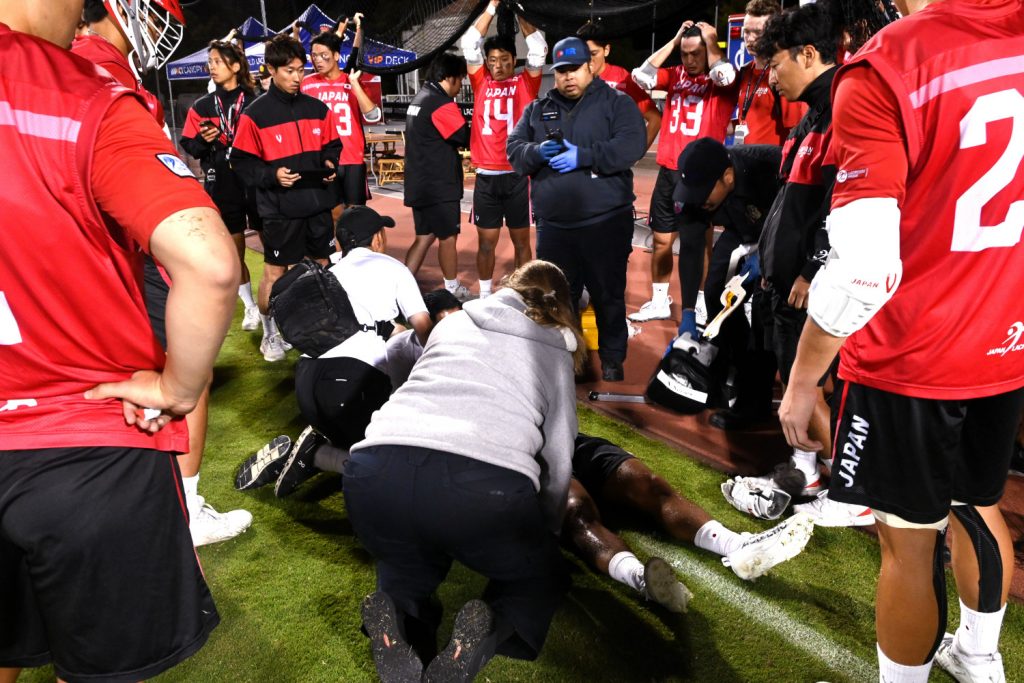 The England Lacrosse Association issued an apology.
"We are pleased to hear that he is well, and we have also contacted Japan Lacrosse directly to pass on our apologies and support to the player and team," the statement read. "Andrew Baxter is in contact with the player and the Japan team to send on his apologies personally. We would also like to pass on our congratulations to Japan on their victory.
"World Lacrosse has begun disciplinary procedures in relation to the events that took place, and we will cooperate fully with the process.
"Following the conclusion and outcome of World Lacrosse's investigation, England Lacrosse will then undertake our own disciplinary process."
More Details on Hakozaki
On Sunday, July 2, the Japan Lacrosse Association provided an update on Hakozaki, stating that after his hospital examination he was "found to be in good health."
"We would like to express our sincere appreciation to all the messages wishing for his safety and wellbeing," the statement read. "The final result of 5th place in this competition would not have been possible without Hakozaki's presence. We look forward to seeing more of his world-class performance, safe and well.
"Japan Lacrosse Association (JLA) is deeply concerned with the series of events that has occurred. To ensure a safe and secure environment for our players, we held a meeting today with World Lacrosse and the England Lacrosse Association (ELA) to discuss the point of views from both countries on the incident and our next actions.
"We would like to express our gratitude to World Lacrosse and ELA for their prompt response to Japan's call for action. And we accept the ELA's apology announced in response to this meeting as a sincere sentiment toward Hakozaki, the Japan National Team, and the entire Japanese lacrosse community."
The JLA added: "We hope that we can take hands in creating an environment where lacrosse players across the globe can feel comfortable and protected as they pursue their career."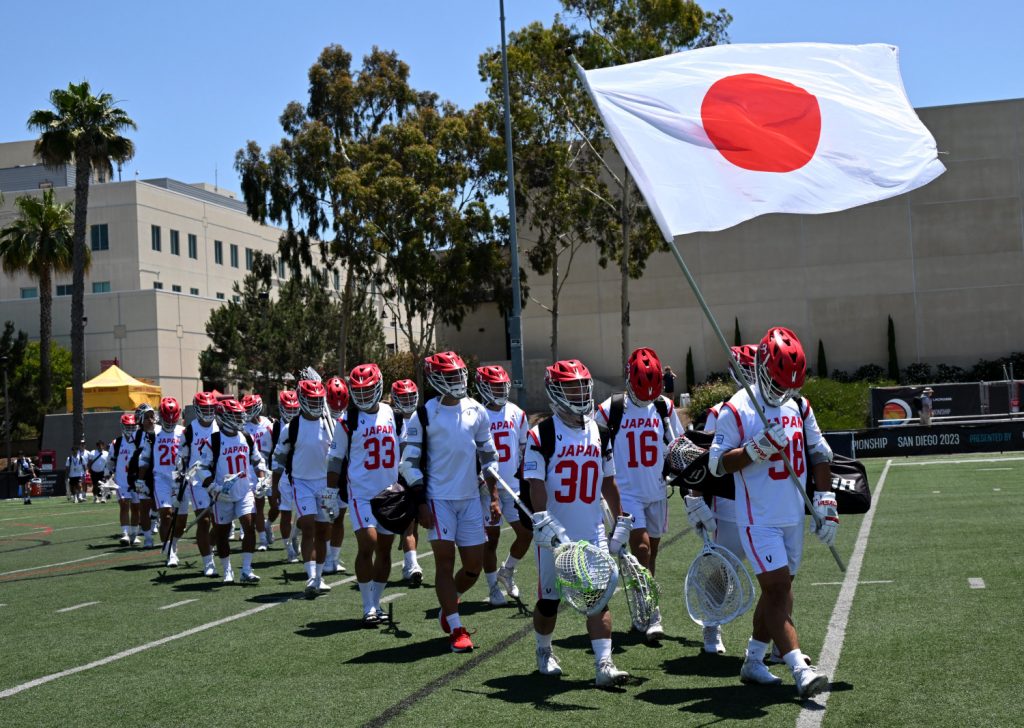 Impressive Start for Japan in Tourney
Competing in the global tournament for the eighth consecutive time, Japan outscored France, Uganda, Wales and Denmark 70-6 in its first four matches, which were held June 22-25.
Suzuki's squad prevailed 9-4 over Germany on June 27 to lock up a spot in the quarterfinals.
Then, in Japan's aforementioned 10-5 defeat to Haudenosaunee the next day, it trailed 7-2 at halftime.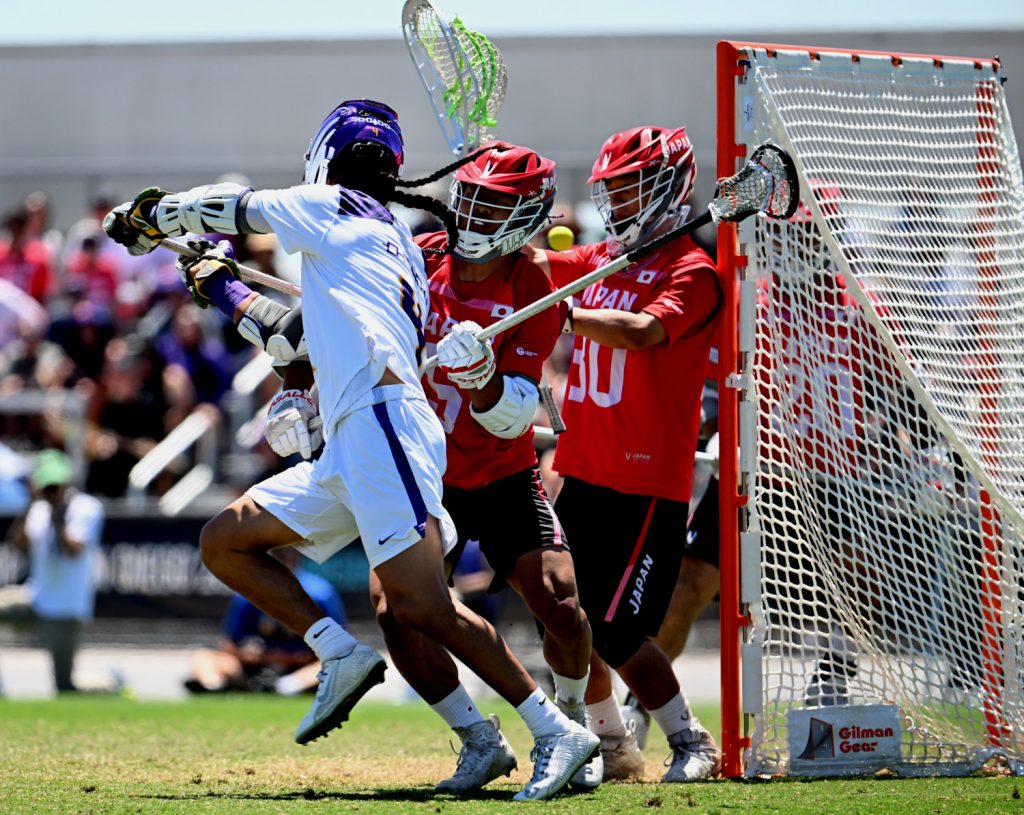 Haudenosaunee's quick moves and shots frustrated Team Japan.
Lars Tiffany, head coach of Haudenosaunee, said, "We were going to get more points, but Japan's goalkeeper (Shogo Oshima) saved our shots. We have to realize the growth of Japan."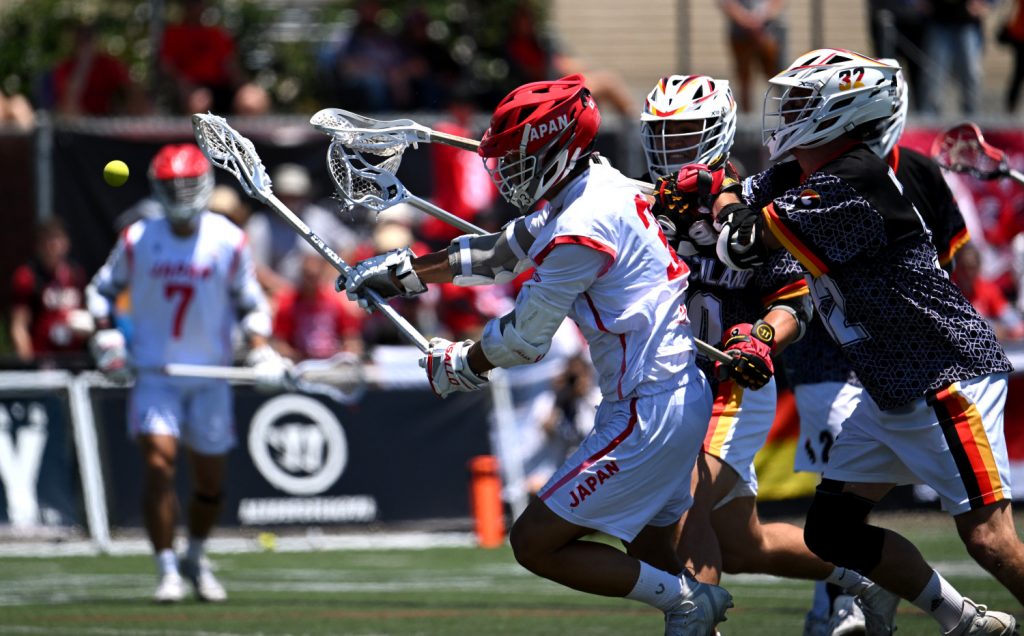 Japan's Top Performers in the Lacrosse Tournament
In seven tournament matches, Japan scored 92 goals and allowed 49.
Standout performers Shinya Tateishi and Hiroki Kanaya led Japan with 21 goals apiece. Tateishi was named to the tournament's All-World Team as one of three attackers. The others: Austin Staats (Haudenosaunee) and Jeff Teat (Canada).
Staats scored a tourney-best 30 goals, while Kanaya, Tateishi and Germany's Per-Anders Olters all had 21, placing second in that key offensive statistic.
In addition, Oshima and Blaze Riorden of the United States tied for second in save percentage (59.5%) among all lacrosse goalkeepers in the tournament. Latvia's Ryan Richters led all goalies with a 65.0 save percentage.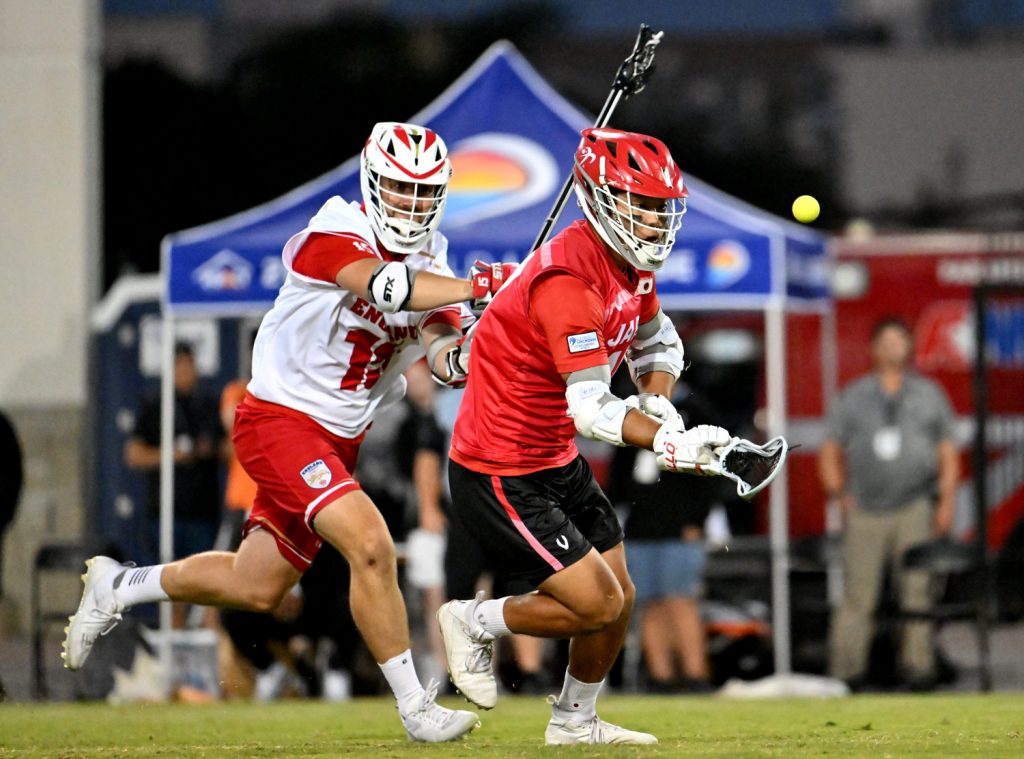 The Significance of Japan's Fifth-Place Finish
By beating England in the fifth-place match, Japan earned promotion to the Pool A bracket for the next World Lacrosse Men's Championship in 2027.

Only the top five teams are in Pool A. Which is significant because the Pool A teams are awarded the top five seeds for the playoff stage.
Similarly, the Japan women's lacrosse national team earned a fifth-place finish in the 2022 World Lacrosse Women's Championship, which was held in Towson, Maryland, to secure Pool A placement for the 2026 tourney.
A Look Ahead
The Japan Lacrosse Association is thinking about making a formal invitation to World Lacrosse for Japan to host the 2026 Women's World Championship or the 2027 Men's World Championship.
Previously, Japan hosted the Men's Under-19 Championship in 1996 and the Women's World Championship in 1997 in Tokyo's Edogawa Ward.
With the possibility of one of lacrosse's biggest global events returning to Japan within the next few years, we may watch and experience the thrills of the entertaining, fast-paced sport's top competition here once again.
RELATED:
(Read the article in Japanese.)
Author: Hidemitsu Kaito

Hidemitsu Kaito is a staff writer at JAPAN Forward. In addition to his other duties, he has been covering the sport of lacrosse internationally and in Japan since 1989.