Japan Expands Self-Defense Forces Assistance to Include South Asia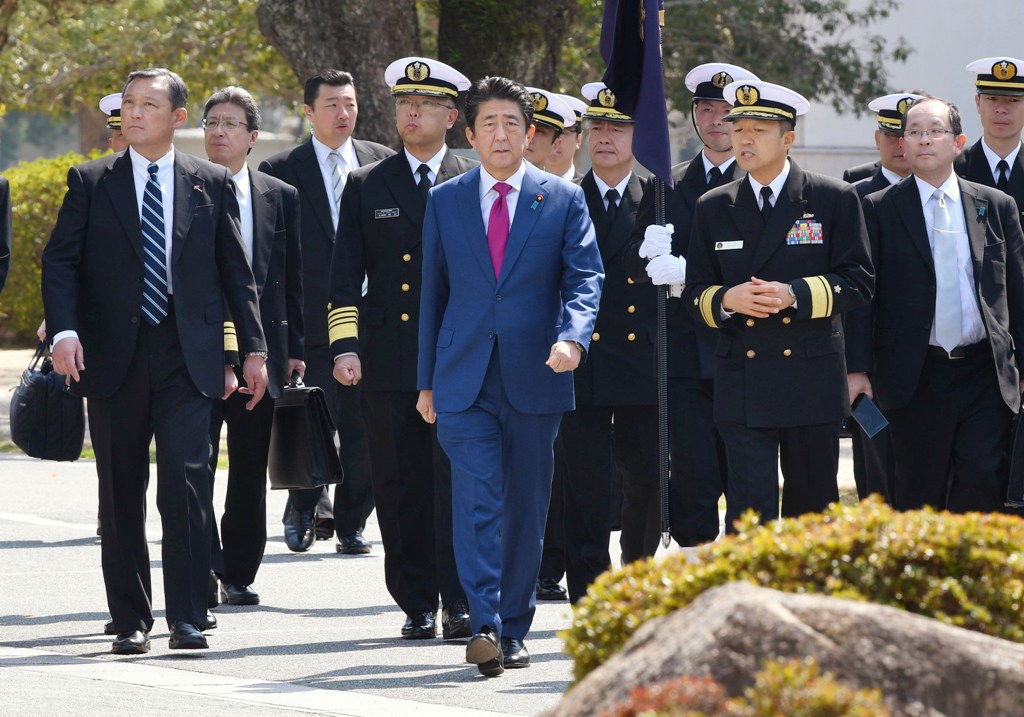 The Defense Ministry plans to expand the scope of the capacity-building assistance by Japan's Self-Defense Forces (JSDF) to other nations' militaries, to include South Asia, it was learned on March 24.
These programs, which have so far centered on the Southeast Asian region, are envisioned to serve as leverage to push forward the initiative for a free and open Indo-Pacific region, as advocated by Prime Minister Shinzo Abe, the sources said.
Assistance to Sri Lanka is anticipated in the first phase of the scheme. Japanese defense officials have begun consultations with their Sri Lankan counterparts regarding specific assistance measures, including maritime security, according to well-informed sources.
The Defense Ministry embarked on programs for capacity-building assistance in fiscal year 2012. So far, the programs have been implemented in 14 countries and one organization, mostly in Southeast and Central Asia. They have mainly been in the fields of disaster relief, humanitarian assistance, and facilities maintenance and development.
The JSDF can make effective use of the know-how it has accumulated in these fields based on its domestic and global experience with disaster relief and United Nations-sanctioned peacekeeping missions.
Disaster Relief Talks with Sri Lanka
Admiral Katsutoshi Kawano, Chief of Staff of the Joint Staff and the highest ranking officer of the JSDF, paid a two-day visit to Sri Lanka on March 8 and 9. Kawano met with his Sri Lankan counterpart, Chief of Staff Admiral Ravindra Wijegunaratne, and others. They reached an agreement on a plan to beef up bilateral defense cooperation, focusing on Japan's capacity-building assistance to Sri Lanka.
In Sri Lanka, more than 30,000 lives were lost in 2004 in the gigantic Indian Ocean tsunami known as the Asian Tsunami. In May 2017, the country suffered heavy downpours, causing more than 200 deaths and leaving behind another 630,000 disaster victims. As the numbers show, Sri Lanka keenly needs help with disaster relief, which the JSDF's capacity-building assistance can provide.
Japan's Defense Ministry is also poised to flesh out specifics of cooperation and assistance, which Sri Lanka is seeking related to its task of ensuring security in the waters surrounding the island country.
Japan's Indo-Pacific Strategy
From the beginning, the Defense Ministry has placed high importance on JSDF capacity-building assistance to Southeast Asia, in part because maritime shipping routes pass right through the region. The sea lanes extend from the Middle East, upon which Japan depends heavily for energy resources, through the Indian Ocean and on to the East Pacific and Japan. Destabilization of the balance in this region could directly jeopardize Japan's national interests.
Sri Lanka is situated in a location of pivotal importance to the sea lanes linking the Pacific Ocean with the Indian Ocean. As a senior official of the Defense Ministry has pointed out, "Expansion of Japan's capacity-building assistance activities in South Asia will be of remarkable significance in the effort to carry out the strategy to ensure a free and open Indo-Pacific region."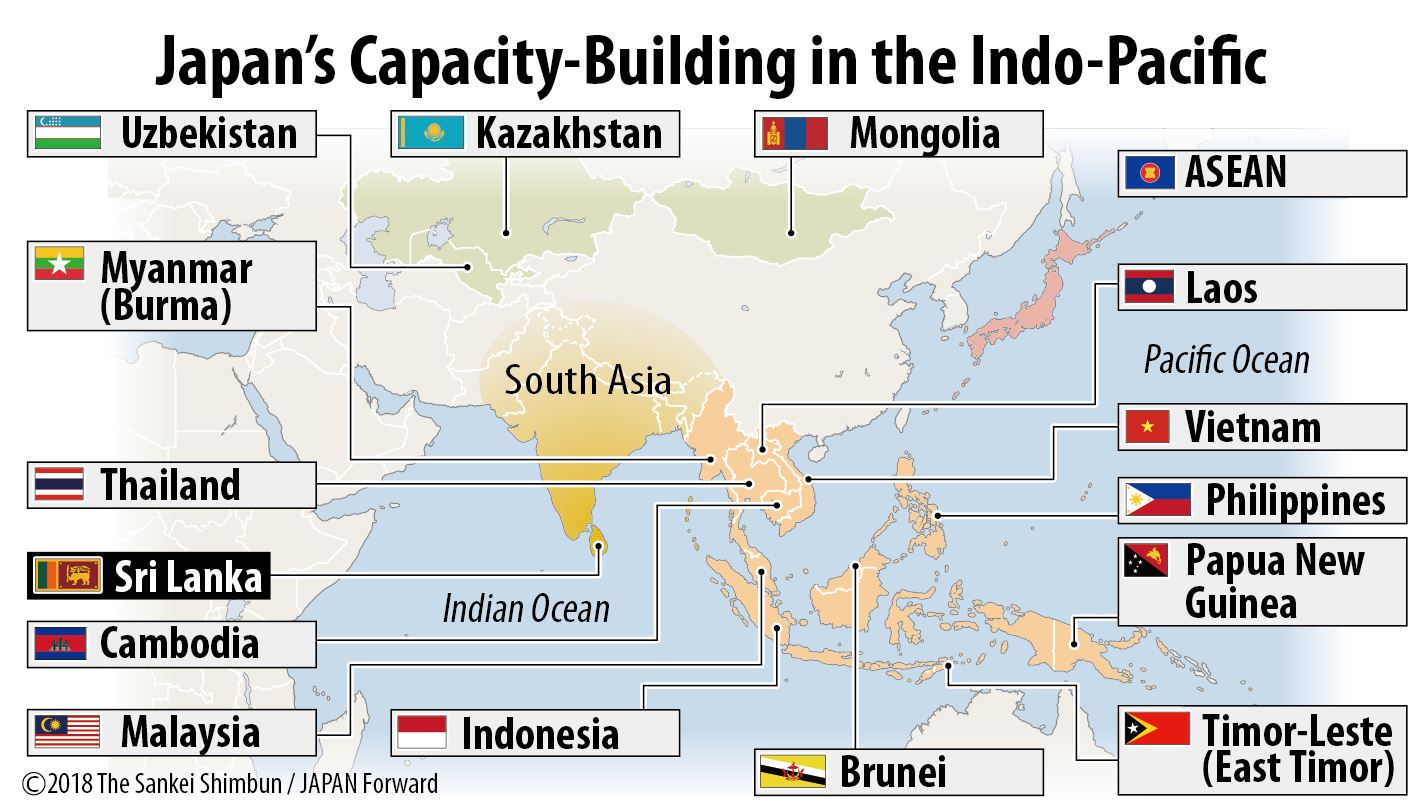 Coping with China's Growing Presence
The Indo-Pacific strategy is also designed to cope with the regional effects of China's "One Belt, One Road" economic initiative. Beijing has been causing alarm by enhancing both its military and economic presence in the Indian Ocean in the name of the initiative.
China has been strengthening its influence in Sri Lanka, too, as exemplified by a mid-December 2017 deal described as a Concession Agreement, through which Sri Lanka handed over control of an important port to China under a 99-year lease.
Reinforcement of Japan's bid to boost relations and security cooperation with Sri Lanka through the capacity-building assistance program should also have the effect of helping to hold China in check.
Primer on Capacity-Building Assistance
Capacity-building assistance is increasingly important as a pillar for expediting Japan's security cooperation with other countries. It is comprised of various activities intended to improve the capability of the recipient country's defense-related institutions.
The assistance provided depends on the needs of the recipient country. It might include activities, such as the dispatch of JSDF officers and other experts to carry out specific programs in the country, or inviting the recipient country to send teams to Japan for hands-on training in several fields.
These capacity-building assistance programs are already credited with significant outcomes, such as:
helping to stabilize the international security environment by upgrading the recipient country's ability to defend itself;

beefing-up Japan's cooperative ties with allies, such as the United States and Australia, that place high importance on assistance to developing countries in the region;

demonstrating to the international community Japan's reliability through the assistance operations carried out by the JSDF.
(Click here to read the original article in Japanese.)