Japan 'Forever Changed' His Life Says New Praemium Imperiale Laureate Robert Wilson
Stage director Robert Wilson, who has an unexpected connection to Japan, describes receiving the Praemium Imperiale as like being brought "back home."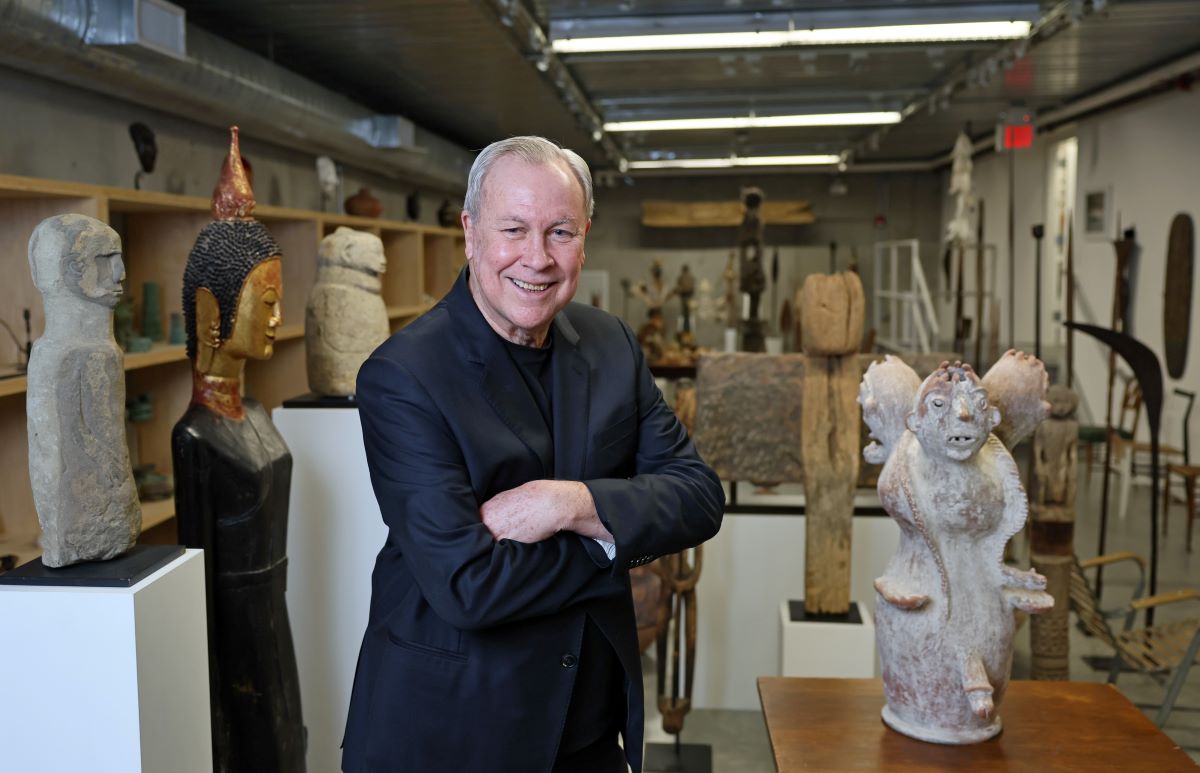 Praemium Imperiale laureate Robert Wilson is a stage director who transcends tradition and continues to challenge unknown territory. In this interview, he explains the elements and challenges of stage production in simple terms. Surprisingly, his approach was influenced by the Japanese culture he experienced early in his career.
Watch the interviews of each of the five laureates:
Theater/Robert Wilson
Painting/Vija Celmins
Sculpture/Olafur Eliasson
Architecture/Diébédo Francis Kéré
Music/Wynton Marsalis

Born in Waco, Texas in 1941, Robert Wilson was raised by strict, conservative parents. After studying at the University of Texas, he moved to New York to study architecture and decoration at Pratt Institute. After graduating, he worked as a waiter. "I worked as a waiter at an Italian restaurant in New York when I was 26," says Wilson.
In 1968, he established an artist community called "The Byrd Hoffman School of Byrds." In 1969, he chartered the not-for-profit, tax-exempt corporation The Byrd Hoffman Water Mill Foundation. Wilson reflects, "I've been giving my money back to the foundation as I get older."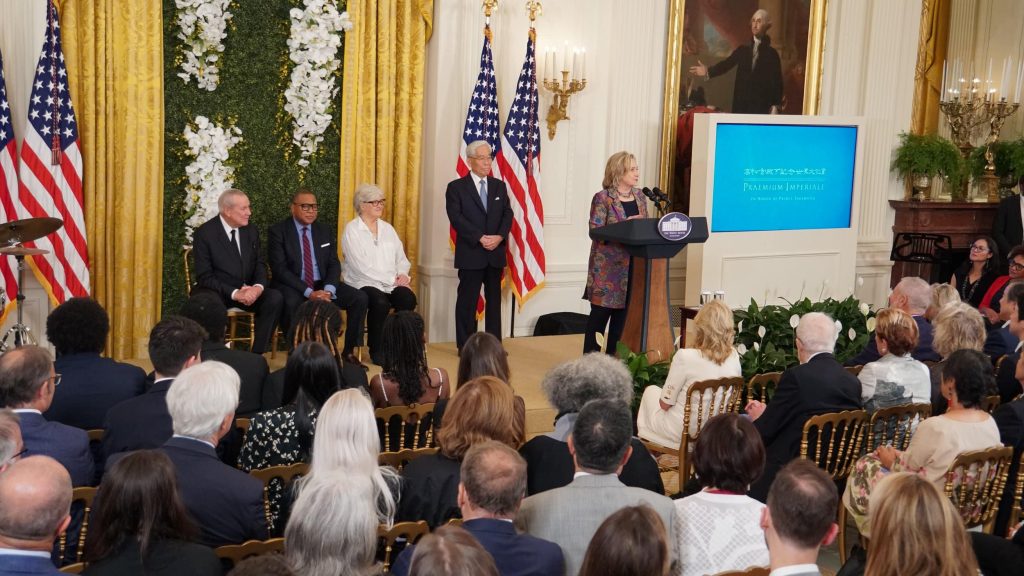 Young Wilson Awakens to the Path of Art and Culture
Robert Wilson debuted in 1970 with Deafman Glance. Then, in 1976, he earned a solid reputation with the opera Einstein on the Beach. Even now, at the age of 82, he continues to energetically release new works all over the world. In the month of October alone, his work was performed in Lithuania, Greece, Bulgaria, Germany, and China.
As he looks back on his life, he gives money back to the foundation so that his wealth will go to causes other than his own. That spirit comes from his strict father in Waco, Texas. "I've been fortunate to have success in life," Wilson says.
Art and Culture Bring Humanity Together
Wilson's father was a religious man, and he gave his money to the church. But Wilson doesn't practice any religion. "I think religions divide men. And politics also divide men," he explains.
Wars and conflicts that occur around the world often arise from political or religious conflicts. As a way to prevent conflict, Wilson emphasizes the "importance of art and culture.'' He is convinced that giving back to his foundation will further spread art and culture that can bring humanity together.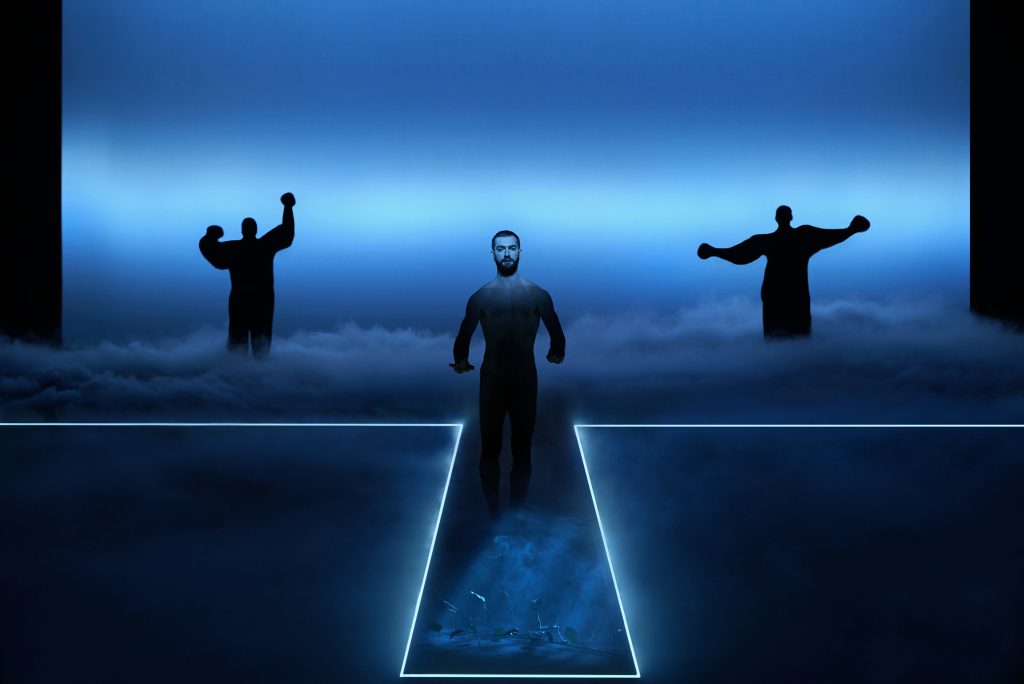 A Strong Affinity With Japanese Theater and Culture
After Wilson became a leading figure in the theater world with his opera Einstein on the Beach, he was given a grant from the Rockefeller Brothers Fund to go to Japan for six weeks.
For Wilson, it was a defining moment of his life: "When I saw the Japanese theater and culture, it was a confirmation of what I was doing. It was a confirmation in philosophy, a confirmation in the construction of time and space. And I think my life was forever changed by having spent those six weeks in Japan when I was quite young. So receiving this award is especially meaningful. It's a little bit like bringing me back home."
Robert Wilson's Philosophy of Time and Space
His philosophy stands out on the stage of Einstein on the Beach. The opera goes on for four hours non-stop. It has dialogue but no specific plot. Lyrics are made of numbers and solfège syllables. It is not always clear where the "beach" and "Einstein" are.
Numbers, words of love, a courtroom, Paris, New York bus driver, train, spaceship, bed,
crisis on earth …
The audience desperately follows the vivid images that jump into their eyes and ears one after the other. All the while, the audience is surrounded by fragmented melodies that seem to repeat forever.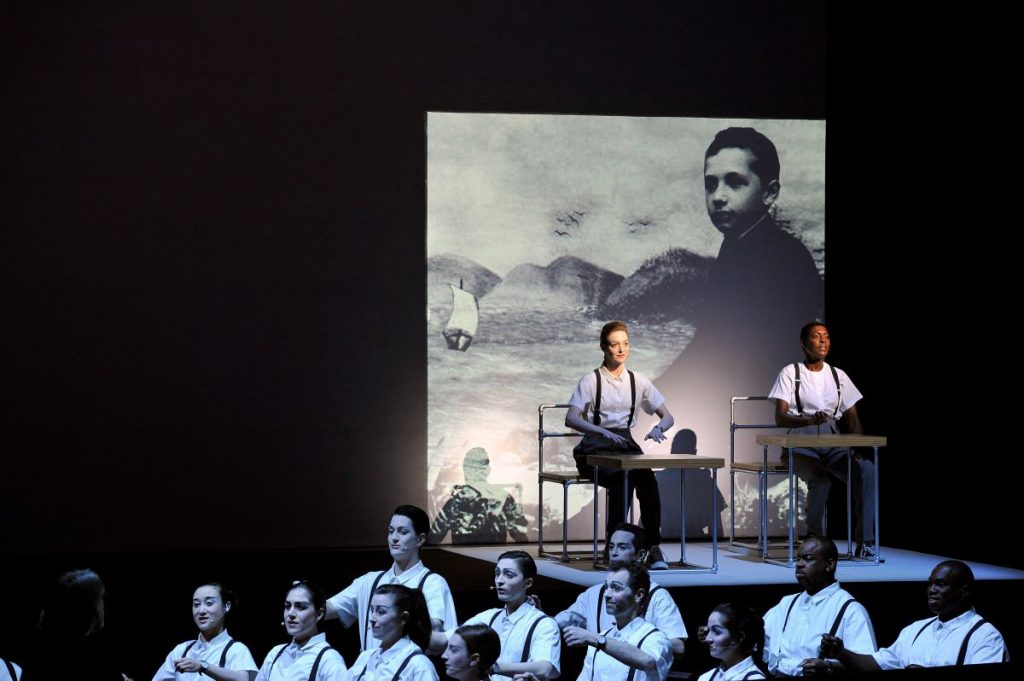 Robert Wilson in His Own Words:
"The challenge for me as a theater director is, can I give [others] a space to hear something? Can I give [others] a space to see something? If I close my eyes and listen, I hear better, generally speaking, than when my eyes are open because I'm visually distracted. Can I create something on stage that helps me hear better with my eyes open than when they're closed?"
"So it takes a certain concentration. My work is formal and it has to do with deep, emotional feelings."
"In my theater, all elements are equally important. So a chair is not just a prop, but it can be like a character. Light, sound, and text all have equal importance and very often I work on them separately. It's like a cheeseburger."
"So it's a little bit like how one layer complements the other and how they can reinforce one another without illustrating each other. So they can be independent. But seen together, they have a different importance than when you see them separately."
RELATED:
Interview by: The Praemium Imperiale