Japan Gears Up for Long-Lasting Effects of Typhoon Hagibis, As Death Toll Rises to 74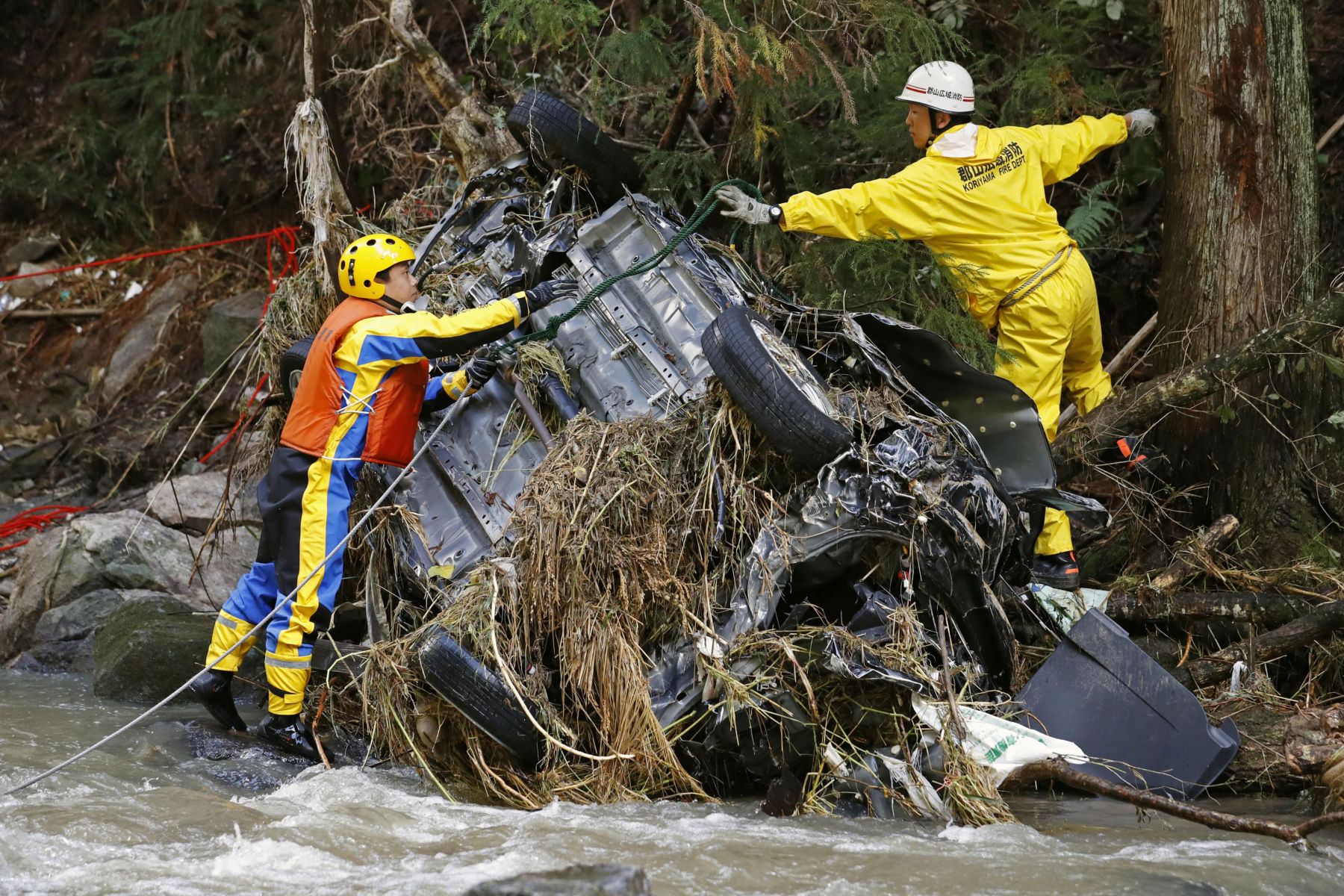 Prime Minister Shinzo Abe announced on Tuesday, October 15, that the government was "putting out its full effort to save even one more life," as rescue and relief efforts continued three days after Typhoon Hagibis devastated Metro Tokyo and Eastern Japan.
As of posting Tuesday, the death toll has risen to 74. Twelve people were still reported missing, and more than 218 were injured. Most of the victims were in Fukushima Prefecture. Other heavily-affected areas were Ibaraki, Iwate, Nagano, Gunma, Kanagawa, and Tochigi prefectures.
More than 130,000 were still without water in 13 cities and prefectures. About 20,000 were without electricity, down from a peak of 520,000.
Officials said that many areas experienced 40% of their annual rainfall over the span of two days. This led to flooding along 200 rivers, the bursting of 52 river levees, 170 landslides, and, according to national broadcasting agency NHK, damage to at least 10,000 homes.
Prime Minister Abe announced in the Cabinet meeting Tuesday morning that special budget provisions were being made to bring the disaster-affected areas back to normality.
"We are conducting a survey to assess how much is needed to address the damage which has occurred in 315 municipalities affected by the typhoon, so that the local governments will be able to recover without having to worry about the budget," the Prime Minister said.
It was clear from the words of Prime Minister Abe that some of the damage was going to take a bit longer to deal with.
"There are concerns that there will be long-lasting effects on the lives and economic activities. Each ministry is working together to set up a support team to restore electricity, water, provide food, and to improve the living conditions of the shelters, for example by putting up cardboard beds," he told his Cabinet.
Emperor Naruhito and his wife Masako reached out on October 15 to express their deep sympathy to those affected by the disaster: "Watching the news, our hearts ached, seeing an unprecedented spread of the disaster and the number of broken lives."
The Emperor and Empress added their wish that the "life of those affected return to normal as soon as possible."
Struggling to Get Back on Their Feet
Throughout Japan's long holiday weekend reports kept filing in of victims being found. In Gunma Prefecture, four people died when their homes were swept away in a landslide that occurred after the worst of the storm and heavy rain had passed.
Many victims were also found along the swollen rivers, as landslides caused cars to be thrown and overturned in the water below, such as the case of a young boy and his mother in Fukushima Prefecture.
A town just on the outskirts of Tokyo called Hinode suffered extensive landslides, with roughly 100 meters of the main road collapsing, virtually isolating 200 people.
Economy and Trade Minister Isshu Sugawara told the press on Tuesday morning that, according to the electric companies, it could take up to a week to restore service completely. As a consequence, phone service was poor in several prefectures.
The effect was also felt by schools that struggled to get back to normal activity. According to the Ministry of Education, 235 schools across seven prefectures were closed due to damage caused by the storm. Minister of Education Koichi Hagiuda said that 678 schools were damaged all over the country due to the typhoon.
According to NHK, more than 70 convenience stores remained closed on October 15. Giant drugstore Matsumoto Kiyoshi kept seven of its stores closed for another day.
The Japanese Postal Service also struggled to get back on its feet, with 44 branches unable to open their doors for business on October 15 and parcel service partially suspended in seven prefectures.
While public transportation was largely back to normal by Tuesday morning, the Hokuriku Shinkansen between Nagano and Tokyo was still operating on limited service due to flooding at the train center, which damaged more than 120 trains. Only 40% of the water had been drained as of noon on Tuesday, and JR announced it could take up two weeks to go back to normality.
JR Musashi Kosugi Station in Kanagawa Prefecture also continued to feel the repercussions from the storm. As commuters went back to work on Tuesday, the station, which had been flooded during the weekend, was operating on limited service with 6 broken escalators, one elevator out of service, and numerous non-functional ticket machines.
Heartwarming Response
Despite the overwhelming sadness and loss, people came together in the face of hardship. In the town of Iwaki, Fukushima — an area particularly affected by the disaster — residents were reported to be sharing information via SNS to help each other out with the recovery. Some 40 students volunteered to help those in need.
Fast Retailing, the corporate giant and owner of Uniqlo and GU, announced on October 14 that they would be accepting applications from organizations that need clothes to help those in shelters.
The town of Kamaishi in Iwate Prefecture was supposed to host the Rugby match between Canada and Namibia early on Sunday, October 13. Instead, it was hit hard by the typhoon. Rather than let themselves become downtrodden over the cancellation, the concerned teams helped out the locals by clearing up the mud left by the storm, bringing much needed cheer to the disaster-afflicted Kamaishi community.
In the Japan-Scotland rugby match which took place on Sunday, October 13, there was a minute of silence at the beginning of the game to commemorate the victims. After the game, Japan's team captain Michael Leitch appealed to the storm victims, saying, "It's a tough time at the moment with the typhoon and all…and to everyone suffering at the moment with the typhoon, this game is all for you, guys."
Author: Arielle Busetto