Japan Says Goodbye to Shinzo Abe in State Funeral
Inside and outside the Nippon Budokan in Tokyo, thousands of people said a final goodbye to the consequential and longest serving prime minister of Japan.
On September 27, Japan held a state funeral for Shinzo Abe at the Nippon Budokan in Tokyo's Kudanshita district.
It was a pleasantly warm day with glorious sunshine. By 2:00 PM when the ceremony was set to start, 4,183 people had gathered at the Nippon Budokan to honor Shinzo Abe, Japan's longest-serving postwar prime minister.
Security was tight, with over 20,000 police officers mobilized, some from outside the capital. Large sections of the highway in the capital city were closed off, and whole surface roads were closed near the Nippon Budokan. Reporters covering the funeral were told to gather at a remote location from 9 AM to go through security and be transported into the venue.
Shinzo Abe was fatally shot on July 8 at one of many stump speeches he was giving during the national election campaign for the Upper House of Japan's parliament. He was in the ancient capital of Nara to support a fellow Liberal Democratic Party candidate.
The assassination shocked the nation, and shortly after Abe's death Prime Minister Fumio Kishida announced that there would be a state funeral to honor his predecessor.

The Unfolding of the Ceremony
The ceremonial state funeral for Shinzo Abe started with Akie Abe, the widow of the former prime minister, who arrived at the Nippon Budokan wearing a black kimono. As 19 blank shots were fired from cannons, Akie walked into the main venue carrying her late husband's ashes.
Seven members of the Japanese royal family paid respect to the occasion, including Crown Prince Akishino and Crown Princess Kiko. Emperor Naruhito and Empress Masako, as neutral political figures, didn't attend, but sent a messenger in their place.
After the national anthem, a video reminiscence of some of Shinzo Abe's achievements was played on the screens.
The video started with footage of the former prime minister playing on the piano, "Hana Wa Saku" (花は咲く, Flowers will bloom), a song associated with the recovery of Northeast Japan following the Great East Japan Earthquake in March 2011.
As the song played in the background, some of the events in Abe's political career flashed onto the screen: the recovery after the earthquake, the slogan "Buy My Abenomics" designed to jumpstart economic growth, "Womenomics" to push women's empowerment in the economy, and the related joke that "If Lehman Brothers had been Lehman sisters, perhaps it would not have gone bankrupt."
Some highlights included Abe's appearance at the 2016 Rio Olympics Closing Ceremony as Super Mario from the globally popular Nintendo game, his speech on the occasion of the opening of the Reiwa Era, and his work with the Japanese Self-Defense Force (JSDF).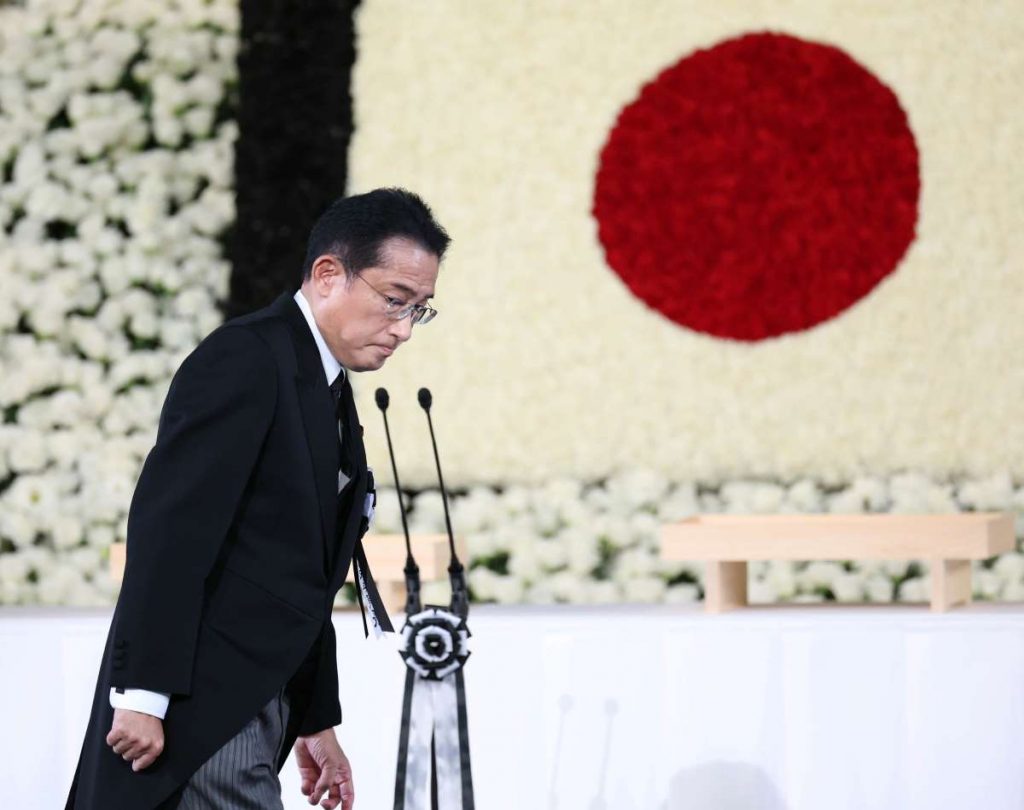 Remembering Abe: The Politician
After the video came the moment of speeches. Japanese Prime Minister Fumio Kishida started by remembering Shinzo Abe's long career.
"You and I were both first elected to the Diet 29 years ago, in the 40th House of Representatives general election… I watched you closely as you tirelessly applied yourself to in-depth research into national security and diplomacy, as well as the economy and social security," Kishida recited.
Kishida cited Abe's work towards reforming the constitution, reshaping education, and elevating the Defense Agency to the Ministry of Defense.
Kishida reminisced, saying: "Now I fondly recall watching excitedly and with anticipation in those days as you, serving as the flag bearer for our generation, took on fundamental challenges facing our nation that had remained unchanged since the war, first one and then another."
On international relations, Kishida remembered Abe's achievements in creating the "Free and Open Indo-Pacific" concept. It was followed by a power group known as the Quad, existing as an association of four democratic states of Japan, Australia, India and the United States, creating an alternative to China. "Your multi-layered diplomacy fostered favorable relations with every region in the world without exception," said Kishida, referring to his friend and former prime minister.
Kishida served as foreign minister in the Abe administration, including at the time of United States President Barack Obama's visit to Hiroshima in 2016. He recalled: "It is one of the proudest achievements of my life that I, as your Minister for Foreign Affairs, and I as your close friend who experienced the same era as you, was privileged to join your Cabinet and single-mindedly engage in work that expanded Japan's diplomatic horizons."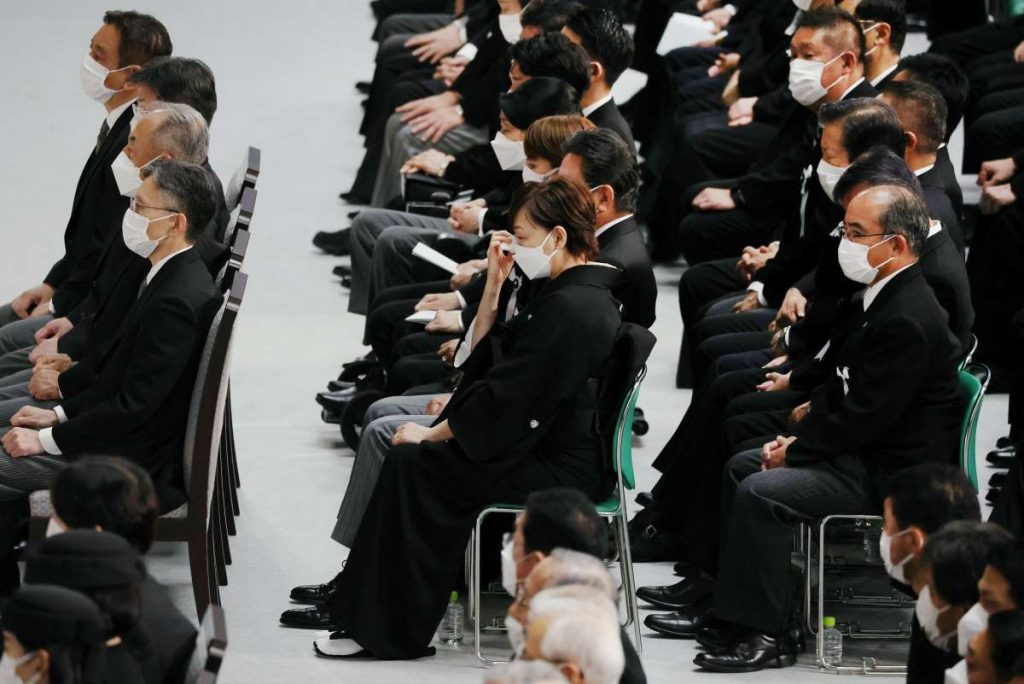 Abe the Friend
Next came former Prime Minister Yoshihide Suga's speech, given on behalf of Abe's friends. Suga was one of the few people at Abe's bedside the day that the former prime minister was fatally shot.
More emotional than Kishida, Suga recalled the last day of Abe's life, saying that when he heard the news "All I wanted was for you to survive, and I wanted to be in the same place as you once more."
With his voice seemingly choking in several points, Suga reflected on the inexorable passing of the seasons, now without his close friend.
"Prime Minister Abe, are you watching? So many people are gathered in and outside the Budokan to offer you flowers and witness your passing," he said almost intimately, citing the many people, especially in their 20s, 30s and 40s, queuing for hours in the sunny weather outside.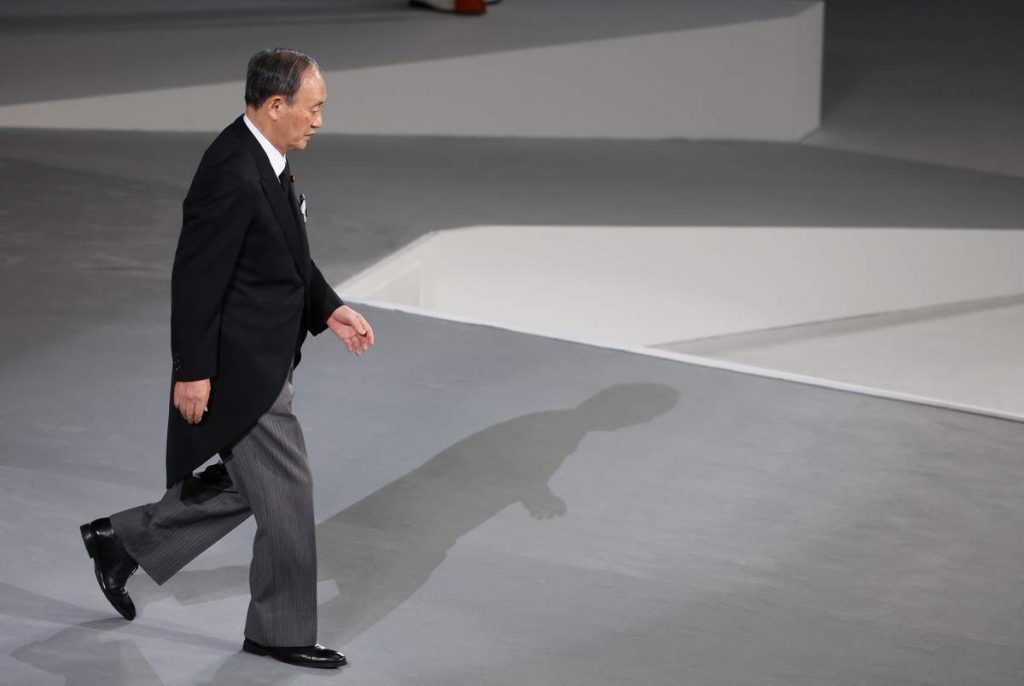 Suga was elected as prime minister after Abe resigned for health reasons in September 2020. But Suga was also his close friend, and his right-hand man as Chief Cabinet Secretary throughout Abe's various administrations, a time which Suga described as happy, using the poignant term shiawase (幸せ).
As a testament to their friendship, Suga recalled an episode when Abe was unsure whether to run for head of the Liberal Democratic Party (LDP) in the next election, but Suga convinced him to run:
When it was just us two at a yakitori restaurant in Ginza, I tried to persuade you, because I considered it my duty to do so. And after three hours, you finally assented. I consider that one of my life's proudest achievements.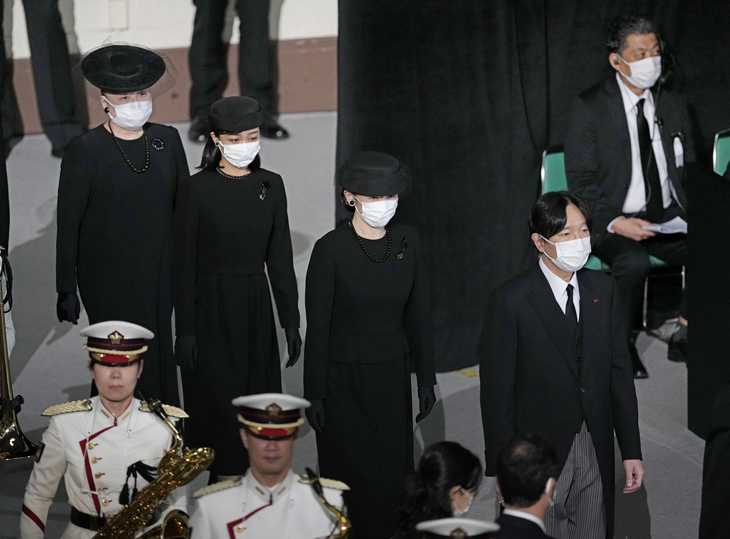 Flower Offerings from the Imperial Family and Foreign Dignitaries
After the speeches, and the flower offerings by members of the Imperial Family, Akie Abe, and other members of Abe's family, it was time for guests from abroad to pay their respects to Shinzo Abe.
From the United States, Vice President Kamala Harris was present, as well as five former US Ambassadors to Japan, including Caroline Kennedy and Bill Hagerthy. From Europe, France's former President Nicolas Sarkozy, the United Kingdom's former Prime Minister Theresa May.
The Indo-Pacific region was well represented, starting with Australia's Prime Minister Antony Albanese and India's Prime Minister Narendra Modi, both members of the Quad. Earlier in the day, in a meeting with PM Kishida, Albanese had conceded that "The Quad would not exist had it not been for [Abe's] leadership." In town for the funeral, Vietnamese President Nguyen Xuan Phuc, a leader among the ASEAN countries and a member of the Comprehensive and Progressive Agreement for Trans-Pacific Partnership (CPTPP) trade deal, also met with Fumio Kishida during his stay.
There were dignitaries from foreign institutions, including International Olympic Committee (IOC) President Thomas Bach, representatives from the United Nations, and the International Atomic Energy Agency. In total, an estimated 700 international guests were present at the Nippon Budokan. Emissaries of foreign embassies also paid respects on behalf of their countries.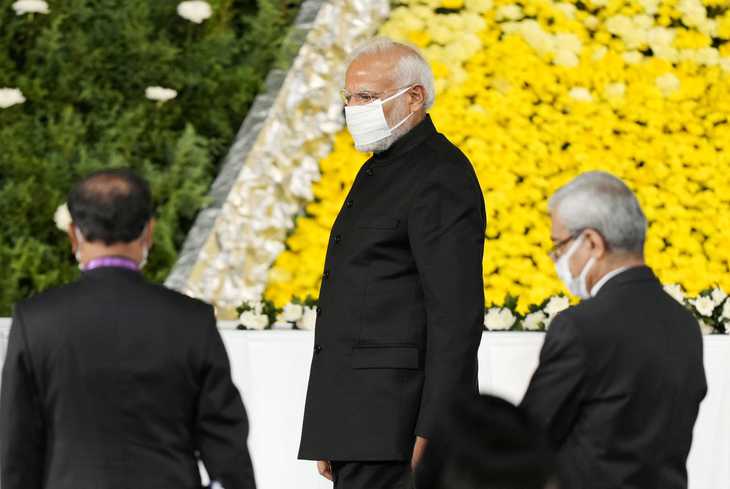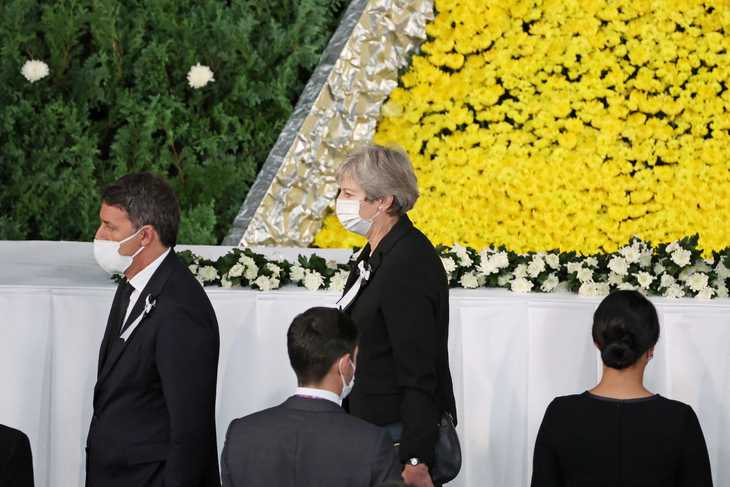 Representing Japan
Finally, it was time for representatives of Japan and its institutions. Current and former members of the government were among them, including former Prime Minister Yoshihide Suga and his wife, former Prime Minister Yoshiro Mori, who was later Tokyo Olympics 2020 Committee head, and former Prime Minister Junichiro Koizumi, in whose 3rd Cabinet Abe served as Chief Cabinet Secretary.
Abe was a particularly vocal advocate for resolving the problems of North Korea's abduction of Japanese nationals. He played a key role in gaining the return of five abductees at a 2002 summit meeting in Pyongyang during the Junichiro Koizumi administration. Representatives of the families of abductees who have yet to come home were there to pay their respects on Tuesday, September 27, including Sakie Yokota, whose daughter was abducted by North Korean agents when she was only 13 years old.
Approximately 1,390 members of the Japanese Self Defense Forces attended the funeral, a large number of whom played in the orchestra during the ceremony.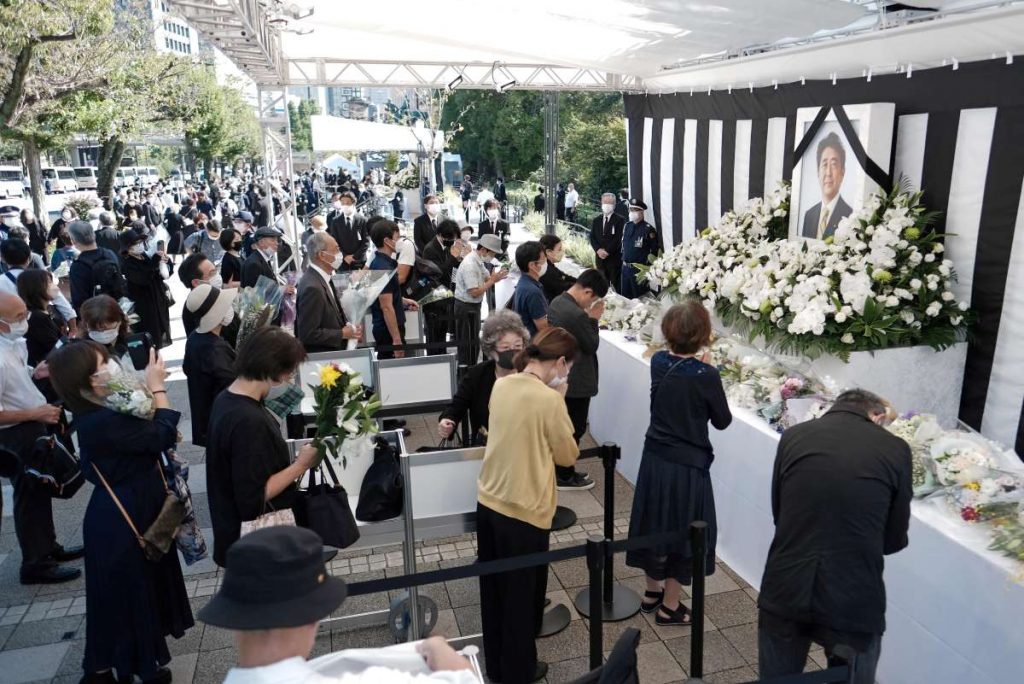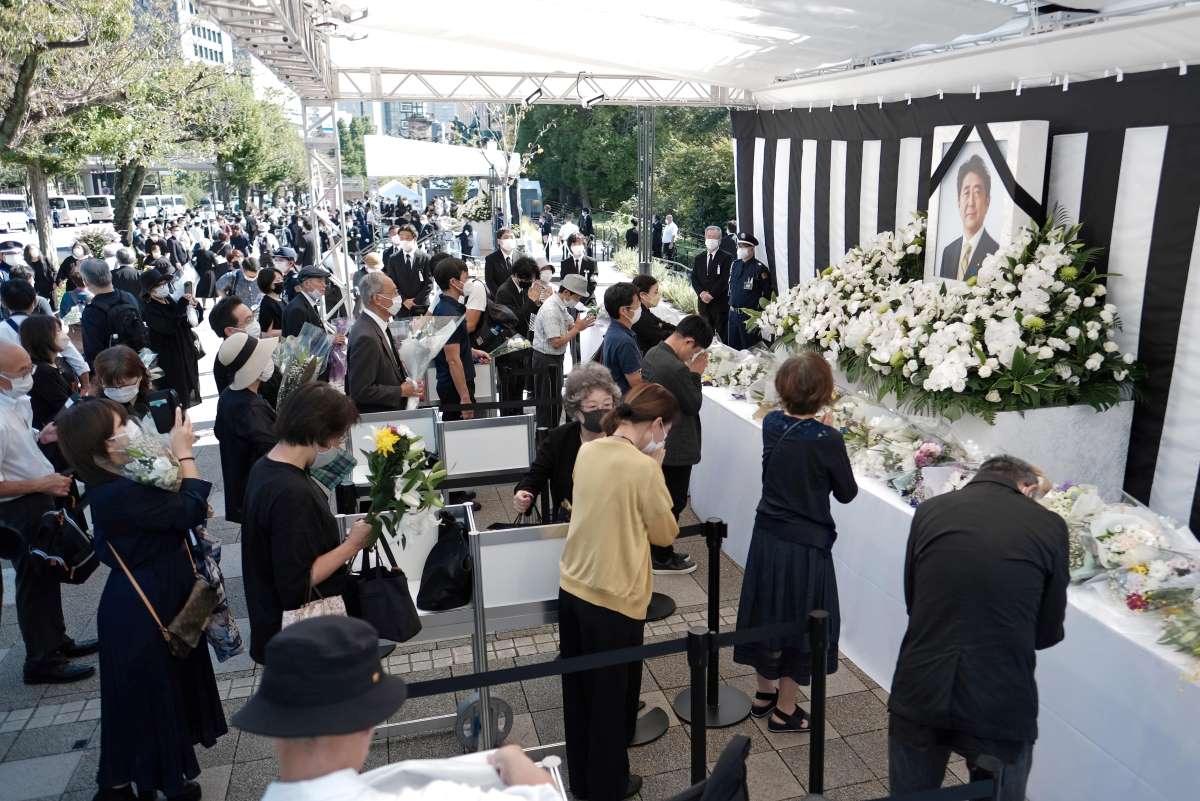 Online, Offline, Thousands Flood the Streets of Tokyo
The tight security didn't stop thousands of people braving the streets, despite the fact it was a regular workday Tuesday morning rather than a national holiday.
Thousands of people queued to offer flowers and say goodbye to Shinzo Abe at the two flower-offering sites in Kudanzaka, a short distance from the Nippon Budokan. NHK's unofficial estimate at 6 PM on September 27 was that 23,000 people had queued to pay respects to Shinzo Abe on the sunny day, with temperatures reaching the high 20s (celsius).
Visiting hours for the offering tables were scheduled for 10 AM to 4 PM. However, they were opened at 9.30 AM instead to accommodate the already hundreds of people gathered at Chidorigafuchi. The site closed at approximately 7:30 PM, an extension from the planned time of 4 PM, to meet the high demand. Some visitors told JAPAN Forward they had taken a day off and come to Tokyo by bullet train to be there. Others noted that they queued for five hours in the sun in a line which snaked for several kilometers from Tokyo's Yotsuya district.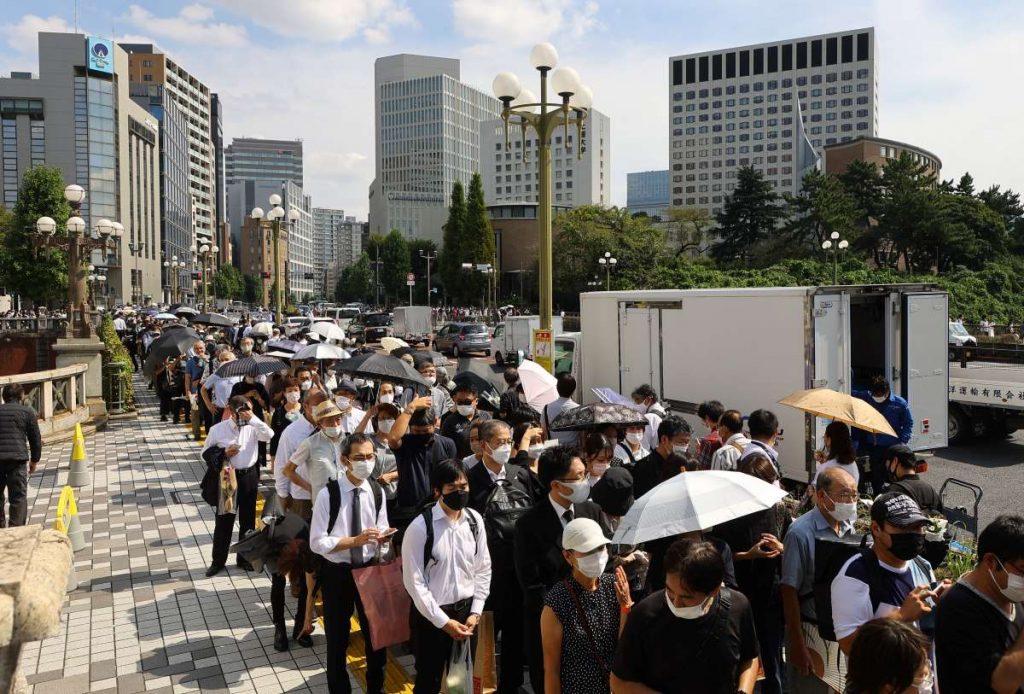 Online, the topic of Shinzo Abe's funeral was trending. Hashtags such as "Abe-san arigatou" (thank you Abe-san) had nearly 70,000 Tweets by around 1 PM on September 27. A website with the same name for people to pay tribute online to Shinzo Abe said on its Twitter account in the evening that more than 400,000 people had given the proffered free flowers online for the occasion while leaving a message for the former prime minister. The spike in access had caused the page to become congested, organizers said in the same post.
At the same time, several thousand people also gathered to show their opposition to Abe's state funeral. Sankei Shimbun reported that one demonstration had approximately 1,000 participants. In the evening, the online hashtag "Protest against the state funeral" (国葬反対デモ) had over 100,000 Tweets.  

RELATED:

Author: Arielle Busetto