[JAPAN SPORTS NOTEBOOK] Badminton Olympic Gold Medalist Ayaka Takahashi Retires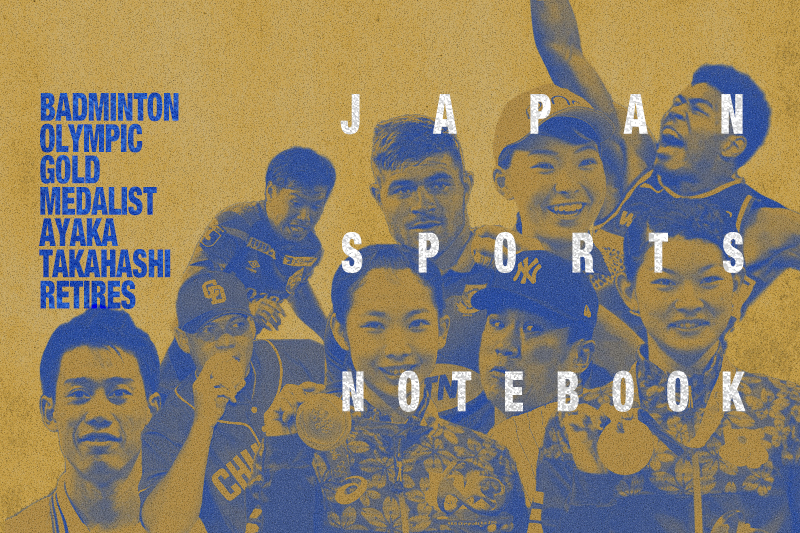 The defining moment of Ayaka Takahashi's badminton career happened four years ago at the Rio de Janeiro Olympics.
Takahashi and partner Misaki Matsutomo completed their quest for a gold medal by outperforming Denmark's Christinna Pedersen and Kamilla Rytter Juhl in the women's doubles finals, recording a 18–21, 21–9, 21–19 triumph in August 2016.
Not only was it a glorious achievement for Takahashi and Matsutomo, who've been dubbed "Takamatsu," it was also Japan's historic first badminton gold medal.
Four years later, Takahashi, 30, has discovered that she can't maintain the same level of intense desire to pursue a second gold at the delayed 2020 Tokyo Olympics next summer.
It's something that countless athletes can relate to: After reaching the top of the metaphorical mountain, it's incredibly difficult to muster the energy and focus to make the climb again.
Takahashi lost the motivation to compete.
"For me it has always been all or nothing," she said during an online press conference on Wednesday, August 19. "When I train I train, when I rest I rest. The moment I started questioning my ability to win gold [at the Tokyo Olympics] I knew it was time. I don't want to play half-heartedly. It doesn't feel right."
In other words, Takahashi has decided that now's the appropriate time for her to step away from the game and focus on other interests in her life.
"I had doubts about my mind and body getting through another year," Takahashi admitted.
"When I shared my honest feelings with my partner Matsutomo and [my employer] Nihon Unisys, they respected my decision. My parents were understanding as well, and telling them was a big weight off my shoulders."
Watch highlights of their gold medal win here.
In October 2014, Takahashi and Matsutomo reached No. 1 in the world rankings for women's doubles. In the latest rankings in March, they were No. 7.
The longtime partners first teamed up at St. Ursula Gakuin High School in Sendai.
In December 2016, they earned the Badminton World Federation's Female Player of the Year honors for women's doubles. That year they nabbed four BWF Super Series titles.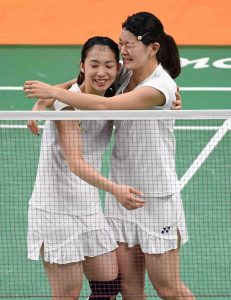 In a follow-up article after the doubles partners won it all in Rio de Janeiro, The Mainichi Shimbun explored the roots of their collective success.
"I learned a lot from my losses," Matsutomo was quoted as saying. "My experience of being unable to win major events also helped me a lot."
After a third-round defeat at the Badminton World Championships in 2014, a bit of encouragement from former pro tennis player Ai Sugiyama proved to be a spark they both needed.
"You should think positively," Sugiyama told them, according to the Mainichi Shimbun, which wrote, "The pair then overcame pressure and came to think, 'What we should do remains unchanged. We'll be fine if we bring out our best in competitions.' "
Indeed. Takahashi, who is two years older than Matsutomo, and her partner were resilient and reached the pinnacle of their sport.
Tennis
Nishikori Tests Positive for COVID-19 Again
Kei Nishikori announced on August 21 that he tested positive for COVID-19 for a second time, raising real doubts that he'll be able to compete at the upcoming U.S. Open.
Nishikori, who first tested positive for the coronavirus last week, has been self-quarantining in Florida.
"Just a little update, I just took another COVID test and am still positive. I have very minimal symptoms and am staying in full isolation in Florida," Nishikori announced on social media.
"The next test will be early next week, at which time we will update you with more information."
RELATED STORY: TENNIS | Kei Nishikori Tests Positive for COVID-19, Withdraws From U.S. Open Tuneup Event
Soccer
V-Varen Nagasaki, Giravanz Kitakyushu Setting Pace in J2
With 13 rounds of the J. League second-division season in the books, two teams have set a standard of excellence atop the standings through Wednesday, August 19.
V-Varen Nagasaki and Giravanz Kitakyushu are first and second, respectively, with 29 and 28 points in the 22-team J2.
Giravanz Kitakyushu, guided by Shinji Kobayashi, is No. 1 in goals (23) and tied for second in second-fewest goals allowed (10) with V-Varen Nagasaki, who are led by manager Makoto Teguramori. Eleventh-place Tochigi SC has allowed the fewest goals (nine).
V-Varen Nagasaki (with nine wins, two draws and two losses) won four straight games entering Round 14 on August 23.
Giravanz Kitakyushu (9-1-3) has five victories in as many matches this month.
Baseball
Tanaka, Tsutsugo Both Struggle in Second Matchup in Majors
New York Yankees pitcher Masahiro Tanaka and Tampa Bay Rays slugger Yoshitomo Tsutsugo met for the second time as MLB players on Tuesday, August 18 at Yankee Stadium.
Tanaka fell to 0-1 in the shortened season as the Rays beat the Yankees 6-3. He yielded eight hits and six runs, including a pair of home runs in four innings.
Tsutsugo, who played third base and batted seventh, went 0-for-4.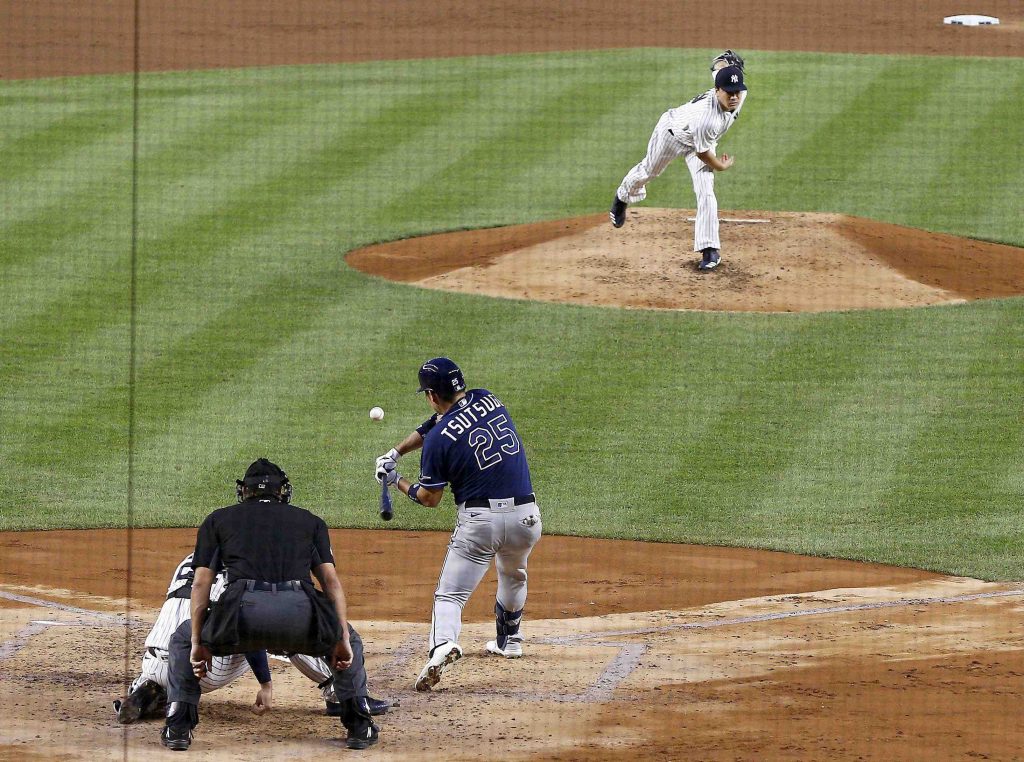 In their first encounter on August 8, Tanaka held the Rays to one hit in five innings in New York's 1-0 loss. Tsutsugo batted twice against Tanaka. He hit a foul pop-up in the second inning and lined out to center in the fifth.
New Boss for the Buffaloes
Acting manager Satoshi Nakajima piloted the Orix Buffaloes to victory in his first game in charge on Friday, August 21.
Orix topped the Saitama Seibu Lions 3-1 at Osaka's Kyocera Dome.
Nakajima replaced Norifumi Nishimura, a former Chiba Lotte Marines skipper, who stepped down on the previous day.
The Buffaloes (16-33-4) have the worst record in the 12-team NPB through August 21.
Did You Know?
The Hanshin Tigers ended a 37-inning scoreless streak by scoring four runs in the second inning of their August 21 game against the Tokyo Yakult Swallows at Jingu Stadium.
The Tigers defeated the Swallows 7-4.
Cuban Pitcher Rodriguez Earns First NPB Victory
Chunichi Dragons hurler Yariel Rodriguez pitched his club past the Central League rival Yomiuri Giants on August 15 in a 7-4 victory at Tokyo Dome.
The Cuban starter worked seven innings for the win, his first in the NPB, allowing six hits and one run.
"I have been doing my best to prepare," the 23-year-old Rodriguez was quoted as saying by Kyodo News. "I'm happy with this win, and I'm excited to be able to tell my dad back in Cuba, my girlfriend, and my family about it."
Rodriguez walked one and struck out nine. His fastball was clocked at 156 kph (97 mph).
Dragons manager Tsuyoshi Yoda was impressed with Rodriguez's performance.
"He gave us seven strong innings," Yoda said. "Our bullpen was ready, but we trusted him and never panicked."
Last season, Rodriguez played for Camaguey in Cuba's Serie Nacional. He's 2-0 with an 0.51 ERA for the Dragons through August 21.
Basketball
Wizards GM Sheppard Commends Hachimura for Solid Rookie Season
Tommy Sheppard, the Washington Wizards' general manager, took stock of high-flying forward Rui Hachimura's rookie season in the NBA during an online news conference earlier this week.
The Wizards finished with a 25-47 record in the pandemic-interrupted season. They played their final eight games in the NBA bubble in Florida.
"Down in the bubble he was our first option on lots of nights, definitely got lots of touches," Sheppard told reporters. "But our goal for Rui down there was let's extend him out to the 3-point line and make sure he's taking those shots. ... I think Rui's on the right track, the trajectory we have for him, he is hitting his marks and we're very pleased." Sheppard added:
He's got a lot of room for improvement, but every one of our players does, and we couldn't be more pleased. I can't say enough about the person.
This year in particular really felt like we had damn near three seasons worth of time. All these young players this year got better in their own way, they're all evaluated and next year we'll see the benefits of all that.
RELATED STORY: [ODDS and EVENS] Wizards' Rui Hachimura Reflects on Rookie Season, Vows to Keep Getting Better
Rugby
Springboks' Marx Signs With Top League's Kubota Spears
South Africa's Malcolm Marx, a contributor to the 2019 Rugby World Cup championship squad, is on the move to Japan Rugby Top League's Kubota Spears.
The Spears made the announcement on Wednesday, August 19.
Marx, 26, has most recently competed for the Top League's NTT Shining Arcs. He began his club career with the Golden Lions in 2014 in South Africa. He's earned 33 caps for the Springboks.
During the 2019 Rugby World Cup, Marx scored five tries in six games.
Golf
More Struggles for Shibuno
Hinako Shibuno was one of the biggest stories in professional golf last year, earning a surprise victory in the Women's British Open.
The "Smiling Cinderella" has struggled in recent weeks and fell far short of her goal of contending for another title this year.
On Friday, August 21, Shibuno shot a 7-over par 78 at the Royal Troon Golf Club in Troon, Scotland. She carded a 12-over 153 in the first two rounds. As a result, the 21-year-old Okayama native missed the cut by three strokes for the women's major.
The inclement weather affected Shibuno's game in both rounds. Yet despite her struggles—she's imssed the cut in three straight tournaments—Shibuno sees a silver lining.
"The score is down to me, not the wind," said Shibuno. "I feel I've found all the things my game is currently missing in the past two weeks.
"The wind was so strong I was just desperate on getting my strokes right to make them go straight. I couldn't get my head around the distances," Shibuno added, referring to her short game.
Editor's note: Interested in submitting a news item for possible inclusion in the Japan Sports Notebook? Send an email with relevant information to e.odeven@japan-forward.com, or JAPAN Forward's comment's page or Facebook page and look for future editions of Japan Sports Notebook on our website.
Author: Ed Odeven
Follow Ed on JAPAN Forward's [Japan Sports Notebook] here on Sundays, in [Odds and Evens] here during the week, and Twitter @itsjapanforward.