[Bookmark] Indian Ambassador's Take: How Can Countries Change China's 'Belligerent Behavior'?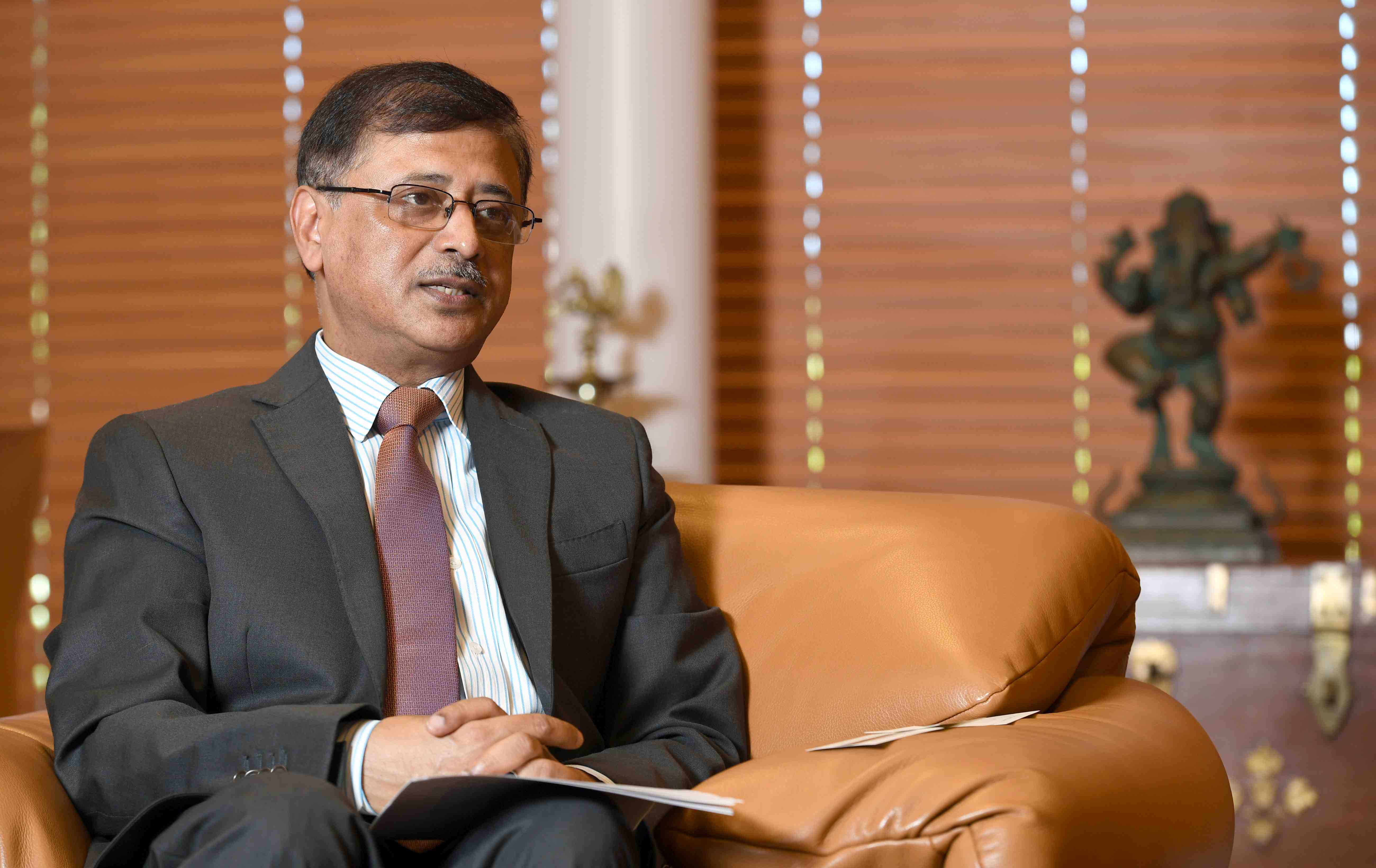 Bookmark is a JAPAN Forward feature that gives you long reads for the weekend. Each edition introduces one overarching thought that branches off to a wide variety of themes. Our hope is for readers to find new depths and perspectives to explore and enjoy.
There has been rising interest in India since May following tensions on its border with China. Wondering how India is coping with the border pressure, and what lessons might be passed on to Japan, JAPAN Forward took up the occasion of India's Independence Day on August 15 to hear the thoughts of India's ambassador to Japan, Sanjay Kumar Verma.
The conversation revolved around how Japan and India should cooperate and position themselves geopolitically to preserve peace and democratic values in the Indo-Pacific.
Excerpts of the interview follow: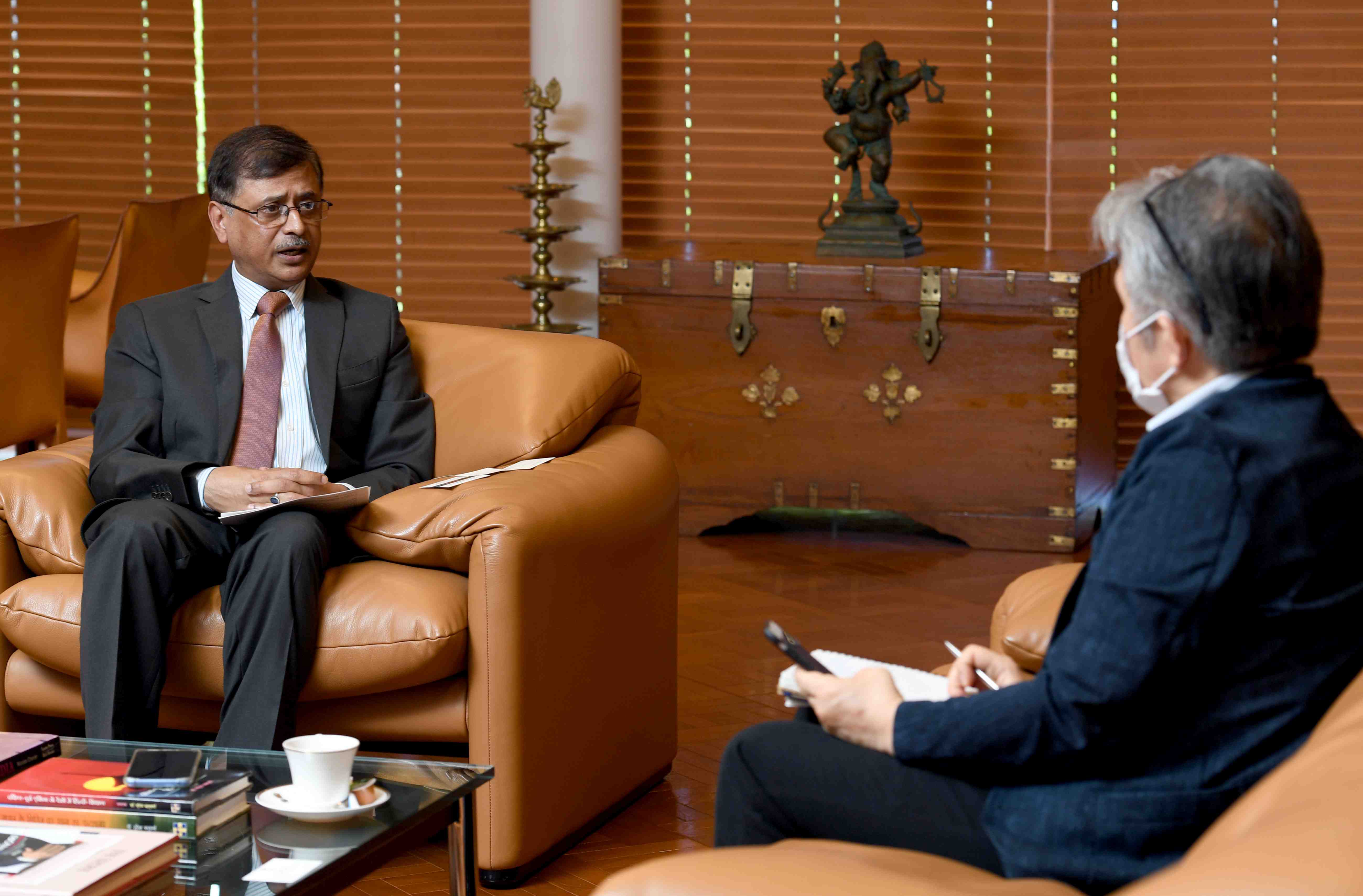 What is India's attitude towards China after COVID-19?
The truth of the fact is that COVID-19 did originate in Wuhan. No one can deny that fact.
It would have been very fortunate if the declaration of infection, including its DNA sequencing and the way it was affecting people, had been shared with the world more in advance. We would have loved to see better management. The world would have been better prepared in order to alert its own citizens to take precautions, and it all would have saved many more lives around the world.
Until the time there is a vaccine, there will be limitations on the ways humans live and behave.
On the India-China relationship, there had been a little bit of an easing at the border. Both countries had agreed to a Line of Actual Control (LAC) because there is no mutually agreed international boundary for the largest part.
Both countries decided in the early 1990s that we would maintain peace and tranquility on the border for growth and development on both sides, and no country would agree to change the status quo. These are all documented principles of international relations [with China] and things were working out well.
But in early May things started to degrade. We saw a clear indication of the intent of the Chinese People's Liberation Army (PLA), to change the status quo. When the status quo is changed, there are repercussions. We lost 20 Indian soldiers ー they were murdered in the most brutal manner by the PLA.
At the moment, trust towards China has gone down to its lowest level yet.
We are trying to urge the Chinese side, through various mechanisms, to take collective action so that the status quo could be brought back to the May 5 levels, and therefore both countries will be satisfied. There should be a mechanism to monitor it, just between the two countries. We don't want to make it an issue where other countries should get involved. We only want China to keep the peace and tranquility agreement.
I'm sure [an agreement] will be reached sooner or later, [but] it will take time.
Do you think it will be possible to create a new balance in the region with regard to China?
This geography has seen a lot of transgressions on the part of the Chinese military, particularly in the South China Sea. Historically, China had been practicing rock diplomacy ー claiming a particular rock, and 200 nautical miles around it as an exclusive economic zone. China has been unilaterally constructing its military bases in the region.
Japan every year sees a very large number of unprovoked actions from the Chinese Air Force, Navy and Coast Guard.
In today's world imposition of one's own ideas is not something which will survive long. The world community would never want peace to be eroded.
In my view, what China is doing is nothing new. But each country, including China, needs to take responsibility for its actions in order to maintain and keep peace and tranquility in the world.
After all, China has become an economic power today not only because of China, but also because of the worldーor China would not have become the economic power it is today. It is the responsibility of China to give back to the world in the most acceptable manner, so that the world will remain a much more peaceful place.
What do you think Japan and India should do with regard to China?
We would suggest that China sincerely comes to the dialogue table. If the world is divided, it is equally bad for China.
The Chinese economic ascendance is in danger today as the largest companies in China are not finding favorable terms and conditions in other countries. More transparency would be useful for other countries to understand China better.
Countries like India, and Japan, need to convince China, and how to convince should be strategic. We would very much like to develop understanding through dialogue, and diplomacy.
[Economically] what [COVID-19] has done is that it brought to the attention of the world that probably too many eggs have been put in one basket. Both India and Japan have suffered due to overdependence on a certain geography, having most of the supply chains there.
Diversificationー or better still, relocation of some of the supply chainsー would be the need of the day. And India would be very much ready to support such initiatives.
We have policies in place, the right skilled people, and a large number of Japanese companies in India. India is a large economy, and a young market which will continue to develop even 30 years from now.
That would be a help to the region, including India. And our offer to the Japanese businesses to come there and we'll try to facilitate everything that we can.
Do you think the concept of the Indo-Pacific can help regarding China?
There are other countries in the region on the receiving end of Chinese policies in the South East [Indian] Ocean and the South China Sea. If those countries speak in the same voice, it's a force multiplier, political, economic, on world public opinion, on the reforms of the U.N.
It should have an impact on the behavioral change which we want to see in China for its own good.
Countries like India and other democracies would be the very last countries to enforce a political system on China, as the political system is the choosing of one's own country. But we would very much like for it to be a transparent country, responsible to the international community and to the UN. And to global laws including in areas such as innovation, science and technology, economic transparency, freedom of navigation in the sea, and respect of other countries' sovereignty.
There are a lot of things that may happen, but I think if there are countries with similar demands, those [can be] expected to have a force multiplier effect, and hopefully that will change the belligerent behavior of China.
We already have multiple levels and layers of conversations [between India and China]. But we also want this to be expanded into multilateral and plurilateral conversations.
That is what is happening, that is what we want to see from the Indo Pacific concept. We don't want an alliance to be createdーit is by the free will of the countries to contribute towards the safety, security, economic growth and development, social growth and development, and for people to connect in the region.
From your perspective, what are the main features of the Japan-India relationship?
The economic aspect is one of the main [features] in our bilateral relations, but not the only one. The strategic component is major.
Japan is currently the fifth largest investor in India, with close to $32 billion USD of investment in India. We have bilateral trade close to $18 billion USD. Japan has been engaged hugely in capacity building, and Indian engineers and professionals have been involved with Japanese companies.
On the strategic front, India and Japan are also involved in an exchange of best practices in the self-defense domain.
In science and technology, there are about 60 institutional relationships between India and Japan. And [it is] not only in this sector.
[On a community level] there are close to 40 thousand Indians in Japan. At the moment, we have 40-plus registered associations with the Embassy, and these are largely on a linguistic or geographical basis.
Most of the large associations are involved in the natural disaster preparedness and management [fields] in Japan. When the Great Eastern Japan Earthquake happened, they distributed food, helped with medical doctors, psychologists. Some of them developed mobile applications so that real time information could be shared, and to make themselves more relevant to the society they live in.
At the moment we are really happy to see the multifaceted relationship which has evolved with Japan.
Historically, are there cultural ties between India and Japan?
Japan has been a traditional friend of India. In the 8th century, there was an extremely important era for Indian monks who traveled to Japan and co-practiced the philosophy of Buddhism.
In the early 1900s, the Japan-India Association (JIA) was the first friendship association formed by Japan. That is the oldest friendship association India has, and it promoted bilateral interaction.
India's very first Nobel prize winner, Rabindranath Tagore, interacted with the larger Japanese literary community.
[Until 1945] One of our major freedom fighters, Subhas Chandra Bose, found a lot of support in Japan when he was fighting against the British.
Soon after the Second World War, when Japan negotiated for its sovereign status there was a tribunal that was established. Only one judge had experience of the international justice system. He was an Indian, Radhabinod Pal, and the only dissenting judge in the entire tribunal to say that Japan couldn't be punished. We hope that it changed the way in which Japan developed after that.
India was the first country to observe a moment of silence in its parliament against the dropping of nuclear bombs on Hiroshima and Nagasaki. We bring up that resolution every single year.
In modern times, India and Japan have been special, strategic and global partners. Since 2014, leaders of the two countries meet annually for a summit, and we do look forward to engaging in discussions.
August 15 was also India's Independence Day. Could you explain its importance and how you celebrate?
India has a history of foreign invasion and that goes back a number of centuries. The longest foreign rule was by the British.
Whenever independence is taken away, freedom is taken away. And it is never a good story to talk about.
We did suffer a lot. Our share in the global economy fell dramatically, and most of India's raw materials were exported. Many Indian men were taken away, they were forced to work on the farms and lands. The British, while living there, governed India with their own concept of governance.
Today when we celebrate, it is largely with a sigh of relief that we are the rulers of our own destiny, and a country among sovereign equals in the world. It is a most delightful feeling to be the largest democracy in the world.
India has two national days. One is on January 26, which in 1950 was the day the Indian constitution was adopted. It is called Republic Day.
Midnight between August 14 and August 15 was the time when India got its freedom and independence from British rule. On both days we do flag hoisting.
On August 15, the national flag hoisting [takes place] at the National Red Fort in New Delhi. The prime minister reads out a policy statement heard by Indians everywhere, and by other world diplomats. You will have a feeling of gaiety and celebration with our national flag seen on almost every third building in India.
Interview by: JAPAN Forward, Yasuo Naito and Arielle Busetto