[ODDS and EVENS] Wizards' Rui Hachimura Reflects on Rookie Season, Vows to Keep Getting Better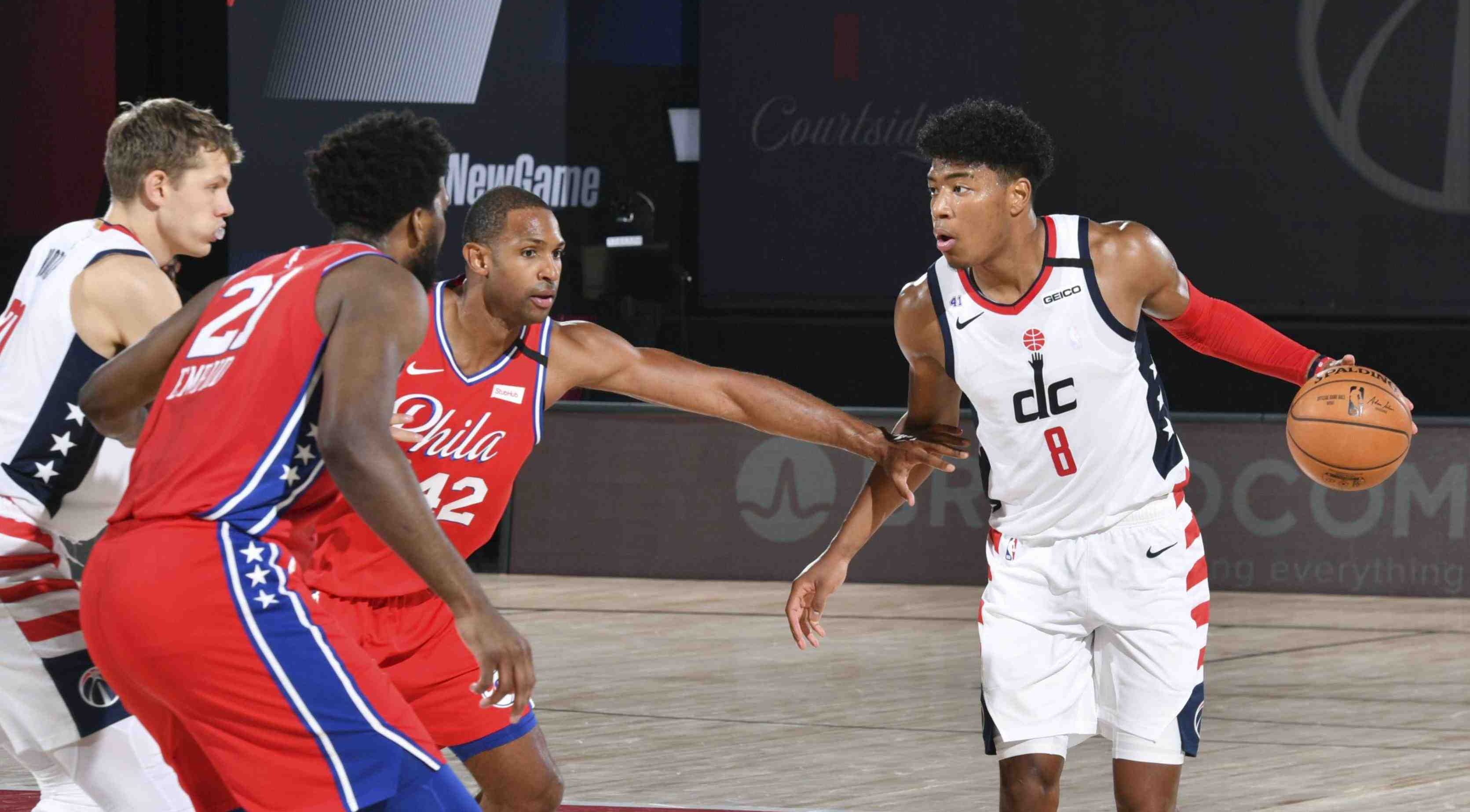 You've got to learn how to walk before you can run.
Similarly, as a young player, Rui Hachimura is learning what it takes to succeed in the NBA.
Throughout a season interrupted by a two-month absence due to a groin injury, causing him to miss 22 games from mid-December to early February, and another long layoff during the ongoing COVID-19 pandemic, the NBA rookie strived for excellence.
Along the way, there were ups and downs, stretches of excellent play, and plenty of youthful mistakes, too.
But Hachimura, the No. 9 overall pick in the 2019 NBA Draft, proved he belongs in the world's best basketball league. His final statistics are proof of that: 13.5 points, 6.1 rebounds, and 1.8 assists in 48 games.
ESPN's Zach Lowe, one of the NBA's most prominent reporters, lists Hachimura on his All-Rookie Second Team in an article published on July 28.
All in all, it was a valuable learning experience for the Washington Wizards forward.
The Wizards (25-47 overall record) dropped their first seven games of the NBA restart, which began on July 30 at the Walt Disney World campus near Orlando, Florida.
Coach Scott Brooks' squad wrapped up its season on August 13 with a 96-90 victory over the Boston Celtics. Hachimura sat out the season finale with a right quadriceps strain.
Hachimura spoke to reporters after the season-ending victory.
"I unfortunately sat out, but we've worked hard the last two months," he said, "so it was a valuable win. We wanted to win badly and I'm glad we were able to get the win."
The Celtics advanced to the playoffs as the Eastern Conference's No. 3 seed. Even if the Wizards were already eliminated from the playoff picture, the victory still provided a positive finish to the rebuilding Wizards' difficult season.
Overall Thoughts on the Season
Reflecting on his rookie campaign which got underway in October, Hachimura shocked nobody by describing it this way: "The season was really long."
It gave him time to adjust to life in the NBA and the huge expectations that go with it.
"I really learned a lot," the Gonzaga University product said, summing up the 2019-20 season.
"I think those things are going to help me going forward," added Hachimura, who was chosen to represent the Wizards at the NBA Draft lottery, which is being held virtually on August 20. "First, I'm just thankful that everything worked out for me and I look forward to next season."
If all goes according to plan, the 2020-21 NBA campaign will start on December 1 (two months later than usual), which means there's a lot of time for Hachimura to recharge his batteries in this atypical offseason.
And the 22-year-old has already mapped out what he wants to accomplish.
"I want to spend the offseason getting better, and I hope to play well next season," declared Hachimura, who scored 21, nine, nine, eight, 23, 11, and 20 points in succession during his seven games at Disney World.
Offensively, Hachimura struggled to score over his final seven games, making just 36 of 89 shots from the field. Credit opposing defenders for their tenacity while guarding him.
"For me, I think it was an opportunity to lead. Also to be on the opposing team's scouting report as the focal point (of the offense)," he noted in the aforementioned interview with reporters. "They guarded me much more tightly. But I learned how to operate under those circumstances. ... I hope to build off this experience. It will help me in my NBA career going forward."
The Wizards' Rui Hachimura scored 20 or more points in three of seven games at Walt Disney World to wrap up the season.
Looking Ahead
Therefore, Hachimura has a clear picture in his mind of how he can elevate his overall game. Consistency is the key.
"How do I maintain my peak performance when playing so many games in a short period of time?" he offered as a key question while sounding a bit like a Ph.D. of hoops.
In addition, among his top priorities will be continuing his focus on becoming a more accurate 3-point shooter. Hachimura shot 28.7% from 3-point range in 2019-20.
For the Wizards, a high-profile game against the Eastern Conference's top-seeded Milwaukee Bucks and superstar Giannis Antetokounmpo on August 12, put them in the spotlight. Hachimura paced Washington with 20 points in a 126-113 loss. Ish Smith had 19 points and Jerome Robinson provided 15 for the Wizards, who entered the NBA relaunch without three of their premier players: high-scoring shooting guard Bradley Beal, veteran All-Star point guard John Wall, and forward Davis Bertans.
Beal, the NBA's second-leading scorer (30.5 points per game) and Bertans opted out of the NBA bubble, and Wall, Beal's backcourt mate, missed the entire season while recovering from a torn left Achilles tendon.
Hachimura is eager to team up with Beal and Wall, benefiting from the stars' experience and talents.
"When Brad and John return, it's going to be a fun team," said Hachimura.
A Different Perspective
Longtime sports reporter David Aldridge is convinced that Hachimura's progress took a step backward during the final weeks of the NBA season within the Disney World bubble.
In an roundtable discussion presented in the form of a written conversation featuring Aldridge, who joined The Athletic D.C. as editor-in-chief in September 2018, and colleagues Sam Amick and Shams Charania, three NBA clubs—New Orleans Pelicans, Wizards and Sacramento Kings—were bandied about in an August 13 article.
"Hachimura regressed, big-time, after the COVID-19 hiatus," Aldridge was quoted as saying by The Athletic. "He wasn't smooth with the ball, his decisions were late, his shot faulty. Now part of that was because with no Beal or Bertans or John Wall, he was the first name on the opposition's scouting report in Orlando. And no one has ever pegged Hachimura as NBA leading man material. But other teams had similar situations develop because of injuries ... and many of those guys flourished. OK, it's not devastating or anything for Hachimura's future in D.C. that he wasn't prime time material in Florida, but it was disappointing."
RELATED ARTICLES: [ODDS and EVENS] Wizards' Rui Hachimura Fired Up About NBA Relaunch
NBA Draft Rui Hachimura Brings Back Basketball Fever in Japan
A Source of Inspiration
In a live Q&A with fans on Twitter in April, Hachimura revealed that his first basketball hero was Carmelo Anthony, a 10-time NBA All-Star.
"I watched a lot of Carmelo Anthony," Hachimura said. "He was my guy when I started playing basketball. I watched his footsteps and his pull-up shot. That's why I think I have a pull-up now, because I watched him a lot. He's obviously a big guy, (203 cm, or 6-foot8) and a power forward or small forward. I watched him a lot when I was a kid. … He was one of the (hardest players to guard all season)."
As Hachimura transitions from his rookie season to his second year in the NBA, becoming more consistent and making life as difficult as possible for opposing players will be top targets for the pride of Toyama.
Author: Ed Odeven
Follow Ed on JAPAN Forward's [Japan Sports Notebook] here on Sundays, in [Odds and Evens] here during the week, and Twitter @itsjapanforward.